Satya Nadella, Microsoft's (NASDAQ:MSFT) new CEO as of February 4th, has vowed to transform the previously PC-based business, reshifting its focus toward cloud and mobile and cutting costs by divesting underperforming segments. With the introduction of Office 365 for iPad in March, the purchase of Nokia in April, a mass layoff of 18,500 employees in July, and rumors of the sale of Xbox Entertainment Studios just last week, we are certainly beginning to see these changes come into action.
Curious to see how these moves have affected Microsoft as a stock, I turned to Stock Rover to generate a price chart. Here is MSFT's price change over the past year, with its industry as a baseline (light blue). Below it, the RSI (Relative Strength Index) is charted in orange:

The chart shows that investors are reacting positively to these changes, with MSFT's price growing faster than its industry since mid-January and its RSI hitting 82.67. (At an RSI over 70, a stock is considered overbought).
Though Microsoft's restructuring plans have made it popular with investors, the question of whether it will be able to successfully execute these plans remains. Will it be able to make the shift to a mobile- and cloud-centric business without disrupting its highly-profitable Windows and Office franchises? Is there still room for Microsoft in the mobile market with heavy competition from Apple (AAPL) and Google (GOOG) (GOOGL)? And will its current path ultimately result in an enduring business and a profitable investment? To answer these critical questions, I dug further into Microsoft's business.
The Package
When I hear Microsoft, I instantly think of Windows and Office, two products I use daily. Yet, while these two highly-profitable components still account for 78% of Microsoft's operating profit, the company's business is far more expansive.
Microsoft's business is divided into two main segments, Devices and Consumer (D&C) and Commercial. Within D&C is D&C Licensing (licensing for Office, Windows and Windows Phone), Computer and Gaming Hardware (Xbox gaming equipment, Xbox Live subscriptions, Surface), Phone Hardware (Lumia Smartphones and other first-party non-Lumia phones acquired with the Nokia acquisition) and D&C Other (resale, advertising, Bing search engine, subscriptions for Office 365, first-party video games, retail stores and other consumer products). Commercial is comprised of Commercial Licensing (server products such as Microsoft SQL Server, Windows Server, System Center, Visual Studio; Microsoft Office for business including Office, Exchange, SharePoint, and Lync; Microsoft Access Licenses that provide access to server products; Microsoft dynamic business; and Skype), and Commercial Other (Premier Support Services, Microsoft Consulting Services, Dynamics CRM Online, and Microsoft Azure, amongst others).
Microsoft's fourth-quarter results, shown below, show that Commercial Licensing is by far the largest segment, making up 48% of its total revenue, and D&C Licensing follows at 20%.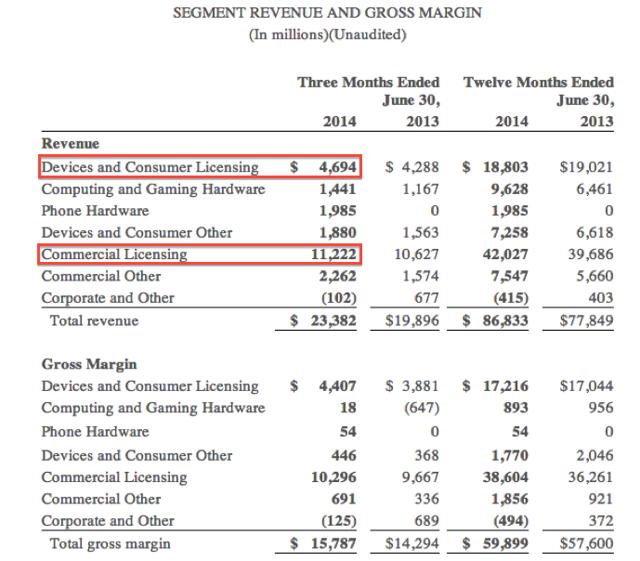 Powerpointing Towards Growth
With a better sense of Microsoft's business model, I took a look at some overall growth data.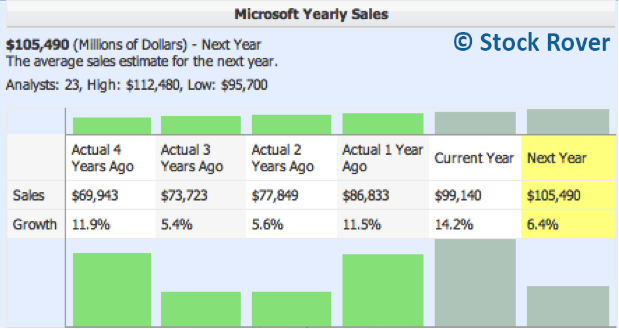 Microsoft's yearly sales, shown above, are expected to grow at a brisk 14.2% this year, while in the coming year, they are projected grow at a slower 6.4%. The recent pickup in sales can be attributed to Office 365, introduced in 2013, and the momentum of Azure, Microsoft's cloud platform (both which I will describe in more detail later on). Commercial sales for Office 365 Home increased 99% year over year for MSFT's fourth quarter, and its users increased from 4.4 million to 5.6 million. For Microsoft's cloud business, revenues increased 147% year over year.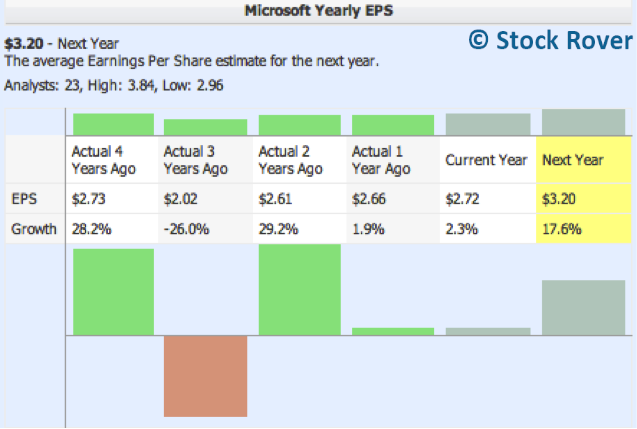 MSFT expects to see a sizeable 17.6% growth in EPS next year (above), which is quite a bit faster than its current year EPS growth rate. This is due to its recent restructuring efforts to build a more focused and profitable business, which will mainly impact its bottom line. Overall, it's a good sign that Microsoft expects both top line and bottom line growth, and its high EPS growth should attract investors.
Is MSFT an Excellent Value?
MSFT is growing at a pretty good pace, and its new direction and robust product line present an attractive opportunity for investors, so my next move was to find out whether its valuation does it justice.

The table above compares some of MSFT's valuation metrics to its industry and the S&P 500. Overall, MSFT looks less expensive than its industry and the S&P 500, with the lowest P/E and P/FCF ratios.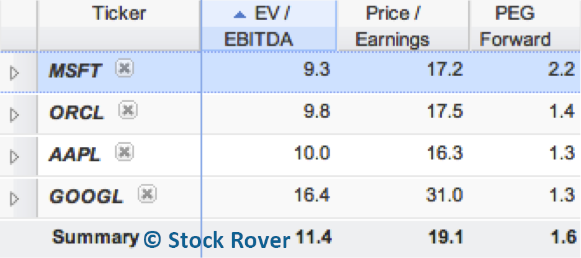 For a different perspective, I also compared Microsoft with a few of its competitors, Apple, Oracle (NYSE:ORCL) and Google. Microsoft has the lowest Enterprise Value/EBITDA of the group, and I believe that EV/EBITDA is the most accurate metric in this case since it normalizes for the debt structure between the four quite different businesses. On the other hand, Microsoft's PEG forward is the highest, at 2.2. I'm pegging this anomaly on Microsoft's slower expected future EPS growth, since although Microsoft expects high EPS growth in the coming year, its growth is expected to temper over the next five years.
Overall, Microsoft looks fairly valued, though its high PEG forward does give me some pause, as it suggests that its expected growth is lagging behind peers.
The Financial Files
Microsoft is undergoing major changes, which means that it is also incurring some substantial costs. Looking at MSFT's income statement and balance sheet tells investors whether it has the financial capacity to successfully implement these changes.

Microsoft's income statement metrics over the last ten years, shown above, display decreasing margins across the board, though they are still quite healthy. Such a decrease is expected given the foray into hardware, which inherently carries lower margins. There has also been a general shift away from PC and laptop and thus, the Windows OS. Most new devices such as smartphones and tablets do not use the Windows OS or the Internet Explorer browser. In addition, while the PC market in developing markets is not yet saturated, it has lower prices and lower margins. The Nokia purchase, the unprofitability of Surface tablets and other investments have also weighed on margins, but cost-cutting measures such as the reduction of Nokia's headcount mean that Microsoft should see improving margins in the coming year.

Microsoft's balance sheet metrics over the last ten years (above) look exceptionally healthy. Though it has a low debt/equity ratio of 0.3, its debt has increased substantially since 2011. Still, its $85.7 billion in cash is far greater than its long-term debt, giving it plenty of financial muscle to grow and transform its business.
So how is Microsoft spending its money? Below, we can see that has been channeling quite a lot of cash into investments: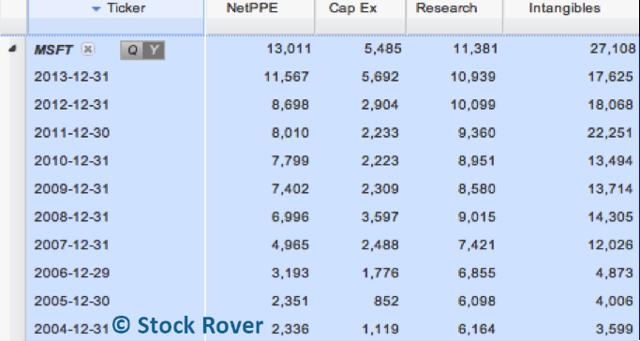 Notably, intangibles increased by $10 billion this year, in large part due to the $7.2 billion acquisition of Nokia Devices and Services. A high level of investment spending such as this isn't surprising for a company seeking to refocus its business.
A Measure of Microsoft's Productivity: Capital Efficiency
So now we know that Microsoft is investing heavily in its business, but I also want some way to gauge whether these investments are likely to pay off or not, given several missteps in the past (Windows Vista and recently, Windows RT jumps to mind, but there have been many others). A good way to do this is to look at its Return on Assets, Return on Equity and Return on Invested Capital metrics (below) to see if it has been making effective use of its capital.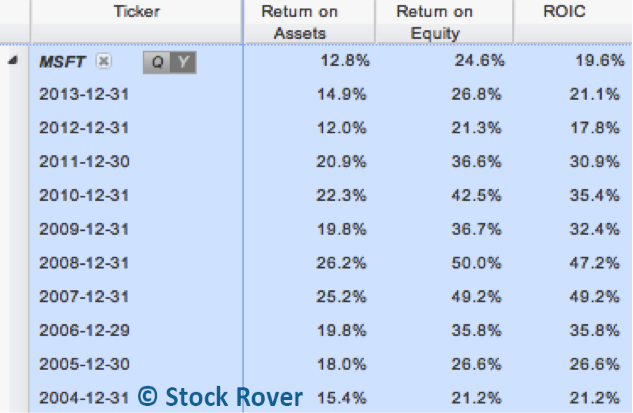 These numbers have jumped around a bit, and have actually decreased dramatically since 2011. An explanation for this is the decline of the PC market and Microsoft's failure to break in significantly to the alternative devices market with its Window Phones and Surface Tablets.
Based on its growth, valuation, financial health and capital efficiency numbers, Microsoft seems to me like a business with a solid backbone that has so far struggled to catch up to a market that is shifting away from its core business. But that still doesn't answer the question of whether it can reform itself into a successful business in the long run. For that, I had to do some research on its current business and its future growth prospects.
The Outlook on Growth
Microsoft's overall goal is to capture market share in all areas of its business, and it plans to do so by both developing more compelling devices that run on the Windows OS to challenge Google and Apple and strengthen the tie between Windows and its productivity software ecosystem and further growing its lucrative cloud division. Ultimately, Microsoft, much like Google and Apple, wants to provide a seamless user experience across multiple devices and services.
By appointing Satya Nadella, the former executive vice president of Azure, as CEO, Microsoft made clear the importance of cloud computing in its new direction. In the past year, Microsoft has been developing its Cloud OS, a sort of operating system at the cloud computing scale consisting of Windows Server, Windows Azure and technology solutions such System Center, Server SQL and Visual Studio. So far, this "cloud-first" strategy has paid off, as commercial cloud growth drove strong fourth-quarter results with an annualized revenue run rate that now exceeds $4.4 billion. In addition, the market for cloud computing is already quite large, used by many large companies in the U.S. and reportedly on its way to generating $100 billion per year. (For a better sense of what this nebulous "cloud" is, here's a good article.)
Microsoft also has built strategic partnerships with Oracle and Salesforce.com (CRM) in order to provide more enticing offerings for businesses looking to move their software online and mitigate competition. Despite Microsoft's success in cloud, it still faces heavy competition that has forced it to cut prices, primarily from Google App Engine and Amazon Elastic Compute Cloud (EC2) (AMZN). So far, however, it's too early to call a clear winner in the cloud computing game.
On March 27th, Microsoft unveiled Office 365 for the iPad and other touch-enabled devices, a move originally vetoed by former CEO Steve Ballmer (who has since taken his managerial talents to the LA Clippers). This represents a huge opportunity for a large number of customers to migrate to Microsoft Office, especially since the software is available by subscription only. Office 365 itself has been extremely lucrative since its launch in February 2013, garnering more than 5.6 million users. Microsoft Office takes in more than $4 billion annually, and since Office 365 is priced at $99 per year, far more expensive than the $33 per year traditional license model, Credit Suisse analysts predict the transition of this user base to Office 365 could bring in more than $9 billion in incremental revenue annually with little to no incremental cost.
In the small business arena, Microsoft has teamed up with GoDaddy to bring Office 365 to more small businesses. One downside is that the transition to Office 365 is depleting near-term revenue and also potentially decreasing the value of productivity-focused Surface tablets, but its lifetime revenue should greatly outweigh these costs.
One particular threat to Microsoft Office is Google Docs, which offers users a free, easy-to-use, online productivity suite that includes a word processor, spreadsheets and presentation software, all storable (up to 15 GB) and shareable via Google Drive. In retaliation, Microsoft has introduced OneDrive, a competing file hosting service, though neither company has profited greatly from these programs thus far. Though Microsoft Office is still widely used, due to a strong network of users, more advanced features and security advantages, it is important to keep in mind the preferences of the next generation of users who may be attracted to the low cost and ease of online productivity software. From my own perspective as a college student, most of my friends and I still use the standard Microsoft Office, though more and more, we prefer Google spreadsheets for easily shared lists and sign-up sheets. I can definitely see increased usage of Google Docs and OneDrive with younger users who are accustomed to doing everything online.
In contrast to Cloud OS, Microsoft's Windows OS business, as mentioned before, is on the decline. To date, Microsoft has not been able to capture a significant portion of the mobile OS market share, and the tablet-oriented Windows 8 has been unpopular with users. In emerging markets, many PC-makers find it too expensive to preinstall Windows OS on their computers, and piracy also runs rampant, which has forced Microsoft to lower prices. However, investors should be on the watch for the technology preview of Windows 9 in September or October, which may finally deliver the successful unification of PC and tablet that Microsoft seeks. It is reported to have some major improvements, such as the return of a start button and a voice-activated digital assistant called Cortana. Investors should also note that the PC industry is currently in the middle of a refresh cycle, with companies updating their computers and also their operating systems to new Windows versions.
In addition, Microsoft's Bing search engine is slowly gaining market share, thanks to its alliance with Yahoo (YHOO). HP (HPQ) has agreed to set Bing as the default search engine on its PCs, and Facebook uses Bing for its "graph search" function. More over, Apple has replaced Google with Bing for its Siri and Spotlight functions. Despite these big wins, Bing still only holds 18.7% of the search market share, and Google continues to be an ever-mightier competitor to contend with.
In terms of mobile development, Microsoft has its work cut out for it. Coming too late to the smartphone party, Windows Phone currently has only 2.5% of a market dominated by Android and iPhone. The acquisition of Nokia in April has increased revenues by $1.99 billion this quarter, due to Lumia smartphone sales, but has also decreased operating income by $692 million. Nokia will give Microsoft and edge in emerging markets, where it has a market share around 20%, yet lower sale prices coupled with increased production costs may depress Microsoft's margins. However, Microsoft has reduced Nokia's headcount by 50% in its recent mass layoff, which should counter this margin loss. Microsoft expects to gain 15% of the smartphone market share by 2018, but most analysts disagree, keeping this number in the low single digits.
In the tablet department, Microsoft is finally seeing some good news. Its Surface Pro 3, which began shipping in June, has met positive reviews. The Surface Pro 3, with its larger screen and functionality, is productivity-focused, which both helps to differentiate it from the entertainment-focused Android and iPad tablets and also falls in line with Microsoft's goal of generating demand for its Windows and Office ecosystem.
Despite heavy advertising for the Surface Pro 3 on TV during the World Cup, there are rumors that Surface tablets and Windows Phones will be rebranded as Lumia devices. Not only would this fit with Microsoft's goal for overall brand cohesiveness, but it could also boost sales by helping Surface put its less-than-dazzling debut behind it. One caveat is that Lumia and Nokia have stronger brand recognition outside of the U.S., but this could turn out to be an advantage since Surface tablets and Windows Phones have seen better sales outside the U.S. as well.
In the gaming category, Microsoft is doing quite well. It sold 1.1 million Xbox One consoles in the fourth quarter and saw revenues grow 14%, likely due to a lower price and the scrapping of the Kinect motion sensor that have helped it compete with Sony's PS4. The Xbox live network has also amassed a subscriber base of 40 million since 2002. Nevertheless, Microsoft faces stiff competition from Sony (SNE) and Nintendo (OTCPK:NTDOY) in this category, and its success is contingent upon its ability to put out popular gaming titles.
The Final Word on Microsoft
I have significant doubts about Microsoft as a long-term reliable earnings grower. Its inability to gain market share in the mobile marketplace, its struggling Windows OS business, and its high PEG forward hold me back from calling it a buy, but its success with cloud computing and Office 365 along with its solid financials do provide a silver lining. In addition, there is a lot for investors to look forward to in the coming year, with the release of Windows 9, rebranding efforts, and cost cutting measures beginning to make an impact on EPS. I do feel optimistic about the direction Satya Nadella is taking Microsoft as a business, so I am putting MSFT on my watchlist and keeping an eye out for any signs of a sunnier outlook.
Editor's Note: This article discusses one or more securities that do not trade on a major U.S. exchange. Please be aware of the risks associated with these stocks.