Microsoft's (NASDAQ:MSFT) cloud service Windows Azure has played second fiddle to Amazon's (NASDAQ:AMZN) cloud AWS for what seems like an eternity. AWS revenue has always stood head and shoulders above Azure revenue. But judging by the look of things, this might soon change. Azure is quickly closing the gap between it and AWS in terms of revenue, and growing at a much faster clip. It therefore appears as if it's simply a matter of time before Azure finally overtakes AWS to officially become the largest public cloud.
Microsoft reported in its fourth quarter and full year fiscal 2014 results that its commercial cloud revenue grew at a blistering 147% annual clip, with a current run rate exceeding $4.4 billion. Amazon reported its second quarter 2014 results a few days ago. Although the company's topline expanded by 23% to $19.34 billion, its operating loss widened from $74 million for the year ago comparable quarter to $126 million. Amazon usually lumps up AWS sales with ad sales and card agreements in its ''Other'' category. The Other category as a whole grew 38.4%.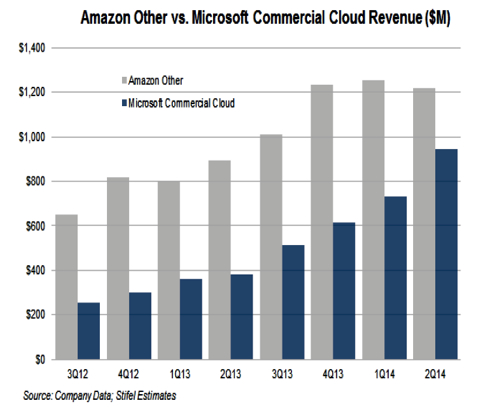 From the chart, AWS recorded its first major quarter-on-quarter revenue slump, a really worrying trend indeed. AWS had recorded a slight revenue drop going from the fourth quarter of 2012 to the first quarter of 2013. Last quarter's revenue drop can be directly chalked up to this year's cloud pricing wars that saw nearly all the major cloud vendors drastically slash cloud prices.
Google (NASDAQ:GOOG) (NASDAQ:GOOGL) was the first to initiate the cloud pricing wars that took place early this year when it announced cloud computing price cuts ranging from 30% to 85% in March this year. Google's Senior Vice President Urs Hozle reasoned that cloud infrastructure and hardware costs had dropped by 20% to 30% over the last five years while public cloud prices had only come down by a much smaller margin of 8%.
Never one to be outdone by a rival, AWS followed suit a day later by announcing its cloud price cuts which on average worked out to a huge mark down of 51%. Microsoft announced its own Windows Azure price cuts a few days later, lowering prices by an average of 28%.
Google's commercial cloud revenue in the second quarter of 2014 grew 53% to about $300 million. It, therefore, appears as if Windows Azure has benefited the most from the prevailing low cloud prices.
The secret behind Windows Azure growth
A few years back, many enterprises were reluctant to shift their workloads to the public cloud mainly due to privacy, security and compliance issues. Many preferred deploying their own private clouds, quite often through the OpenStack platform. OpenStak, however, suffers from a major drawback - it runs poorly straight out of the box, often requiring lots of tinkering to get the cloud up in a usable form.
Microsoft was one of the first companies to recognize the opportunity that this hurdle presented. The Redmond giant started offering a hybrid option in its Azure cloud, where companies could move certain workloads that were not security sensitive to the public cloud while retaining more sensitive data in their private clouds. One clear benefit of hybrid clouds is that it allows organizations to have on-premise, private infrastructure that can be accessed directly. This reduces access time and latency compared to public clouds. Hybrid clouds have become an almost standard way for organizations to operate in the cloud.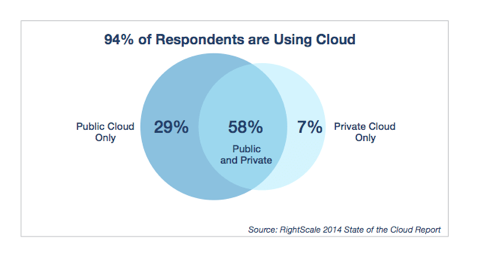 Source: RightScale, 2014 State of the Cloud Report
Microsoft offers several hybrid cloud platforms. Chief among these is Express Route, which is Microsoft's answer to AWS's. Direct Connect. Express Route provides users with a fast and secure connection between Azure public IaaS and their on-premise resources. The platform offers extensive customer support services including previewed Azure files which help in file sharing, disaster recovery and improved computing functionality and networking.
But, perhaps the biggest secret why Windows Azure is growing so fast lies in its willingness to connect to other clouds, including those of competitors. The recent cloud partnership between Microsoft and Salesforce.com is a good example. Windows Azure maintains a vendor-agnostic stance that allows other clouds to seamlessly connect to it, thus making it a lot easier to build hybrid clouds across different cloud platforms. This crossover strategy incorporates platform, infrastructure and application services that make it easier for companies to shift their core ERPs to the cloud.
Windows Azure only needs to maintain an 80% CAGR for another six quarters for its annual revenue to exceed $10 billion.
Will Windows Azure overtake AWS?
It's quite likely that Windows Azure has been able to maintain strong revenue growth despite the price cuts by rapidly growing its user base. Perhaps many corporate users are finding its hybrid model more attractive than AWS's model. It would not be a stretch to say that Azure stands a good chance of catching up to AWS in terms of revenue in as little as three or four quarters, ceteris paribus. AWS has been competing mainly on price, but that's an advantage it no longer enjoys in the current environment of blanket cloud price cuts among major vendors.
AWS, however, enjoys first-mover advantage since its cloud has been running longer than Azure. It therefore enjoys a much larger partner ecosystem of SaaS applications and optimization services that are built to run seamlessly on the AWS cloud. Azure is newer, and it sports some feature gaps in security functionality. Its partner network is also still growing.
Plus of course the current worldwide Azure outages might start giving its customers jitters about the service, and this is never a good thing. So it might take a bit longer for Azure to overtake AWS.
Disclosure: The author has no positions in any stocks mentioned, and no plans to initiate any positions within the next 72 hours.
The author wrote this article themselves, and it expresses their own opinions. The author is not receiving compensation for it (other than from Seeking Alpha). The author has no business relationship with any company whose stock is mentioned in this article.