With the yield spread on 10-year German bunds against similar maturity U.S. Treasuries at its highest in 15 years, Treasury bond exchange traded funds could find support from European investors who are looking for more attractive income options.
The iShares 7-10 Year Treasury Bond ETF (NYSEArca: IEF), which has a 7.53 year effective duration, offers a 2.15% 30-day SEC yield and PIMCO 7-15 Year U.S. Treasury Index Fund (NYSEArca: TENZ), which has a 7.82 year duration, has a 2.17% 30-day SEC yield.
Yields on 10-year Treasury notes were hovering around 2.40% Monday while yields on 10-year German bunds were at 0.95%. The difference rose to a little over 145 basis points mid-Monday.
European investors are pushing down German bund yields after European Central Bank governor Mario Draghi hinted at quantitative easing while Federal Reserve chair Janet Yellen reiterated that rates may rise sooner than anticipated, reports Susanne Walker for Bloomberg.
"We don't see any reason to think the economic situation will converge anytime soon, so the idea that this spread could continue to widen resonates with us," Ian Lyngen, a government-bond strategist at CRT Capital Group LLC, said in the article. "There's a divergence in the economic and inflation outlooks between the U.S. and Europe."
Additionally, Treasury bond yield spread over Group of Seven counterparts hit 79 basis points, the most since 2007, after touching a low of 37 basis points in February.
Lyngen argues that investors should buy 30-year bonds and short three- and five-year securities in a flattening trade.
"Any potential catalyst that would lift yields higher, will face headwinds from this flight out of Europe," Adrian Miller, director of fixed-income strategies at GMP Securities LLC, said in the article. Investors are looking for "superior yields."
The Vanguard Extended Duration Treasury ETF (NYSEArca: EDV), which has a 24.8 year duration and a 3.22% 30-day SEC yield, has increased 26.9% year-to-date. More aggressive traders can consider leveraged options, such as the ProShares Ultra 20+ Year Treasury (NYSEArca: UBT) and Direxion Daily 20+ Year Treasury Bull 3x Shares ETF (NYSEArca: TMF), which are up 36.5% and 56.8% so far this year, respectively.
Meanwhile, traders can also hedge against falling short-term Treasury bonds through the ProShares UltraShort 3-7 Year Treasury ETF (NYSEArca: TBZ). TBZ is down 4.9% year-to-date.
Potential investors should keep in mind that leveraged and inverse ETFs are not meant as long-term, buy-and-hold positions. The ETFs rebalance on a daily basis, and compounding effects could cause the funds to diverge from their target strategies over the long term.
iShares 7-10 Year Treasury Bond ETF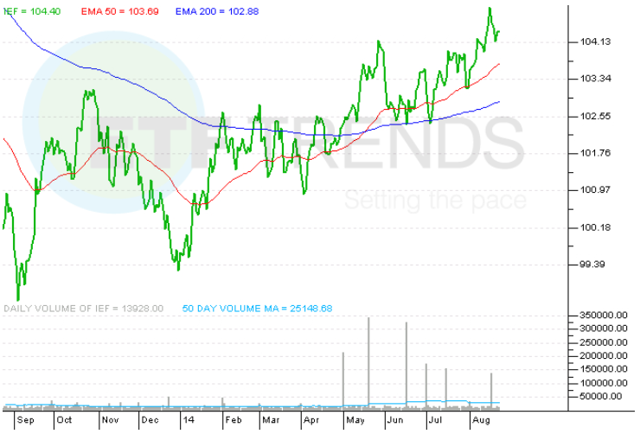 Disclosure: The author has no positions in any stocks mentioned, and no plans to initiate any positions within the next 72 hours.
The author wrote this article themselves, and it expresses their own opinions. The author is not receiving compensation for it. The author has no business relationship with any company whose stock is mentioned in this article.