It has been a little over a month since I updated investors on short interest in Tesla Motors (NASDAQ:TSLA). At that time, short interest was at a 2014 low, and its lowest point since October 2013. We've gotten a couple of updates since then, and with Tesla shares rallying again, more shorts have run from the name. Today, I'll update investors on where things stand. The chart below shows a recent history of short interest in Tesla.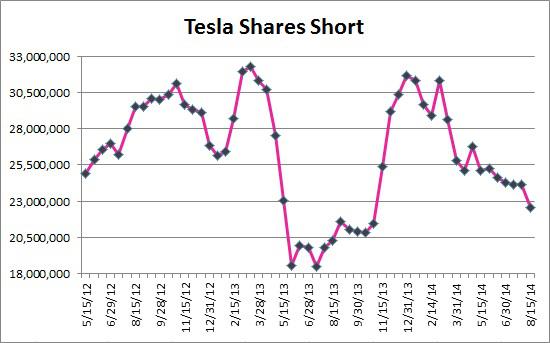 In the most recent update on short interest, more than 1.57 million shares were covered in the first few weeks of August. This is the fifth straight update where short interest declined, which may not be a surprise given the rally in shares. Altogether, more than 9 million shares have been covered so far in 2014, marking a nearly 29% decline in short interest. The current short interest number just above 22.5 million shares is the lowest point we've seen since October 2013, where 21.4 million shares were short.
In my last short interest update for Tesla, more than 27% of the stock's float was short. A number that high does make it likely for a short squeeze when we get good news out of the company. Recently, we have seen a small rise in the float, which now stands at nearly 91 million shares. As Tesla's outstanding share count rises by the quarter, mostly thanks to executive options, the float generally rises as well. Between the rise in the float and the decline in short interest, we are now down to 24.82% of the float short. While that still does leave decent short squeeze potential, the chance of a squeeze happening has come down a little.
In my latest Tesla article, I detailed how profitability is the one item that concerns me the most. In that article, I detailed how analyst revenue estimates were rising, but EPS estimates were not doing the same in most cases. When those EPS numbers were increasing, they were not rising at the same rate revenue estimates were. Tesla's soft guidance, increased operating expenses, and rising share count all were factors in this. Well, we've seen some additional changes in analyst estimates since that article, and the table below sums up the changes. Remember, these are non-GAAP numbers.

Analysts still seem to have concerns with Tesla's profitability. The average 2014 revenue estimate has climbed further, but analysts still expect the same bottom line number. Additionally, while the 2015 revenue average has jumped by nearly 4.7%, the average EPS estimate is up by just 3.1%. As Tesla delivers more vehicles and hits a higher revenue number, economies of scale are supposed to kick in. We should be seeing EPS numbers rising faster than revenue ones, but that's not the case.
In the end, Tesla investors should still be happy, because a 25% of float short number means the stock still has a chance for a short squeeze. With Tesla guiding low for Q3, estimates have come down for the quarter, making a beat seem more likely. If the company has a big beat and decent guidance, this stock can rise to another new high. Profitability still seems to be an issue, but I'm willing to give the company a pass for the short-term if the growth story stays in place. If Tesla comes out with some unexpected piece of good news in the near term, a short squeeze could easily send this name towards $300 a share.
Disclosure: The author has no positions in any stocks mentioned, and no plans to initiate any positions within the next 72 hours.
The author wrote this article themselves, and it expresses their own opinions. The author is not receiving compensation for it (other than from Seeking Alpha). The author has no business relationship with any company whose stock is mentioned in this article.
Additional disclosure: Investors are always reminded that before making any investment, you should do your own proper due diligence on any name directly or indirectly mentioned in this article. Investors should also consider seeking advice from a broker or financial adviser before making any investment decisions. Any material in this article should be considered general information, and not relied on as a formal investment recommendation.