McDonald's (NYSE:MCD) has struggled recently, and the Wall Street Journal thinks it has found someone to blame in millennials.
Millennials are the current group of young people coming of age in America. They are commonly identified as the source of major societal shifts, problems, and potential. It is a time-honored tradition to look to a society's latest crop of young adults as the crux of all important trends. So I read with interest a recent Wall Street Journal article quoted throughout the financial press titled "McDonald's Faces 'Millennial' Challenge." The main cause of alarm is that McDonald's "…reported its sharpest monthly decline in global same-store sales since early 2003, adjusted for calendar irregularities." On August 8th, MCD reported July same store month-over-month sales changes down 2% in the U.S., up 0.5% in Europe, and down 7.3% in Asia/Pacific, Middle East and Africa (APMEA) for a net decline of 2.5%. A year ago, MCD reported up 1.6%, down 1.9%, down 1.9%, and net up 0.7% respectively. The chart below shows comparable sales changes, by region, on a quarterly basis. Note the U.S. has been down three straight quarters and four out of the last six.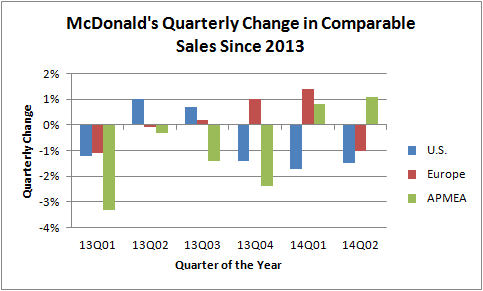 McDonald's Quarterly Change in Comparable Sales Since 2013
Source: McDonald's quarterly earnings reports
MCD did not directly explain the disappointing drop in sales in the U.S. despite heavy World Cup promotions. In the last quarterly report, McDonald's pointed to "ongoing broad-based challenges." However, the WSJ, in conjunction with fast-food research firm Technomic, think they have found at least one culprit in millennials, defined in this study as adults aged 19 to 37 (a wider range than I am used to seeing).
The key evidence is that a small sliver of this population, those aged 19 to 21, have reported eating at McDonald's at least once a month at a rate of 12.9 percentage points less than at the beginning of 2011. Meanwhile, 19 to 21-year olds have reported eating at "fast-casual" restaurants at a rate of 2.3 percentage points higher than at the beginning of 2011. The rest of the millennials have remained flat over this time span in reporting eating at McDonald's at least once a month while increasing their rate at fast-casual establishments by 5.2%. It is clear that the 19 to 21-year olds have little impact on the overall results based on this chart showing the net impact of the entire millennial population.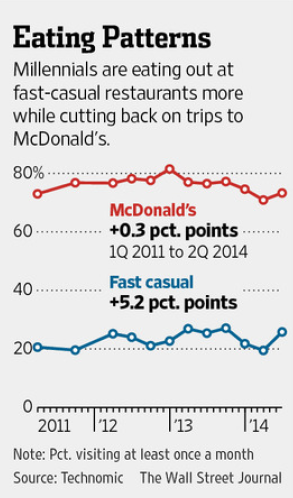 Eating Patterns of Millennials
Source: WSJ
Note that the overall change for fast-casual is the same as that of the 22 to 37-year olds. The overall change for MCD is up slightly over this time period despite the large plunge for 19 to 21-year olds. In other words, it seems that the youngest of this millennial demographic have little impact on the overall eating patterns, especially for fast-casual. Moreover, there are significant periods over this timespan where McDonald's out-performs fast-casual. This out-performance ended at the beginning of 2013 as fast-casual made a strong surge in the year. Given that fast-casual trended downward along with MCD for two quarters, there is no reason to believe that a fundamental trend is underway. More data are needed to be sure these years are not just a fortuitous window in time. Having comparables with other fast-food chains would provide even better context.
The WSJ explains the trends by claiming "increasingly, younger diners are seeking out fresher, healthier food and chains that offer customizable menu options for little more than the price of a combo meal." Cited as key chains taking business from McDonald's are Chipotle (NYSE:CMG), once wholly-owned by McDonald's; and Five Guys Holdings LLC, owner of Five Guys Burger and Fries. Five Guys serves such healthier choices as bacon cheeseburgers, bacon cheese dogs, and, well french fries cooked in pure, no cholesterol, peanut oil. This cooking style of course does not go over well with the seemingly increasing number of kids with peanut allergies, millenials included. This all begs the question as to what food choices are really being made. Even Chipotle offers burritos where you can choose to pack in 1000 calories or more in one sitting. Compare that to the 530 calories in a Big Mac.
The final problem I want to point out with this demographic study is that there is no notion of lifecycle change. The chart above is presumably a static view: at a given point in time, what did adults of a certain age prefer? What we also want to know is how those preferences changed over time by the SAME adults. In other words, do 19 to 21 year-olds go from preferring fast-casual to fast food over time? Why do we think 19 to 21-year olds of today are indicative of future choices for the children that precede them or the older adults they will eventually become?
So, perhaps millennials are taking down McDonald's, but we are not provided with enough evidence to make a definitive conclusion.
Regardless of the merits of the demographic argument, the financial results for McDonald's are definitely starting to suffer. The modest annual growth from 2009 to 2010 and then 2011 is over along with the persistent declines in comparable sales described above.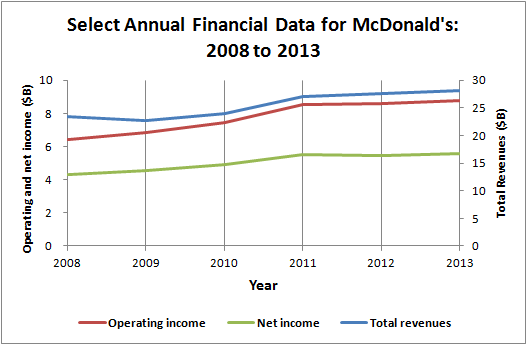 Select Annual Financial Data for McDonald's: 2008 to 2013
Source: McDonald's Financial Highlights
This slowdown has stalled out the stock for over two and a half years.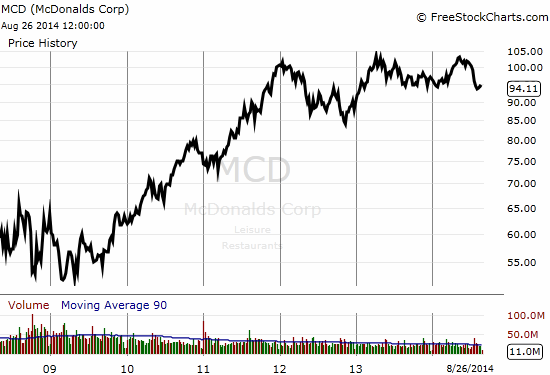 The stock for McDonald's has stalled since 2012 after a strong 2-year post-recession run-up
Source: FreeStockCharts.com
I am guessing a healthy 3.4% dividend and share buybacks help support the stock (MCD has a $18-$20B, 3-year cash return target). This is likely enough to maintain MCD as an attractive investment, even as the above-described, volatile demographic trends play out. MCD is probably just a marketing campaign away at (re?)educating the younger millennials about all the healthier, even customizable, options it already has on its menu.
Be careful out there!
(Note, a request to the author of the WSJ piece for the complete data set used in this demographic study was unanswered at the time of writing.)
Disclosure: The author has no positions in any stocks mentioned, and no plans to initiate any positions within the next 72 hours.
The author wrote this article themselves, and it expresses their own opinions. The author is not receiving compensation for it (other than from Seeking Alpha). The author has no business relationship with any company whose stock is mentioned in this article.