Royal Bank of Canada's (NYSE:RY) businesses continue to performed well and a CEO change is not going to alter the strategic direction of the company. The bank, often called RBC, continues to grow its earnings in-line with its 7-10% medium term growth target through a diversified business model. The company continues to reward shareholders by boosting its quarterly dividend by $0.04 to $0.75 after it reported record Q3 earnings last week. The timing and magnitude of the hike confirms the prediction I made in a prior article in May.
This article updates my investment thesis in RBC and provides readers with an insightful look at the latest developments which includes the Q3/2014 (May-July) earnings report. All dollar figures, including EPS and per share figures, are in Canadian dollars because the company's reporting currency is in Canadian dollars. However, the share price target is provided in both US and Canadian dollars for readers' convenience.
Summary of Recent Developments:
On August 1, Gord Nixon, who served as RBC's CEO for over 14 years, stepped down and passed the top job to Dave McKay. Mr.McKay stated in an interview with the Global & Mail that it is important to avoid complacency. He is continuing his predecessor's strategy of maintaining a leading market share in Canada and growing the Wealth and Capital Market businesses internationally.
Last Friday, August 22, RBC reported record results, earning $2.4 billion in the latest quarter. EPS of $1.62 also exceeded analysts' expectation of $1.56. Earnings growth was 10% in the latest quarter, which is at the top of its targeted 7-10% range. Please see figure 1 below for the trend in EPS and ROE for the latest 5 quarters.
Following its pattern of boosting the dividend every other quarter, RBC increased its quarterly dividend by $0.04 or 6% to $0.75 per share. US readers should note that $0.75 is in Canadian dollars and will be converted to USD at the prevailing rate when the dividend is paid.
Canadian banking, Wealth Management, Capital Markets and Insurance segments all had record earnings in the latest quarter.
RBC has been restructuring its Caribbean P&C banking operations by optimizing its geographic exposure. The bank took a charge of $40 million last quarter when it sold its Jamaica bank.
WSJ published an article stating RBC's directors is open to take more risk in its Capital Market division. This stirred up debate on whether RBC is taking too much risk. I will explain why I believe the article is wrong to assume RBC is taking too much risk and why RBC's Capital Market unit is important for the firm.
Figure 1: Quarterly EPS vs. ROE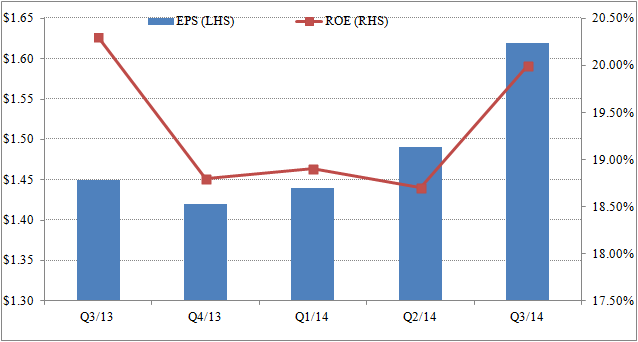 Source: Q3 Financial Supplement
Investment Thesis:
RBC's ability to boost its dividend twice a year (hiking the dividend when it reports Q1 and Q3 earnings) and offer a competitive dividend yield near 4%, which is twice the yield on the 10-year Government of Canada bond, are paramount reasons to own RBC. Investors should also own RBC because of its (1) high return on equity at its major operations, which ranges from 16.9% to 53.2%, (2) solid profitability in its core Canadian P&C banking operations, and (3) growing earnings from its Wealth Management and Capital Market divisions.
RBC is a profitable bank that has demonstrated consistent and reliable earnings growth in the 7-10% range. Although it may be harder to grow in the future, the main growth drivers will be in the Capital Markets and Wealth Management divisions. It has one of the best Canadian P&C banking franchise in Canada, which provides lucrative free cash flow for future expansion and return of capital back to shareholders.
RBC's continues to hold leading market share in Canada:
Number #1 in Consumer Deposits with 23.6% market share
Number #1 in Long-Term Mutual Fund with 14.2% market share
Number #1 in Business Loans with 25.6% market share
Number #1 in Business Deposits with 25.5% market share
Number #2 in Personal Deposits & GICs with 20.2% market share
RBC's earnings mix, as shown in graph 2, is diversified although 50% of its earnings is still derived from Canadian banking. Nonetheless, wealth management's share should increase gradually towards 20%.
Figure 2: RBC's Earnings Mix (Trailing 12 Months)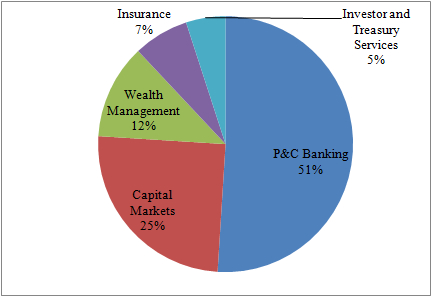 Source: Q3 Financial Supplement. Personal & Commerical (P&C) Banking includes Canadian Banking (95% of P&C earnings) and Caribbean P&C banking.
RBC is also a very shareholder friendly bank that continues to raise its dividend on a semi-annual basis. As predicted in my prior article, the bank boosted its quarterly dividend by $0.04 or 6% to $0.75. The new dividend yield is 3.7% (annualized), which is almost twice the yield compared to a 10-year Government of Canada bond which is at 2%. RBC's dividend yield is also attractive vs. 10-year US Treasury note, which is yielding 2.4% at the moment.
As shown in graph 3 below, the dividend has been gradually increasing and the payout ratio is stable. The bank's targeted payout ratio is 40-50% of adjusted earnings and RBC is on target to meet that objective. My estimated EPS for the current fiscal year is $6.10 and my projected dividend per share is $2.84, which represents a payout ratio of approximately 46.5%. The bank will to continue to boost its dividend twice a year. The magnitude of the hike will be in-line with its normalized earnings growth, which is between 7-10%. Although the earnings growth was 10% in the latest quarter, I expect the dividend to grow near 7% in the next 2 years.
Internal capital generation has been strong. Therefore, management decided to launch a share buyback program to repurchase up to 30 million shares in October last year. Buyback activity was relatively muted last quarter since only repurchased 165,000 shares were purchased. Buybacks may be limited in the next few quarters as Mr.McKay indicated he wants to reinvest capital back into the businesses such as in Wealth Management and Capital Markets. Nonetheless, if the share price drops from current levels, I believe management may have more incentive to purchase shares. In Q2/2014, management repurchased 1.4 million shares when the average share price was in the low $70s compared to the high $70s in Q3/2014.
Figure 3: RBC's EPS, Dividends per Share and the Payout Ratio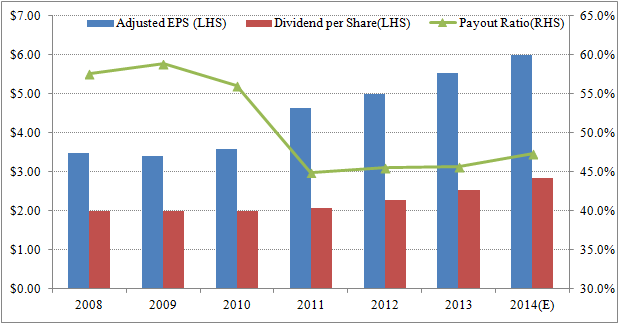 Source: Q3 Financial Supplement.The fiscal 2014 (year ending October 31) numbers are my own estimates.
Canadian Banking Overview:
The Canadian banking division, the most important profit contributor to RBC, continues to perform well. In the latest quarter, this division earned $1.2 billion, which represents the 9th consecutive quarter of earnings above $1 billion in this unit. The earnings momentum continued in the latest quarter with earnings up 3.0% year-over-year (Y/Y). The momentum is likely to continue in future quarters, driven by modest loan growth (near the 5% range), positive operating leverage and effective cost control.
Earnings was up 6.7% quarter-over-quarter (Q/Q), due to the fewer days in Q2.
The main earnings drivers for Canadian banking were modest loan growth of 3.2%, positive operating leverage of 2.0% and a positive 90 bps reduction in the efficiency ratio. Loan growth was driven by higher volume growth (+4.0% Y/Y), better business mix (fee based revenues grew by 5.0% Y/Y), but was partially offset a 1 bps reduction in the Net Interest Margin (NYSE:NIM). The trend in ROE is positive and it has been steadily increasing since Q4/2013 to the current rate of 37.7%. RBC's ability to cross sell many financial products and its leading market share can allow the bank to maintain its profitability going forward.
Looking ahead, Canadian banking will continue to deliver steady and profitable earnings growth. Management has guided for positive operating leverage and efficiency ratio in the low 40s. I expect the efficiency ratio to be near 43% in the long run, slightly lower than current levels. The short-term headwind is margin compression. Interest rates has been dropping since the start of the year and it has impacted RBC's NIM by 1 bps in Q3. However, RBC was able to report a stable NIM for the last 3 quarters despite the downward trend in interest rates due to improvement in the cost structure and business mix. Although NIM may move around Q/Q, I expect the bank to maintain current margin levels. If rates start rising in 2015, NIM should gradually increase over time.
Figure 4: Canadian Banking Financial and Operating Data

Source: Q3 Financial Supplement
Figure 5: Canadian Banking Loan Book at end of Q3/2014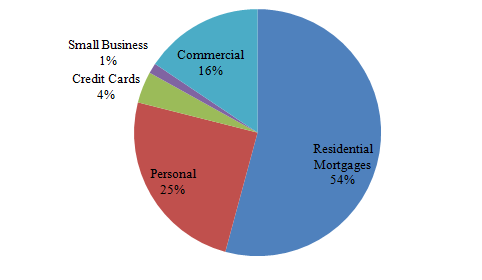 Source: Q3 Financial Supplement
RBC has the highest residential mortgage allocation in its loan book. However, investors should not panic for two reason. First, 39% of the mortgage book is insured by the CMHC, which is backed by the federal government's AAA rating. Second, the bank's overall Loan-to-Value (LTV) ratio for the uninsured portfolio is at 55% (see figure 6 below), which implies housing prices need to decline more than 40% before eroding the bank's equity capital. Furthermore, the LTV ratio for newly acquired or originated mortgages is also reasonable at 72% as shown on page 29 of the Q3 report. Overall, although housing prices are likely to fall in the future, the damage to Canadian banks may be overstated by the media. Given Stephen Poloz, the Bank of Canada Governor, has taken a more dovish stance on monetary policy, especially after core inflation weakened from 1.8% to 1.7% in July, interest rates are unlikely to move higher anytime soon. Without a rate hike from the Bank of Canada until next year, housing prices are not likely to crash, although may face a small correction in the near term.
Figure 6: Residential Mortgage Portfolio Data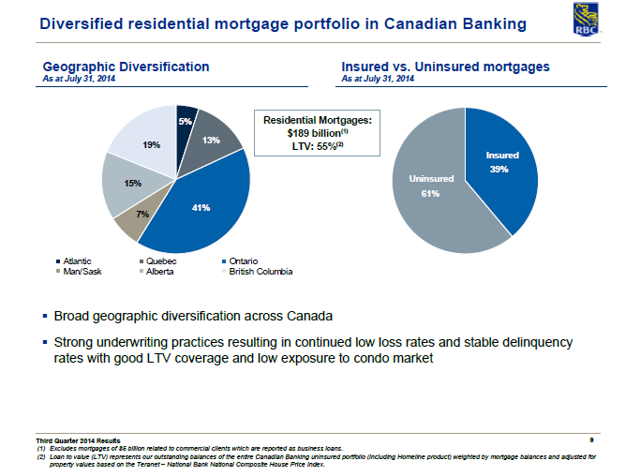 Source: Q3 Earnings Call Presentation
Capital Markets Overview:
The performance of its capital market division was exceptionally strong in Q3 but the results are not surprising given the robust M&A and market activities in Q3. Net income reached a record $641 million, an increased of 66.1% Y/Y. The record profit was mainly driven by higher trading volumes, debt origination, and M&A activities.
All subdivisions in Capital Markets performed well. Corporate and Investment banking revenue rose 44.2% Y/Y to $965 million. The strength this subdivision should be expected given the robust M&A activities, which increase advisory fees and led to lucrative tasks such as underwriting of new debt. M&A activities will continue to be robust in the quarters ahead since interest rates remain near zero and the lack of organic growth implies additional M&A. Furthermore, the increase in tax inversion transactions will increase M&A related activities.
Operating metrics were strong across the board. The efficiency ratio decreased 380 bps Y/Y and 120 bps Q/Q despite an increase in variable compensation. ROE has been increasing from 12.6% Q3/13 to 16.9% in the latest quarter. The extraordinary revenue growth and improvement in efficiency ratio led to a 9.5% positive operating leverage. Looking ahead, higher revenue growth and positive operating leverage will drive earnings growth in the next few quarters although the earnings run-rate may slip back to near $500 million because the recent quarter's $641 million is unsustainable.
Figure 7: Capital Markets Banking Financial and Operating Data

Source: Q3 Financial Supplement. CIB represents revenue from its corporate and investment banking subdivision.
Could RBC be a victim of its own success in the capital markets/investing banking business? That was the question raised in the WSJ article given the increased contribution from Capital Markets, a segment that has high earnings volatility and low earnings visibility. Many analysts and investors don't like "high earnings volatility" and "low earnings visibility" but they overlook the fact that the average earnings power of RBC Capital Markets is increasing and will contribute meaningfully to the bank's underlying profit in the future despite having some volatility quarter to quarter.
WSJ was wrong to point out that RBC is allowing itself to take more risk within the Capital Markets segment. It stated that contribution from this unit was 27% in the latest quarter, higher than the bank's targeted contribution of around 25%. As shown in figure 2, the contribution of the Capital Markets unit was at 25% if we average the earnings for the last 4 quarters. Averaging is the best method in my view because it will smooth out the exceptional quarters, such as Q3/2014, and allow investors to see a better trend.
Is the Capital Markets unit important for the bank? It certainly allows the bank to diversify away from its retail business and provide a strong uptick in profits during the early part of a business cycle. Moreover, the investment bank allows RBC to provide more services to its clients and allow the bank to enjoy additional economies of scale when it uses its own retail network to sell products created in its investment bank. I would highly recommend everyone to review the 2012 Analyst Day notes, where management specifically focused on discussing the strategic priorities and direction of the investment bank. Gord Nixon made an excellent point on why RBC Capital Markets is important for RBC:
"Let me explain why RBC Capital Markets is an important component of our long-term strategy. First of all, we believe that our strategic mix of retail and wholesale businesses provides the right balance of earnings and risk diversification through the cycle and is a competitive advantage that differentiates our performance. As you have seen in previous cycles, Capital Markets businesses generally lead a recovery, which provides a balance to retail businesses which typically lags. Second, RBC Capital Markets is aligned with our strategic objectives. The business is primary focused on North America where it generates over 75 per cent of its revenue and we have competitive strengths in each of our businesses...Third, RBC Capital Markets effectively serves the needs of clients in its capacity as a trusted advisor and a counter-party of choice to corporations, institutional investors and governments in Canada and globally"

Gord Nixon, Former CEO, discussing the importance of RBC Capital Markets for RBC's diversified business strategy during the 2012 Analyst Day. Italicized words are my emphasis.
Wealth Management Overview:
The wealth management division is the main growth driver for the bank although the earnings contribution from this division is still low at 12%. This division delivered a 22.3% Y/Y increase in earnings to $278 million, in-line with the 25.2% rate delivered in Q2/2014. The growth was driven by healthy double digit percentage increases in both Assets under Administration (AUA) and Assets under Management (AUM). Profitability is improving: ROE increased from 16.4% in Q2/2013 to 20.3% in Q3/2014 because of additional increases in fee-paying accounts and appreciation of clients' assets from rising markets. Expenses increased slightly in the quarter; the efficiency ratio increased from 74.5 in Q2/2014 to 74.6% in Q3/2014. However, strong revenue growth still led to a positive operating leverage of 1.2%.
Looking ahead, this division should experience excellent growth. RBC's management is aiming to achieve a target of $2 billion in annual earnings by the end of 2015 from the current rate of $1.15 billion ($285 million x4). This is an ambitious goal, but may be achieved through acquisitions. Organic growth alone may bring earnings near $1.6 billion by the end of 2015. Therefore, an acquisition may be needed to bridge the $400 million gap. I do believe the bank may make a sizable acquisitions in Wealth Management in the next year but I don't think the bank will overpay in today's overpriced environment. The bank may drop the $2 billion goal but the current growth trajectory is still positive. AUA and AUM growth, positive operating leverage and effective cost control will drive wealth management earnings in the future. The earnings contribution of this division should increase from the current 12% to 15-20% in 2015.
Figure 8: Wealth Management Financial and Operating Data

Source: Q3 Financial Supplement
Insurance Overview:
The insurance division surprisingly had an excellent quarter, mainly attributable to less severe weather payouts and a favourable actuarial adjustment. The segment earned $214 million, which is a 33.8% increase over the same quarter last year. The Y/Y increase was due to a very weak quarter in Q3/2013 due to large payouts from severe weather (flooding in both Ontario and Alberta). ROE was very strong at 53.4%, although it was mainly due to a one-time favourable actuarial adjustment. The efficiency ratio improved but the division experienced a negative operating leverage in the quarter. Looking ahead, the insurance division will deliver strong results but earnings is likely to be in the range of $160-$180 million since the $214 million earned in the quarter included a large actuarial adjustment.
Figure 9: Insurance Financial and Operating Data

Source: Q3 Financial Supplement
Investor and Treasury Services Overview:
This division is RBC's global custodial bank, which has over $3.5 trillion of assets under administration. Earnings increased 5.8% Y/Y to $110 million due to higher net interest income, growth in AUA and funding/liquidity revenue. AUA, which increased 14.6% in the latest quarter, has been increasing steadily in the 10-15% range during the last few quarters and is likely to continue to grow at a similar rate in the future. The efficiency ratio increased 0.5% Q/Q to 68.8% but it is in-line with the 68.9% in Q3/2013. Continued cost improvements and AUA growth will drive healthy earnings growth in the future but earnings growth may not increase significantly until interest rates increase.
Figure 10: Investor and Treasury Services Financial and Operating Data

Source: Q3 Financial Supplement
Credit & Capital Analysis:
RBC's credit metrics remain healthy although provisions started to increase in the latest quarter. Provision for credit losses (NYSE:PCL) increased 6.0% Y/Y and 16% Q/Q to $283 million. The large Q/Q increase is due to higher PCL in its Caribbean P&C business from its restructuring efforts and the sale of RBC Jamaica.
The PCL ratio increased from 0.23% in the previous quarter to 0.26% although remained unchanged compared to Q3/2013. Gross impaired loans , also called non-performing loans, decreased 3.5% Y/Y to $1,999 million from $2,072 million in Q3/2013. Gross impaired loans represents 0.46% of the total loan portfolio, which is same percentage as Q2/2014 and down slightly from the 0.51% in Q3/2013. Gross impaired loan formations, the amount of loans deemed impaired during the current quarter, increased 22.7% Y/Y but investors should note that the figure in Q3/2013 was very low. On a Q/Q basis, gross impaired loan formulation remained stable near $330 million.
The new IFRS 9 rule has two implications for RBC. RBC has already implanted the rule regarding debt valuation adjustment (commonly called DVA). Under the new IFRS 9, RBC is not allowed to book a gain if its debt drops in value. The second rule is regarding the estimation of provisions and credit impairments. Under the new IFRS 9, RBC must estimate credit impairments by using an expected loss model rather than the traditional method of solely focusing on what has happened. This new rule would smooth out the large provisions taken by banks after a financial crisis such as the large $3.4 billion PCL RBC booked in fiscal 2009 after the financial crisis in 2008. Bank investors should keep an eye out on how the Canadian banks implement this new IFRS 9 rule, which is expected to be in-force before November 2018.
Figure 11: Credit Related Data

Source: Q3 Financial Supplement
RBC's capital ratios remain healthy. Tier 1 common equity ratio, CET1, decreased slightly from the prior quarter from 9.7% to 9.5%, while the core Tier 1 ratio decreased to 11.2% from 11.4%. The asset to capital multiple decreased by 0.2X to 17.3X in Q2/14. The inverse of this multiple is a rough proxy for the leverage ratio, e.g., a 17.3X multiple implies a leverage ratio of 5.8% (1/17.3).
OFSI, Canada's banking regulator, has decided to implement the Basel committee's leverage ratio as a required disclosure and it will replace the current "Asset to Capital Multiple". Canadian banks will start reporting the Basel III leverage ratio starting in fiscal Q1 2015, which is earlier than the mandatory compliance date of January 2018. OSFI has always moved faster than other major regulators such as forcing Canadian banks to fully adopt Basel III at the beginning of 2013.
Figure 12: Capital Related Data

Source: Q3 Financial Supplement
Valuation Analysis:
RBC is trading at 2.5 times book (C$32.58) and 3.3 times tangible book (C$24.71). Although these multiples are very high compared to other global banks, RBC's multiples are justified because its ROE of 20% is at least 2 times higher than the average 10% earned by other global banks (please see graph 9 in my prior Scotiabank article that analyzed the profitability of Canadian banks vs. US banks).
As shown in figure 14 below, RBC's current price to book multiple of 2.5 is in-line with the 10-year average of 2.5. Against peers, RBC is still maintaining its premium valuation of 10% above peer average due to economies of scale in its Canadian P&C banking and profitable Wealth Management and Capital Markets businesses.
Figure 13: RBC's Historical PB Ratio (last 10-years)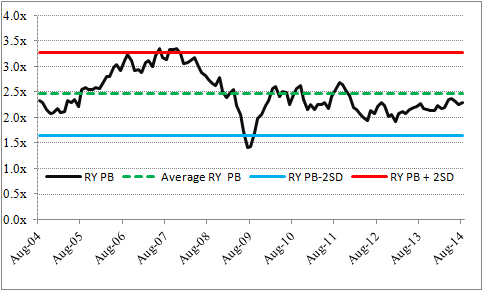 Source: Bloomberg and Q3 Financial Supplement
Figure 14: RBC's PB Multiple vs. Peers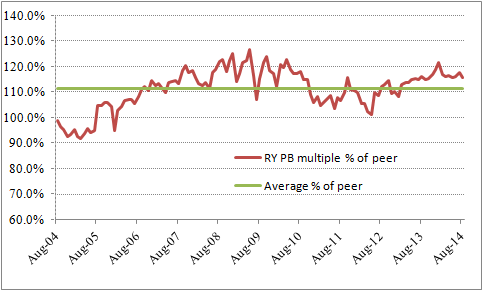 Source: Bloomberg and Q3 Financial Supplement. Peers include Toronto Dominion Bank (NYSE:TD), Scotiabank (NYSE:BNS), Bank of Montreal (NYSE:BMO) and Canadian Imperial Bank of Commerce (NYSE:CM).
My intrinsic value estimate for RBC is US$77.33 (C$86.00). The US$77.33 target is calculated by multiplying my estimated Q3/15 book value of US$32.73 (C$35.74) by 2.4. The 2.4 multiple is consistent with the current price to book multiple and is slightly below the 10-year average of 2.5. The US$77.33 (C$86.00) target is only 6.5% higher than the current price and would present a total return of 10% if the target price is reached in 12 month. Therefore, while I believe RBC is a good company, an investor wishing to buy the stock should wait for a 5-10% pullback first. Please see figure 15 for my sensitivity analysis.
Figure 15: Valuation Sensitivity Analysis (Price in US$)

Source: Author's Calculations. The light blue shows the possibilities that are below today's price of US$73.73, while the light green shows the possibilities that are above today's price. For Canadian readers, multiply the figures in the table by the USDCAD exchange rate of 1.095.
Conclusion:
While RBC continues to deliver excellent financial results, its current valuation may not warrant a purchase at current prices. However, I believe its shares are a good buy after a 5-10% correction in the share price. RBC's long term earnings power of 7-10% and stable dividend growth should appeal to investors. The next dividend hike should be in February 2015 and lower share prices should lead to additional share buybacks from the company.
Disclosure: The author has no positions in any stocks mentioned, and no plans to initiate any positions within the next 72 hours.
The author wrote this article themselves, and it expresses their own opinions. The author is not receiving compensation for it (other than from Seeking Alpha). The author has no business relationship with any company whose stock is mentioned in this article.
Additional disclosure: This article is for informational purposes only and does not constitute an offer to buy or sell any securities discussed in the article. The stock mentioned in this article does not represent financial advice. The target price presented in this article is based on current information and is subject to change without further notice. Investors are recommended to conduct further due diligence before committing capital to any investment.