Silver Wheaton (SLW), the leading silver streaming company, hasn't performed well in the stock market in the past month partly due to the weakness of silver prices. But what are the other factors that could have impacted this company's stock? Let's examine some of these factors and also see what is up head for this company including its risks and advantages.
Correlation and Performance
In the past couple of months, the price of silver dropped by 7.6%, while Silver Wheaton fell by 3%. On a yearly scale, this streaming company has outperformed silver or Shares Silver Trust (NYSEARCA:SLV): Silver Wheaton's stock grew by roughly 26%, while silver remained nearly flat. The company has outperformed silver even though the company has also distributed dividend payments. Despite these major differences, the correlation between the two time series was mostly strong, as indicated in the chart below.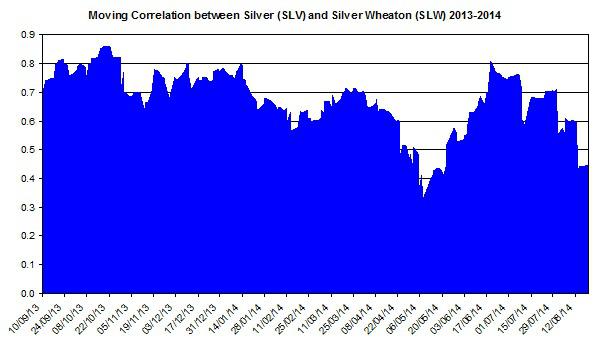 Source: Google finance
But as you can see, Silver Wheaton's stock price became less correlated to silver in the past few weeks.
More than silver
As you well know, Silver Wheaton's performance doesn't only rely on the progress of silver; the company's stock is also impacted by the management's decisions. This includes rising (or falling) attributed production and reaching solid deals. This year, however, the company doesn't expect much of an increase in its attributed production. So one of the main advantages Silver Wheaton has is silver won't have much of an impact on the company's stock this year. Nonetheless, if the company comes up with a new streaming contract, this could all change. Further, looking forward, by 2018, the company expects to reach 48 million equivalent ounces of silver - nearly 33% higher than 2014.
Keep in mind, Silver Wheaton doesn't only sell silver but also gold. Currently, the company's gold operations account for roughly 30% of its revenue. This gold segment provides some diversity (but not too much, after all it's still another precious metal) even though, on average, its gold operations tend to be less profitable than silver as indicated in the table below.
Source: Silver Wheaton's website
Another thing to consider, the gold market has rallied by nearly 6.5% since the beginning of the year, which could partly explain this streaming company's rally in the stock market.
Silver Wheaton also has some risks including mismanagement, debt risk and reaching poor streaming agreements. As I have pointed out in a past article, the company's streaming deal may have been highly priced considering precious metals prices took a dive since the deal was struck back in February.
The company could also face delivery delays, which could cut down its expected revenue stream and thus adversely impact, over short period of time, its stock price: One of Silver Wheaton's precious metal producers partners Barrick Gold (NYSE:ABX) has been delaying the development of its Pascua-Lama mine since the end of last year. Up to now, Barrick Gold compensated Silver Wheaton with precious metals from its other mines.
In conclusion…
Silver Wheaton is still a better investment than silver due to its operations, dividend payment, and forward-looking growth in volume of sales. These developments along with a higher share of gold from total operations could bring down this streaming company's relation with silver prices.
Disclosure: The author has no positions in any stocks mentioned, and no plans to initiate any positions within the next 72 hours.
The author wrote this article themselves, and it expresses their own opinions. The author is not receiving compensation for it (other than from Seeking Alpha). The author has no business relationship with any company whose stock is mentioned in this article.