Company overview
TOR Minerals International (NASDAQ:TORM) is a global manufacturer of specialty chemicals. The three product groups are listed below:
Specialty aluminas includes ALUPREM, HALTEX and OPTILOAD, which are used as fire retardant fillers, engineered fillers and pigments in plastic and rubber applications.
Titanium dioxide (TiO2) pigment products include HITOX, TIOPREM and synthetic rutile (NYSE:SR), which are pigments used as value-added replacements for commodity TiO2 and other color pigments in paint and plastic formulations.
Barium sulfate and other products includes BARTEX and BARYPREM, which are used as extended fillers in paint and plastics applications.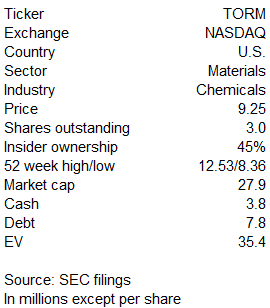 TiO2 is no longer an abbreviation for a lower stock price
TORM trades at the lowest level since the beginning of 2011 as the TiO2 market has suffered from lower volumes/pricing due to weak demand and cheaper Chinese imports as well as high raw materials costs and inventories. This weakness carried over into Q2'14 as TiO2 product revenue decreased 18%, which drove a 380 bp decrease in gross margins to 12.2% due to lower utilization at its SR plant in Malaysia.
A proactive response by management reduced the negative impact on overall results and positioned the business for higher profitability once the cycle turns. For example, global headcount was reduced by >20% and SR production costs were reduced by a third due to yield/efficiency improvements. Management plans to use the increased cash flow as a result of the expected ~30-40% reduction in inventories (along with the lower OpEx) to delever.
There are two recent signs that point towards a recovery. First, management is cautiously optimistic that the TiO2 market will stabilize in 2015. Second, in its Q2'14 earnings slide deck (PDF alert; page 22) the largest TiO2 producer Dupont* noted a slight increase in TiO2 volumes on a y-y basis (the sixth consecutive quarter of growth) and flat prices on a q-q basis. The length of the downturn and extreme negative sentiment mean many investors are viewing these signs as a mirage rather than the start of a cyclical upturn that could drive significant earnings growth due to the high operating leverage.
*Dupont has apparently had enough of the TiO2 business and plans to spin off its performance chemicals unit.
Significant growth in the higher-margin specialty aluminas business
While investors have been preoccupied with the TiO2 business, they have completely overlooked the increasing contribution from the specialty aluminas business, which has de-risked the business model and upgraded the growth outlook. In Q2'14, specialty alumina products accounted for more than half of overall revenue as this revenue increased 54% to a record level.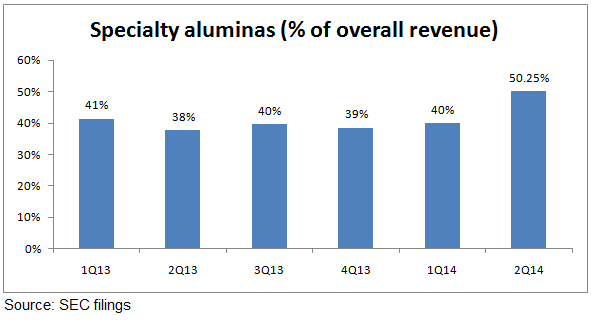 This growth, along with a 10% increase in barium sulfate/other product revenue, more than offset the previously mentioned decrease in TiO2 product revenue (which only accounted for 29% of overall revenue) and resulted in an overall increase of 15%. Management expects continued double-digit revenue and profitability growth in the specialty aluminas business for the remainder of 2014. These products carry much higher margins than the commoditized TiO2 products and provide much greater pricing power due to their high performance.
This growth should be driven by the steady pace of new products and expected ~50% increase in capacity for ALUPREM. For example, a portion of the current growth is due to the increasing European market share in fire retardant fillers, which TORM continues to improve. The expansion beyond the plastics markets through the introduction of new products should result in further diversification. The barium sulfate and other products business could also become a more meaningful contributor due to the growing demand for BARYPREM, a premium and high performance product used for primers and powder coatings.
Risks
The outlook for the remainder of 2014 for the TiO2 market remains challenging due to weak demand and high inventories. The continued low utilization levels (plants are expected to run for only half of the year) will most likely pressure gross margins. This should be more than offset by the more positive outlook for the specialty aluminas business, geographic diversification (see chart below) and vertical integration of the TiO2 business.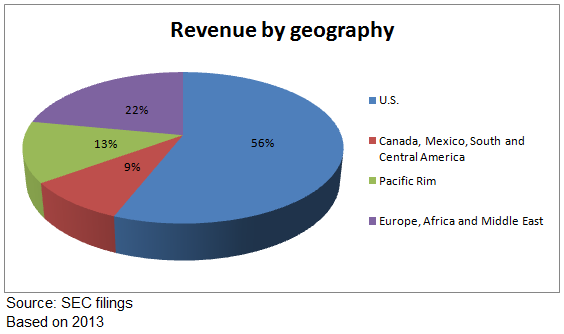 The demand for materials that use pigments is highly cyclical and correlated with the construction and automobile industries as well as overall economic growth.
An increase in raw materials (primarily ilmenite*) and energy costs would most likely result in lower gross margins given the general inability to pass on price increases. In 2013, a 6% increase in raw materials prices (along with lower selling prices) was partially responsible for the 13% decrease in gross margins.
The risk of the accelerated payment provisions for its foreign debt is reduced by the improving operating cash flow ($6.4 million in the LTM compared to only $860,000 in 2013 and $5.7 million in 2012). Earlier this month, its lender released as collateral a $350,000 certificate of deposit and extended the maturity date on an unused $2 million line of credit by a year to October 2015.
A potential support for the stock is the high tangible book value. Even excluding prepaid expenses and placing a 33% discount on inventories, the stock still trades at a slight discount to this adjusted book value of $9.55 (per diluted share).
*Ilmenite is used to produce SR, which is the primary input for HITOX.
Valuation and price target
The mid-teen EBITDA multiple shown in the chart below may appear high (and out of line with a value-oriented investment thesis).

However, there are two critical points that must be considered. First, as shown in the two charts below, the time to buy a cyclical is when earnings are depressed and expected to improve (which is now) and not when earnings are at their peak (as in 2012). If TORM trades at a "reasonable" mid single-digit multiple in 2-3 years, it will most likely be because earnings have recovered strongly. This is exactly the time to exit (and sell to those who simply run screens for stocks with low EBITDA multiples without considering why they are low).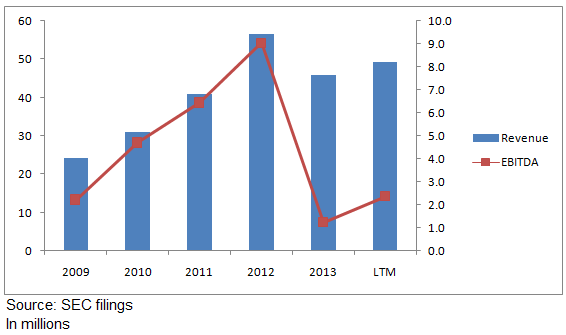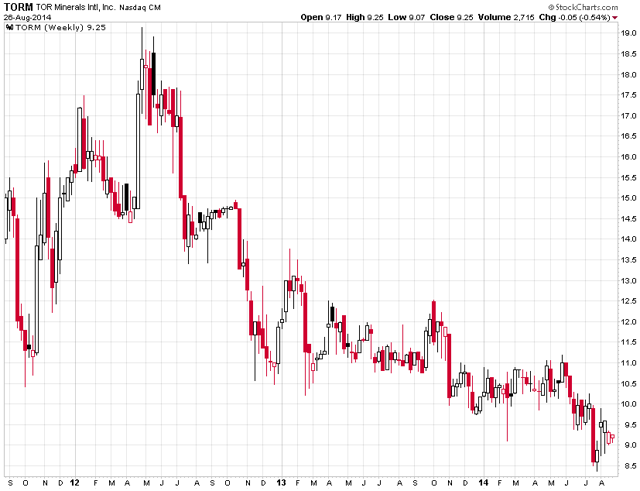 Second, TORM deserves a premium multiple compared to peers with greater exposure to TiO2 such as KRO.
A price target of $12.50 (for a 35% return) should be reached over the next 12-18 months as the market begins to price in a recovery of the TiO2 business and gradually recognizes the growth of the specialty aluminas business. The key metrics to watch to ensure the investment thesis remains on track are sequential improvements in the former and continued y-y increases in the latter. A stop loss should be placed below the recent low at ~$8.50.
Disclosure: The author has no positions in any stocks mentioned, and no plans to initiate any positions within the next 72 hours.
The author wrote this article themselves, and it expresses their own opinions. The author is not receiving compensation for it (other than from Seeking Alpha). The author has no business relationship with any company whose stock is mentioned in this article.
Editor's Note: This article covers one or more stocks trading at less than $1 per share and/or with less than a $100 million market cap. Please be aware of the risks associated with these stocks.