22nd Century Group, Inc. (NYSEMKT:XXII) became public on January 25th, 2011 through a reverse merger with shell company Touchstone Mining Limited (source 21).
We believe investors will come to the same conclusion that we have - XXII is just rekindling a story that already has failed in the past. From 2011 to the beginning of 2014, the stock was trading well below where it's trading today, spending the past couple years trading as low as $0.20, or what we believe the fair value of this stock to be.
However, shares of XXII have been propelled by whispers of the company being the "next big thing" in the tobacco market space - and even in the marijuana space. The company's stock, after spiking violently in early 2014 to over $5.00 (we believe largely as a result of uplisting and promotion), has now settled at around $3.20.
In 2011, the company touted the potential of its X-22 product as its future growth driver. We feel that investors should note initial FDA trials of X-22 failed, and that per XXII's 2013 10-K filing, the company admitted that it would be suspending its X-22 FDA clinical trials. It claims to be looking for a partner to sponsor new trials, but the company has admitted it won't be sponsoring new trials for the product. Instead, the company has offloaded X-22 to Hercules Pharmaceuticals, LLC, who is tasked with trying to find someone to sponsor new FDA trials. What it seems like to us is that the company doesn't want to pour any more money into X-22. So, why should investors?
The company attempts to build legitimacy by disclosing an arrangement where it has licensed X-22 to a third-party, Hercules Pharmaceuticals, LLC. However, Hercules is just a subsidiary of XXII. Regardless, the company now wants investors to focus attention to new product endeavors, but it has seemingly not met milestones related to continuing to license certain cigarette cessation technology. This seems to have been XXII's M.O. through its history - which has been riddled with false promise and failed product launches.
The stock trades at a market cap near $190M, yet the company has run up an accumulated deficit of roughly $47.21M, and has reported revenue of just $16,114 during its most recent quarter ended June 30, 2014. So, what has management done in response to this dismal performance? They have quadrupled the stock's share count to roughly 59 million, and paid themselves hundreds of thousands of dollars in total compensation per annum.
Not only that, but more dilution appears to be right around the corner, since the company shows in its Q2 2014 filing that its cash on hand is only sufficient to fund operations for the next 3 to 4 quarters.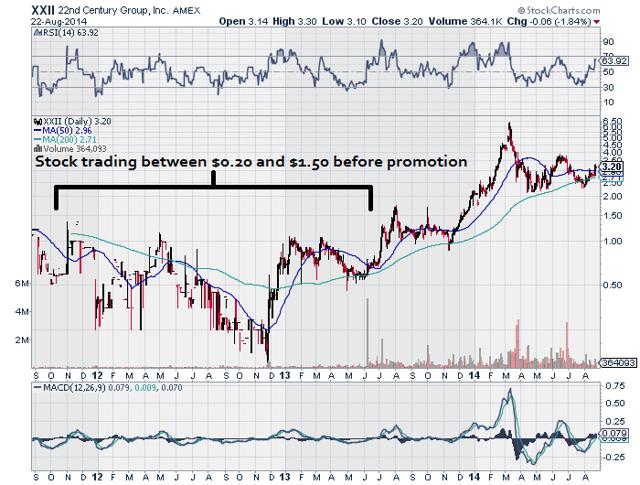 The short thesis behind this company isn't some complex speculative thesis that is going to be difficult to understand. In this piece, we're simply going to show that:
Insiders are paying themselves exorbitant amounts of money from the shareholders' pockets, despite the fact that the company has run up an accumulated deficit of roughly $47.21 million;
Dilution has caused the company's share count to nearly quadruple, and we see no signs that the dilution will not continue to be a staple of management's strategy;
We believe the company has ties to stock manipulation and promotion;
The company has a small dissipating pile of cash;
Based on the company's unsuccessful attempts to meaningfully monetize a product, we have little confidence that it can do so in the future;
The company has a history of abandoning projects;
The company has repackaged a business plan that has failed in the past;
A large tobacco company spent $25M on advertising for Quest-branded modified nicotine cigarettes, before giving up on the product;
The company has admitted it's suspending funding its X-22 FDA clinical trials, necessary to move further in monetizing the product;
The company's paltry revenue from this past quarter came from $16k in filtered cigars;
The CEO has a history of stock manipulation - the SEC charged CEO Pandolfino with manipulating the prices of two stocks by mailing anonymous letters with false information;
The company has known associates that are tied to stock promotion;
The bulls' argument of XXII's own brand of standard cigarettes, which are supposedly set for national distribution at some point in the future, have been trumpeted by the company since 2011, with no sales and no advertising spending to-date;
The company has issued press releases dating back to 2011 touting potential "big things" which still haven't panned out or that it's stopped talking about without major explanation.
Life has been good at 22nd Century Group
Right off the bat, looking at XXII's insider transaction record from the last two years, it's clear that the officers, directors, and beneficial owners haven't been doing too badly for themselves, even though the company has made little operational gains. From March 26th, 2013 to December 10th, 2013, the company's insider trading record shows 35 instances of selling stock and just 1 purchase. The proceeds from the sales combined equaled $447,515. Since December 10th, 2013, we've seen option exercises and sales totaling $611,300 (source 40).
In addition to that, the 2013 proxy statement (source 41) notes that CEO Pandolfino drew a total salary (cash + bonus + stock awards + all other compensation) of $687,969 in 2013 and $476,109 in 2012. Other C level executives are also enjoying lofty six-figure salaries that the shareholders are paying for.

Directors James Cornell and Joseph Dunn also received $15,000 in cash compensation.
In our report, we'll show that promotional agencies, consultants, and those providing services to the company have also been doing quite well, at the cost of common share dilution.
The shareholders are paying for everything this company does to operate.
The company's recent listing on the NYSE MKT in March 2014 and subsequent addition to the Russell 2000 index at the end of June 2014 have increased the amount of eyes on this small company from Clarence, NY. Through this increased liquidity, 22nd Century Group has found itself sporting a market cap near $167M, despite what we believe to be numerous red flags, not the least of which is that the company isn't making any money, and has posted net losses every year since it has been a public company.
XXII is a non-profitable, 9-employee entity that manufactures SPECTRUM reduced nicotine cigarettes for government researchers. There is a chance that the company's sole source of paltry revenue (the government) could terminate if North Carolina State University cancels its agreement with XXII, of which the company is technically in default. There is also no guarantee of future orders in this realm, as it is dependent on demand, which seemed to dry up, judging by the zero orders in all of 2013 and only one small order in 2014.
The company also aims to eventually be a producer of consumer brand cigarettes, and it has two lines for doing so: RED SUN and MAGIC regular and menthol additive-free cigarettes. The company has been "aiming" for major retail cigarette distribution for years. What it really appears to be doing, in essence, is simply just selling shares to pay itself.
The company also has genetically modified nicotine content cigarettes - a business that's still in development. Further, the company has been touted a couple of times as having a niche for the marijuana craze. Like many marijuana touted stocks, however, we believe this thesis to be all smoke and no fire.
The company began its public stages with a product called X-22, which it touted up until 2011. When the product failed a clinical trial to end 2011, investors stopped hearing much about it. We believe that much of the hype around X-22 is what allowed XXII to perform its reverse merger and bring on private placements to fund the business thus far.
X-22 does, however, appear on the company's archaic website, which, on the front page, also boasts biographies of Albert Einstein and Christopher Columbus, among others. We're going to go out on a limb and suggest this company is going to be slightly less revolutionary than the likes of Columbus and Einstein.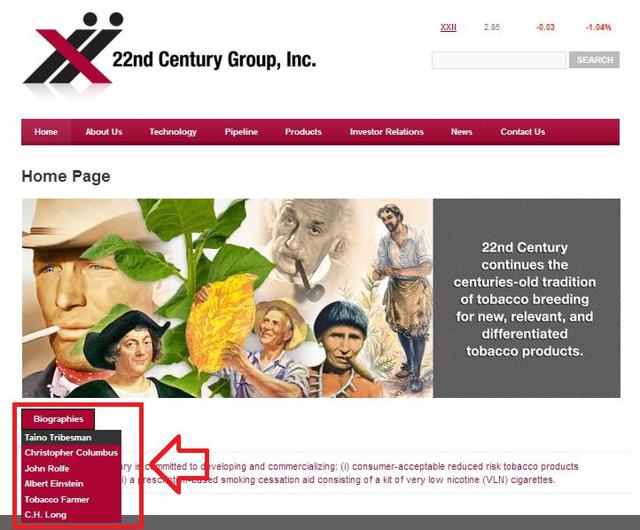 We believe that this company is slated for long-term declines, and has little-to-no chance of pulling its act together.
A Trail of Stock Manipulation by the CEO and an Alternative Tobacco Story that is Almost Two Decades Long
Joseph Pandolfino, Jr. is the chairman and CEO of the company. He's the largest owner of stock, holding 6 million shares (roughly a 10% stake in the company).
On April 6, 1992, Pandolfino incorporated Tobacco Alternative Inc., a marketer of herbal cigarettes and the predecessor to XXII. At the time of Tobacco Alternative's founding, Pandolfino was a graduate student at SUNY Buffalo, and already the subject of an SEC case regarding a fraudulent stock promotion he orchestrated in April, 1991.
The SEC charged Pandolfino with manipulating the prices of two stocks by mailing anonymous letters with false information. The case was settled with Pandolfino neither admitting nor denying the charges, and accepting a fine equal to the amount he profited in the scheme. He also agreed to refrain from such activities in the future. This was sourced from the SEC News Digest from 1992.
You can read the electronic copy of this document, still available at the SEC's website, listed as (source 2):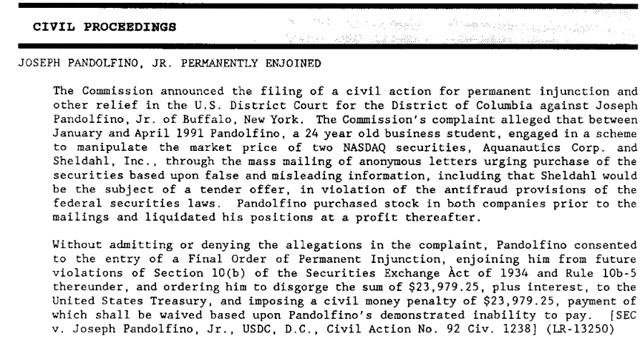 From there, Mr. Pandolfino went on to "Tobacco Alternative, Inc." We believe Pandolfino has been peddling the "Tobacco Alternative" concept since 1994. We have obtained what appears to be a mailer for "Tobacco Alternative, Inc." from around the same time period: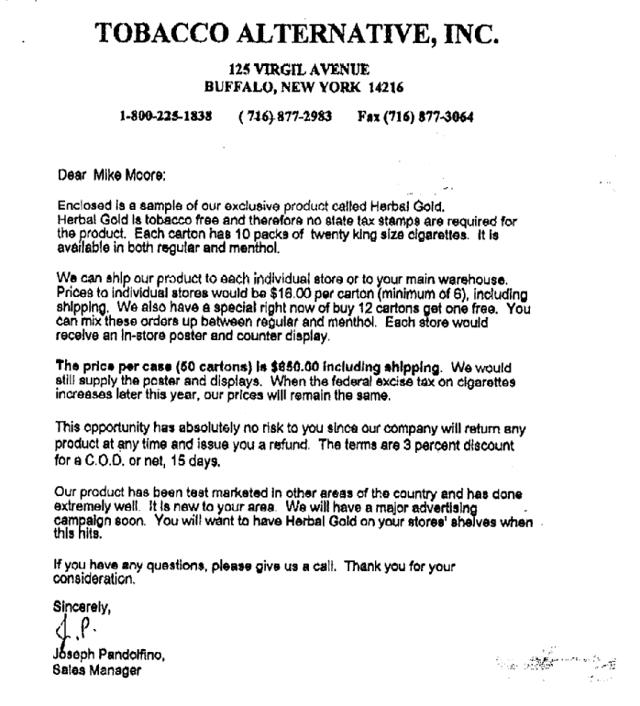 The location on the letterhead leads us to what appears to be 1 of 6 apartment buildings located in Buffalo, New York: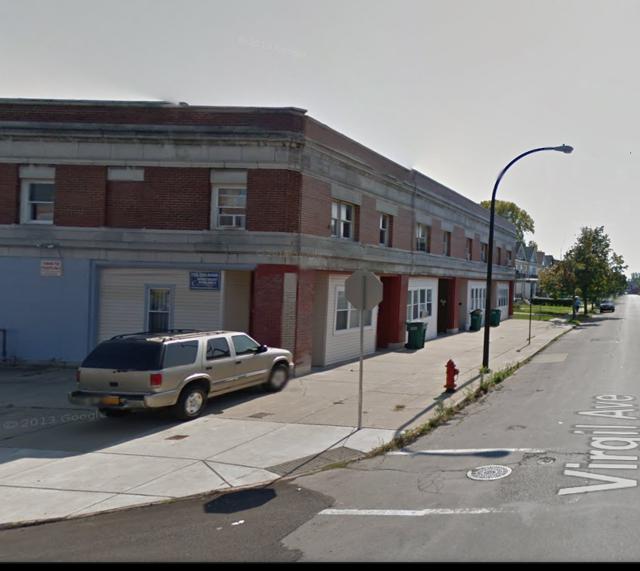 (Source: Google Maps)
After this time, Pandolfino had changed the name of "Tobacco Alternative" to "Alternative Cigarettes, Inc.", and partnered with Smokin' Joe's, a Tuscarora Indian Nation-based cigarette manufacturer and retail shop north of Buffalo. From the partnership, Pandolfino sought domestic production and distribution of his products.
Smokin' Joe's was, and is, owned by Joseph Anderson, a long-time partner of Pandolfino's. Anderson and his controller at this time, Richard Saffire (source 3), owned over 10% of XXII at the time it went public in 2011. Saffire still owns 2.6M shares, or 4.4%, and additional warrants. His family owns Milhem Attea & Bros. (source 19), which has historically been the largest distributor of cigarettes to Indian tribes in New York State. (Sometimes the company is called Attea Milhem & Bros.)
Saffire had a controlling interest in two cigarette companies, Windward Tobacco and Sovereign Tobacco. Windward ceased operations in 2006 after being sued by the State of New York for failure to collect taxes on cigarettes sold on Indian reservations (Milhem Attea was the primary defendant in the case). Sovereign Tobacco was sold in 2009 to the Oneida Indian tribe in New York for $6.6M (source 20).
Joseph Anderson is a leader on the Tuscarora Indian Reservation in Niagara County, New York, about 10 miles north of Buffalo. In addition to owning Smokin' Joe's, he has interests in a number of local businesses (source 4).
During the mid-1990s, Anderson and Milhem Attea & Bros. were the distributor and supplier, respectively, to a cigarette smuggling ring that sold untaxed cigarettes in Canada (source 5).
In 2004, Anderson pled guilty to bribing the mayor of Niagara Falls for favorable treatment related to a real estate development project (source 6).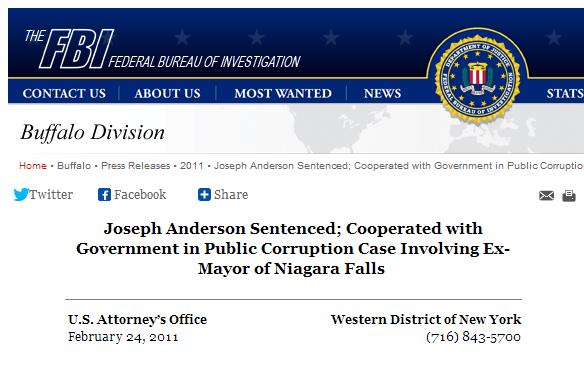 XXII's Prior Attempt to Monetize its Cigarette "Technology" is a $25-Million Disaster
A key to XXII's bull story is technology that allows it to genetically alter the nicotine content in cigarettes. On July 14th, 1997, XXII's predecessor company, Alternative Cigarettes, obtained an exclusive license to such technology from North Carolina State University ("NCSU"). Indeed, 22nd Century Limited LLC was formed as a separate entity in 1998 to be the umbrella for modified nicotine products going forward. Through 2001, cumulative payments totaling $377K were made for the exclusive license and research work done by NCSU.
XXII did not have the resources to develop this product internally (source 7). In 1999, it sublicensed the technology to the large tobacco company Vector Group (NYSE:VGR), which planned to develop a new low-nicotine brand called Quest. Vector went on to spend over $25M on advertising alone for Quest-branded modified nicotine cigarettes, before giving up on the product.
Vector started production and marketing of Quest in January 2003, and also began the FDA approval process to market the cigarettes as a smoking cessation product. However, initial sales of $26M in 2003 quickly fell to $14M by 2004 and just $10M by 2005. With the FDA still withholding approval, Vector decided in 2006 to end the application process with the FDA and cease further development of Quest as a smoking cessation product.
Vector kept Quest on the market for a few more years, but consumers didn't like the product. One review said, "They've almost genetically altered the tobacco to turn it into the taste of the lettuce leaf cigarettes. BAD." In 2009, Vector finally ceased production of Quest altogether, with XXII retaining the NCSU license to the technology.
Following Quest's failure, XXII began work on its own modified nicotine products. The first, X-22, was intended to be a smoking cessation product for which XXII planned to seek FDA approval, despite Vector's failure. Yet, at the end of 2011, XXII's Phase IIB trial showed that X-22 did not help people quit smoking.
After that, XXII refocused its pitch on two retail-branded cigarettes with modified nicotine levels: Brand A (very low nicotine content) and Brand B (higher nicotine content than other "light" or low-tar cigarettes). XXII intends to seek FDA approval to market these products as "modified-risk" tobacco products.
The original license agreement with NCSU was amended in August, 2012 to give XXII more time to meet milestones with regards to FDA Phase III trials and commercialization. The amendment called for XXII to initiate Phase III trials by the end of 2013, submit an FDA application based on trial data by the end of 2014, and launch commercial products in 2015. The first milestone was not met, and no further announcements have been made regarding the status of this licensing agreement.
The Company has a Wicked Habit of Dilution Tied into Financing and Promotions; Total Shares have More Than Quadrupled Since 2010
The company knows that dilution is its biggest concern. Perhaps that's why it is listed first under "Risk Factors" in the 2011 and 2012 10-K, and third down in the 2013 10-K (sources 1, 35, 36):

As this chart shows, XXII has aggressively diluted its common shareholders, and has been quick to issue warrants and other equivalents in conjunction with financings and payments. The company's total share count has more than quadrupled since its inception in 2010 (source: XXII public filings).
| | | | | | |
| --- | --- | --- | --- | --- | --- |
| | 12/31/2010 | 12/31/2011 | 12/31/2012 | 12/31/2013 | 6/30/2014 |
| Common | 16,000,000 | 27,209,646 | 34,286,979 | 56,902,770 | 59,601,688 |
| Warrants | - | 8,651,978 | 12,972,664 | 10,653,469 | 9,440,784 |
| Other Equivalents | - | 6,632,040 | 6,463,782 | 1,160,000 | - |
| TOTAL | 16,000,000 | 42,493,664 | 53,723,425 | 68,716,239 | 69,042,472 |
Since the company has been public, its share count has been on the constant rise. In order to fund operations after its reverse merger, the company has been selling stock, including:
The company's reverse merger private placement, 5.4M units at $0.81/unit. Each unit contained one common share, a half-warrant at $1.50 and a half warrant at $3.00.
$4.4 million raised in subsequent offering to fund clinical trials of X-22.
In December 2011, it raised $1.7M selling one-year notes to 24 investors with a face value of $1.9M convertible into 2.5M shares at $0.75, with 3.1M warrants exercisable at $1.50. In January 2012, it paid its legal counsel 1M shares to satisfy a debt of $260K.
In January 2012, it paid ProActive Capital 25K shares for investor relations services. (See below for more on ProActive.) (source 38)
In May, it raised $1M by selling 1.7M shares of stock with 1.7M warrants at $0.60 per unit. The warrants had an exercise price of $1.00.
In June, Chardan Capital Markets (150K) and Maxim Group (62.5K) were issued shares for placement agent services. (See below for more on Chardan.) Someone named Michael Pisani was given 30K shares for investor relations services (source 38).
In August, the company issued $220K of convertible notes at a 6% discount. The notes were convertible into stock at $0.60. If converted, the holders receive 100% warrant coverage. If not converted, but redeemed by the company, the holders receive 50% warrant coverage. The warrants had an exercise price of $1.00.
In November, XXII issued another 3.2M shares of its common stock and 1.7M warrants for $809.5K, or $0.25 per unit. XXII only received $681K in cash, however, while the rest was exchanged for a reduction in accounts payable and directors' fees owed. The warrants had a strike price of $1.00 (source 1).
In January 2013, Chardan again acted as the placement agent on a $2.12M net offering, receiving a 10% cash commission, as well as 416K shares (source 1).
In May 2013, New Castle Consulting was given 160K shares for consulting services. New Castle is run by Leonard "Len" Panzer, who put in some time in the early 2000s working for the notorious financial IR firm, Liviakis Financial Communications (source 37).
In May and June, a total of 350K additional shares of common stock were issued to Chardan for investor relations services (source 38).
In June 2013, Crede Capital Group, LLC was given 860K shares for investor relations services. In October, Crede filed a 13G showing an additional 2M shares were also acquired in June for a 5.9% position.
In November 2013, 10,000 shares were issued to IBIS Co. for investor relations services (source 1)
In December 2013, 300,000 shares were issued to Chardan Capital Markets, LLC for "professional services" (source 1)
(Source: Company press releases and SEC filings, sources 1, 36, 37, 38)
Ties to Questionable Analysts, Promoters and Convictions of Bank Fraud
Crede is a partnership controlled by veteran stock promoters Terren Peizer and Michael Wachs [Source - Free Registration Required]. Peizer has a long and sordid history, including for example, Hythiam Inc.'s failed Prometa addiction treatment miracle program and Hollis-Eden Pharmaceutical's failed miracle AIDS cure Immunitin (source 39). Wachs pled guilty to bank fraud in 1997, spent 11 months in federal prison and agreed to be barred from the brokerage business (source 22). Wachs has, for many years, run CEOCAST, an investor relations and stock promotion company (source 23). CEOCAST acted as a paid promoter of XXII back in late 2011, where one of its letters confirmed that XXII was paying it "fifteen thousand dollars per month in cash and stock" (source 45).
In June 2013, it would seem that the big stock promotion began. After sliding from January's peak of $1.00 to $0.60 at the end of May, there was suddenly an explosion in trading volume and price beginning on June 7th. 4.8M shares traded that day, 10 times the previous peak trading day back on November 26, 2012.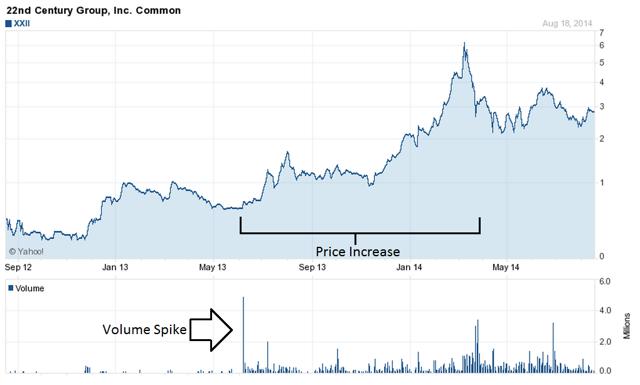 XXII put out a press release on the following Monday, June 10th, with a corporate update on multiple fronts, highlighting a potential business collaboration with an unnamed US tobacco company (this turned out to be NASCO Products, see below), and projecting expanded distribution of MAGIC and RED SUN branded cigarettes in the second half of 2013 (which did not occur) (source 25).
The stock was up 60% by August.
In August and November, the company instituted warrant exchange programs, where the exercise price of several series of warrants was lowered to induce cash exercise. In total, during 2013, 15M warrants were exercised. (While 12M warrants were issued during the year.)
In December, Chardan was paid $320K, and issued another 300K shares of common stock for "professional services."
Less than three weeks later, on January 10, 2014, Chardan initiated research coverage on XXII with a "Buy" rating and a $9 price target, with shares then trading at $2. It reiterated this rating and price target on March 6th and July 15th.
Chardan Capital makes up 3 of the 4 analyst reports listed on the company's website. The other is Rodman & Renshaw (see ProActive above) (source 24):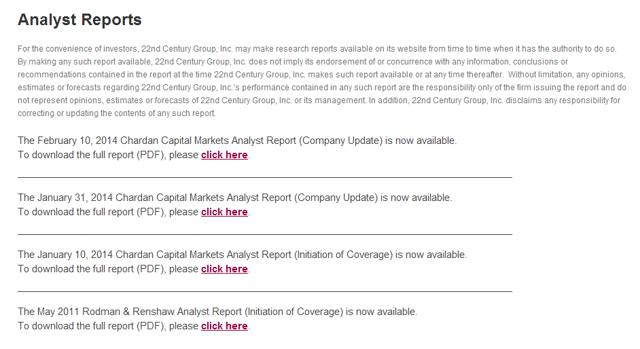 Rodman & Renshaw found themselves short of capital in 2012, and its parent company's name change to Direct Markets Holdings Corp. (source 42) did little to prevent its stock from eventually trading under a penny on the OTC.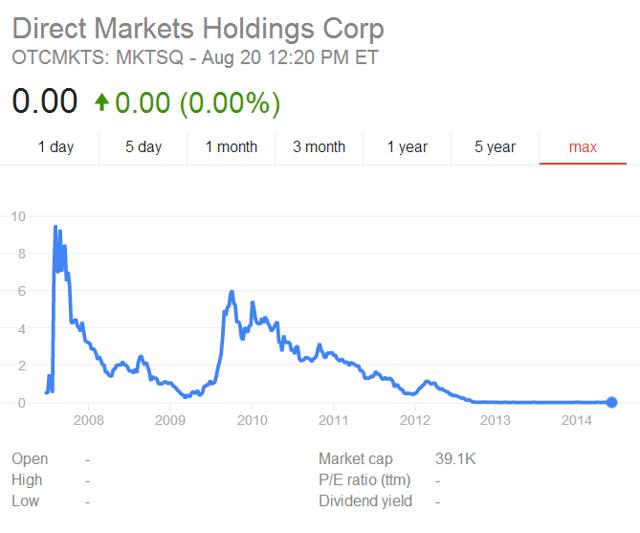 In 2013, it filed for bankruptcy, listing $1M in assets and $10.6M in liabilities (source 43).
By mid-March, XXII shares hit $6.20, up 1000% since the June promotion started. XXII had a market value of $400M.
Promotions Have Been Inherent in XXII Since the Beginning
XXII has bought and paid for a very suspect group of stock promoters who have been active in the stock since the reverse merger.
The first paid stock promotion began in June of 2011. Proactive Capital/Quality$tocks ("Proactive") announced XXII as a new client and shared a copy of Rodman & Renshaw's analyst report. This was followed up by another post on June 30th that pointed back to the same Rodman report (source 9). Proactive received 25K shares of XXII in January, 2012 for investor relations services.
Proactive Capital's promotional techniques have recently been the subject of a damning expose from Richard Pearson of MoxReports.com (source 10).
CEOCAST was first mentioned XXII in October 2011. The company subsequently appeared in the November and December editions. CEOCAST was compensated with $15K per month in cash and stock for three months in 2011 (source 30).
Chardan Capital Markets ("Chardan") is the investment bank that acted as the placement agent for XXII's May 2012 and August 2013 preferred stock offerings, and as the financial advisor for the warrant exchange program in the 4th quarter of 2013. It was founded in 2003 by Kerry Propper as an offshoot from his father's firm, Chardan Capital. Kerry's father, Dr. Richard Propper, has a long history of securities law abuses (source 46). Father and son have been involved together in multiple dubious Chinese reverse mergers (eg., A-Power Energy and Fuqi International), and in 2010, along with Rodman & Renshaw, were behind the disastrous public offering of DJSP Enterprises Inc., which began trading at $9 and was under $0.50 by the end of 2010 amidst claims of improprieties (source 31). You can see more of Chardan's horrendous Chinese reverse merger track record here. We have also written about Chardan being questionable as well, which you can read here.
In 2006, Richard Propper was charged by the US Justice Department of defrauding the Small Business Administration of $32M. His partner in this illegal venture, John Torkelsen, pled guilty and was sentenced to seven years in prison. Richard Propper eventually settled by paying a $1.5M fine. Kerry Propper was also a party to this case, and settled for $36K (sources 13-16).
Rodman & Renshaw, meanwhile, saw its parent company eventually file for bankruptcy.
Scott P. Shaffer is a blogger based out of Boca Raton, Florida, who first mentioned XXII in the inaugural issue of his newsletter/blog called "How To Find Big Stocks", which was also posted on Seeking Alpha (source 17). XXII was covered in the February, May, June, August 2013 and January, March 2014 editions of the newsletter. Shaffer's FINRA record indicates that he worked at a succession of bucket shops (Sterling Financial, D. Blech and Co., to name a few) before taking off on his own as an independent investor and newsletter/blog writer. Shaffer states that he is not paid by the companies he covers, but may take positions in companies he is covering prior to publication. In 2007, Shaffer was promoting CSMG Technologies Inc. (CTGI- delisted) with the same statement; however, SEC records show that he had received 200K options to purchase shares from the company for "services rendered." (source 32)
The Company Has a Cash Position that Is Going to Necessitate Even More Dilution Soon
The company filed its most recent 10-Q on August 14, 2014, where it disclosed that it has $4,172,795 cash on hand, which equates to roughly enough to last for another 3 quarters. The company is going to be forced to do an offering soon, and has filed a $45M shelf registration, which was declared effective by the SEC in June of 2014 (source 8).

The Company's Financials are Atrocious. The Only Constants Are Rising Share Count and A Consistent Net Loss
As you can see from the below chart, the company's revenue has been anything but recurring, but it's their net loss that has been the figure that's been consistently growing. The company has gone from a $1.3 million loss in 2011 to a massive $26.1 million loss in 2013. The company has posted a $7.2 million net loss for 2014 thus far, as well.
The company's cash position has relied heavily on the company's ability to perform private placements, as you can see in the above-listed share count. The share count has more than doubled since 2011. Keeping the same market cap, $5 share in 2011 would be worth less than a mere $2.50 in today's environment.
For the second quarter of 2014, the company posted revenue of $16,144 and a net loss of $1.965M. The company had an updated share count of 58,749,240 and cash on hand of $4,172,795. Here's how those numbers have fared in the past couple of years.
| | | | | | |
| --- | --- | --- | --- | --- | --- |
| | 2011 | 2012 | 2013 | 2014 1st Quarter | 2014 2nd Quarter |
| Revenue | $1,012,141 | $18,775 | $7,278,383 | $447,535 | $16,114 |
| Net Loss | ($1,347,787) | ($6,736,737) | ($26,153,158) | ($5,315,128) | (1,965,815) |
| Avg. Shares | 27,209,646 | 34,286,979 | 56,902,770 | 58,264,624 | 58,749,240 |
| Cash | $252,249 | $188 | $5,830,599 | $5,373,407 | $4,172,795 |
| Total Assets | $2,388,623 | $2,644,871 | $12,286,744 | $11,930,499 | $11,240,624 |
(Source: XXII filings)
That whopping $16,114 in revenue the company posted just this past quarter? That came from the selling of filtered cigars, as per the company's 10-Q:

We're not really sure where cigars fit into the company's business plan, this is the first we've heard of it. The word "cigar" doesn't appear in the company's 2013 10-K.
Excluding a one-time license payment in Q4 2013 and as of Q1 2014, the company has generated merely $2.5M in unprofitable revenue over the past 5 years from contract manufacturing research cigarettes, with no contracts in place for future sales. The research cigarettes are produced with technology licensed from North Carolina State University, and XXII is technically in default of this licensing agreement, which means patent rights can revert to NCSU at any time, barring further amendments to the agreement. The two do seem to continue to have a working relationship (as NCSU is brought up in XXII's 10-K a couple times for 2013), but we believe it to be in default, based on the letter agreement technicality linked above.
The company did book a $7M license fee from British American Tobacco (BAT) in 2013, which granted BAT exclusive access to patents for genetic modification of nicotine levels that were developed by XXII separately from the NCSU patents, and bulls believe there is potential for additional revenue from commercialization of products BAT develops with this technology. Yet, this is at best years away, given that BAT has publicly stated that it has other priorities for commercialization.
Additionally, no one seems to know the arrangements of the BAT agreement except for XXII and BAT. The letter referenced in the agreement (which provides the definition of the "milestones" that need to be achieved in order to unlock the other $7M) hasn't been disclosed.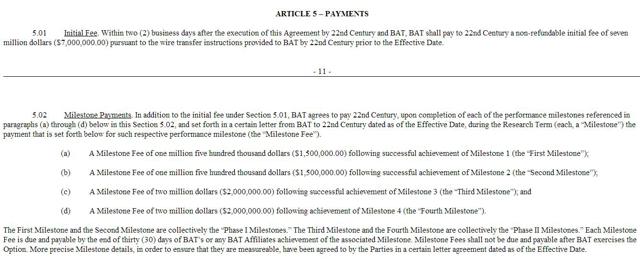 (source 44)
Bulls also point to the potential of XXII's own brand of standard cigarettes, which are set for national distribution at some point in the future, but these cigarettes have been trumpeted by the company since 2011, with no sales and no advertising spending to-date.
The Bull Case has Holes, and the Company Is Licensing Its X-22 Product - to Itself.
X-22, the company's original catalyst and story heading into the reverse merger, failed a Phase IIB trial at the end of 2011. Since then, the company hasn't announced any partnerships or material news concerning X-22.
With respect to X-22, listed on the company's website is that the product has now been licensed to Hercules Pharmaceuticals, LLC. Sounds impressive, right? A licensing deal for its touted product? Sounds like this company is going places.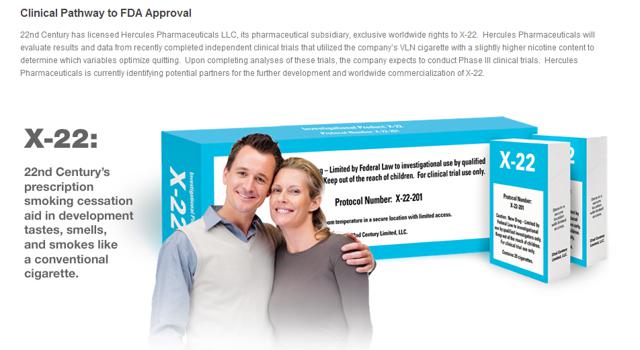 (Source: xxiicentury.com)
Until we find out that the company is licensing X-22 to itself. Elsewhere on the company's website, we can see much clearer that Hercules Pharma, LLC is actually a subsidiary of XXII: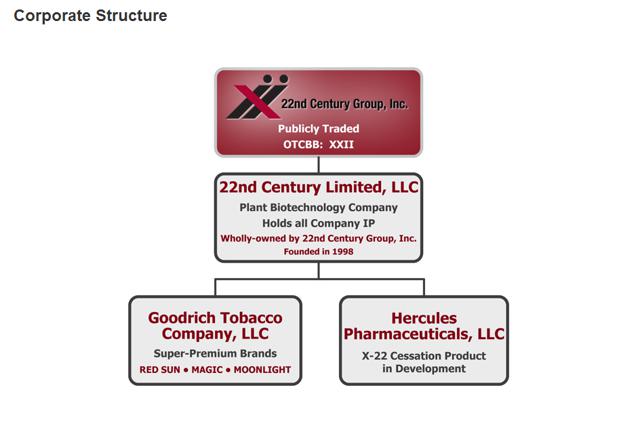 We also note that the company apparently failed to update the FDA with the results of its clinical trial, as Clinicaltrials.gov shows that the last update to the trial took place in October 2011 (source 47). Better managed trials often conclude by posting follow-up and results, even for failed trials. We'd also postulate that these steps need to be taken before preparing another trial.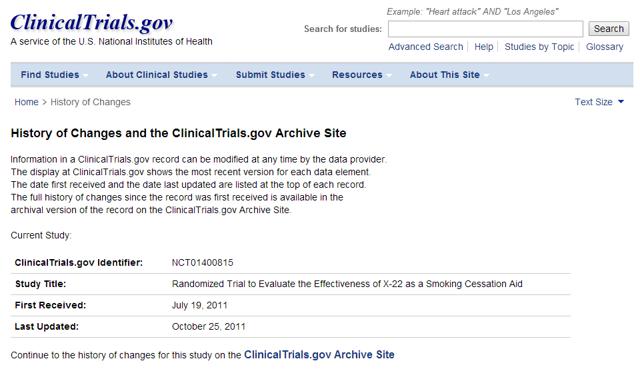 Then, in October of last year, the company entered into an agreement with BAT that would allow it to license nicotine modification patents.
These patents cover genes that regulate nicotine production in the leaf of tobacco plants, while the NCSU patents cover genes that regulate nicotine production at the roots. BAT paid XXII $7M up-front, and may pay up to an additional $7M if certain milestones are met. If a commercial product is brought to market, the minimum and maximum amount of annual royalties are $3M and $15M respectively for a period of three years, increasing to $5M and $25M thereafter up to a period of 15 years (source 26).
BAT Commercialization: Bulls think the BAT research agreement will lead to commercial revenues, but British American Tobacco published a 29-page "Science & Technology" report in January 2014, outlining the company's research priorities and providing both 2-year and 4-year development plans. XXII is not named, and nicotine reduction is not mentioned at all in the report (source 27). We think this helps easily debunk a majority of the bull case.
The main focus of the BAT program is toxicant reduction in standard cigarettes (nicotine is not a toxicant) and electronic cigarette harm reduction testing. The report also points to BAT subsidiary Nicoventures, where commercial development is ongoing for harm reduction products, which are currently limited to BAT's e-cigarette called Vype and a nicotine atomizing product which is still in development.
BAT's priorities might change if the FDA required manufacturers to come out with low-nicotine cigarettes. But that seems unlikely given general concerns that low-nicotine products will result in people smoking more cigarettes to compensate for reduced nicotine levels.
Lowering nicotine levels does not reduce the harm from smoking (source 28). The harm occurs simply from burning the tobacco, regardless of the nicotine content. Lowering the nicotine lowers the addictive properties only. Moreover, there are established alternate methods of lowering nicotine content other than genetic modification, like advanced filtering and chemical stripping. Such commercial products have been introduced in the past with limited success (e.g., the NEXT product from Philip Morris.)
Branded Cigarette Sales: Bulls argue that when the NASCO Products MSA transfer clearance is approved, or when XXII's standalone MSA application is approved, XXII will be able to begin national distribution of its RED SUN and MAGIC branded cigarettes. With the equipment newly purchased, XXII can manufacture these brands at its own production facility, instead of being contract manufactured as in the past.
But becoming a signing member of the Master Settlement Agreement is an optional choice for a cigarette manufacturer. There are a number of smaller cigarette makers that opt out of the MSA contract and sell as a non-participating manufacturer ("NPM"). There are certain benefits and protections given under the MSA, but the financial difference between being a member and selling as an NPM is negligible. Importantly, XXII's current branded standard cigarettes have been available since 2011, and could have been sold as an NPM since that time. Revenue from these products is essentially zero.
The company has not stated the logic in approaching MSA membership through acquisition (NASCO Products) versus independent application. In both cases, the participating states in the MSA have to approve the application (new membership) or the transfer request (acquisition), and the administrative work to establish escrow accounts would be the same (MSA-related sources 29).
In either case, XXII will be required to deposit on escrow approximately $0.50 per pack of cigarettes sold annually with each individual state in which they sell cigarettes. In the case of the individual states' MSA approval process, these are done state by state, and there should have been some progress update since the company announced the start of this process in January, 2013 and received its Federal Tobacco Manufacturer permit in March, 2014.
We believe that even if XXII can overcome these hurdles, the company will have to spend heavily on sales and marketing for its branded products to be successful.
Brand A & B: While bulls argue that XXII will continue to develop branded modified tobacco cigarettes and eventually receive FDA approval to market them as modified-risk or smoking cessation products, the FDA itself seems concerned that reduced nicotine products could lead people to smoke more cigarettes.
SPECTRUM: A five-year study was initiated in 2011 by the FDA and National Institutes of Health ("NIH") utilizing XXII's SPECTRUM research cigarettes to study the effects of low-nicotine cigarettes on smoking habits in the United States (see The New York Times, October 28th, 2011). Initial results are expected to be released sometime in late 2014. Similar studies in New Zealand (2013) and Japan (2012-2013) have shown that low-nicotine cigarettes alone are not an effective quitting mechanism. The New Zealand study concludes that smokers need a strong motivation to be swayed to use low-nicotine cigarettes, and suggests offering them at 1/10th the price of standard cigarettes as a potential motivation. XXII delivered no SPECTRUM cigarettes in 2013, and in 2014, only $270K in net revenue has been derived from SPECTRUM cigarette sales.
We believe that XXII is technically in default of the license agreement with North Carolina State University - this is the technology behind Brand A, Brand B, SPECTRUM, and X-22. There doesn't seem to be any disclosure that NCSU has terminated the agreement based on default, but this creates a large amount of uncertainty going forward.
Export Sales: Bulls argue that export sales of modified tobacco products could be a growth channel, with XXII selling to Belgium, Netherlands, Luxemburg and Poland. From XXII's 2013 10-Q, March 2014:
"Laboratory testing and European labeling requirements are expected to be completed soon, and shortly thereafter distribution of the Company's products will commence."
Again, we have seen all talk regarding the export sales and no meaningful revenue.
Marijuana: In April 2014, XXII announced an investment of $700K for a 25% stake in an unnamed plant genetics company. The buzz is that this might be something marijuana-related. To-date, there is no evidence at all that XXII has any technology that would work in modifying marijuana, or for that matter, why anyone would want that.
The Company Has No Near-Term Prospects
By the 4th quarter of 2013, the original story behind the reverse merger, X-22, which failed Phase IIB trial at the end of 2011, seemed to fall by the wayside. XXII tried to revive the product in 2013 by utilizing cigarettes with slightly higher nicotine levels than those used in the failed trial for additional testing, but the results still didn't entice anyone to partner with XXII to fund additional development (source 34).
The 2013 10-K (source 1) shows that the company has suspended further clinical trials of X-22:

However, in October, 2013, XXII entered into an agreement with BAT to license nicotine modification patents that XXII had developed separately from NCSU. These patents cover genes that regulate nicotine production in the leaf of tobacco plants, while the NCSU patents cover genes that regulate nicotine production at the roots. BAT paid XXII $7M up-front, and may pay up to an additional $7M if certain milestones are met.
In December, 2013, XXII bought a cigarette manufacturing facility (out of bankruptcy) from Renegade Tobacco Inc. for $3M in cash, and then sold $650K of the equipment acquired that it did not need in the same month. This is the first time XXII has owned its own equipment (source 33).
XXII also paid $1M in December to purchase NASCO Products Inc., a tiny tobacco company with no recent operations. However, NASCO is a participating member of the Tobacco Master Settlement Agreement ("MSA").
The MSA was established in 1998 between the state Attorneys General of forty-six states, five U.S. territories, the District of Columbia and the five largest tobacco companies in America concerning the advertising, marketing and promotion of tobacco products. To sell cigarettes in these states, companies must either be affiliated with an MSA member or register as a Non-Participating Member ("NPM") and establish an escrow account in those states, which is funded by a percentage of sales.
On March 6th, 2014, XXII shares were approved for listing on the NYSE-MKT exchange, and XXII was added as a component of the Russell 2000 index on June 30th.
On March 10th, 2014, the company announced it had received its federal permit to manufacture tobacco products (it had applied in January, 2013). This is a requirement prior to MSA inclusion for any state tobacco sales, including doing so as an NPM, but does not guarantee inclusion.
Most recently, on July 11th, XXII announced - without disclosing the name of the organization or the financials of the agreement - that it had engaged a contract research organization to assist with research and regulatory activities related to FDA approval of modified-risk products and a smoking cessation product designation.
The press release is laden with fluff. For instance, it notes that there are "1 billion smokers worldwide", while failing to mention the company doesn't seem to be engaging any of them. Also in the realm of forward-looking and unnecessary fluff is this line:
Considering there are approximately 1 billion smokers worldwide, Forbes magazine recently characterized a safer cigarette as follows: A product that could have the biggest impact on human health since the introduction of antibiotics.
This line is true. A product could have a huge impact on human health. The problem is, XXII doesn't seem to have this product, so why put this in the press release? (source 18)
We do not believe there are any prospects in the near future, short of another promotion, that are capable of turning XXII stock back upward.
A History of Press Releases that Haven't Panned Out
While doing our research, we've noted a lot of company press releases that seem impressive on the surface, but that have all ultimately led to where the company is now - poised for more dilution, and continually posting losses. When considering whether or not to lend credence to the company's most recent press releases, suggesting that International and European sales could be right around the corner, we chose to check what the company's history of delivering on press releases was. Specifically, the company has issued press releases dating back to 2011 touting potential "big things" which still haven't panned out or of which it's stopped talking about without major explanation. This is a common tactic we've witnessed from other "pump and dump"-style companies. Here's a list of some of the more impressive-sounding press releases the company has released:
May 29, 2014 - 22nd Century Group Signs Letter of Intent with European Factory For Production of Nicotine-Free Tobacco Cigarettes in Europe
While the letter of intent press release says that MAGIC distribution was expected this summer, the company has already pushed that date back in its last 10-Q filing:
Goodrich Tobacco signed a letter of intent with Orion, a cigarette manufacturer in Poland, to contract manufacture the Company's proprietary tobacco products for distribution in the European Union. The parties are now finalizing a manufacturing agreement. Distribution of MAGIC Zero ® is expected in Spain in the fall of 2014. Orion is a manufacturer and distributor of smoking tobaccos, cigarettes, filter tubes, and smoking accessories with distribution in more than 20 countries. The Company continues to work with its European partner on preparations to launch the Company's products in The Netherlands, Belgium and Luxemburg, which is also expected in the fall 2014. 22nd Century Group is also evaluating the sale and distribution of its products in other European countries and in Asia, including China.
September 18, 2013 - 22nd Century Group to Acquire Participating Member of the Tobacco Master Settlement Agreement
The company has had de minimis sales as a result of acquiring NASCO for the MSA agreement, again from the last 10-Q:
Our subsidiary, Goodrich Tobacco, introduced in a limited capacity two super-premium priced cigarette brands, RED SUN and MAGIC , into the U.S. market in the first quarter 2011. There have been de minimis sales of these brands since we intentionally have not expanded marketing and distribution of these brands to facilitate the Company becoming a participating manufacturer of the MSA.
April 16, 2013 - 22nd Century Group's Goodrich Tobacco Company Grants Exclusive Distribution Rights For Very Low Nicotine Cigarette Brand in Benelux
The company has had no sustained significant revenue increase as a result of this agreement.
January 31, 2013 - 22nd Century Group Subsidiary, Goodrich Tobacco, Applies for Federal License to Manufacture Tobacco Products
The company has had no sustained significant revenue increase as a result of this application.
September 10, 2012 - 22nd Century to Present on Promising Low Tar-to-Nicotine Ratio Cigarettes; Dr. Gio Batta Gori, Author of Virtually Safe Cigarettes, to Speak at 22nd Century Group Annual Shareholder Meeting
Press release highlights a presentation being made at the upcoming AGM.
April 10, 2012 - 22nd Century Group to File Modified-Risk Cigarette Applications with the FDA
Two years later, still listed as in process in the company's 10-Q:
Our ability to generate meaningful revenue from our potential modified-risk tobacco products in the United States depends on obtaining FDA authorization to market these products as modified-risk, and our ability to generate meaningful revenue in the United States from X-22 depends on FDA approval. If these products are authorized and approved by the FDA, we must still meet the challenges of successful marketing, distribution and consumer acceptance.
February 8, 2012 - 22nd Century Announces Nicotine-Free Tobacco Cigarettes Now Available For International Markets
This press release hasn't led to any sustained significant increase in company revenue.
September 27, 2011 - Enrollment Completed in 22nd Century's X-22 Phase II-B Clinical Trial
These FDA Trials have been suspended by the company and offloaded to its subsidiary, Hercules Pharmaceuticals, for them to try and find a partnership to continue with them.
August 8, 2011 - 22nd Century Enrolls First Patients in X-22 Phase II-B Smoking Cessation Clinical Trial
These FDA Trials have been suspended by the company and offloaded to its subsidiary, Hercules Pharmaceuticals, for them to try and find a partnership to continue with them.
July 21, 2011 - FDA Clears X-22 IND For Phase II-B Smoking Cessation Clinical Trial
These FDA Trials have been suspended by the company and offloaded to its subsidiary, Hercules Pharmaceuticals, for them to try and find a partnership to continue with them.
June 8, 2011 - 22nd Century Doubles Acres Planted of Proprietary Tobacco; New Crop Will Increase Tobacco Inventory for Approximately $90 Million in Potential Sales of Finished Products
A stunning headline suggests the company has potential to see $90M in sales in the future. Of course, the company's revenue of $16k last quarter suggests that they're slightly off target for their $90M figure. As of June 30th, 2014, the company lists $1.73M in net inventory.
Summation and Price Target
This could be a case where the dilution alone could likely knock XXII down to a price under what you paid for it. It appears that company is only good at building false hope so it can continue to raise money. With a new shelf registration recently declared effective by the SEC, the company is likely going to be getting ready to raise more cash.
Regardless, we believe that with this company's $47.21 million accumulated deficit, very little revenue and consistent history of net losses, that the stock is severely overvalued simply as a result of promotion. We believe this company has value only as a resalable shell, on which we place a value of $500,000; strictly for the next reverse merger. This amounts to $0.008/share. In addition, the company currently has $9.1 million in shareholders' equity on the balance sheet, which amounts to roughly $0.16/share.
We believe this company to be worth no more than $0.20 share, the price it closed at on October 10, 2012.
With the company burning cash, we're simply wondering when the next dilutive financing will close.
The clock is running...
Sources:
XXII Press release
Disclosure: The author is short XXII.
The author wrote this article themselves, and it expresses their own opinions. The author is not receiving compensation for it. The author has no business relationship with any company whose stock is mentioned in this article.