Endeavour Silver Corporation (NYSE:EXK) has once again beaten its production forecast of 3.1 million oz silver with room to spare and silver production is up 15% to 895,931 oz, with Gold Output up 6% to 4,871 oz.
This quote from Bradford Cooke, chairman and CEO, sums up just how well they are doing:
"Our mine operations teams are to be congratulated for doing a great job in 2010. Not only are the two mines operating more smoothly than ever, Guanacevi also reported its best ever safety record, with no lost time accidents in 2010. Due primarily to the successful completion of our mine and plant expansion to 1000 tonnes per day at Guanacevi last year, Endeavour was able to deliver its 6th consecutive year of production growth in 2010."
To put these results into perspective, this is the sixth consecutive year of silver production growth, up 26% year-on-year to 3.3 million ounces of silver in 2010.
To add a little spice, gold chipped in with an impressive performance, output up 33% to 17,713 ounces in 2010 compared to 2009. Using the recent silver: gold ratio of 50:1, Endeavour produced 4.2 million oz. silver equivalents in 2010, up 24% compared to 2009.
So there we have it and in our humble opinion these results bode very well for the future. Endeavour Silver closed at $6.47 yesterday.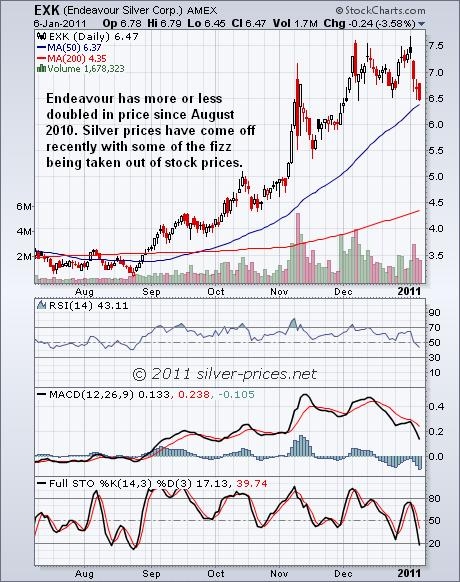 A quick look at the chart and we can see that Endeavour Silver has more or less doubled in price since August 2010. Silver prices have come off recently with some of the fizz being taken out of stock prices.
Endeavour Silver Corporation is set up well to benefit from the silver bull market which has in our very humble opinion a long way to run, so keep an eye on them as this company offers good exposure to silver prices. It's widely available in Canada, USA and Europe.
Disclosure:
I am long EXK.