When everyone is convinced that something is going to happen, it's a good idea to bet on the opposite happening.
It's a good idea to make the "hard trade."
A hard trade is a trade that goes against your instincts. It goes against the consensus belief. It's a trade you don't want to tell your friends about because they'll tell you what a fool you are.
Last week, I showed you the power of the hard trade... The crowd believed Treasury prices couldn't possibly head higher. But they have.
Today, there's another hard trade you should consider making...
It's emerging markets...
You might hate the idea of making this trade right now. It's hard to be bullish on foreign stocks when you hear about a real estate bubble popping in China, labor unrest in South Africa, or military tensions in Russia.
But emerging-market stocks are dirt-cheap today compared with U.S. stocks.
One of my favorite trades on emerging markets is the WisdomTree Emerging Markets Equity Income Fund (NYSEARCA:DEM). Take a look at DEM's top 10 holdings:
| | | | |
| --- | --- | --- | --- |
| Equity | Yield | Forward P/E | P/B |
| Gazprom (Russia) | 5.3% | 2.9 | 0.4 |
| China Construction Bank | 5.7% | 4.9 | 1.0 |
| Rosneft Oil (Russia) | 5.6% | 5.1 | 0.8 |
| Industrial & Comm. Bank of China | 7.4% | 5.1 | 0.9 |
| Vale (Brazil) | 5.0% | 7.9 | 1.1 |
| MMC Norilsk Nickel (Russia) | 6.3% | 9.1 | - |
| Banco do Brasil (Brazil) | 4.7% | 7.7 | 1.2 |
| Bank of China | 6.0% | 4.7 | 0.8 |
| Lukoil (Russia) | 5.8% | 4.3 | 0.5 |
| MTN Group (South Africa) | 4.2% | 15.2 | 3.9 |
| Averages | 5.6% | 6.7 | 1.2 |
For comparison, U.S. stocks yield 1.9%, trade at 16.7 times forward earnings, and trade at 2.7 times book value. For DEM's top holdings to reach the same valuation as U.S. stocks, they'd have to more than double.
I first recommended DEM to my DailyWealth Trader subscribers in May as a way for U.S. investors to diversify their holdings outside of the country. Here's what I said:
According to Vanguard, U.S. investors put an average of about 70% of their stock market money into U.S. companies. But as my friend and colleague Meb Faber showed in his book Global Value, U.S. stocks make up only 46% of the world's market cap...

And the U.S. makes up only 19% of the world's gross domestic product...

Plus, if you're a U.S. citizen, you likely have a job, property, and other interests in the country. However you measure it, you probably have too many eggs in one basket.

If you're a U.S. investor, it's probably time for you to start lightening up on your home-country allocation.

Now is a good time to consider re-allocating some of the capital you have in U.S. stocks to other, cheaper countries.
And the trade is moving in our favor. Despite a globe's worth of bad news, the popular MSCI Emerging Markets Index just hit a new three-year high. And DEM hit a new nine-month high just yesterday.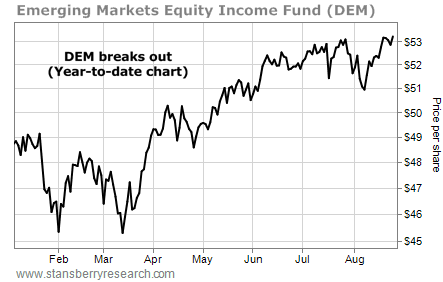 Of course, emerging-market trades aren't for the risk-averse. The sector is volatile and prone to big busts. But it can also boom big... During the last big run from 2003 to 2007, the MSCI Emerging Markets Index rose nearly 400%.
If emerging markets are starting their next big bull market, you'll be glad you made the hard trade.
Good trading,
Amber Lee Mason
Disclosure: No Positions