Over the last year or two, I have made some huge gains by investing in mid-cap E&P concerns that decided to simplify their portfolios, shed non-core assets and become more "oily" in their production. Sometimes these efforts got triggered internally; sometimes they were the result of agitation from activist fund managers like Elliott Management. Two of these notable gainers are Devon Energy (NYSE:DVN) and Hess Corp (NYSE:HES).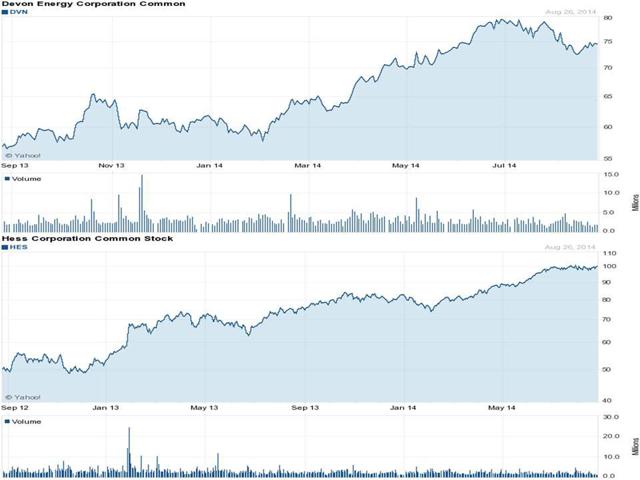 I am accumulating a stake in Chesapeake Energy (NYSE:CHK), as it looks like it is starting to implement that same game plan; a case of if you cannot beat them, then join them. The early reactions from shareholders have been positive, as the stock has rallied in 2014. However, significant upside remains, as the stock trades in line with where it was trading five years ago.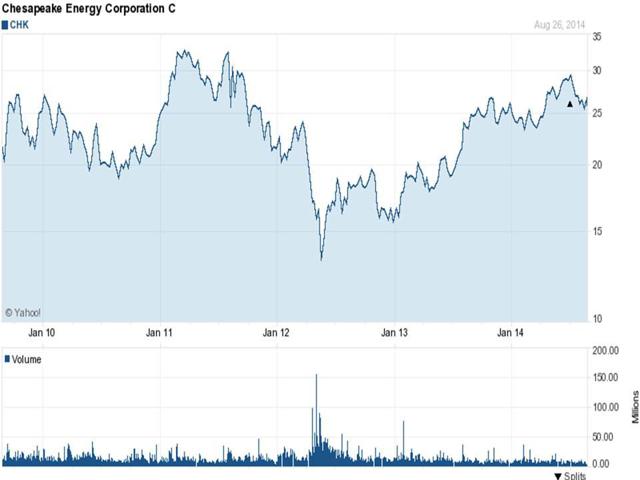 GAME PLAN
Sell Off Non-Core Assets:
This energy concern recently spun off its oil services business as a standalone entity called Seventy Seven Energy Inc. (NYSEMKT:SSE) at the start of the third quarter. Chesapeake also recently sold some natural gas compression units for $135mm, as well as some non-core acreage in the Marcellus for over $300 million. I would look for the company to continue to prudently prune and consolidate its production portfolio in the months and years ahead, which should improve margins and management focus.
Rationalize Balance Sheet:
The company recently announced it will repurchase some $1.25 billion in preferred debt at its Utica unit. This will eliminate Chesapeake's highest-cost leveraged instrument and save approximately $75 million in annual cash dividend payments. The result of these asset sales and debt buybacks is starting to be seen in an improving balance sheet (See Chart).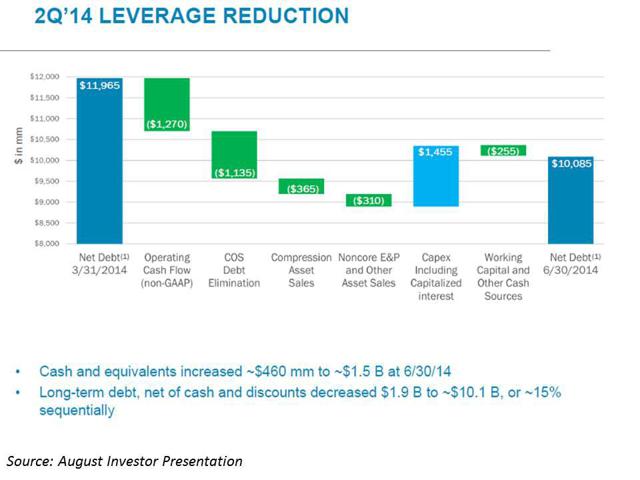 As importantly, combined with a more rational capital budget, these efforts should lessen concerns about Chesapeake being able to maintain its production growth. In 2012, Chesapeake had capital spending of almost $12 billion ahead of its cash flow from operations, but this year and the next, it is expected to be able to cover its spending almost entirely from its income; a huge improvement.
Get More Production From Oil & Liquids:
In its last reported quarter, Chesapeake saw oil production increase 12% year-over-year, while natural gas liquids increased an impressive 72% over the same quarter in 2013. Oils & Liquids climbed to 28% of total production from just 25% in Q2 2013. With Chesapeake's more focused capital budget and continued asset sales & swaps; I expect this growth to continue and/or accelerate in the years ahead. This will be positive for margins and earnings.
Summary:
These efforts are already starting to show up in improved results. In its last reported quarterly results in early August, Chesapeake posted slightly disappointing earnings of 36 cents a share. However, revenue came in over $400 million over expectations, and the company upped its forward production guidance. Stifel Nicolaus upgraded the shares the next day from "Hold" to "Buy", and placed a $34 a share price target on Chesapeake, about a third over the current stock price.
Finally, insiders have been net buyers of the stock over the past six months, and the shares also yield 1.3%; which I expect will increase nicely as Chesapeake delevers and increases its overall oil & liquid production.
I will not hazard a price target, as I am still kicking myself for selling Hess after a better-than-60% gain, only to see it more than double from my original position. As long as Chesapeake continues to execute against its strategic plan, I will be a buyer on every significant dip in the market. BUY.
Disclosure: The author is long CHK.
The author wrote this article themselves, and it expresses their own opinions. The author is not receiving compensation for it (other than from Seeking Alpha). The author has no business relationship with any company whose stock is mentioned in this article.