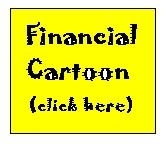 Outlook: The majority of global equity markets did much better in 2010 than investors might have thought given the surfeit of things to worry about. The Morgan Stanley Capital International (NYSE:MSCI), "Word, All" index was up approximately 10% last year. (Click the "financial cartoon".)
Most major global stock markets were up in 2010 with the Asian markets leading the advance. In US dollar terms, the eurozone, with the exception of Germany and Austria, was one of the global regions where there was a preponderance of countries making up the region experiencing losses.
Sovereign Debt Crises Loom: The eurozone is again coming under increased pressure as the sovereign debt crises resurfaced after taking a holiday in December. Investors are targeting Portugal as the next Ireland. Portugal is set to issue a major round of financing next week which will test investors' appetite for its paper.
The recent spate of constructive eurozone economic sentiment in December was put in question with some recent tepid numbers from the European strong man, Germany. All this has cumulatively placed increase pressure on the euro as it has broken through the $1.30 USD exchange rate.
Fight or Flight: There are plenty of reasons to take flight from the eurozone. In a recent WSJ article, "Euro Crisis Roars Back to the Forefront" (1/8/11), a litany of reasons to take flight is chronicled. Investors should familiarize themselves with these issues. However, being a contrarian investor, an economic crisis is a terrible thing to waste.
Investment Thesis: The thesis is that investors are focused on the "event risk" of a string of sovereign debt crises. This is the "snowball" that rolls down the hill that consumes everything good in its path. In this case, all bets are off.
However, if this "event risk" can be avoided, the European economic situation is slowly improving—as it is in the US, and it would be suicidal for the 17 member nation block not to rally to the aid of the afflicted—at least in the interim till the crisis is resolved.
Investors should place Vanguard European ETF (NYSEARCA:VGK) on their "Watch List". It is the most efficient way to play a potential rebound in the region—should it occur. VGK is fairly liquid, currently pays a 4.0% annualized yield and the stock is optionable. Expect the stock to go down before it goes up. This is a 2012 harvest.
(For a full review of the case for the eurozone stock market opportunities, see "'Dogs' of the Globe" (1/5/11) for further details.)
Money Flow: Mutual Funds: Long-term mutual funds for a second week in a row posted inflows. For the week ending December 29th aggregate inflow totaled $3.5 billion. The most significant shift in funds' flow has been the long term reversal of monies into fixed-income and outflows from equity funds.
For the week, equity-oriented funds collected an additional $2.8 billion with over 80% dedicated to foreign equity funds. Fixed-income mutual funds (taxable and municipal) showed an aggregate outflow of $360 million. This decline represents significant reduction from the average withdrawal of $4.9 billion the previous 3 weeks.
Taxable bond funds reverse its previous three weeks decline and posted a $2.5 billion weekly increase. However, this was more than offset by the withdrawal of $2.8 billion from municipal bond funds.
This emerging trend of monies shifting out of bond funds is likely to develop into a significant shift of investors' funds out of fixed-income either into equities or commodities depending on the course of the economic recovery.
Money Market: Money market funds declined 0.4% by $12.0 billion to $2.797 trillion for the week ending Jan 5th. In the aggregate, taxable government and taxable non-government and tax-exempt funds declined respectively, $15 billion (-14.7%) and $5 billion (-4.3%); tax-exempt funds increased by 7 billion (+6.9%).
While investors are fleeing munis in the form of long-term mutual funds they seem comfortable in "parking funds" in tax-exempt money market funds. This may be a function of short maturities in the latter.
DJIA Money Flow: Money flow into the Dow US Total Stock Market Sectors (float) was up 1.05% for the week as of Jan 7th and up 3.8% for the month. The Up/Down Ratio was 1.02% and 0.98%, respectively. The biggest money flow was into Technology, 2.7%; Telecommunication saw an outflow of 0.81% for the week.
CEF Weekly Review: The 13 closed-end fund (CEF) types registered on average a flat performance for the week ending 1/7/11. The high-low spread was +2.4%. On an aggregate, unweighted basis, the weekly average price change for the 500 plus CEFs in the Eqcome database was down 0.3%.
The PowerShares CEF Income Composite (NYSEARCA:PCEF), an ETF that invests in taxable income CEFs, was up 0.1% for the week. The S&P 500 was up 1.1% for the week and the same YTD. The S&P 500's average daily share volume for the week was 4.7 billion, after muted holiday trading.
(Click here for YTD CEF Performance. The table is based on a smaller CEF sample size as all the data fields are not available for the CEF universe.)
The Eqcome CEF Fear Index for the week increased slightly. The average price decrease was down 0.3% while NAV was down 0.1%.
The CBOE Volatility Index (VIX), which typically moves inversely with the stock market—but is mostly a measurement of volatility based on stock options' premiums—continued its slide dropping an additional 3.4% to a cozy 17.14 indicating little concern of protection against a market down draft.
CEF Weekly Fund Type Performance: Equity and fixed-income fund types' average weekly share price performance were interspersed. This typically indicates investor confusion regarding trends and typically precedes a change in the markets' direction. Munis fund types continued to be the laggards. With Mr. Bernanke's reluctance to bailout state and local governments, the sector remains under suspicion.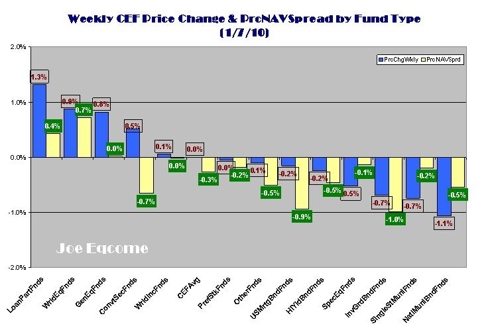 Weekly CEF Winners and Losers: One of the CEFs with the greatest positive spreads for the week was Alpine Global Dynamic Dividend Fund (NYSE:AGD). AGD price advanced 7.1% versus its NAV which advanced 1.3%; this generated a positive PrcNAVSprd* of 5.9%.
AGD was one of the CEFs with the greatest price decline for the year. This is a likely result of its slashing its dividend 45.5%. Investors may be trying to play the "CEF Dogs" hoping that those CEFs that declined the most last year would rebound in 2011. AGD's current annualized distribution yield is 9.9% and its premium is down from lofty levels to 1.4%. (See: "CEF Focus Stock(s) for the Week" section below.)
One of the CEFs that experienced the greatest negative PrcNAVSprd was ASA Limited (NYSE:ASA). ASA's price declined 12.4% while its NAV dropped 6.4% generating a negative PrcNAVSprd of 6.0%. ASA specializes in gold and other precious mineral investments worldwide. The stock likely took a "breather" with this week's retreat in commodities—particularly gold.
Eqcome CEF Portfolio™: Joe maintains three separate CEF portfolios that have different investment objectives: CEFBig10™, CEFMuni10™ and CEFDisc10™ (see website).
The first is a balanced equity-income portfolio (CEFBig10™), the second a tax-exempt income portfolio (CEFMuni10™) and the third a portfolio whose objective is capital gains with a secondary objective of current income (CEFDisc10™).
These portfolios will soon be available to retail investors at a nominal fee to maximize equity-income for retirees and retail investors. (See: Performance Chart.)
Economic & Earnings Outlook: (Click here for next week's economic calendar; click here for earnings' announcements and estimates.)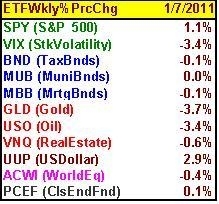 ETFs: For a more detailed EFT performance by sectors, click here.
Insider Trading: After robust December insider trading, the first week of 2011 only posted one insider trade. Daniel Neidich, a director of Great American Investors Fund (NYSE:GAM), added 5,000 shares to his position at a per share cost of $27.05 for a total capital expenditure of $135,204. Mr. Neidich now holds 64,156 shares of GAM.
Spencer Davidson, the CEO of GAM, along with Mr. Neidich, was a consistent buyer of GAM shares during the month of December.
(Click here for a hyperlink to the Joe Eqcome's CEF Weekly Insider Report.)
CEF Distribution Announcements This Week: The following is a link to a table of CEF distribution announcements this week as well as the previous week's with yet expired ex-dividend dates. The list is not intended to be inclusive. (Click here for Joe Eqcome's Weekly CEF Distribution Announcements)
Significant CEF Corporate Events: The respective Board of Directors of Royce Value Trust (NYSE:RVT) and Royce Micro-Cap Trust (NYSE:RMT) has approved the resumption of a quarterly distribution policy for Common Stockholders, beginning in March 2011, at the annual rate of 5%.
The policy as resumed allows for quarterly distributions, payable to common stockholders, at a rate of 1.25% (or approximately 5% annually) of the average net asset value (NAV) of each Fund's Common Stock at the end of the prior four calendar quarters. The distributions may include long-term capital gains, short-term capital gains, net investment income and/or return of capital for federal income tax purposes.
CEF Focus Stock(s) for the Week: Staying with the "dog" theme, I scanned my database for the CEFs with the greatest price declines in 2010. The table below represents the top 4 biggest price losers for the year.

Common Theme: The common theme for the 4 top losers was that they all cut their monthly distributions. What is most interesting of the four noted above was the percentage difference in the decline of their distributions versus their stock price.
In the case of both AOD and ACG the dividend decline was 20.6% and 17.5% greater than their price declines, respectively. This is in contrast to both GUT and CLM whose percentage price declines were much greater than the percentage declines in their respective distributions.
Dividend Discounting: This could be a function that AOD's and AGD's distribution cuts were already factored into the share price, where those for GUT and CLM were more of a surprise. The other variable might be that the distribution cuts for the latter two occurred later in the year. As a result, those stock prices may not have had as much time to recover.
Additionally, both GUT and CLM have managed distribution programs and each have a tendency to declare multiple prospective monthly distributions on the same declaration date. This may make the restoration of the distributions in the near future unlikely.
Consideration: In looking at the greatest annual negative PrcNAVSprd, i.e., where the percentage price decline is greater than the related NAV, many of the names in the table above were represented.
One name that looked like it deserves additional consideration is Western Asset Global Defined Opportunity Fund (NYSE:GDO). GDO was among those with large negative PrcNAVSprds (-13.7%) versus its High Yield peer group (-0.5%) that didn't appear to reduce its distribution. GDO's current monthly annualized yield is 8.6% and it's trading at a discount of 8.0%. Its price declined 10.4% versus a 6.0% gain for its peer group. GDO did lag in NAV appreciation at 3.4% vs. 6.5% for its peer group.
Caveats: The "CEF Focus Stock(s) for the Week" section includes CEF stocks of interest to me—and possibly other retail investors—and are subject to further analyses. Their inclusion in this section should not be viewed as recommendations based on the analysis provided here alone. Such stocks are basically a "heads-up" of something that might be of interest—or, not.

---
[*] All things being equal, price and NAV should move in tandem. A price movement greater than the NAV generates a positive PrcNAVSprd and may be interpreted as negative on a near-term basis and indicate that the stock is overvalued relative to its NAV which in theory is the stock's intrinsic value. The opposite would be true for a negative PrcNAVSprd.
---
Disclosure: I own a diversified portfolio of CEFs and ETFs and is long stocks in the CEFBig10™, CEFMuni10™ and CEFDisc10™ as well as VGK.