For Terremark (TMRK, $14.08), 2010 was an exciting year. Through the first nine months of 2010, the provider of managed IT solutions spent $120 million increasing its built-out data center space by 60%. TMRK dutifully filled its new space, increasing utilized square feet by 55%. The company's stock price reacted favorably, shooting up 90% in 2010 and increasing TMRK's market cap by a whopping $490 million. Shareholders, especially management option holders, are pleased with themselves.
But the company has precious little to show for its over half billion dollars of capital expenditures and increased market capitalization. The following four factors should give pause to current and prospective TMRK investors: 1) weakening business fundamentals; 2) constricting capital structure; 3) reason-defying valuation; and, 4) looming competitors.
Weakening Business Fundamentals
Terremark provides managed IT solutions via its data centers. The company's base offering is collocation, which provides space, power and a secure environment for a client's infrastructure. TMRK provides a more value-added service through its managed services offering. The following chart demonstrates TMRK's growth in data center square footage since the beginning of 2009.
some images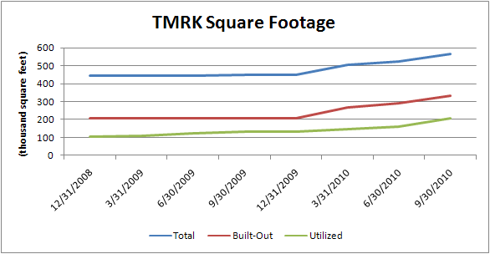 The company had a steady-state floor plan through the end of 2009, then built frenetically though 2010, adding $120 million of space. Unfortunately, the new space is being utilized almost exclusively for colocation services – colocation revenue has increased 68% since the beginning of 2009 while managed services revenue has increased only 7%.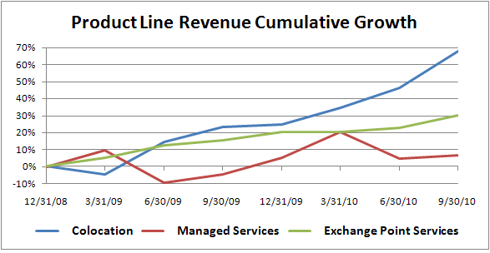 Given the high fixed cost nature of Terremark's business, declining profitability can also be demonstrated by the companies 34% decline in Revenue per Utilized Square Foot since the end of 2008.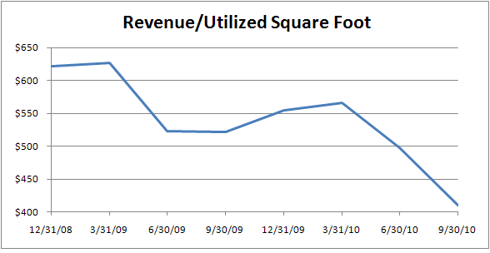 As a result of TMRK's unfavorably changing revenue mix, TMRK revenue has increase 29% since the end of 2008, yet EBITDA less Interest Expense (cash available for equity holders) has effectively gone nowhere.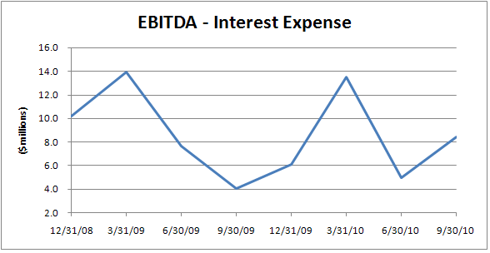 Top line growth and eye-popping capital expenditures in 2010 may have blinded investors to the true fundamentals of the business. But bookings in the quarter ended 9/30/10 offered a peek into the future. Bookings for the quarter declined to the same level as experienced in the last quarter of 2009.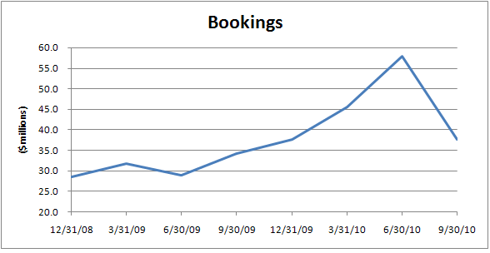 The economy, the stock market, and TMRK's stock price have all roared in 2010. Sadly, TMRK's business has whimpered.
Constricting Capital Structure
To fund TMRK's dubiously effective capital program, the company has used debt financings almost exclusively. The result of the company's spending spree is a balance sheet that seems hard to fathom giving the universal delevering experienced in the last three years. TMRK's net debt stands at $491 million on an equity base of $70 million – debt of seven times equity. The debt looks even more ominous when compared to tangible equity, which stands at -$37 million (that is negative thirty-seven million dollars). A time series of the company's debt and equity shows TMRK's balance sheet predicament worsening rather than improving.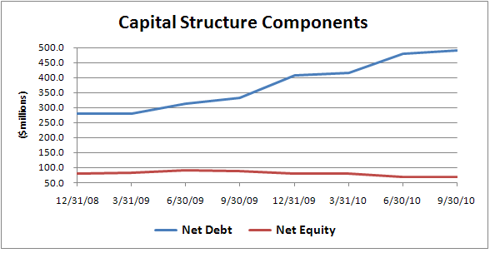 Luckily for existing debt holders, TMRK is effectively precluded from further financings. Terremark's November issuance of $75 million of senior secured notes (in addition to the debt noted above) used the remaining capacity under the company's senior secured debt indenture. But TMRK has averaged $39 million of capital expenditures per quarter over the last year. It must be assumed that any incremental financing will be equity-related and dilutive to current shareholders. Judging from the trend in EBITDA less Interest Expense, the company can barely cover the 12% interest on its debt, much less provide an adequate (or any) return for its soon-to-be-diluted equity.
Regarding dilution, on 9/30/10 the company had 66.3 million shares outstanding. On the same date, the company had 12.7 million (19% of shares outstanding) potential shares of stock that were non-dilutive to earnings. However, based on the market value of the stock, virtually every one of the potential shares is dilutive to current value of current shareholders.
A major contributing factor to shareholder dilution is share-based compensation to the current management team. In the quarter ended 9/30/10, share based compensation expense amounted to $3.6 million. As of 9/3010, the company had $403 million of accumulated losses, yet management was compensated with 5% of equity book value in a single quarter.
Reason-Defying Valuation
The current TMRK stock price ($14.08) produces a market cap of $923 million (not including 12.7 million of dilutive shares). Adding net debt at 9/30/10 of $491 (not including the $75 million November financing), TMRK enterprise value is $1.4 billion.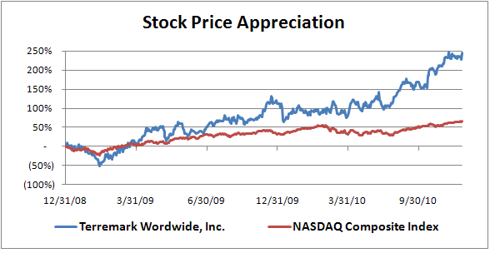 Since TMRK has no earnings, one must search for value measures other than price to earnings multiple. Following are several different value perspectives.
Enterprise value to trailing four quarter Cash from Operations is 55 times.
TMRK's enterprise value per square foot is a staggering $2,470, and only 59% of its square footage is built-out.
Enterprise value per built-out square foot is $4,220.
Market capitalization per square foot is $1,630. Considering TMRK generated EBITDA less Interest Expense of $15 per square foot in the last quarter, equity investors can anticipate reaching cash flow break even on their investment in the year 2035.
Looming Competition
In isolation, Terremark's situation - weakening fundamentals and a constricting capital structure - is worrying. But viewing TMRK in light of its competitors is downright fear-inducing. Depending on its product line, Terremark is competing against the likes of DuPont Fabros Technology (NYSE:DFT), Digital Realty Trust (NYSE:DLR), Equinix (NASDAQ:EQIX), Savvis (NASDAQ:SVVS), and Rackspace (NYSE:RAX) - big names indeed. The company's two closest competitors are Equinix and Savvis. These two IT providers are formidable, as demonstrated by the companies relative market capitalization.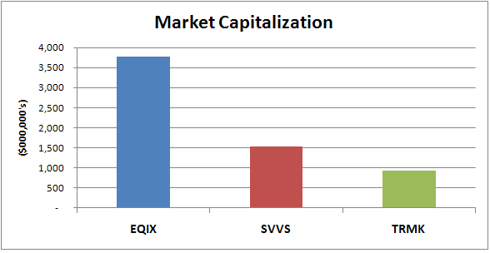 In addition to being large, Equinix and Savvis appear to have their businesses on the right trajectory. While TMRK's revenue per utilized square foot has been declining, the same measure for EQIX and SVVS demonstrates that the decline is not industry-wide. In fact, Savvis is holding its ground and Equinix is producing steady increases in revenue per utilized square foot.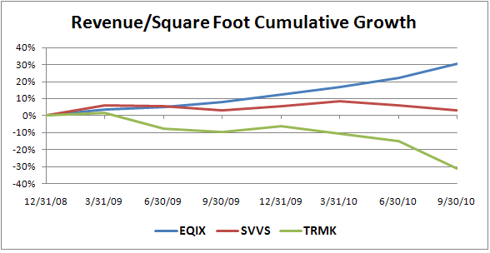 Perhaps EQIX and SVVS are spending more time on their businesses and less time on their finances. A comparison of capital structures between TMRK, SVVS and EQIX reveals and astounding difference in approach to funding. EQIX and SVVS have debt capacity to spare, lowering their cost of debt and providing flexibility for further growth. TMRK, on the other hand, has absolutely no margin for error in its business and will certainly have to raise equity capital in the near future to fund any growth.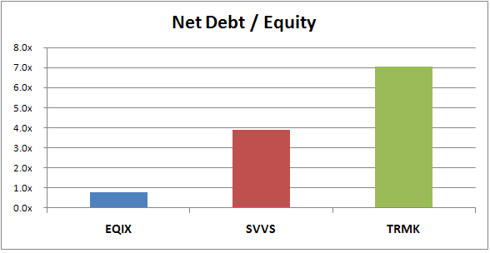 Finally, investors are likely to move from TMRK to SVVS and EQIX given the relative valuation of the companies. The chart below shows that EQIX and SVVS appear to be similarly valued, TMRK's valuation appears to be unrelated to the company's fundamentals. Further, TMRK's valuation makes it a highly unlikely acquisition candidate for other industry players.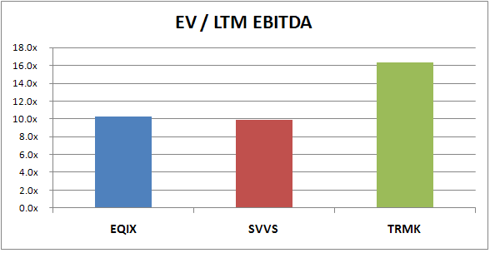 Given Terremark's weakening fundamentals, its constricting capital structure, its reason-defying valuation, and its looming competitors, investors would be wise search elsewhere for expsoure in colocation/managed services arena.
Disclosure: The author is short TMRK at the time of writing.
All TMRK data used in the analysis above is provided below. All data highlighted in yellow is directly from the company's quarterly conference call presentations. All data highlighted in green is directly from the company's 10-K's and 10-Q's filed with the SEC. Following is a link to each data source
Conference Call Presentations
SEC Filings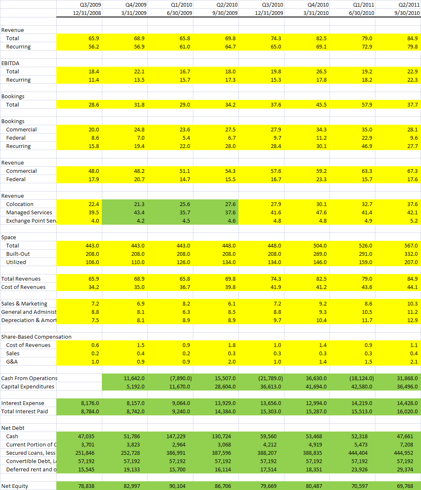 Disclosure: I am short TMRK.
Additional disclosure: Fundamentally Short represents an SEC-registered hedge fund. He chooses to keep the identity of his firm anonymous.