Large populations and rapid economic growth mean China and India will become the juggernauts of middle class consumerism over the next twenty years. Yet while China is well covered by analysts, India is widely ignored. I believe that's a mistake. One of the most oft repeated arguments put forth by the bears - to the detriment of Apple's (NASDAQ:AAPL) multiple - is that the mobile market is saturated, and that commoditization is therefore inevitable. Future multiple expansion will require a rethink of Apple's mid-term prospects, a narrative that only technological reinvention and growth in unexpected areas of the globe can fuel. India also would provide a much-needed counterweight to Beijing's influence. In this article, we'll examine Apple's Indian opportunity.
Fastest Growing Market
India has the highest private domestic consumption as share of GDP among the major economies of the Asia-Pacific region. India is currently Apple's fastest growing market and the second largest mobile market overall, followed by the US, Indonesia and Brazil. The chart below outlines 3G/4G market penetration in the world's top five mobile markets.
Top 5 Mobile Markets By Number Of Subscriptions

Country

Mobile Subs

(in millions)

Population in millions

(World Bank)

% of population

3G/4G Subs

% of population

Sources

Last update

World

6,587.4m

7,046m

93.5%

1,876.6m

26.6%

Informa

06/13

China

1246.3m

1351m

92.3%

448.3m

33.2%

China Mobile

China Unicom

China Telecom

02/14

India

Active: 772.6m

Total: 893.3m

1237m

62.5%

41.95m

3.4%

TRAI

01/14

United States

345.2m

313.9m

110%

287.4m

91.6%

Informa

06/13

Indonesia

285

246.9m

115.4%

45.5m

18.4%

Informa

06/13

Brazil

272.6m

198.7m

137.2%

110.2m

55.5%

TCA

02/14
(Source: mobiThinking.com)
The Rise of India's Middle Class
While China's middle class is expected to grow more quickly, India's middle class is expected to grow at an annual average rate of 8.5% from 2010 to 2025 to reach 547 million or 37% of India's population, more than triple the current levels. India also enjoys the distinction of being the country with the highest private domestic consumption as a share of GDP among the major economies of the Asia-Pacific region.
Fig. 1: Projected Growth of India's Middle Class (2010-2025)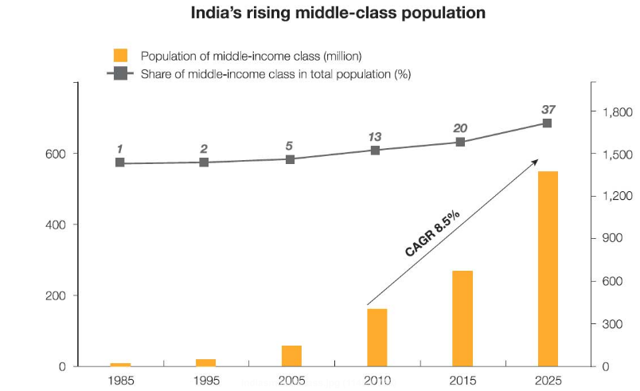 (Source: NCAER)
Despite these rosy projections, India's relative poverty compared with more developed Asian markets presents a number of complications for US multinationals like Apple who look to Asia for growth. For starters, Indian carriers usually don't subsidize smartphone purchases due to the difficulty of ascertaining credit worthiness and enforcing multi-year contracts. India also is more price sensitive than China. Most Indian consumers buy from retail shops rather than from carrier outlets, and wireless operations earn an average of just $2 per user per month. ASPs also are a challenge for US multinationals operating in the country where the average price for a can of soda is just 16 cents.
India is currently experiencing a number macroeconomic headwinds as well. Beginning in 2012, India entered a period of anemic growth, dropping from 8.9% in 2010-2011 to 4.4%. Since then, other economic problems have become apparent: The Indian rupee has steadily declined against the US dollar since 2011, making it the worst performing currency in Asia for 3 years running. Though the rupee reversed some of those declines in 2014, the persistent high current account deficit and slow industrial growth have taken a devastating toll on India's near-term prospects.
Fig. 2: Plunging Rupee Vs. USD (5Y Chart)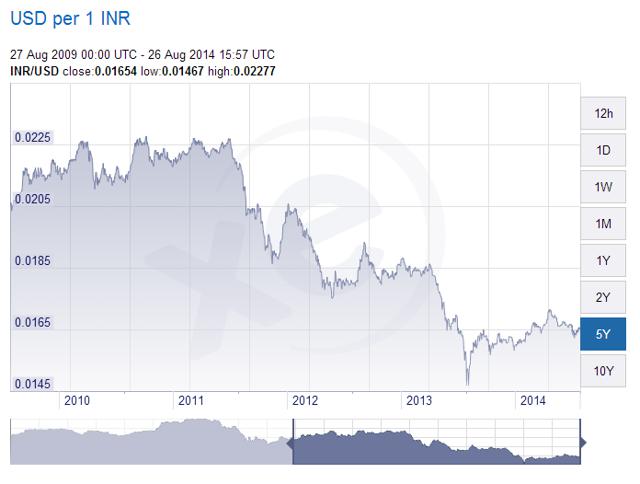 (Source: XE.com)
Nevertheless, the Indian smartphone market is growing rapidly. According to IDC's Asia Pacific Quarterly Mobile Phone Tracker (excluding Japan), vendors shipped a total of 18.42 million smartphones in Q2 2014 vs. 10.02 million in Q2 of 2013.
The emerging e-commerce market in India plays a dominant role in the sales of smartphones in the country. E-commerce websites in India such as Flipkart, Big Basket.com and Quickr.com provide the most widely-used platform for Indians to purchase smartphones. This has proven to be a wildly successful strategy. Chinese handset maker Xiaomi, which only recently debuted in India, sold out its stock of its Mi3 smartphone within five seconds on Flipkart, and Samsung has just announced that its Galaxy 5s Mini will be sold exclusively through the same venue.
Apple's Breakout Strategy
In order to achieve a breakout, Apple has adopted a uniquely Indian marketing strategy that rests with EMIs and the cachet of Apple's premium brand. EMIs, or equated monthly installments, means that the purchase of an iPhone is arranged as a loan on which Indians make a monthly payment + interest over a specified number of years. In India, EMIs pay for everything from braces to Levi jeans.
Fig. 3: EMI Options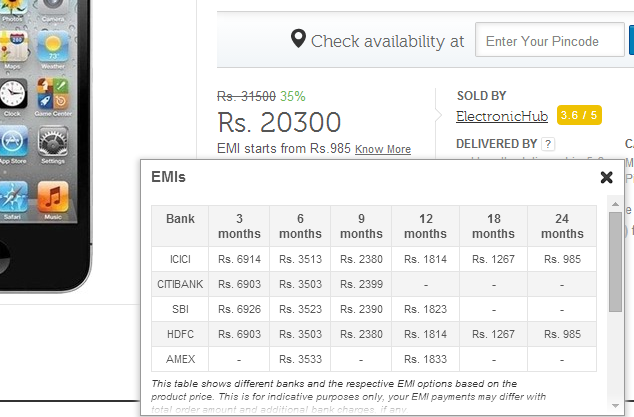 (Source: Flipkart)
Cupertino also overhauled its distribution network in the country by partnering with distributors Ingram Micro (NYSE:IM) and Redington to sell its products rather than the carrier operations. Even with EMI financing, the iPhone 4 and iPhone 4s, which, as of this writing, sell on Flipkart for Rs. 18,549 ($307) and Rs. 19,890 ($329), respectively, and account for the lion's share of Apple's 7.3% device share (by value) in India. Apple barely registers at all in terms of volume, accounting for just 1.7% of the market as of Q2 2014. However, considering the fact that it's value and not volume that will ultimately move the needle in India, where just 13% of the population owns 49% of the cars in India, 21% of televisions, 53% of computers and air-conditioners, 38% of microwaves and 46% of credit cards, it's safe to say that Apple's affluence-first approach has been an unqualified success thus far.
Fig. 4: The Sino-Indian Middle Class Wave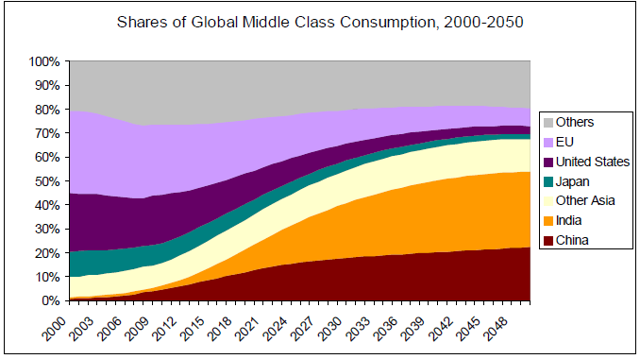 (Source: Worldbank)
Conclusion
For Apple, bringing India into the fold depends less on bleeding edge technology and more on how effective the company's sales execs are at convincing India's middle class that Apple products are Paisa Vasool, or (roughly) "I got my money's worth" - the highest praise an Indian consumer can bestow upon a product.
Going forward, I expect Apple's value share in India to rise from 7.3% to 10% by December, rising to 12.5% by calendar Q2 2015. The effect may not be enough to offset the fallout from Washington's game of cyber-chicken with Beijing, but the growth narrative will be another point in favor of multiple expansion as it becomes clear that Apple's strategy of targeting the premium end of the market has legs, even in Asia.
Disclosure: The author has no positions in any stocks mentioned, and no plans to initiate any positions within the next 72 hours.
The author wrote this article themselves, and it expresses their own opinions. The author is not receiving compensation for it (other than from Seeking Alpha). The author has no business relationship with any company whose stock is mentioned in this article.