The Weather Rules
The coming winter is going to be another frigid one, just like last winter. This comes from no less an authoritative source than the Farmers' Almanac, which boasts (by its reckoning) an 80% success rate in predicting the weather. "Shivery and Shovelry are back" for the 2014/15 winter season, according to Managing Editor Sandi Duncan. Anyone who has failed to heed the warnings of the Farmers' Almanac in the past has usually wished they hadn't.
We've re-learned in 2014 not to ignore the weather. Real GDP decreased 2.1% in the first quarter, and many blamed that on unusually cold winter weather. Utilities tend to do well when temperatures are expected to drop and demand for their services is expected to rise.
Our topic today is how to position your portfolio for the possibility that their prediction based on the tides, sunspots and planetary alignments just might be right. Utilities may be the choice for you.
Why Utilities, and Why Now?
All right, perhaps you don't believe in the Farmers' Almanac. But there are other reasons to consider utilities during these waning days of summer.
The common wisdom is that interest rates are headed up. At least, that was what some pros thought last January. Well, they loaded the boat on that side of the trade, and it tipped over on them. They were wrong then, as rates have dropped during 2014, and they may be wrong now. The utility sector was up 11% from the beginning of 2014 through May, though it has been treading water since then. Despite what many will tell you, there is no inevitability that rates will rise any time soon. Yes, they certainly could -- but that is not written in stone.
While a detailed examination of interest rates is a topic for another article, there are several reasons why U.S. interest rates could remain low for some time to come:
European 10-year bonds in Italy and Spain are hitting all-time lows, with German 2-year bonds also hitting multi-year lows, and the cash-and-carry trade will tend to arbitrage U.S. Treasury yields lower as a result;
Many see the likelihood that European Central Bank policy will continue to loosen, keeping European bond rates low;
The Marty Zweig Bond Model has been bullish this year;
The US has been in recovery mode for five years, and it always is possible that it could slip back into recession while everyone is confident, keeping bond yields low and even driving them still lower.
Rightly or wrongly (wrongly in our opinion due to different risk parameters, but that's again a topic for another day), utilities are widely seen as bond proxies. They do well in a low-rate environment, just like bonds. However, utilities also are seen as a "safe haven" when the overall market stumbles. If the broader market ever corrects -- yes, I know, that's been the mantra of people who have been wrong for three straight years now, but anything is possible -- utilities again could be such a haven. In other words, they would serve as a sort of cheap put on the rest of your more aggressive holdings. The broader market is headed higher mostly on multiple expansion, a shaky foundation that could reverse at any time.
But I am not trying to prove that interest rates will stay low. Frankly, we don't know. Anything is possible, rates could shoot up, and the equity market certainly could continue higher indefinitely. Continued low rates, though, and a market correction is a decent possibility, which the prudent investor takes into account when creating a diversified portfolio.
Another recession is the furthest thing from most peoples' minds. Consumer Confidence as measured by The Conference Board, for instance, just hit its highest reading since 2007.
Yes, the highest since 2007 -- right on the eve of the so-called "Great Recession." If you are a contrarian, that should perk up your interest in adding defensive hedges at some point. Things tend to go wrong precisely when you least expect it and "nothing could go wrong."
More fuel for contrarians - or those simply looking for value -- may be found in the following chart of the Utilities SPDR (Exchange Traded Fund) versus the S&P 500 SPY ETF.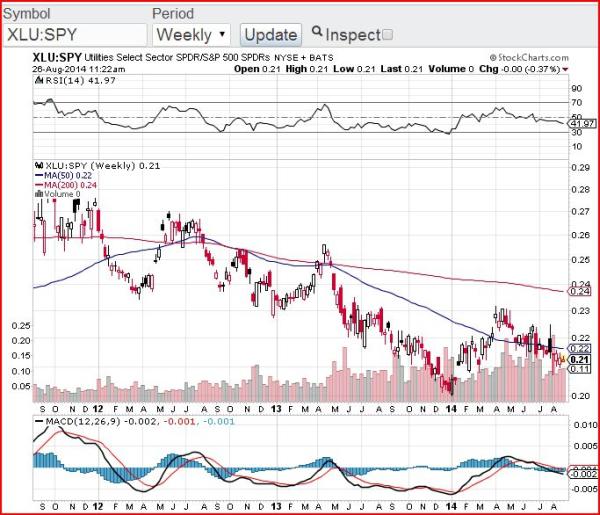 Source: Stockcharts.com
The chart of course speaks for itself. I'll just point out that, despite the big relative rise in the first few months of 2014, utilities have fallen behind the S&P 500 throughout the broader market's rise since 2011. While anything is possible, and further drops may happen, a long-term utilities investor wants to think about buying after such a drop -- not after a prolonged period of outperformance versus other asset classes.
Nobody is suggesting that anyone dump all of their investment capital and retirement savings into utilities or, for that matter, into any single sector, especially all at once. They may only occupy 5% of your holdings, but even that small amount will spread out your overall risk and provide valuable diversification. For a younger investor, utilities generally are safe investments that will compound significantly in value over time with reinvested dividends. Older investors will enjoy the secure income they provide.
Utilities offer a reliable source of income that can be spent or reinvested to create wealth. They have a place in a well-diversified portfolio.
All Right, I'm Still Reading, What Are Some Ideas?
l recently wrote an article on Hawaiian Electric (NYSE:HE), and that utility remains a top candidate for utility investors. Despite its stock price rising a few percent since that article, HE still yields over 5%, the top-yielding quarterly dividend payer among utilities. Fears that Hawaiian Electric customers are suddenly going to no longer need a utility due to the small (at least so far) inroads of solar power are overblown, but if that issue concerns you (and it does concern many investors, which is why HE sports an unusually high yield), there are many other fine choices in the utilities sector.
Let's look at a few top choices: Consolidated Edison, American Electric Power, and Telefonica, S.A.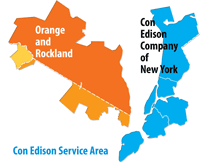 Source: Coned.com
Consolidated Edison (NYSE:ED)
Consolidated Edison, as anyone who lives in the New York metropolitan area knows, is the main electric and gas utility for New York City and some nearby suburbs. It had many issues deriving from Hurricane Sandy that punished its fiscal performance last year, but it is steadily overcoming them and returning to form.
The company posted second quarter 2014 earnings from ongoing operations of $0.65 per share, beating the Zacks Consensus Estimate of $0.54 by 20.4%. The earnings beat came on the back of higher sales and operating efficiencies. Earnings also increased 18.2% from the year-ago figure of 55 cents per share. In addition, revenues were $2.911 billion, up 3.3% year over year. The top line also beat the Zacks Consensus Estimate of $2.641 billion by 10.2%. The results were attributed to higher electric and gas sales.
The wide earnings beat suggests that the market is underestimating Con Ed's ability to recover quickly from the storm. The good news did not stop there. For 2014, Con Ed increased its earnings from ongoing operations guidance to the range of $3.70 to $3.85 per share from its previous forecast of $3.65 to $3.85 per share. The company is confident and executing well.
The underlying financials remain solid. Cash at the end of June 30, 2014 was $774 million versus $674 million at the end of 31 December 2013. Long-term debt, though, did increase to $11.1 billion versus $10.5 billion during fiscal 2013. The increase in debt likely funded repairs required by the storm.
Con Ed currently yields 4.45% quarterly on an annual dividend of $2.52, which is among the top utility yields in the U.S. It has been paying its dividend for 40 years and shows no signs of stopping. The current dividend was increased for the current year from $2.46 in 2013.
The reason for the small dividend increase was that the company took a big hit to free cash flow in 2013 due to higher capital expenditures in large part caused by Hurricane Sandy. Capital expenditures rose from $2.069 billion in 2012 to $2.538 billion in 2013, a sudden and unexpected 23% increase. Among many other things, one of the utility's plants on 14th Street in Manhattan blew up in an epic explosion caught on video during Hurricane Sandy (only a few blocks from my apartment). It had to be repaired, though power was out only briefly. To its credit, the company still raised the dividend as a sign of good faith despite these short-term issues, but not so much as to be imprudent. Of course, another hurricane could always hit New York City, but those don't happen very often.
Con Ed has an attractive valuation, with a price/earnings ratio of 13.5 compared to an industry average of 19.36. Its gross margin is .41 and operating margin is .19, compared to industry averages of .32 and .11, respectively. Those are good numbers, but the five-year PEG is high at 5.6, suggesting the company has some work left to do.
Shorts love ED. As of 31 July, short interest was reported at 20.2 million shares, or over 13 days to cover. That was the highest days-to-cover figure for ED in the past year, and made the stock the 11th most-shorted in the S&P 500. High short interest can be interpreted in two ways: that shorts are of the opinion that the company is over-valued by the market; but also that it presents opportunity for longs, because the shorts will need to cover at some point, generating a short squeeze and upward momentum in the stock price.
One interpretation of why there are so many shorts is the destruction to Con Ed's balance sheet last year due to the hurricane. If that is the case, the company is steadily undermining their concerns with its solid earnings performance. Should capital expenditures moderate, the company should be able to raise the dividend by a larger percent next year. However, the shorts also could be right -- betting against them always requires strong confidence that the company will work through its problems in an expeditious manner.
Technically, over the past year the ED stock price has formed an inverse head and shoulders pattern, with its head at the low of $52.23 on 20 March 2014. Such patterns are interpreted by market technicians to ultimately resolve to the upside once the neckline is broken, which has not happened yet.
ED is running on all cylinders and disproving the doubters, but the market is being slow to recognize its recovery. This provides opportunity for the patient investor who believes in the company. Consolidated Edison is a solid choice for income investors.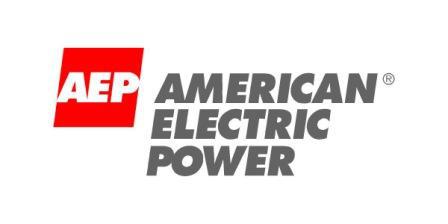 American Electric Power (NYSE:AEP)
Con Ed, as we saw in 2013, has concentrated geographic risk, which can hurt its performance. American Electric Power does not have that issue because the chain operates in 11 states: Arkansas, Indiana, Kentucky, Louisiana, Michigan, Ohio, Oklahoma, Tennessee, Texas, Virginia, and West Virginia. This spreads the company's risks across a broad swathe of the heartland of America and insulates it against most natural disasters and other local phenomena.
AEP is very reasonably valued. It has a price/earnings ratio of 15.19 on a trailing basis, better than the industry average of 16.3, and its quarterly revenue growth year-over-year is .13, over twice the industry average of .06. Price/sales at 1.55 also is below the industry average of 1.70. Its Gross Margin of .37 and Operating Margin of .21 best the industry averages of .35 and .14, respectively. Quite simply, the company is executing well and the share price is still quite reasonable given that performance.
On the other hand, AEP does not yield as much as the other utilities we are discussing. At a yield of 3.8%, it is in the middle of the utility pack. This is the penalty you pay for AEP not being a recovery play or having any serious issues that it is overcoming. It simply is a steady performer that keeps on truckin'. On the bright side, its payout ratio is only 57%, which gives the company latitude to raise the dividend and do other things with its cash. It is unlikely with such a payout ratio that you will see a dividend cut from AEP anytime soon.
Looking ahead, the company should be able to continue its solid performance. It beat earnings expectations for the 30 June quarter and has given earnings guidance in the range of $3.35-$3.55 per share for 2015 and $3.45-$3.85 per share for 2016. The Thomson Reuters consensus estimate for the year is $3.49, so simply hitting the higher end of its guidance will supply a nice earnings beat.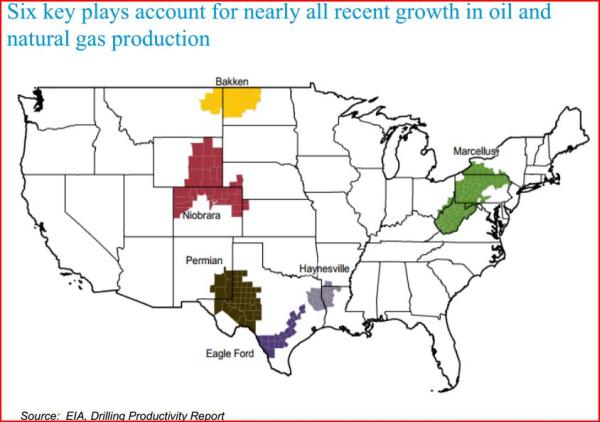 Source: U.S. Energy Information Administration
The company supplies power to areas that are undergoing an economic revival due to extensive shale oil/gas exploitation, principally West Virginia and Texas along with parts of some neighboring states. That should keep AEP's transmission lines humming for years to come, with the EIA projecting booming shale oil and gas production at least through 2040. AEP is an ancillary play on the shale oil boom, which stands to receive lots of benefits from the oil play and few of the risks. If anything, shale oil exploitation is increasing and the area under development is expanding, as much of the development so far has been through increased efficiency of extraction through existing wells.
Analysts are moderately bullish on AEP, with an average rating of Buy and price target of $54.13.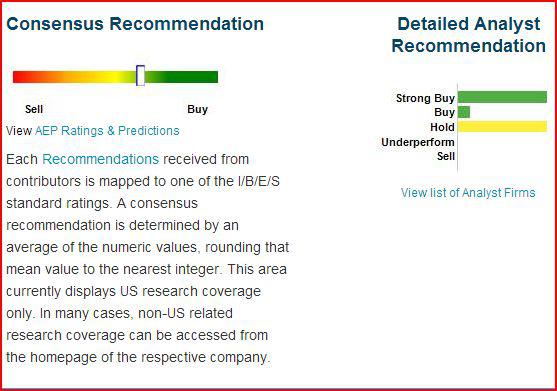 Source: Nasdaq.com
The analysts' full-year EPS estimate of $3.49 is a $0.26 improvement when compared to the previous year's annual results. The revenue forecast for this quarter is $4.57 billion. That would be a 8.81% increase over the year-ago quarter.
CEO Brian X. Tierney sold 8,603 shares on 4 August 2014. This left him with 9,084 shares worth $474,729.84. We don't give much weight to insider sales, which can be made for any number of reasons, especially when the seller retains a large position. Tierney will be giving a presentation at the Barclays CEO Energy-Power on 3 September 2014, a mark of respect.
AEP is executing well and has promising growth opportunities due to the shale oil boom. It is a terrific buy-it-and-forget-it utility.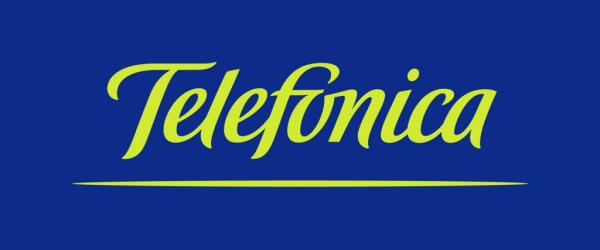 Telefónica, S.A. (NYSE:TEF)
Telefonica S.A. (ADR) is based in Spain and is classified as a public utility. It has been in operation since 1924 and holds a dominant position in the Spanish telephone market. That is proven by the fines it has incurred over the years on antitrust charges and the like. It provides fixed and mobile communication services primarily in Europe and Latin America.
TEF is a great way to participate in the Spanish economy and emerging markets. Spain once again is becoming the bright spot in the European financial picture as it leads the continent on its path to economic recovery. Jobs are picking up, and Spain has enjoyed four consecutive quarters of economic growth.
On a valuation basis, TEF is attractive. It has a price/earnings ratio of only 12.13 and currently yields just over 7%, with biannual dividend payments to shareholders that currently come from a 47% payout ratio. The dividend does vary with exchange rates, and its degree of safety has been a subject of continuing debate. The company did cut its dividend in 2011 and 2012, when free cash flow collapsed due to the economic crisis.
Telefonica Free Cash Flow and Dividend Payments
| | | | | |
| --- | --- | --- | --- | --- |
| Fiscal Year | Operating Cash Flow | Cap Ex | Free Cash Flow | Dividends Paid |
| 2011 | 22.696 | 11.794 | 10.902 | 9.823 |
| 2012 | 20.057 | 12.500 | 7.557 | 4.315 |
| 2013 | 19.765 | 13.330 | 6.435 | 3.007 |
Source: Yahoo Finance. All amounts in $Millions.
As shown in the table above, TEF took a great deal of pressure off of its cash flow when it cut its dividend. Now, there is ample coverage and further cuts should not be necessary unless the financials deteriorate. With a recovering Spanish economy, we are looking for improvement in the company's financials in out years.
The p/e compares favorably with other telecommunications companies such as DirecTV (NYSE:DTV), Verizon (NYSE:VZ) and AT&T (NYSE:T), which sport p/e ratios of 15.57, 10.46 and 10.12, respectively. Of course, those companies do not enjoy the near-monopoly in their markets of TEF.
The TEF stock price hit a low of $10.96 during the depths of the European financial crisis in July 2012 and has been in a steady uptrend ever since. Currently, it is trading at $15.89, which is below its recent highs above 17 as it sits toward the bottom of its 2012-2014 uptrend channel.
Fundamentally, the company has sustained itself well during the crisis, though its effects are reflected in the company's balance sheet. Revenues have remained fairly steady over the past few years despite the economic crisis, falling from $80 billion on a trailing twelve-month basis in 2009 to a current $75 billion. Net income has dropped from $2.7 billion in 2009 to a most recent $1.7 in the quarter ending 30 June 2014.
There always is the risk that Spain will fall back into recession, in which case TEF may be forced to cut the dividend. However, TEF has weathered in good form what many think was the worst of the European economic storm. The IMF has doubled its forecast for Spanish economic growth this year from .6% to 1.2%, and the Spanish government also is raising its forecasts for 2014 and 2015.
Analyst coverage of TEF is spotty, with only two analysts offering recommendations, one Neutral and one Underperform. TheStreet Ratings has it at a Buy. Spain withholds 21% (temporarily increased from 19%) of dividends, which easily can be recovered in taxable accounts. Please consult your tax adviser.
TEF is not my top choice for Spanish stocks overall. That remains Banco Santander, which also trades in the U.S. via ADR (NYSE:SAN) and pays a high scrip dividend with good growth potential. However, TEF gives you both utility and international exposure, killing two birds with one stone. It is a play for the aggressive investor who is looking for bigger rewards for taking on corresponding risk. If that juicy 7% dividend is interesting, TEF is an interesting bet on a recovering economy that is worth a closer look.
Conclusion
There are several interesting plays in the utility sector despite the fact that the utility sector as a whole has lagged the broader market over the past few years. The Utility Select Sector SPDR (NYSEARCA:XLU) ETF and Energy Select Sector SPDR (NYSEARCA:XLE) ETF also are good choices for utility exposure that provide diversification, though their industry-average performance would lag a good individual stock pick. Utilities remain a valuable portion of a well-diversified portfolio.
Disclosure: The author is long ED, SAN.
The author wrote this article themselves, and it expresses their own opinions. The author is not receiving compensation for it (other than from Seeking Alpha). The author has no business relationship with any company whose stock is mentioned in this article.