As is often the case in the pharmaceutical sector, the biggest gains and losses usually come after the results of clinical trials, and this holds true for Kindred Biosciences (NASDAQ:KIN) -- a firm that specializes in veterinary medicine. KIN was founded in 2012 and specializes in adapting known human pharmacological agents for use in pets and other animals. The extent of current veterinary medicine is rather shallow, and in many cases human drugs are already given to animals -- but in a trial-and-error approach that creates a dangerous grey area for the animals involved. By developing drugs directly for the intended animals, KIN is taking the risks and pain faced by animals largely out of the equation while also helping to improve results. According to the American Pet Products Association, veterinary care accounted for an estimated $14.4 billion in 2013, and they project an increase to $15.3 billion in 2014.
KIN took a 27.66% hit last Thursday after it was announced that the field trial of its first compound, CereKin, had not achieved the primary endpoint. One of the identified strengths in a KIN investment is that KIN employs "significantly reduced expenses during the clinical development stage," according to Myriad Equity. This was further reinforced by Richard Chin, M.D., president and CEO of KIN in the announcement: "The total cost of the CereKin program has been approximately $4 million, which represents less than five percent of our cash resources. With over $100 million in funds, we have ample capital for additional programs and we believe that, over the long run, we will be successful. The critical part of our business model is that we are taking a portfolio approach and the results from any single program have a limited impact."
While KIN is currently focusing on the three drugs they believe they can get to market the quickest, their second wave of drugs would include other possible novel drugs, each with a potential first to market opportunity. In the most recently filed S-1, filed March 18, 2014, the next two trials would be a BTK inhibitor to treat cancer and immune disease in dogs and cats and a promotability agent to treat gastrointestinal disease in cats. The first five trials are all compounds administered orally and are expected to be regulated by the USDA. The next five planned drugs are what are expected to be classified as biological product candidates and are expected to be under the regulatory auspices of the FDA. According to the chart below, they appear to be a good distance from reaching the trial phase with the biological product candidates.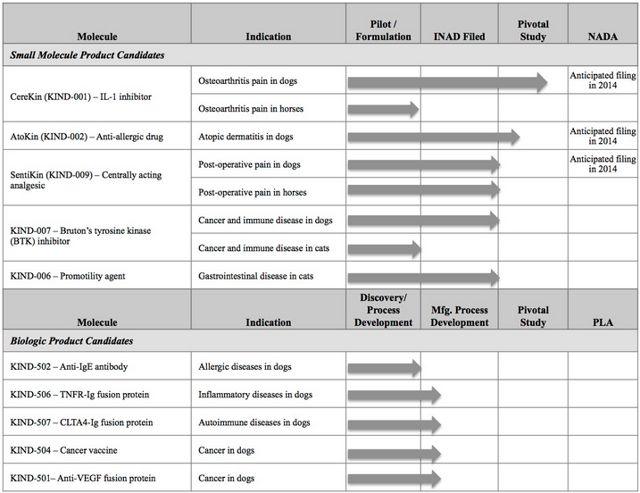 Source: KIN S-1.
The race for KIN is to produce at least one, if not multiple, viable drugs or treatments from their existing pipeline before exhausting cash reserves. Also according to KIN's most recent 10-Q, the amount of cash KIN is currently using for general and administrative purposes ($2.5 million thus far in 2014, as of June 30) and R&D costs of $5.69 million (also as of June 30), they have enough cash reserves to continue at their current pace for a little bit more than six more years. The estimated cost of R&D per field trial for each of their 10 identified target compounds is around $4 million total. If they continue at their current pace, this could be a little bit more time than is needed if they were to be unsuccessful with each treatment. Success in either of the next two trials could result in created markets of anywhere from $900 million to $1.5 billion, according to Myriad Equity, which is a tremendous return on investment considering the costs and risks involved with so with human drugs ($750 million to $1 billion).
One of the main risks is that KIN is building their treatments on generic human drugs, and the low ceiling to entry could result in competition developing sooner rather than later. While KIN would not have to compete directly with generic drug manufacturers in the same way traditional pharmaceutical companies must, they could find themselves in a situation where their first to market position is eroded. In fact, there may not be a lot to prevent a generic drug manufacturer from adapting their drugs to the veterinary market if there is indeed a great untapped market.
Conclusion
Last Thursday's 27.66% decline is a market reaction skewed very far past the rational, and presents a long-term growth investor a tremendous opportunity to initiate a position in a firm with a pipeline of potential first in class drugs. After last Thursday's punishing trading session, KIN sat almost 62% below the 52-week high of $26.99. It must be presumed that a successful trial and release of a drug, with an uptake in line with Myriad Equities' estimates, would push the share price very far past that high.
If the low-end estimate of a $900 million a year market was created with either a successful release of AtoKin or SentiKin, the resulting turnaround in EPS (currently at -1.29) and growth rate would likely attract investors in the "normal" pharmaceutical industry. Comparing KIN to Perrigo PLC (NASDAQ:PRGO), which has an EPS of 1.55 and trades at a P/E of 96.36 on income of $205.5 million, KIN could be considered a high-risk/high-reward possibility of similar magnitude. Also, at a market cap of only $201.7 million, KIN could be a future target of acquisition for a larger name that saw it had been outflanked on the veterinarian market.
I highly encourage looking at KIN as a speculative addition to a well-balanced growth portfolio.
Disclosure: The author has no positions in any stocks mentioned, and no plans to initiate any positions within the next 72 hours.
The author wrote this article themselves, and it expresses their own opinions. The author is not receiving compensation for it (other than from Seeking Alpha). The author has no business relationship with any company whose stock is mentioned in this article.