The press of popular opinion would have us believe that the USD is strong and I am now starting to hear a number of commentators talk about the bullish prospects for the USD. Yes, very interesting. I cannot blame them; after all, the USD Index is looking precariously close to taking on a bullish glow.

But is the USD genuinely strong? No it isn't. If we look at how the USD is performing against emerging market currencies, a very different picture emerges from that portrayed by the USD Index itself. Take a look at the JPMorgan Asian Dollar Index below, it is only a few percent away from an all time high and certainly no where near registering a multi-week low which would suggest a change in sentiment. The Asian Dollar Index is 10 Asian emerging market currencies against the USD.
Click on charts to enlarge: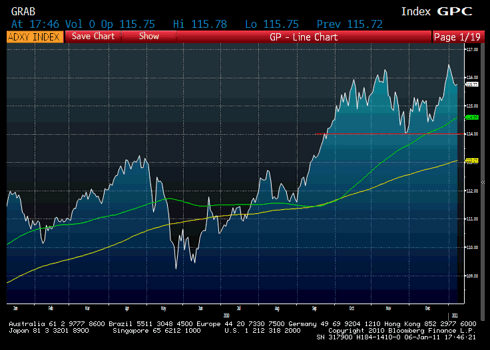 Note that just last week the Asian Dollar Index closed at an all time high!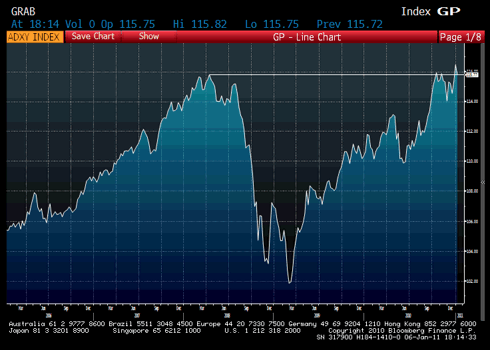 What is the fundamental foundation for our bearish view on the USD? Well, in essence it is the U.S. government living completely beyond their means at an exponential rate! Let Bill Gross from PIMCO explain in more detail:
The problem is that politicians and citizens alike have no clear vision of the costs of a seemingly perpetual trillion dollar annual deficit. As long as the stock market pulsates upward and job growth continues, there is an abiding conviction that all is well and that "old normal" norms have returned. Not likely. There will be pain aplenty and it's imperative that we recognize now what the ultimate cost of blueberries will mean for American citizens of tomorrow. Four major factors come to mind:
American wages will lag behind CPI and commodity price gains.
Dollar depreciation will sap the purchasing power of U.S. Consumers, as well as the global valuation of dollar denominated assets.
One of the consequences of perpetual trillion dollar deficits is the need to finance them, and at attractively low interest rates for as long as possible.
Trillion dollar annual deficits add up, and eventually produce a stock of debt that can become unmanageable.
Now listen to what Gross said on CNBC where he is dumbfounded by the complacency towards the budget deficit! I guess it is only a matter of time before the USD does sell-off dramatically (I refrain from using the word collapse).

On a similar note have you noticed how close emerging Asian currency Yen crosses are to breaking to a multi-week high (like the KRWJPY, SGDJPY, THBJPY etc). Below is the JPMorgan Asian Dollar Index in JPY terms. I have been bleating on about the Yen crosses for a few months now. Emerging market currencies against the Yen are a very important indicator of the risk taking attitude of the crowd, or at least it has historically been that way. Multi-week highs in emerging market currency Yen crosses would be a bullish omen for equities (particularly of the Japanese variety), commodities and U.S. Treasury yields.
Click to enlarge: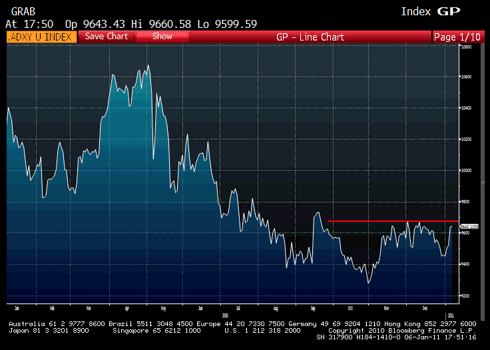 And a break to the upside in the chart above would probably be followed by a break to a new multi-week low in the USD Index, multi-week highs in the CRB Index and the Dow. Yes, everything in the financial world is interconnected more than you think!

Disclosure: I am long UDN, CEW.

Additional disclosure: Long Calls on AUDJPY, NZDJPY, CADJPY