On the stock market, there are companies that are more known than others and some that are more popular than others. Those companies are often easy to talk about and looked into since many people are aware of them. On the flip side of the coin, there are companies that fly under the radar most of the time and they are worth looking into for your portfolio. In fact, you should have many of those in your watch list.
There are two companies I have been watching for a while now and I consider them both worthy. The two dividend aristocrat companies I have identified are:
I did own Saputo prior to the market correction of late 2008, but sold after they split their stock and before becoming a dividend investor.
Saputo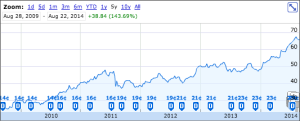 Saputo has seen an impressive growth in the past 10 years and has made a foray into the US market as well. In fact, their revenue pie is well diversified across North America with 40% of the $9.2B in annual revenue coming from Canada, 49% coming from the US and 11% coming from their international segment. I have been following them casually over the past 5 years and they have made a lot of progress in the US, as you can see, by acquiring companies. Their acquisitions appear to work well.
When you first look at Saputo, the dividend yield is low. It's not much more than a high interest savings account, but what you need to look at is the dividend growth. Saputo has a 10-year dividend growth average of 14.77% -- much higher than inflation. That's like getting a 14% raise. Considering the yield is always low, it means the stock value appreciates and it makes it a great stock to own. You have to overlook the yield. The dividend payout ratio is in a very good spot to allow for growth in acquisition or dividends.
Some metrics at the time of writing:
Stock Price: $65.87
Market Cap: $12.90B
P/E: 24.04
Dividend Yield: 1.58%
Dividend Payout Ratio: 32.97%
Metro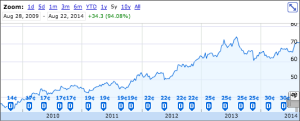 At the beginning of the year, Metro announced a new dividend policy with a payout ratio target increased from 20% of the previous year's net earnings to a level between 20% and 30%, with a target of 25%.
This 20% dividend increase should tell you how comfortable management is with their cash flow and business. Metro now has a dividend yield of 1.69% and it's high compared to historical data. Rather than buying large companies, Metro has been buying smaller companies that can integrate well into their business.
I have been watching Metro for quite a while. It has always been on my tracking list (you have a watch list, right?), but the yield has always been too low. It's tough when you start investing as you want dividends to flow in, but you need to have patience since it grows dividends. I have now put the numbers together since 2000, and Metro averages a 16.80% dividend growth annually with the last 5 years having above 10% growth. Put together the dividend growth and stock appreciation and you have a top stock. The P/E is also acceptable at the moment.
Some metrics at the time of writing:
Stock Price: $71.14
Market Cap: $6.04B
P/E: 15.63
Dividend Yield: 1.69%
Dividend Payout Ratio: 26.37%
Readers: Are you an owner of either? Is the yield too low?
Disclosure: None.
Editor's Note: This article discusses one or more securities that do not trade on a major U.S. exchange. Please be aware of the risks associated with these stocks.