Tiffany (NYSE:TIF) reported a solid set of Q2 results with EPS of $0.96 handily beat consensus of $0.85 with strength coming out of Americas and its fashion jewelry business. Despite the cautious outlook in both Japan and Europe, management still raised full year EPS guidance to $4.20 - 4.30 compared with the prior guidance of $4.15 - 4.25.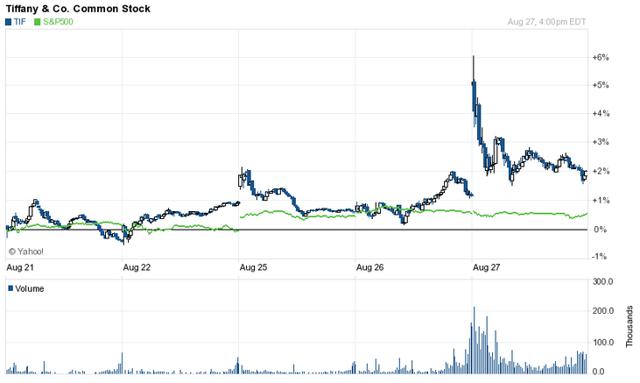 Strength in North America while Asia was weak
Total North America sales were +9% y/y driven by higher ASP. On a constant currency basis, sales were +10% y/y. New products mainly drove the +8% y/y comp sale with some contribution from tourism. Management noted that Latin America and Canada was able to achieve low double digit growth in the Q.
As expected, Asia was a weak spot due to the regional pullback with Japan sales -13% y/y in what I see is the result of the higher sales tax that went effective in April. China saw a +7% y/y increase in comp sales, which is a deceleration from the low double-digit growth rate in Q1.
Fashion jewelry shines
Fashion jewelry was particular strong in the quarter driven mostly by gold jewelry while silver demand was muted. Going forward, I expect the newly introduced T Collection to be accretive to the fashion jewelry segment given its classic and minimalist look which I believe will appeal to the mass consumers.
Outlook positive
Management raised FY14 EPS forecast post quarter and expects worldwide net sale to be up in the high-single-digit percentage. Additional 13 company-operated store will be added along with 4 closings, result in a net of +9 stores with +4 in Asia. Capex to increase to $270m vs $221m due to investment in IT system but free cash is projected at $400m.
Overall, I think it was a solid quarter despite the weakness in Asia. The sales from Americas was a particular surprise and I expect the momentum to continue to offset the soft demand from other parts of the world.
Disclosure: The author has no positions in any stocks mentioned, and no plans to initiate any positions within the next 72 hours.
The author wrote this article themselves, and it expresses their own opinions. The author is not receiving compensation for it (other than from Seeking Alpha). The author has no business relationship with any company whose stock is mentioned in this article.