Over the last couple of months, I've been detailing the possibility of a short squeeze for shares of 3D Systems (NYSE:DDD). With a short interest number that continued to rise, it seemed as if the next piece of good news would send shares rocketing higher. Well, we just received the mid-August update on short interest, and the data makes the long case even stronger now. Today, I'll detail why the chance of a short squeeze has increased to its highest level yet.
First, let me discuss the latest update on short interest. As you probably saw in my summary points above, another 52-week high was reached. Short interest increased by more than 800,000 shares in the first half of August, putting the total at nearly 36.9 million. While this was only a 2.22% rise from the previous number, short interest is now up 31.42% in the past year and more than 150% so far in 2014. You can see this dramatic rise in the chart below.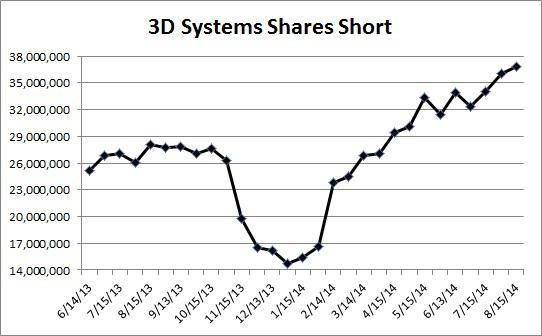 So with the rise in short interest, the percentage of the stock's float short has also risen a bit. More than 35% of the reported float number is now short, a staggering amount for those that follow highly shorted names. I usually start talking about the possibility of a short squeeze once we hit the 20% of float number, and this name has blown well past that.
Obviously, a rise in short interest is one factor in determining the possibility of a short squeeze. As short interest rises, the possibility of a squeeze does as well, holding all else equal. But there is a second factor in play, and that is volume. If volume is high, a name like 3D Systems may not see a squeeze because shorts can cover very quickly. The best way to detail this is the days to cover ratio, which measures how many days it would take all shorts to cover. Generally speaking, if the days to cover ratio is in the low single digits, a short squeeze isn't as likely. But when the days to cover gets into the high single digits or even double digits, it starts to be a bit more meaningful.
Well, as you can see in the "latest update" link above, the days to cover ratio also hit a new 52-week high in mid-August. The ratio stood at 11.80, which means it would take nearly 12 full days of trading volume for all shorts to cover. Part of the rise in the days to cover ratio has to do with the increase in short interest, but it also is due to a decline in volume. Volume in the second half of the month hasn't been spectacular, so we could see another new high in the days to cover ratio at the end of August, even if short interest decreases.
For now though, the possibility of a short squeeze in 3D Systems has certainly increased. Not only is short interest at a new high with more than 35% of the float short, but the days to cover ratio has jumped into the double digits. At this point, one piece of good news from the company could send short sellers into a world of pain, and that could lead to a large rally in shares. It was just a few months ago when shares rocketed higher in an apparent squeeze, and the next one could be even more powerful thanks to the latest numbers I've discussed today.
Disclosure: The author has no positions in any stocks mentioned, and no plans to initiate any positions within the next 72 hours.
The author wrote this article themselves, and it expresses their own opinions. The author is not receiving compensation for it (other than from Seeking Alpha). The author has no business relationship with any company whose stock is mentioned in this article.
Additional disclosure: Investors are always reminded that before making any investment, you should do your own proper due diligence on any name directly or indirectly mentioned in this article. Investors should also consider seeking advice from a broker or financial adviser before making any investment decisions. Any material in this article should be considered general information, and not relied on as a formal investment recommendation.