In July, activist investor Casablanca proved victorious in its proxy fight against Cliffs Natural Resources (NYSE:CLF). Casablanca has since moved forward with its plans for CLF including appointing new management and announcing a $200 million stock buyback. Prior to this announcement, I had been unsure about how I felt about Casablanca's plan for CLF. However, this news has led me to lose faith in Casablanca's ability to turn things around at CLF.
Casablanca's Plan For CLF
Casablanca's plan for CLF has evolved over time. Initially, Casablanca favored a split of the company which would separate its U.S. iron ore assets from the rest of the company in the form on an MLP. This view appears to have changed and the company is now looking simply to sell non-core assets. The idea of splitting up CLF and selling non-core assets is not something I am opposed to. However, given current market prices, now well below $100 for iron ore, CLF's non-core assets will be very difficult to sell. CLF's money-losing coal operations will be just as difficult to sell. Cash cost for CLF's Canadian assets are well above $100. The problem for CLF is that iron ore prices are moving lower due to moves by BHP (NYSE:BHP) and Rio Tinto (NYSE:RIO) to increase production. Some might ask why BHP and Rio Tinto are increasing production despite plunging iron ore prices? The answer is that BHP and Rio Tinto are the undisputed low-cost iron ore producers in the world. Rio Tinto is said to have cash cost of $43 per ton and BHP is said to have cash cost of $45. Rio Tinto and BHP want to drive high-cost Chinese producers out of business. Clearly, the increase in supply has led to a decrease in iron ore prices. This is problematic for CLF because its cost are significantly higher than BHP or Rio. For second-quarter 2014, CLF reported a loss of $0.01 per share compared to a profit of $0.82 per share during the same period a year ago. A year ago, iron ore prices were closer to $130. The $30+ drop in iron ore prices had a significant impact on CLF.
What I Would Do Instead
The first major mistake that I believe Casablanca is making at CLF is the $200-million buyback. With more than $3 billion in long-term debt, CLF is highly leveraged. Comparably, as shown by the chart below BHP and Rio are significantly less leveraged. This means that in addition to benefiting from lower mining cost BHP and Rio have an advantage over CLF because they are not being suffocated by debt.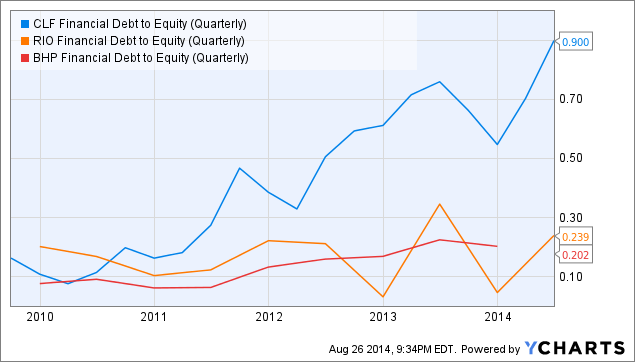 CLF Financial Debt to Equity (Quarterly) data by YCharts
Given my negative outlook for iron ore prices due to increased production, I believe CLF should use its cash to reduce its debt burden. In fact, I would go a step further and advocate for CLF to issue additional equity to buyback its own debt. CLF's first major debt issue of $500 million comes due in 2018. CLF should use its $200 million to buyback some of this debt. In order to help preserve liquidity, CLF should also stop paying a dividend. Additionally, I would idle all mines which are not currently profitable. Currently, CLF has said it plans to continue operations at its unprofitable mines in order to help make them profitable. CLF also believes that continuing operations better positions these assets to be sold. I believe these properties are unprofitable due to market prices, something I don't expect to change for some time. Furthermore, as I previously mentioned, due to market conditions CLF is going to have a difficult time selling its non-core iron ore properties or coal properties. The value of these non-core properties is likely to improve over the next few years as market conditions improve. While I agree with Casablanca that CLF should sell its non-core assets, I don't believe that now is the right time.
Over the short term, my plan will not be good for CLF shares but I believe it is the right move to help create shareholder value over the long term. I want CLF to reduce its debt so it can ride out the current iron ore pricing downturn being initiated by BHP and Rio. Eventually, after a significant number of Chinese producers go bankrupt and are not bailed out by the government, BHP and Rio will stop increasing production and allow prices to rise. In the future, once BHP and Rio have control of the market, iron ore prices will increase. Under the right circumstances, I would not be surprised to see iron ore prices retesting all-time highs by 2020, but it could take longer. It should be noted that iron ore prices have fallen by nearly 50% since 2011 so a rapid recovery once an inflection point is reached is not impossible.
Conclusion
My plan for CLF will not lead to the quick pop that Casablanca is hoping for. However, I believe my plan is a better option for shareholders over the long term. CLF has assets that should be sold, but not right now. CLF's main focus needs to be on riding out the current iron ore pricing storm. This is where my plan is at odds with Casablanca's as the $200-million buyback plan would only decrease CLF's liquidity and make it more vulnerable to further drop in iron ore prices. If prices were to fall much from current levels CLF would in trouble. Iron ore prices will likely move higher over the long term but it is not clear how long the current pricing environment will last and how low prices might fall. Due to my disagreements with Casablanca's strategy at CLF, and my belief that iron ore prices could move lower from here, I would not be a buyer of CLF right now. This marks somewhat of a shift as I had been mostly positive on CLF in the past. If CLF is able to ride out the current iron ore downturn then I believe the stock will move significantly higher over the long term. However, Casablanca's aggressive strategy at a time when pricing is incredibly weak might put CLF's survival in jeopardy given continued weakness in iron ore prices.
Disclosure: The author has no positions in any stocks mentioned, and no plans to initiate any positions within the next 72 hours.
The author wrote this article themselves, and it expresses their own opinions. The author is not receiving compensation for it (other than from Seeking Alpha). The author has no business relationship with any company whose stock is mentioned in this article.