The range of issues plaguing Papa John's (NASDAQ:PZZA) ingredients this year have led investors to sell the company's stock. The most recent concern the pizza maker faces with ingredients is the closure of one of the company's eastern Chinese outlets after it was found to have used expired pizza dough. The branch in Nanjing city was found to have used the expired ingredient two days after it passed the expiration date, Zhang Lie, a spokesman for the Louisville, Kentucky-based company, said.
The company initially addressed the issue, saying, "We apologize to our customers" for the inappropriate behavior of the staff, "We hope customers can give us another chance and visit our restaurants again."
Meanwhile, management addressed another quality issue regarding Papa John's relationship with disgraced food supplier Shanghai Husi Food Co Ltd a few days later. Shanghai Husi Food, a part of U.S. food supplier OSI Group LLC, was found through an undercover local TV report that alleged workers used expired meat and doctored food production dates, regulators closed the factory on July 20.
The news had devastating effects on Yum Brands (NYSE:YUM) and McDonald's (NYSE:MCD), both of which used Shanghai Husi Food as a primary supplier, but Papa John's said its exposure to the supplier's products was limited. "OSI was a supplier for us, but it was a contingency supplier. We had five restaurants in tests. So it is not a primary supplier," said Papa John's CEO John Schnatter. "Within 24 hours we're able to remove the product from the restaurants, had no impact to our menu and went back to our primary suppliers. So, slight impact to sales. We've been continuing to monitor that, but no material impact on our consolidated full year results," he continued.
Although management has claimed the recent string of bad press has no effect of future earnings, investors have sold off shares, pushing prices to yearly lows as broader equity indexes move to record highs.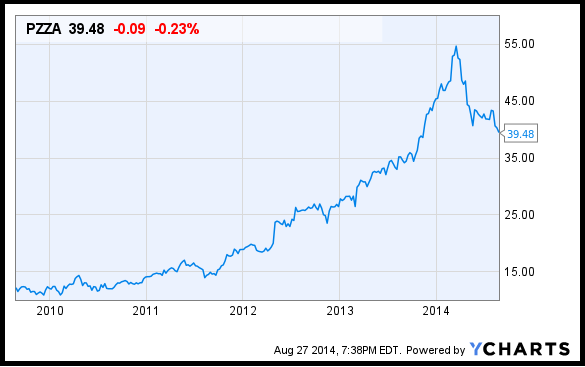 There are, however, more fundamental reasons for the company's declining share price recently as well. Increasing input costs have pushed down operating margins, creating a more difficult environment for the company to grow profits.
For example, cheese is generally the costliest ingredient for pizza restaurants, accounting for around 35% to 40% of Papa John's food costs. Over the past year and a half, mozzarella cheese has risen as much as 25% and the price of cheddar cheese has jumped as high as 33%, according to data from Bloomberg.
Bad weather in Europe and New Zealand, as well as high feed costs hurt global milk production in 2013, especially in the first half of the year, reported agriculture news site Capitalpress.com. As a result, American dairies sent more cheese overseas in the first 10 months of 2013. Cheese exports were up 17% over 2012, leaving less for cheese-loving Americans, according to the U.S. Department of Agriculture
The chart below shows the steady advance of Cost of Goods Sold for Papa John's over the past five years. From 2013 to 2014, costs have been gradually on the rise.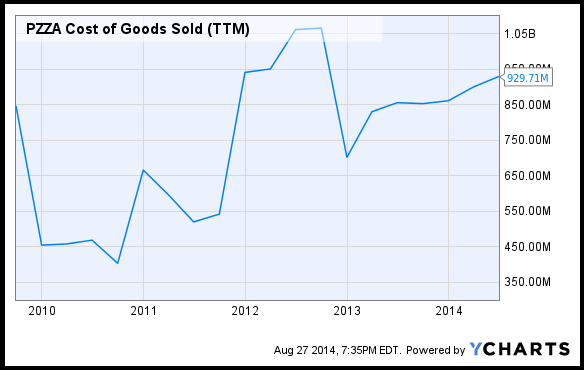 Meanwhile, higher COGS has reduced operating margins, as seen in the chart below. Papa John's has targeted digital sales as a way to increase revenues. The company said that during the quarter domestic digital sales climbed to well over 45%. Papa John's is now on the verge of being the first national pizza chain to achieve a domestic system-wide digital sales mix of over 50%.
Increasing exposure to new technology will be a major driver of growth for Papa John's in the future, but right now decreasing margins and a negative perception hold back the company's share price. Until tangible results begin working their way through the pipeline, expect Papa John's stock to continue lagging the broader market.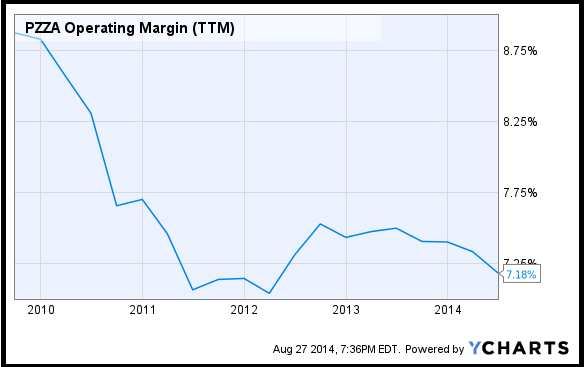 Disclosure: The author has no positions in any stocks mentioned, and no plans to initiate any positions within the next 72 hours.
The author wrote this article themselves, and it expresses their own opinions. The author is not receiving compensation for it (other than from Seeking Alpha). The author has no business relationship with any company whose stock is mentioned in this article.