I set up a screen following my discovery of the value possibilities of Tidewater Inc.(NYSE:TDW), looking for stocks sporting both a Sub 1 PEG ratio and a Sub 1 Price/Book profile. As commenter mbkelly75 pointed out in my previous similar screen, "Ben Graham said that you could make money on stocks with a P/B of 1.2 or less so less than 1 works out well as a screen, keeping in mind that 67% or less shows a possible value play."
Speaking of my Quick-Z Portfolio, it has gone up a theoretical $978.71 since inception on May 7, 2014, a 12.2% increase. In fact I had to rebalance the portfolio today, selling out of the Sallie Mae (NYSE:SLM) that ended up in the portfolio in error. Removing SLM resulted in a negative swing to the Value Change, despite my selling it for exactly the same price I bought it for back in May. What I intend to do after finishing with today's screen is appoint a new member of the screen to take the place of SLM's departure. Unsurprisingly, SLM again appeared on the results of the tailored screen today due to the residual effect of their now discontinued dividend. This even shows up on Yahoo Finance as a forward dividend yield, which I am certain confuses more folks than just me.
In any case the screen for today consists of stocks with a Sub 1 PEG and Sub 1 Price/Book (as the title of the article suggests), but this in itself brought up well over 40 possible items. To narrow this to just a manageable size I added a Positive Dividend Yield (as I almost always do), a Mean Analyst Recommendation Score of Buy or Better, a Payout Ratio of under 40% (narrowing away from BDCs, REITs, etc.) , and a Market Capitalization of over $2 Billion. This resulted in 12 (11 minus SLM) stocks to dig deeper on, listed in order of the Recommendation score, starting with the worst score first.
Lincoln National Corporation (NYSE:LNC): LNC reached their 52 week high today after announcing strong Q2 results, and this might be the only true downside to investing in LNC now. Closing -0.74% below the $53.86 high, LNC has a consensus target price of $58.23, a narrow 8% above current levels. Following the Q2 results new target prices could be coming in the short term. The one year return on LNC is 23.60%, above the S&P 500's return of 20.32% during this same period. While the current Recommendation Score is a passable 2.5, this could certainly be increasing in the near term as today's results are digested by analysts. The PEG ratio is 0.94 and the Price/Book is 0.91, providing a 9% discount on book value. The dividend yield is 1.19% and the payout ratio is a healthy 10.40%.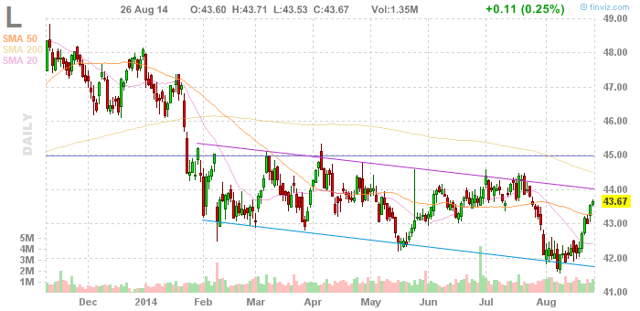 Loews Corporation (NYSE:L): While L made the list, chartist Jonas Elmerraji at TheStreet thinks that L should be avoided if not already held, and sold if/when it gets to $44.60. L made this screen as it has a PEG of 0.54, and Price/Book of 0.84 and a dividend yield of 0.58%, which probably would have warned me away from this pick in the first place if similar characteristics could have been found with a better dividend yield. The implied 16% discount on book value could be intriguing if the chart could be ignored (and some definitely might), and L sits 12.46% below the 52 week high of $49.22. The consensus target price is $48, which is a 10.25% increase over the today's close of $43.08.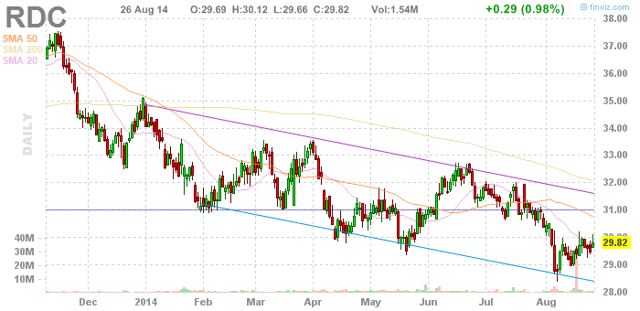 Rowan Companies plc (NYSE:RDC): RDC, of the offshore drilling sector I follow rather closely, came through on this screen, and at first glance shows a similar chart setup to L, which is not at all surprising considering the pressure that has been coursing through the offshore sector in particular for quite some time. RDC has a recommendation score of 2.4, edging it just slightly ahead of L and LNC, but sports a very strong 0.59 PEG and a Price/Book of 0.74, a monstrous 26% implied value. The dividend yield is 1.35%, which is not too bad although definitely not Seadrill (NYSE:SDRL). The Debt and Long-Term Debt to Equity both sit at 0.57, which could be a cause for concern. The consensus target price is $34.27, a good bit below the 52 week high of $38.39, which is itself a 22.70% increase from Friday's close of $29.67. The key concerns with RDC, as with all of the other offshore drillers, is fleet utilization, and the group tend to trade closely even though there are vast differences in fleet composition among them.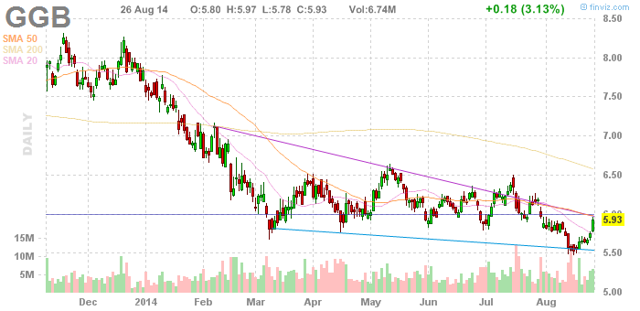 Gerdau S.A. (NYSE:GGB): The Brazilian steel company GGB shows up on this screen as well, and again, looks to be on a downward trend and having broken through bottom support at the end of July and has spent all of August below. While again Jonas Elmerraji says to stay away, there might be a time GGB begins to look particularly attractive. The PEG is 0.89 and the P/B is a lowest so far 0.73, with another Recommendation score of 2.40. The consensus target price of $17.23 would be a more than 200% gain from today's close of $5.67. A more rational number to maybe aim for here would be a return to the 52 week high, which would be a 32.58% gain from here. Like RDC, GGB has issues with the Debt and Long-term Debt to Equity numbers, coming in at 0.56 and 0.50 , and the Price to Free Cash Flow is 51.60, definitely a worrisome sign. The steel industry has some secular challenges, and jumping in on GGB could be a risky move, although possibly profitable if the metrics are a good indication.
Endurance Specialty Holdings Ltd. (NYSE:ENH): Insurance was well represented on this screen, and ENH appeared as well. While we are still in the Recommended scores of 2.4, the dividend yield for ENH improves to a best so far 2.39% and the PEG is a on the cut-line 0.99 while the Price/Book is 0.82, implying a 18% discount. ENH is hovering just at the consensus target price, closing at $56.98 today, 2 cents below the target price of $57, and 1.87% below the 52 week high of $58.07. Golden Hammer agrees that ENH is a solid value pick for the long-term investor.
American International Group, Inc. (NYSE:AIG): Even if the name still makes you pause, the metrics could light up your eyes. We move up to a Recommendation score here of 2.30, with a PEG of 0.77 and a Price/Book of 0.74, indicating a massive 26% discount that could be the result of just that lingering skepticism I know I have whenever I hear those three letters in that order. An investor would have been well rewarded by pushing that aside some time back as now AIG sits just 1.23% below the 52 week high of $56, and the target price of $59.85 is a 7.5% increase from Today's close. Michael Wong at Morningstar thinks "there's still gas in the tank," even if he does not think AIG will reach par on Book value. This could be a solid long-term investment given the right conditions and investing horizon.
AU Optronics Corp. (NYSE:AUO): The display and solar company AUO shows some very strong metrics, and unlike a lot of companies in the technology sector pays a dividend of 1.10%. This is another recommendation score 2.30, with a PEG of 0.61 and Price/Book of 0.80. AUO is sitting 1 cent over the target price of $4.51, but 4.62% below the 52 week high of $4.74. The debt/equity number is 1.08, and the Long-Term Debt/Equity is 0.77, and the margin numbers are not very inspiring. One thing that could be a factor, however, is a potential buyout by some larger firm in need of their products. There has been a lot of M&A in this space in 2014.
Morgan Stanley (NYSE:MS): Another name I might find myself eschewing out of hand after the financial crisis, MS made the screen with the PEG of 0.60 and the cut-line Price/Book of 1.00. It does not surprise me MS is not trading at a premium. The recommendation score is 2.30 and the dividend yield is 1.21%. What might certainly be cause for further consideration is the Debt/Equity of 4.47 and Long-Term Debt/Equity of 2.61. These numbers do not compare favorably to JPMorgan Chase & Co.'s (NYSE:JPM) 1.29 for both. MS is facing the same secular headwinds a lot of the investment brokerages are dealing with, however they closed today at a 52 week high on the news that investors are putting huge amounts of money to work in the markets. Whether there this is a foreboding sign for the market in general, it will be good for brokerage commissions.
Tidewater Inc.: This inspiration for this screen, TDW jumps us up to the recommendation score of 2.20, and sporting a PEG of 0.46 and Price/Book of 0.91, implying a 9% discount. The dividend yield is a second best thus far 2.01%, and with today's close of $49.19 sits over 21% off of the 52 week high of $62.32. TDW has an almost identical Debt and Long-Term Debt to equity ratio as RDC, sitting at 0.56 and 0.55 respectively. Again, the offshore sector as a group faces severe market skepticism, not to mention several external pressures that could be of concern for investors. I like the space in large part because I have always been an energy bull, and I am often attracted to the spots others are fleeing. This is not for the faint of heart. But if the metrics back up my thesis I become braver with my conviction. When my metrics keep taking me back to the same sectors and same names over and over again, often this is a clue that there is an opportunity even when many due not think it exists.
Ares Management, L.P. (NYSE:ARES): Now we jump all way up to a recommendation score of 1.90 with the Asset Management company ARES, which is the manager of various types of traded funds. The PEG is 0.73 and the price/book is 0.84, implying a 16 percent discount. The dividend yield is 4.05%, a screen best, but the debt/equity and long-term debt/equity both sit at 7.94, both screen worsts. ARES currently sits 12.45% below the 52 week high of $20.27, and the target price is 40 cents above that. ARES recently reported a net income jump in the second quarter, and analysts are very strong on this stock at this time.
Shinhan Financial Group Company Limited (NYSE:SHG): Now for something completely out of left field, we have South Korean regional bank SHG, which tops this list with a recommendation score of 1.00 (best possible), a PEG of 0.97 and Price/Book of 0.88, implying a 12% discount. The dividend yield is on the small side of this list at 0.62%. The target price of $53 is 4.5% above today's close of $50.59. The debt and long-term debt to equity both sit at 1.32, which is not nearly the worst on this list but cause of concern.
Conclusion:
Again, I find myself pulled to the Energy sector, and in particular the Offshore sector. TDW provides the best PEG of the screen and the second best Dividend Yield. Despite being in a distressed sector, TDW sports good analyst outlook, and I am not already heavily exposed to offshore services despite SDRL being my largest portfolio holding at this time. For this reason I am adding TDW to my Quick-Z portfolio, and will be shortlisting them into addition into my actual trading portfolio soon.
Disclosure: The author is long SDRL, JPM.
The author wrote this article themselves, and it expresses their own opinions. The author is not receiving compensation for it (other than from Seeking Alpha). The author has no business relationship with any company whose stock is mentioned in this article.