What's the first thought that comes to your mind when someone says "Devon Energy (NYSE:DVN)?" You'd be forgiven if you thought of "the shale-gas revolution." But, in fact, Devon has transformed itself from a major producer of shale gas to a producer in some of the more liquids-rich shale plays.
In 2008, when Henry Hub sat at over $10 per thousand cubic foot, Devon Energy was one of the premier growth companies in the U.S. energy scene. Back then, the company had positions in five different shale gas plays, with the biggest in the Barnett Shale. However, as gas prices plunged and have stayed low, those growth prospects faded and Devon became regarded as a company with vast drilling potential only if natural gas prices rose significantly. In other words, Devon was a play for the very patient.
As many North American oil and gas companies did a few years ago, Devon Energy began looking for ways to weigh itself toward oil production. Barrel-equivalent margins for gas were much lower than those of oil, and it seemed like that paradigm was going to be the prevailing one for the medium-to-long term.
Just a few months ago, Devon took perhaps the largest step in its move to become a more liquids-oriented shale play. In a deal with Linn Energy (LINE), Devon sold nearly 900,000 dry gas producing acres for $1.8 billion. These assets were sold for 7 times EBITDA, which was a premium to how the market valued the acreage. Devon will use the proceeds to pay off debt incurred from a major acquisition in the Eagle Ford.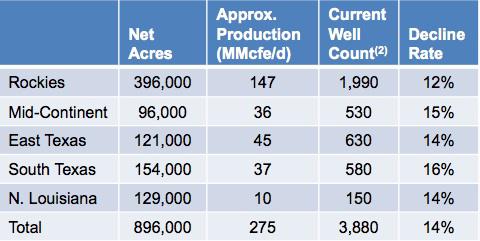 Courtesy of Linn Energy investor relations. Well count based on active wells only.
This multi-parcel sale marks the last big step in Devon's transformation. The company is now centered around five "core" plays and two "emerging" plays. Three of the five core plays are shale, one is a mature, oil-producing basin and the other is in Canada's oil sands. Both "emerging" geographies are shale oil plays. The following map illustrates things very well: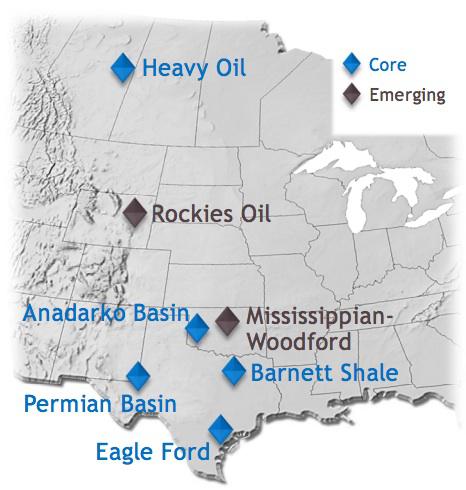 Devon Energy Investor Relations
This article will look at Devon's forward-looking prospects and will then examine valuation, with a particular emphasis on comparing Devon to its new peer group; large-cap, fast-growing shale oil producers. Devon's future growth prospects are very real, but I believe that the market has not priced in such growth.
High-margin, high growth
If the "new" Devon had to be described quickly, I would do so like this: "High BOE margin and high growth." Let's start by talking about the former. In the second quarter of last year, barrel equivalent margins sat at $21.82. Per-barrel margin is now $30.47, an increase of 40% from last year. The reason for this is pretty straightforward: A shift from dry gas to oil and natural gas liquids. A barrel of oil will fetch a much higher price (and hence a higher return) than will a barrel equivalent of natural gas. Speaking of which, Devon's production is now 57% liquids, and 73% of overall revenue is now from liquids.
Growth prospects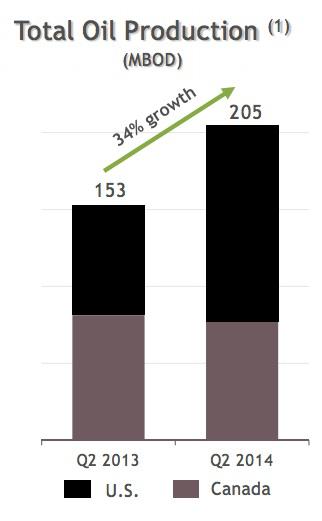 Over the last twelve months, oil production has grown by an amazing 34%. This growth can be attributed to U.S. shale plays, most of which deserve a mention here if one is to understand where Devon is going.
Devon's Eagle Ford position, which was acquired in March 2014, includes 32,000 net acres in Lavaca county. Devon's operations in Lavaca County are centered around the "lower" Eagle Ford, which refers to a deeper "layer" of the Eagle Ford shale. While Devon has not yet possessed this acreage for one full year, production has increased by 49% since just March. That is not even a year-on-year comparison!
In the Delaware Basin, which is part of the Permian Basin system, Devon owns 540,000 net acres. In the second quarter alone, Devon brought 22 wells online in the Delaware, with an average initial production rate of 660 barrels equivalent per day. Currently, Devon has 12 rigs running in the Delaware Basin, but management will boost that number to 20 by 2015.
Why is management particularly gung-ho about the Permian? In short, because Devon's scientists have identified 5,000 future well locations in the Delaware Basin. This was not done by an arbitrary "acreage/well-spacing" formula, either. In fact, management arrived at the 5,000-well figure only after looking at geophysics, geology, history and core sampling. The risk factor is between 30% and 50%, so of course there will be some variance, but it's safe to say that Devon now has a huge inventory out in West Texas.
Devon has been operating in Canada's oil sands for multiple years. The Jackfish and Pike projects, located between Edmonton and Ft. McMurray, produced 60,000 barrels per day in the second quarter, a 3% increase year-on-year. The Jackfish 3 plant began operations in July. By 2016, Jackfish and Pike are together expected to produce just over $1 billion in free cash flow for Devon.
One last important position worth mentioning is the Mississippian-Woodford shale play in northern Oklahoma. After many disappointing well results in this area, Devon is one of the few big players remaining. Like the other big operator in the Mississippian, Sandridge Energy (NYSE:SD), Devon recently looks to be finding some success. The decline curve in the Woodford has been greatly helped by acid treatment and a new well design which involves more fracking sand and fracking fluid. Average estimated ultimate recovery per well has been boosted from 1.4 million barrels equivalent to 1.7 million as a result. This is an increase of 15% over the life of the well. Not bad at all.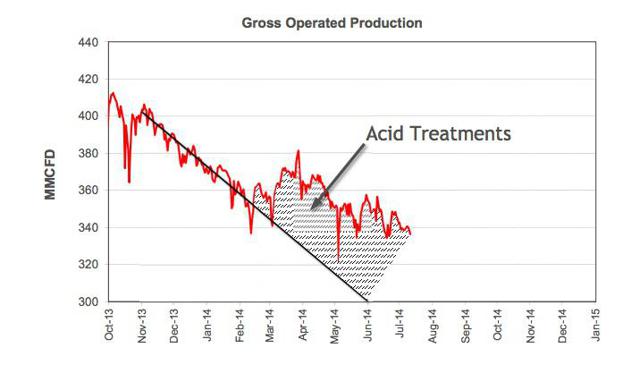 Effect of acid treatment. Courtesy of Devon investor relations.
Potential risk
No discussion on Devon's growth plan would be complete without discussing the coming overcapacity of crude oil in the US. Many experts, including midstream crude oil giant Plains All American Partners (NYSE:PAA), believe that the U.S. will produce about 900,000 more barrels of condensate and light sweet crude than it consumes by 2017. Therefore, this oil must be exported if realized oil prices are to remain above $90 per barrel as they have for the last few years. Unfortunately, there is a 40+ year-old ban on crude oil exports in the United States.
However, not long ago, the appropriate regulatory agency issued a permit for another big Permian driller, Pioneer Resources, to export limited quantities of condensate. Condensate accounts for about 300,000 of the coming 900,000 barrels of excess capacity. Light, sweet crude oil, which is the most common type of crude oil coming out of shale plays, represents the other 600,000 barrels. As a liquids-focused shale producer, Devon's ambitious growth prospects will be strongly related to how the domestic supply issue plays out in the coming years.
Valuation and conclusion
As a company that has transformed from shale gas to shale liquids, Devon now has a new peer group with which to compare itself. That group is $30+ billion shale liquids producers which are growing production by at least 20% per year. The two most closely related peers to Devon are now Continental Resources (NYSE:CLR) and EOG Resources (NYSE:EOG).
Both companies are growing oil production at roughly the same pace Devon is; by between 20% and 30%. Devon is a $30 billion company. Continental is a $28 billion company, and EOG is a $59 billion company. All three are primarily shale liquids producers, too.
Devon's enterprise value is currently 7 times EBITDA. Compare that with Continental at 13 times and EOG at 7.9 times. Book value paints an even starker picture: Devon trades at just 1.42 times book, while Continental trades at 6.68 times and EOG trades at 3.54 times. That is quite a big difference. Of course, production growth is not the only consideration: Devon may currently have lower aggregate rates of return on wells and lower per-barrel margins. Still, Devon is catching up in both of these metrics, and I believe that the company will continue to do so. Devon Energy is a buy right here.
Devon Energy has transformed itself into a much more dynamic, fast-growing company thanks to an emphasis on acquiring assets in established and prospective shale plays in the United States. While Devon is certainly not the first company to do such a transformation, the company has been successful nonetheless. Although there are some uncertainties about the crude oil supply situation in the coming years, Devon offers production growth that is hard to find, and does so at a very reasonable price.
Disclosure: The author has no positions in any stocks mentioned, and no plans to initiate any positions within the next 72 hours.
The author wrote this article themselves, and it expresses their own opinions. The author is not receiving compensation for it (other than from Seeking Alpha). The author has no business relationship with any company whose stock is mentioned in this article.