Phillips 66 (NYSE:PSX) recently broke ground on its $3 billion Liquefied Petroleum Gas export terminal project located near its Sweeny refinery. The company has been trying to increase its midstream footprint and this terminal is extremely important for Phillips66. The export potential of Propane, Butane and Bitumen has prompted the energy giants to develop these facilities - Asia and Europe remain the biggest buyers of these products and the weaker demand for these products in the local market has opened the way for exports. In our previous article, we talked about this project and said that it will be beneficial to the company - at the time, this project was only in its initial phases. How important is this project? We will try to determine in this article.
LPG Supply Capacity
The Freeport terminal is likely to be one of the most important assets of the company. Upon completion in 2016, it will add LPG export capacity of 4.4 million barrels per month to the terminal. This is roughly equivalent to eight huge gas carriers having a top ship loading rate of 36,000 barrels per hour. This project is a joint venture between Phillips 66 and BMZ Export Terminal Partners (BMX). The facility will complement PSX's facility in the area. The pipelines coming from Sweeny Complex and Mont Belvieu area will be used to supply LPG to this facility. However, if the supply of LPG falls short of the capacity of the terminal; the company plans to build a new fractionator capable of providing 100,000 barrels per day of NGL to keep balance between the supply and demand of the facility. This would provide enough capacity to meet the increased capacity of the LPG facility. The project should get approval soon as it was expected in Mid-2014. Once the approval is secured, the company anticipates its completion by the end of 2015.
LPG Market Potential
LPG market was last valued in 2011 at $210 billion and it was expected to reach $266 billion by 2018. Moreover, its global demand in 2011 was 252.50 million tons, which was expected to increase to 327.19 million tons by 2018. This represents a compound annual growth rate [CAGR] of 3.8%. The expectations seem to be on the conservative side as the production of LPG has already reached 260 million tons - the production has come close to the demand figures predicted for 2018 - four years earlier. This shows that the demand might be growing at a faster rate than expected and a robust market for LPG exists. The businesses entering the market in the next 2-3 years will still have a chance to exploit this growth opportunity.
According to more recent researches by IHS Senior director of NGL Research, U.S. could be exporting 0.8 million b/d of LPG by 2020. He further suggests that demand for LPG in Asia is expected to increase to 1.8 million b/d as compared to 1.3 million b/d in 2013. This represents an average annual growth rate of over 8%. The overall domestic use and export of LPG in the world is expected to reach over 10 million b/d by 2020, compared to 8.5 million b/d in 2013. With these figures we get an idea that the demand is likely to remain strong at least for the next five years and will give Phillips66 at least 4 years to enjoy peak LPG demand.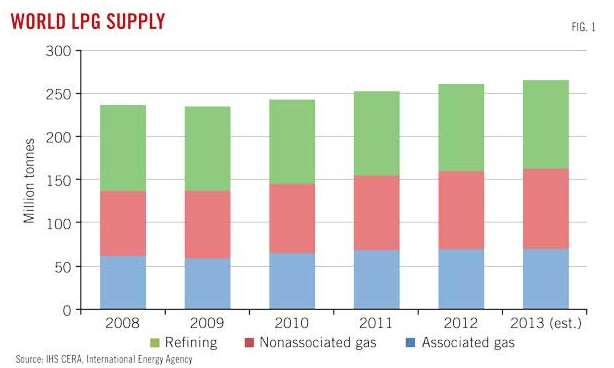 Financial Position of the Company Remains Strong
Free cash flows for the first six months of 2014 were $1.95 billion. The company also has roughly $5 billion in cash and cash equivalents. Solid cash position should allow PSX to fund the project internally. At the same time, PSX has been growing its dividends at an attractive rate - at the start of May, the company increased its quarterly dividend by 28% -- current quarterly dividend stands at 0.50 cents per share. The investment on this project should not impact the dividends of the company as there is enough cushion available to the company. Furthermore, the impressive financial performance should allow PSX to enhance its cash position over the next few quarters.
Conclusion
This expansion to the LPG facility will position PSX nicely to benefit from the booming LPG market. The demand is growing in Asia and it is expected to remain high over the next few years. Phillips 66 will be able to enjoy strong demand for its product for at least 3-4 years after the completion of this facility in 2015. Furthermore, the growth from other business segments also remains strong and we believe Phillips 66 is a solid long-term pick.
Additional Disclosure: This article is for educational purposes only and it should not be taken as an investment recommendation. Investing in stock markets involves a number of risks and readers/investors are encouraged to do their own due diligence and familiarize themselves with the risks involved.
Disclosure: The author has no positions in any stocks mentioned, and no plans to initiate any positions within the next 72 hours.
The author wrote this article themselves, and it expresses their own opinions. The author is not receiving compensation for it (other than from Seeking Alpha). The author has no business relationship with any company whose stock is mentioned in this article.