More Time = More Risk?
I'm a frequent viewer of CNBC, and one of the programs I find entertaining is "Mad Money" with Jim Cramer. I agree with many of his investing principles and think he generally does a good job of educating his viewers about the stock market, but there is one thing that I disagree with him about, and that is his advice for young investors to take more risks with high growth stocks. He says that because young investors have so many years until retirement, they can afford to speculate more because if an investment goes bad they can make up the losses in the future.
While I agree with him that young investors should have some higher growth options in their portfolio, I disagree that they should be speculating to do it. The only advantage a young investor has over an older one is time and the one disadvantage they have is lack of experience. These two combine to make speculating early in an investors career a potentially costly mistake.
I personally bought into the "Take risks, you're young!" way of thinking when I first started investing in 2005, and while it led me to a few great buys it also led me to plenty of mistakes as well, and in the end my portfolio suffered as a result. Now, nearly a decade later, I am a much more well-rounded investor. I can actually value a company based on its earnings and growth rate and determine if its a reasonable investment rather than relying on a hot message board story or a tip from a friend.
I consider those first years of investing as lost years because of the mistakes I made. I was saving money and putting it into stocks, but I didn't really know what I was doing and was buying many stocks that I wouldn't even consider as possible investments now. Those years weren't a complete loss, as I did end up making a few picks that were good enough to break about even overall, but had I known then what I know now I would have approached things much differently.
Since becoming a member here on Seeking Alpha, I've become familiar with Dividend Growth Investing, or "DGI" and have adopted it as my primary method for investments. Looking back now, I cringe to think about what could have been with my portfolio had I started my dividend compounding machine back in 2005. As a result of chasing the elusive quick trade in speculative stocks and taking the corresponding hits to capital, I lost nine years of potential compounding of returns. Had I simply bought the "tried and true" rather than the "bold and new" and been content with 8-10% annual returns, I would have more than doubled my capital rather than breaking even during the period.
Dividend Growth Investing = Best of Both Worlds
A complaint that I frequently hear regarding dividend growth investing is the misconception that an investor will underperform the market when looking for long term capital gains. This way of thinking seems to originate from the perception that all dividend growth stocks are large cap blue chip stocks that are growing at a slow rate.
While its true that there are plenty of slow growth, mega-cap stocks highlighted in the articles that frequent this site, there are also a plenitude of high growth stocks that can be considered dividend growth investments. As a younger investor with another 20+ years until retirement, I have included several of these in my personal portfolio and so far have been very happy with the results.
What is so great about buying positions in some of these great young companies is that you get the best of both worlds, growth AND income. There-in lies the advantage in the strategy with young investors, the compounding of this income over a length of many years. An investor in these types of companies not only get to see their amount of capital gains grow as rising earnings lead to higher share prices, but they also get to see rapid increases to their income stream from the growing dividends.
As this income stream grows over time and the higher growth companies transition into the next "blue chips", it can be a seamless transition from the accumulation phase to the distribution phase as the investor taps into the dividend income stream the portfolio provides.
With this article I will look to identify some of the higher growth dividend paying companies in a variety of sectors that I think are trading at decent valuations and have the potential for above market returns in the years ahead.
Selection Criteria
While I generally don't use any finite screening benchmarks for the selected stocks, I do use a few general ideas when searching for potential investments. Some of these include:
High quality - The company must have a reasonable debt/equity ratio or at least a BBB credit rating.
Consistency of growth - Earnings growth must be fairly consistent with positive annual earnings over the last 10 years.
Continuation of growth - Analyst estimates must show that earnings are expected to continue to grow in the next 5 years.
Valuation - The company must be trading at a reasonable PE ratio, within 10% of historical norms.
Simplicity - The company's business should be fairly easy to understand and be easily repeatable.
Dividend Yield - No minimum will be required for selection as the focus is on capital gains as much as expected income.
Dividend Growth - Dividend growth plus dividend yield, aka "Chowder Rule", should be greater than 15.
With those qualifiers in mind, here are the stocks that made the cut. The information shown in the table below was collected from Yahoo Finance and the U.S. Dividend Champions List.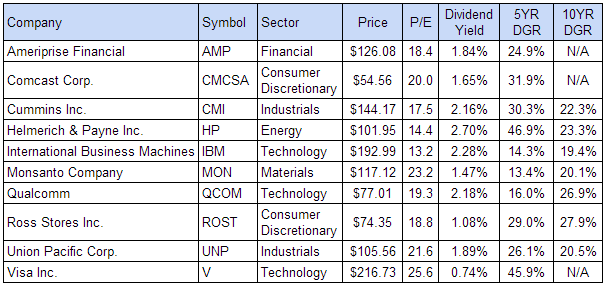 The total return and annualized growth rates shown below were collected from longrundata.com and earnings per share information was collected from Yahoo Finance.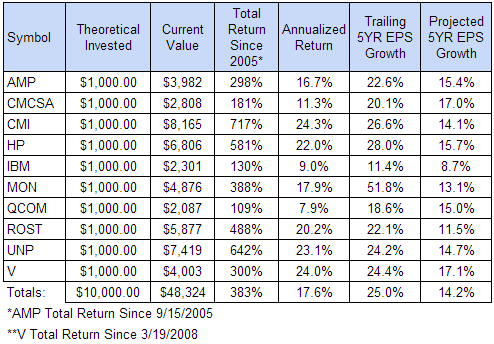 As you can see, all of these companies have outperformed the market over the last 9+ years, with the worst return of the group coming from Qualcomm with a 7.9% annualized return. Overall, the group returned an average of 17.6% annually, which is remarkable compared to the S&P return of 7.3% during the same period.
Looking ahead, you can see the group has an average expected growth rate over the next 5 years of 14.2% and from the first table the average dividend yield of the group is 1.8%. With all of the companies trading close to fair value according to historical P/E ratios, an investor could reasonably expect similar returns in the years ahead if earnings projections bear out as predicted by analysts.
Company Profiles
Ameriprise Financial, Inc. (NYSE:AMP) is a provider of financial products and services in the U.S. and internationally. The company offers financial planning and advice, brokerage services, investment advice and products, annuities, and insurance to retail, high net worth, and institutional clients. The company was formerly known as American Express Financial Corp. and changed its name to Ameriprise Financial, Inc. in September of 2005. The company was founded in 1894 and is headquartered in Minneapolis, Minnesota.
In the F.A.S.T. Graph below you can see that Ameriprise has seen considerable growth coming out of the recession, as its annual earnings growth has ranged from 12-42% since 2009.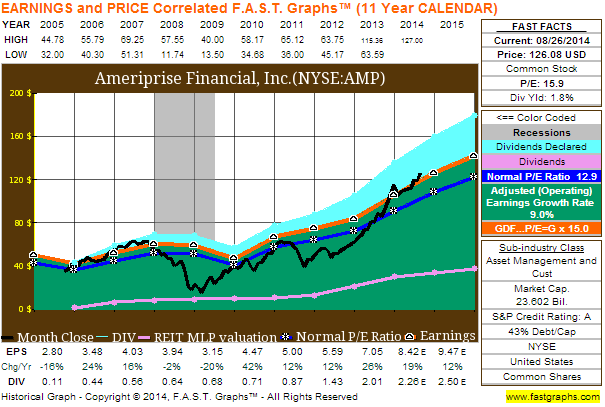 This makes intuitive sense, as the company generates much of its profits from financial services and a rising market tends to lead to increasing earnings from these services. The stock is currently trading at the high end of its PE range, but with a blended ratio of just 15.9, it appears attractively valued based on its projected growth rate of over 15%.
Comcast Corporation (NASDAQ:CMCSA) is a media and technology company that operates worldwide through Cable Communications, Cable Networks, Broadcast Television, Filmed Entertainment, and Theme Parks. Comcast was founded in 1963 and is headquartered in Philadelphia, Pennsylvania.
As you can see below, the company has had amazing growth over the last decade, with earnings growth of nearly 29% over the period.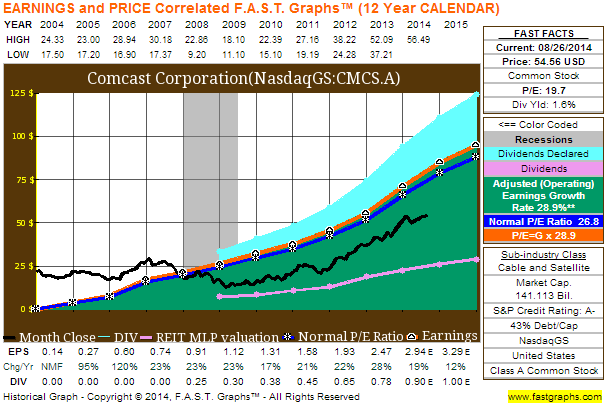 What is interesting is how the market has discounted these earnings as the company has continued to grow. The black share price line dipped below the normal PE at the start of the "Great Recession" and has never returned to the same level, despite the company growing at a 20% rate over the last 5 years. With the stock currently trading at a PE or around 20, and earnings expected to continue growing at a better than 15% rate going forward, the stock looks like an attractive candidate.
Cummins Inc. (NYSE:CMI) designs, manufactures, distributes, and services diesel and natural gas engines and engine related products. It operates in four segments: Engine, Components, Power Generation, and Distribution. The company sells its products to original equipment manufacturers, distributors, and other customers worldwide. The company was founded in 1919 and is headquartered in Columbus, Indiana.
Being in a more cyclical industry than the previous two candidates, there have been more ups and downs in earnings over the last decade, however the growth rate over the period has been tremendous, with earnings compounding at a 30% rate over the period.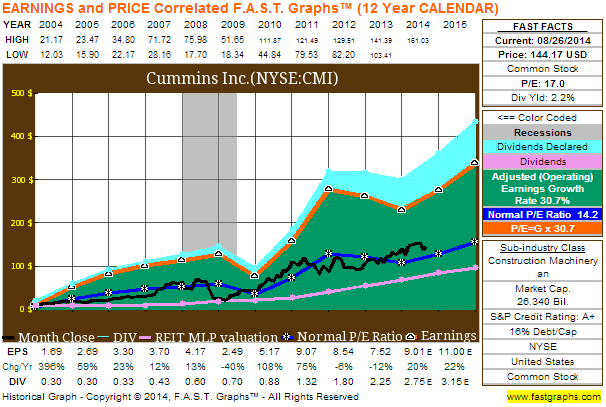 With the company currently trading at a reasonable PE of 17, providing a dividend yield of 2.2% and an expected earnings growth rate in the mid-teens, this is another company that could be expected to provide double digit total returns in a portfolio.
Helmerich & Payne, Inc. (NYSE:HP) operates as a contract drilling company in North and South America. It provides drilling rigs, equipment, personnel, and camps on a contract basis to explore for and develop oil and gas reserves. As of November of 2013, the company's fleet included 305 land rigs in the U.S., 29 international land rigs, and 9 offshore platform rigs. The company was founded in 1920 and is headquartered in Tulsa, Oklahoma.
Helmerich & Payne has been a big beneficiary of the U.S. oil and gas boom as horizontal drilling and hydraulic fracturing has lead to a resurgence in new production. While the company struggled with the rest of the industry following the recession, earnings have picked back up with the price of oil and have grown at a steady clip since 2010.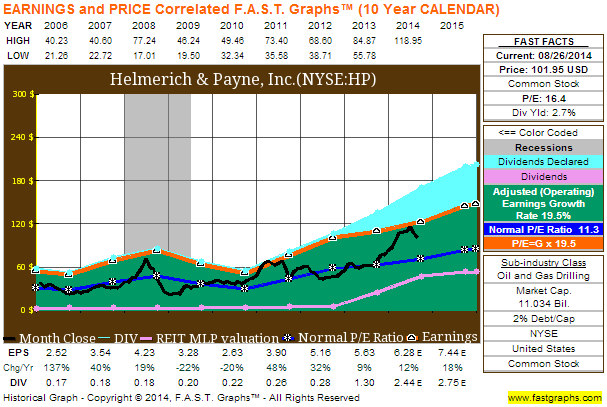 The company pays an attractive yield for a high growth company, with the current dividend yielding 2.7%. In addition to the dividend, the company is also expected to grow earnings at a 15% clip in the years ahead, which should continue to reward shareholders with above market returns.
International Business Machines Corp. (NYSE:IBM) provides information technology products and services worldwide. The company operates in several business segments including: Global Technology Services, Global Business Services, Software, Systems and Technology, and Global Financing. The company was founded in 1910 and is headquartered in Armonk, New York.
IBM is hardly a young company and is not one that many people would name as a growth stock, but looking at its performance over the last decade it certainly resembles one.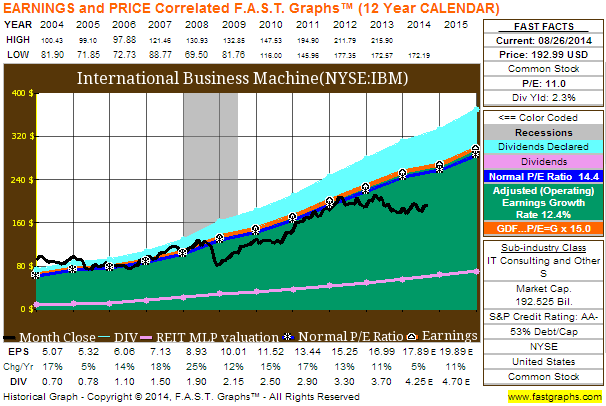 Its difficult to find a company with a more stable earnings trend than the chart above. There have been no years of negative earnings growth and the company has managed to grow at an impressive 12.4% annual rate over the period. Nonetheless, the stock has fallen out of favor with Mr. Market as investors have discounted the earnings growth due to concerns over slowing revenue growth and increasing debt. However, this negativity appears to be overblown, as the company trades at a PE of just 11, while earnings are expected to continue growing at a high single digit pace going forward.
With a yield over 2%, a below market valuation, and healthy earnings growth ahead, it seems reasonable to expect double digit total returns in the years ahead.
Monsanto Company (NYSE:MON) provides agricultural products for farmers worldwide by operating in two segments: Seeds and Genomics, and Agricultural Productivity. It has operations in the U.S., Europe, Africa, Brazil, the Asia-Pacific, Argentina, Canada, and Mexico. The company was incorporated in 2000 and is headquartered in St. Louis, Missouri.
Monsanto is another company that was hit hard by the recession, as commodity prices fell from the pre-recession highs and caused decreased spending by farmers. However, earnings have rebounded and grown in a range of 14-25% annually since then.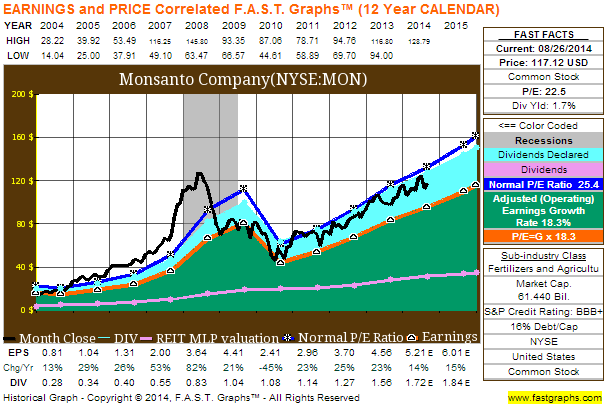 Although the stock is trading a bit below its historical PE ratio, it does appear to be a bit richly valued at 22.5 times earnings. However, with earnings growth expected to continue at a mid-teens rate going forward, this could still provide a reasonable entry point. While the stock isn't quite as attractive as some others on the list, it still presents decent value.
Qualcomm Inc. (NASDAQ:QCOM) designs, develops, manufactures, and markets digital communications products and services. It operates in four segments: Qualcomm CDMA Technologies, Qualcomm Technology Licensing, Qualcomm Wireless & Internet, and Qualcomm Strategic Initiatives. The company was founded in 1985 and is headquartered in San Diego, California.
Qualcomm is another consistent performer over the period, as it has steadily grown earnings, with just one year of negative growth at the end of the recession. Qualcomm is also an example of the danger in overpaying for growth, as the stock traded at around 45 times earnings at the start of the chart and traded as high as $53 in 2006 before trading sideways over the next 5 years until that mark was reached again in 2011. It wasn't the company's fault though, as it increased its earnings during the period from $1.64 to $3.20.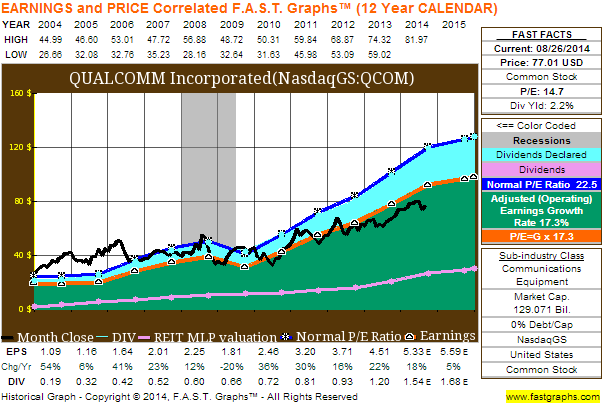 The stock currently trades at one of its lowest valuations during the period, with a PE ratio of just 14.7. Couple this with an expected growth rate of 15% and a yield of 2.2% and this appears to be a very attractive entry point on the stock.
Ross Stores, Inc. (NASDAQ:ROST) operates off-price retail apparel and home fashion stores under the Ross Dress for Less and dd's DISCOUNTS brand names in the United States. As of May 2014, the company operated 1,172 stores in 33 states, the District of Columbia, and Guam. Ross Stores was founded in 1957 and is headquartered in Dublin, California.
Ross Stores has one of the prettiest earnings growth charts you will see for a retailer as it has grown its earnings at a 15% rate over the last decade. Its not often that you will see a retailer continue to grow earnings during a recession, but with the company operating discount stores, it was unfazed by the 2008-2009 downturn.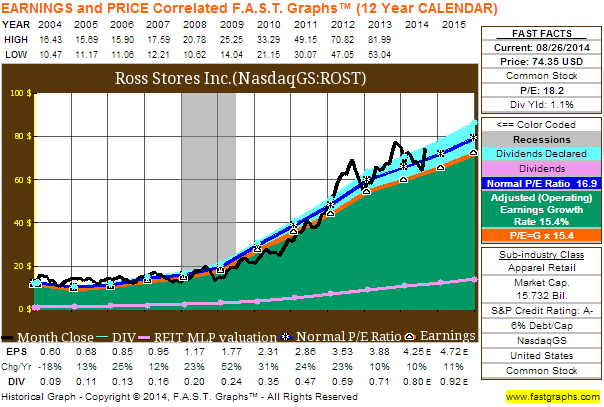 The stock is currently trading about 10% above its normal range after the stock ran up after its most recent earnings release. I think an entry point at about the $67 range would provide good value and could lead to decent returns as the company is expected to continue growing at a double digit rate going forward.
Union Pacific Corp. (NYSE:UNP) provides rail transportation services in the United States. The company offers services for agricultural products, automotive products, chemicals, coal, metals, consumer goods, lumber, paper, aggregate, and intermodal import and export containers. Its network includes 31,838 route miles linking the Pacific Coast and Gulf Coast ports with the Midwest and eastern United States. The company was founded in 1862 and is headquartered in Omaha, Nebraska.
Union Pacific is another steady performer as the the company has seen impressive growth of 15% per year over the last decade. In recent years the company has benefited from increasing export of agricultural goods to Asia and the oil and gas boom in the middle of the United States.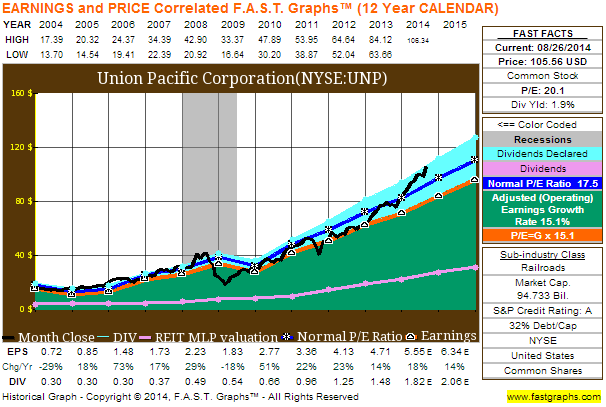 With a recent runup in share price, the company is currently trading a bit above fair value at a PE of around 20. However, with earnings projected to continue at a 15% rate going forward, and the company providing a yield of nearly 2%, any pullback of 5-10% would provide an attractive entry point.
Visa Inc. (NYSE:V) is a payments technology company that operates as a retail electronic payments network worldwide. The company offers its services under the Visa, Visa Electron, Interlink, and PLUS brands. Visa is based in San Francisco, California.
Visa is the epitome of a consistent performer as it has grown at a nearly 25% rate since going public. The company has nearly quadrupled its profits since 2008 as it has grown earnings from $2.25 to a projected $8.96 for 2014.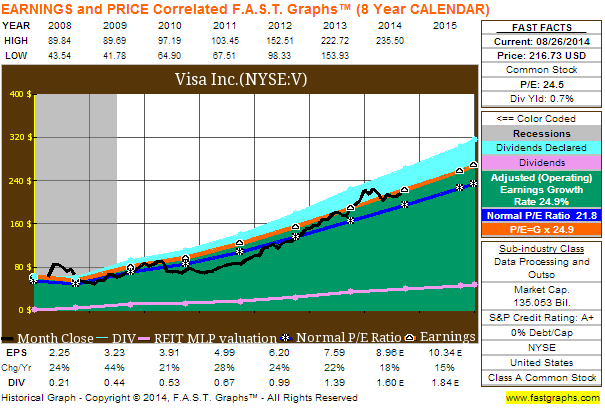 The stock may appear more overvalued than others on the list based on its higher multiple of nearly 25 times earnings, however with a higher growth rate, the higher multiple seems justified. Although there isn't as much a factor of safety in the multiple, the company's excellent balance sheet and healthy stock buyback program helps to put a floor on the share price should another downturn hit.
How About Risk?
Now that I've shown you some companies I feel present value while also producing strong growth for a portfolio, here are some views of a few of the "hot names" in the market.
Under Armour, Inc. (NYSE:UA) is a performance apparel company that has shown tremendous growth since its IPO in 2005 as it has grown earnings at greater than 20% annually since then. However, the market has bid up shares to extraordinary levels and the company now trades at a PE of over 80 times expected 2014 earnings.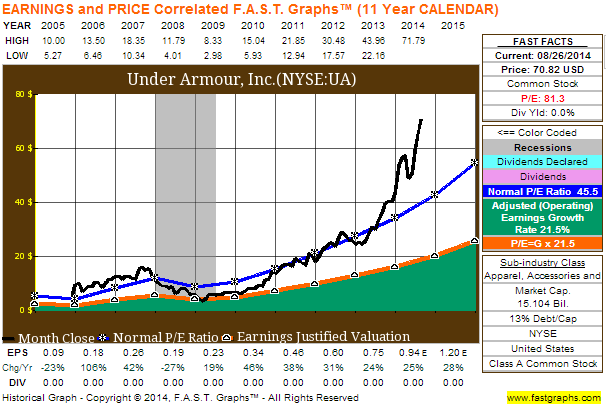 As a long-time shareholder since early 2009, I've enjoyed seeing the company grow from an underdog into a top dog and feel that the growth will continue into the future. However at 80 times earnings there is no factor of safety or margin for error for new investors. Should the growth rate slow, I worry that people who are late to the party will be hurt.
Netflix, Inc.(NASDAQ:NFLX) is an internet television network engaged in the delivery of TV shows and movies through streaming and DVD by mail.
Like Under Armour, the company has seen tremendous growth over the years, but also has been bid up to an extreme valuation, with buyers currently paying nearly 150 times earnings.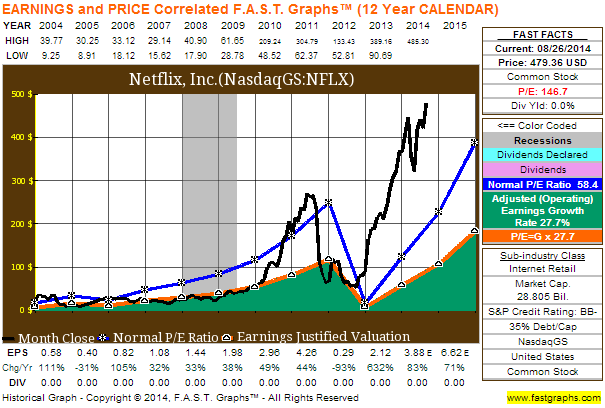 Earnings growth is expected to accelerate greater than 30% going forward, however it will take many years of that growth to justify such a high price. I understand wanting to buy a great story, but the company will need to execute to perfection for an investor to be successful making an entry into the stock at the current valuation.
Keurig Green Mountain, Inc. (NASDAQ:GMCR) is the final example, and one that shows the extremes between speculating and value investing.
As you can see below, the company's share price generally tracked earnings from the beginning of the period until 2010, with the market willing to pay around 20 times earnings. Then in 2011 the stock rose like a rocket, hitting a high of nearly $116 on earnings of just $1.46 per share, good for a PE of around 80. The stock then fell like a rock to a 2012 low of $17 per share even though the company produced $2.40 per share in earnings, good for a low PE of around 7.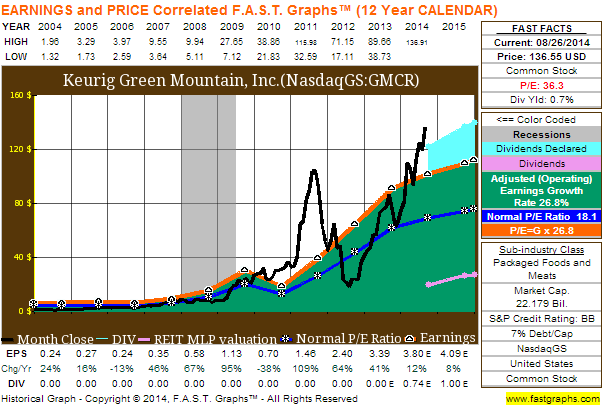 With recent announcements of an ownership stake by Coca-Cola and a partnership with Kraft Foods, investors have once again bid up shares to what is becoming extreme levels. As a shareholder of the stock, with a $61 cost basis, I am happy to see the share price rise. However I fear for those late to the party who buy the news rather than paying attention to the value they are getting for their investment dollars.
Closing
As I stated before, there is a difference between investing for growth and speculating for young investors. While they both may appear the same on the surface, and can both be seen within the same stock, they can provide completely different results for an investor.
If I had that elusive time machine to go back and talk to my younger self, I would emphasize the necessity of focusing on the results and earnings of a company rather than the story behind it. Young people these days scour the internet for hours looking for the best deal on hot electronics or hip clothing, or will sit for days waiting for a "Black Friday" deal, but then turn around and pay any price for their investments in searching for growth.
Be patient and be frugal in your investing. Its possible to get growth at a discount, and also get paid in dividends while you are doing it.
Disclosure: The author is long CMI, GMCR, IBM, QCOM, ROST, UA, UNP, KO. The author wrote this article themselves, and it expresses their own opinions. The author is not receiving compensation for it (other than from Seeking Alpha). The author has no business relationship with any company whose stock is mentioned in this article.
Additional disclosure: I am a Civil Engineer by trade and am not a professional investment adviser or financial analyst. This article is not an endorsement for the stocks mentioned. Please perform your own due diligence before you decide to trade any securities or other products.