Although the stock has barely moved since I projected it could double in my last article, Fair Isaac Corp. (NYSE:FICO) is still one of the widest moat companies that is publicly traded; they are the creator of the ubiquitous retail credit score which has the company namesake of FICO, and is immaculately run (as I will describe below). Unscathed from the financial crisis, Fair Isaac Corporation has a string of excellent news of late; they just launched a $250mm buyback program (representing 14% of the company!), revenue grew 10% (with software growing at 12-14%, which is the key to future profit growth), and there is always the potential that FICO spins-off their Credit Scores unit to unlock additional shareholder value.
FICO Scores is part of the Scores Unit for reporting purposes and provides 26% of the revenue for FICO while contributing 45% to the total operating income for Fair Isaac. With one of the widest moats of any operating company in America and a product as well-known as Michael Jordan or the United States flag internationally, FICO scores displays their pricing power and economic advantage in each annual report. Although revenue in the unit (and the company as a whole) is fairly volatile with unit revenue still below all-time highs in 2006, the whole companies' revenue is highly correlated housing and consumer GDP which makes FICO a Warren Buffett-type bet on American economic recovery. Others have mentioned the historically choppy revenue and earnings as a reason this wouldn't be a company Warren Buffett would be interested in, but if you considered USG, Moody's, BNSF at the time of his first stock purchase, and numerous other companies who have strong business operations but whose operations are levered to certain parts of the economy, preventing them from reporting smooth and steadily increasing earnings. I believe FICO's intrinsic value and earnings power has likely increased at a higher than market rate over a relatively long-term time period. FICO has the #1 or #2 market share in each of their software application categories (See my previous article) and FICO scores has a 96%+ market share for retail credit scores and has held this nearly unthinkable monopoly for almost 3 decades; their long-term stock chart should make any investor drool at the results.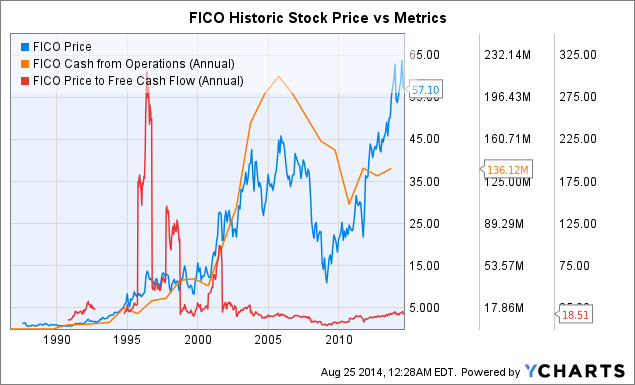 FICO data by YCharts
I propose that FICO stock is being undervalued due to the antithetical operating results of their three business segments, Applications, Tools, and Scores. FICO is worth considerably more than the current price of $57.10 ($1.97B) due to possible catalysts: 1) higher revenue due to increased earnings power since the consumer credit peak of 2006; and 2) the potential for a spin-off of the Scores Unit into an independently traded company since it is my estimation that it would receive a perennial earnings multiplier premium due to the highly consistent increase in earnings. Each unit will also be able to optimize their capital structure to better reflect the capital return realities as the scores unit could buyback shares or payout a large dividend (or some combination of both) as very little incremental invested capital is necessary to increase profits. FICO's dichotomy would result in the Tools & Apps units (all their software) to reinvest 100% of their profits to continue to increase their market shares in the highly fragmented categories they compete in. This would allow FICO's software to grow at a faster rate than the current one and would help it get to the 15 - 20%+ ROE clip and meet its earnings potential.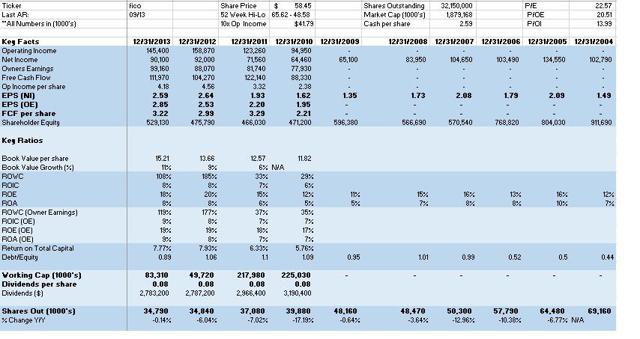 A summary of Yahoo Finance's description of FICO's business:
Fair Isaac Corporation provides various analytical solutions, credit scoring, and credit account management products and services to banks, credit reporting agencies, credit card processing agencies, insurers, retailers, and healthcare organizations worldwide. It offers analytic, software, and data management products and services that enable businesses to automate, improve, and connect decisions to enhance business performance. The company operates in three segments: Applications, Scores, and Tools. The Applications segment provides pre-configured decision management applications designed for a specific type of business problems or process, such as marketing, account origination, customer management, fraud, collections, and insurance claims management, as well as associated professional services. The Scores segment offers business-to-business scoring solutions and services that give clients access to analytics and integrate into their transaction streams and decision-making processes; and myFICO solutions for consumers, as well as associated professional services. The Tools segment provides software tools for clients to create their own custom decision management applications, including FICO Decision Management Platform and the FICO Analytic Cloud, as well as associated professional services. Fair Isaac Corporation was founded in 1956 and is headquartered in San Jose, California.
The Scores Unit [SU] would greatly benefit from a spin-off as they earn outsized returns with minimal incremental capital investment, allowing the unit to support a large payout ratio, whether through buybacks or dividends, in a hypothetical spin-off scenario. The SU has an incredibly powerful brand name and network effects as consumers have limited trust for competing credit scores, which has led to 97 of the top 100 banks providing and using FICO scores to evaluate credit risk. This incredible market penetration is protected with their numerous patents and the robustness of FICO's research team compared to all competitors.
FICO's technological advantage over its competitors, which is the cost to duplicate FICO's software, scores, and reputation, is vastly greater than the $825mm of Goodwill and Intangible assets listed on the balance sheet. Any incoming competitors would likely need well over the $1.85B market cap to take a 96% market share internationally for retail credit (and probably $10 - $25B through research or mind share). Warren Buffett lectures investors to look for high returns from tangible assets as they will ultimately lead to outsized equity returns.
Companies with competitive advantages like FICO generally have pricing power (as FICO Scores displays) and the ability to return a significant amount of excess cash in a prudent manner. Historical buyback programs have been highly successful. The Scores company of FICO is the best example of a modern See's Candy I can find with an incredible moat and large ROE that is fairly valued, we just have to push management to spin it off as soon as possible! The SU generated $129.0mm (46.8% of FICO) in operating income from $180.8mm in revenue (24% of FICO) for an EBIT margin of 71% (which has expanded from 70% and 67% in 2012 and 2011, respectively). Even though they face customer risk with the annual report stating that "…Equifax, TransUnion and Experian, collectively accounted for approximately 16%, 18% and 18%...", I feel these companies exist as an oligopoly where if any would fail the other two would pick up the slack or a new entity would replace them. The overall revenue stream for the SU is more dependent on consumers increasing their demand to borrow (mortgage debt level is a good approximation) which leads to an exponentially larger amount of credit score requests which in turn lead to sales for the SU.
To more accurately calculate pro-forma operating income for each unit after a hypothetical spin-off we must consider FICO's -$70mm "unallocated corporate expenses" charge against all 3 segments reported operating incomes. I assign the charge proportionally across each unit, therefore the SU would report $95.7mm in operating income for 2013 with past growth rates in the high single digits annually over nearly any significant time period. The SU would see FCF and Owner's Earnings which are greater than the $95.7mm in operating income due to the structure of the company, which we can estimate at ~$110mm. At a 35% corporate tax rate, we can estimate the SU's 2013 net income at $71.5mm and growing perpetually at 8%. 10x Operating income implies Warren Buffett would purchase at $1.1B and 20x - 25x NI for a very strong company implies valuations of $1.42 - $1.78B for the credit scores unit alone. Due to a lack of robust stock coverage by sell-side investment analysts compared to similarly sized and traded stocks is resulting in the mispricing FICO minus the SU, or T&A (Tools & Apps/Software) Unit with a very conservative valuation of $750mm or a more likely implied value of $70mm - $430mm if you believe the stand-alone credit scores company would trade at Moody's/S&P valuations. Good news for investors is that at the current price of $57.10, SU currently represents nearly the entire market capitalization of FICO so you are getting a Software unit with $560mm in revenue, conservatively-adjusted EBIT of $95mm (17% margin), and growing top-line at 10% - 15% for years for $70mm! Valuing T&A at 10x EBIT gives a $950mm plus SU value of $1.78B gives total value of $2.75B and a margin of safety of 33% for a strong monopoly. This is truly how alpha is found in investing.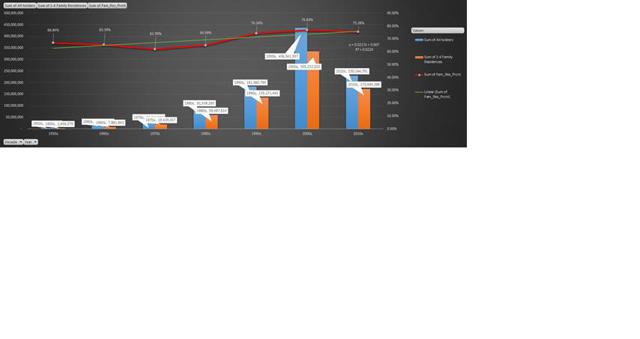 The recently announced buyback program of $250mm, effective immediately, represents 4,378,284 shares at an average price of $57.10, leaving just 30.408mm shares outstanding after exhausting the buyback program. FICO has already repurchased 57.071mm shares in the history of the program out of a total 88.857mm shares issued in total. Yes, they really have repurchased 60.85% of the company in about 2 decades. Much like investors of AutoZone (NYSE:AZO), Exxon Mobil (NYSE:XOM), IBM (NYSE:IBM), Home Depot (NYSE:HD), American Express (NYSE:AXP), Coca-Cola (NYSE:KO) or the types of companies Berkshire Hathaway (NYSE:BRK.B) purchases, an initial equity stake of 1% in the company would now represent a 2.5% position, assuming an investor purchased at a time when there were 88mm+ shares outstanding, due to the effects of the share buybacks. Not only do investors receive fantastic share appreciation they also own a larger share of the pie for future earnings. Forget millions in net worth, investing in the FICO's of the world at current valuation is how an individual retail investor can make BILLIONS! Returning a compounded 20% will do such things for an individual.
Thus far, the most important assumption we have made is that multiple expansion will occur for the P/E ratio due to market comps being higher than the current 19.5 P/E for TTM (15.83 P/E = $57/$3.60 based on recent quarterly results). By my 'back-of-the-envelope' calculations above, FICO's total intrinsic value is most likely in a range around an average value of $2.85B. This means there is potential for share appreciation of 54.1%. Couple that share appreciation just to reach intrinsic value with the consistent 12% - 18% ROE that have been posted over decades and you have a long-term buy that has expected excess returns relative to the S&P 500 even after the significant rally in FICO shares over the past 3 years. Assume the buyback occurs at an average price of $57.10, we now have 30.408mm shares which gives an intrinsic value per share of $93.73. True potential appreciation to discounted fair value is 64.1%!
I hope management investigates the possibilities of spinning off FICO just as Dun & Bradstreet (NYSE:DB) did with Moody's (NYSE:MCO) in 2000. FICO today is actually in a very similar position to D&B in 1999/2000, whose software for corporate information could be cross-sold with the Moody's credit scores but, each was able to operate (more) successfully by themselves as Moody's has finally been able to pass their excess returns on to shareholders more easily by no longer being connected to other companies that lacked their competitive-advantage. FICO has long been a holding in my personal account and I've never sold a single share. I haven't bought recently as my cost basis is ~$20 but for the first time in years FICO is one of my best ideas for investment along with a micro-cap I've been unable to write about called Eldorado Artesian Springs (OTCPK:ELDO). I've recently posted about ELDO and a lengthy conversation has begun at Corner of Berkshire and Fairfax.
A note about my personal results and current investment strategy, I believe being able to hold with confidence, even with large unrealized profits, is what has helped to drive incrementally higher returns since I can continue to defer taxes, gaining the interest on the deferred amount with a positive incremental economic return of 90% * deferred amount (10% or long-term CG tax-rate * capital gains), and having my money tied up efficiently due to expected returns providing alpha as well as a decrease in transaction or frictional costs. The result has been 44.3% annualized returns over the past three years (Before FICO, I've never before promoted a company I've owned). Obviously, as I mentioned in my results article, past returns have likely been buoyed by the large increase in the S&P 500 and some luck; however, given returns thus far, I am even more hopeful for outsized future returns since I believe my portfolio would be more likely to beat a down market than an up market and by a great margin. My portfolio is generally highly concentrated, very conservative, and has a low correlation to the S&P 500.
Similar to Warren Buffett's claim, I believe I am capable of returning at least 30% annually by buying companies like FICO. An investor with the goals of growing intrinsic value of their portfolio faster than the overall market with less "risk" (not necessarily beta) than the benchmark would logically lead that investor to a strategy of growth-at-fair-value strategy, somewhere between Warren Buffett and Peter Lynch, where someone owns a small basket of 1 - 10 stocks of companies with a long history of strong operating results that show both signs of a competitive-advantage high margins and a qualitative evaluation of the business model that would predict the excellent operating results. These companies should also have competent management and a low percentage of permanent impairment of initial invested capital. This information is not a secret, as Warren Buffett preaches this strategy endlessly with outstanding results yet investors continue to ignore him. May this article serve as a reminder that buy-and-hold is not dead and situations/companies like FICO currently can provide alpha even with the markets at or near all-time highs.
Income Statement: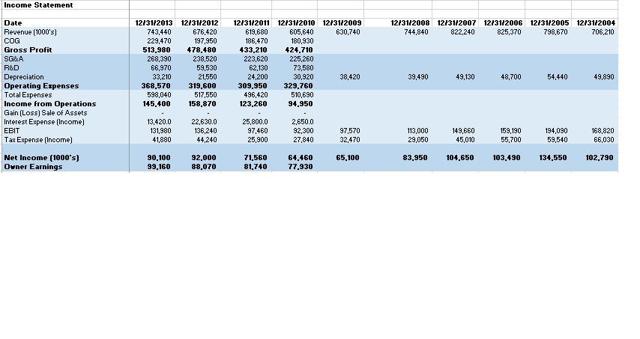 Balance Sheet: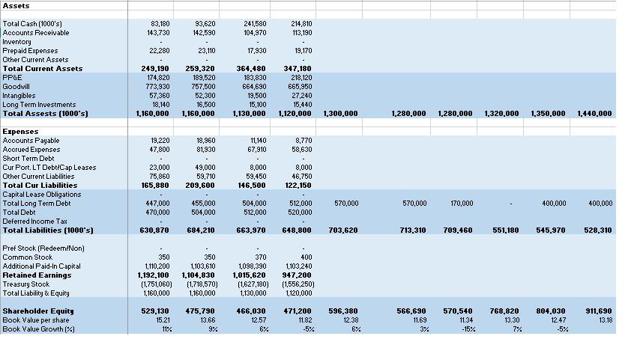 Cash-Flow Statement: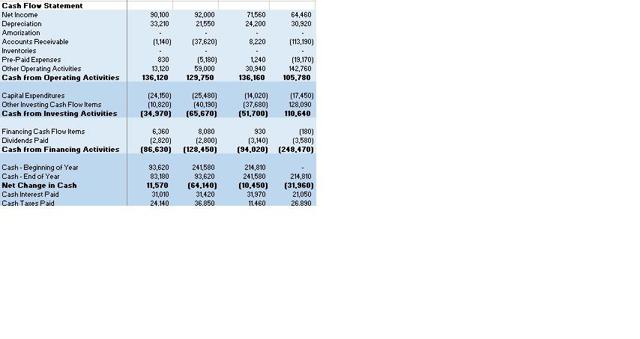 Disclosure: The author is long FICO, BRK.B, ELDO, MCO.
The author wrote this article themselves, and it expresses their own opinions. The author is not receiving compensation for it (other than from Seeking Alpha). The author has no business relationship with any company whose stock is mentioned in this article.
Editor's Note: This article covers one or more stocks trading at less than $1 per share and/or with less than a $100 million market cap. Please be aware of the risks associated with these stocks.