A REVIEW OF MY WEATHER AND MARKET CALLS FOR 2014 AND WHAT'S AHEAD FOR COMMODITIES
In a world captivated, or should I say "cap-sized", by the exasperating events in Gaza, Ferguson, Ukraine and now most recently by ISIS, it's almost not worth talking about where the opportunities have been and where they might be in the financial markets. There are far greater concerns about the nature and safety of our planet.
We began the year with one of the most impressive bull markets in natural gas in recent memory, brought on by the polar-vortex, which uncharacteristically made its way south "without" the assistance of a negative AO/NAO index (warm blocks over the arctic and Greenland). Of course, we caught most of this move up with various bull-spreads and short put options recommended to traders as early as mid, November, 2013. Since then, we have been on a volatile ride with the cool July helping to inspire our bearish July attitude, after a confusing spring to say the least.
Presently, I feel that prices have very little downside as natural gas stock levels will be tenuous heading into the North American winter. While a little bit of warm weather is on the way off and on for the next 2 weeks, it is nothing to write home about and there are not hurricanes forecasted by me in the Gulf, anytime soon. However, a hot end to summer in the eastern U.S. will keep prices from breaking very far.
Our next best call was in the grain market once again this summer. The 20-30% break in corn and soybean prices we predicted last spring, was inspired by very weak, at best pre-El Nino conditions and a warm pool and +PDO trend in the eastern Pacific. While early spring flooding in the NW corn belt was a concern, the Midwest weather pattern has been inspired by the best growing conditions in the United States since 2009. A California citizen, rancher or vegetable farmer doesn't want to hear about record yields and lower grain prices. He/she is suffering from the worst drought since the late 1800's, which is going to the bottom line of consumers at grocery stores. Add insult to injury with the Napa Earthquake on Sunday destroying thousands of acres of grapes and shutting down some wineries.
Currently, I am becoming increasingly concerned about flood issues to the remaining wheat harvest in South Dakota and Minnesota and some minor issues with soybean and corn crops in Iowa and Nebraska the next 2 weeks. If the Midwest drys out later in September and October, then grain prices, later will head lower. I look for the USDA reports to be bearish corn and soybeans. However, the market will immediately turn its attention to harvesting weather and whether the Midwest drys out.
In wheat, in the face of the continued drought last spring, we refused to budge on our overall bearish outlook, due to our juxtaposing similar Texas to Kansas winter and spring drought years, to the previous 1996 drought. We alerted traders to similar price action, in which swelling global stocks, brought on by good weather in Russia, Europe and other countries, signified to us a potential wash-out of longs, into harvest. Subsequently, a massive $2.50 break in wheat prices occurred between mid-May and July. Now we are at a point when late summer harvest issues in Europe and some decrease in the Northern Plains wheat crop might stabilize prices for a while. With tensions remaining over in Ukraine/Russia and Europe's wheat harvest compromised by wet weather, wheat has little downside potential for the moment.
Future reports for this market will focus on what the Australian wheat crop weather will do this fall and winter and how US planting weather for hard-red wheat seeding fares in October.
Another big weather related market we called, was the Brazilian coffee drought late last winter. It is never easy to forecast for Brazil coffee areas due to the influences of the effects of Amazon deforestation, potential climate change in exasperating model forecast errors. Nevertheless, while we did not expect prices to rally to $2.20/lb. so quickly last winter and computer models exhibited their typical Jekyll & Hyde nature. Since April, we have taken the attitude that "extreme" volatility in coffee prices would ensue over a host of industry field reports regarding the total 2014 Brazilian coffee crop and the potential poor start to this next year's crop, heading into fall. It may be a case that market analysts and traders are at times "tainting" their bull or bearish positions with respect to commenting on how bad the Brazilian situation is. Nevertheless, the trees were stressed last winter and with this expected to be the off-cycle crop year anyway, I believe coffee prices will test $210-$2.30 before they see $1.70, as traders will be nervous about potential weather issues heading into fall. While Vietnam has seen expanded acreage and some timely rains, the weather has been only so-so this summer, but apparently not a factor in the markets. Of more concern too could be the continued disease issues in Central America. I also began forecasting a drought recently in Central America where a state of Emergency now exists in Guatemala.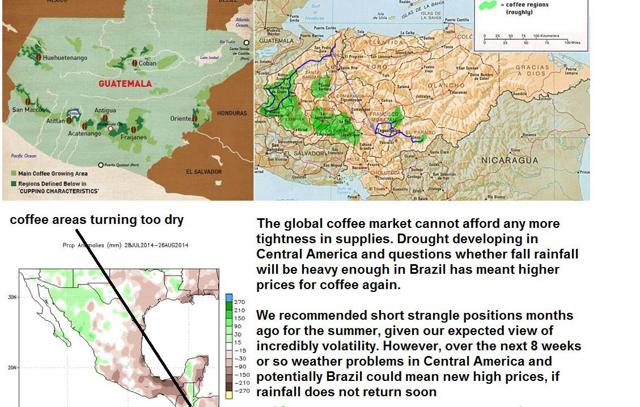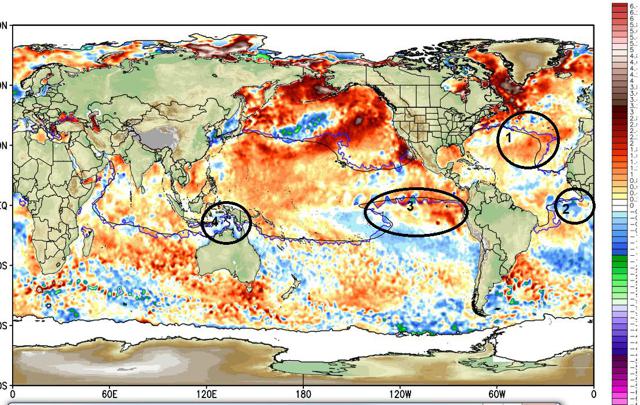 Source of map: Weatherbell
The 4 circles areas above represent ocean temperatures that will play a huge role in the weather and commodity price action in coffee, cocoa and the northern Hemispheric winter. Currently, the warming you see at (3) suggests that El Nino may still possibly form by this winter, even though we played it down all summer long. This warming may compromise the coffee crop in Central America the next 8 weeks. Traders will pay very close attention to forecasts for Brazil, as well.
Sugar prices have collapsed on big world supplies for the 4th or 5th consecutive year and demand issues. This is the one market that we missed earlier this summer, as we sort of thought the weak Indian Monsoon might create a typical Pre El Nino type rally. Nevertheless, we never really came right out and said we were flat out bullish, and by July began playing down El Nino even more than our peers, which made us more cautious predicting below normal Indian sugar yields, which initially was our feeling last May.
The cattle (beef) market, is not one that we often comment on at all. It has been the long consistent bull market in commodities the last 4 years! Once again we are still in the midst of the lowest beef supplies since the 1950's with a very tight stock situation as thousands of ranchers got out of the business during the 2008 financial crisis. Then, the double whammy of back to back to back droughts in Texas, which curtailed beef production. The higher corn prices that retailers paid during the Midwest grain droughts of 2011-2012, also added more insult to injury.
Anyway, I feel fairly confident that we caught the top of the cattle market a month or so ago. Though not 100% weather, pastures are slowly improving in the Plains and if the California drought eases "some" this winter and spring, we will begin to see a slow longer term cycle towards re-profitability in the cattle industry. In other words, the lower grain prices and higher beef prices may not only curtail retail demand for beef but motivate ranchers to get back into the game of expanding their cattle herds if pastures turn green and lush again by rains.
We were also lucky enough to call the demise of the cotton market last spring. We predicted much improved Texas and U.S. crop weather and while weather is not always the primary factor in a market, so often driven by Chinese policies, stock-building and overall world demand, we felt the world would be awash in cotton. Presently, we have no real opinion in this market. While recent dryness has apparently compromised the Georgia to Texas crop just a bit, it does not appear to be a major deal and the Indian Monsoon has been improving. Nevertheless, we felt comfortable calling the potential bottom of the cotton market around 64 cents.
Cocoa is the one commodity, which I have not commented on much this summer, as weather has had very little negative effect on this market. Imagine where prices would be in this demand-driven market if we had west African weather issues the last 6 months? Wow!!
The news media went hay-wire predicting El Nino as early as July, months ago, but as we pointed out, we felt that the positive (not negative SOI index) and waters being
Too warm in the western Pacific near Australia, would portend much more feeble El Nino conditions at best. As a result, other than a few weather issues from too much rain in Indonesia, for the most part, west African weather has been ideal since last winter. But it is beginning to get a bit dry now in west Africa and what happens with ocean temperatures both in the Atlantic and Pacific could compromise crops later this year or in 2015.
After years of weather extremes, from Midwest droughts to the historical Brazilian coffee drought, etc. Pre El Nino conditions have actually "tamed" down the chaotic atmosphere allowing for bumper crops of many commodities. However, I am beginning to see weak El Nino conditions coming up and we will take a brief look in the next day or two if recent minor dryness in west Africa is something that might extend into mini-rainy season of September and October.
Finally, though not weather-related of course, the technical charts have turned bullish on the dollar and given the European economic woes and glut of supplies in crude in the world, barring any new military threat expanding further into oil rich territories over the Middle East. Longer term, crude oil prices may head lower, rather than higher.
Of course a potentially cold eastern winter could greatly affect crack spreads later on. This is something we will look more closely at as we head into late October and November. Currently, the change in the stratospheric winds some 20-30 miles in the atmosphere and weak hurricane season could portend another cold U.S. winter.
Disclosure: The author has no positions in any stocks mentioned, and no plans to initiate any positions within the next 72 hours.
The author wrote this article themselves, and it expresses their own opinions. The author is not receiving compensation for it (other than from Seeking Alpha). The author has no business relationship with any company whose stock is mentioned in this article.