Winn Dixie (NASDAQ:WINN)
is expected to release its second quarter results on Feb 11, with the company forecasted to lose 28 cents per share on sales of $2.06 billion. That compares to earnings of 4 cents on revenues of $2.18 billion. The revenue loss of 5.50% is not that bad, considering the supermarket operator closed 30 stores or about 6% of their locations.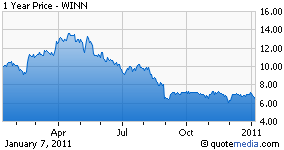 The company expects to have positive EBITDA for the quarter (in quarter one, they had negative EBITDA of $6.9 million) and if you extract WINN's quarterly depreciation charge of $27 million, it models EBITDA of about $15 million. If you do the math, that would put the necessary third and fourth quarter EBITDA requirements (to meet management's low guidance target of $ 100 million) at $92 million or roughly $46 million per quarter, implying that sequential EBITDA growth would essentially triple.
Bottom-line: Analyst estimates are too low. WINN should beat on earnings with a 15 cent loss, while topping revenues by about $10 million. For reference purposes, last year's second quarter produced a 28.2% gross profit margin while incurring a 28.1% operating and administrative burden, while this year's first quarter recorded a 27.4% gross profit margin and O&A costs of 29.8%. On a sequential comparison basis, a 20-30 basis point improvement in both of these components is very likely!


Disclosure: I am long WINN.