W.R. Berkley (NYSE:WRB) and AXIS Capital Holdings (NYSE:AXS) are elite, operationally excellent, steadily growing, mid-cap businesses in the lucrative property & casualty insurance industry and worth owning for the long term. WRB & AXS, both with approximately $6 billion in market cap, emphasize and deliver on disciplined underwriting, foster an entrepreneurial culture and develop local expert knowledge as their sustainable competitive advantages in a dull yet steadily profitable industry.
While insurance is boring and not nearly as sexy as technology or pharmaceuticals, it is a business, when well managed tends to consistently make its owners a lot of money. Property & Casualty insurance, which is protecting against property damage and legal liability, is boring, complex and reading the Loss and Loss Adjustment Expense Reserves section of the 2013 W.R. Berkley 10-K annual report is a terrific cure for insomnia. Many investment pros believe insurance is the 'world's greatest business' because insurance companies make money two ways; one, from taking more in upfront insurance premiums than paying out in claims later and two, from investing profits off of the upfront premiums they collect from policyholders. Premiums paid upfront are held in a pool of money that insurance companies get to invest while keeping it readily available to pay out any & all future claims and the insurance company gets to keep all the investing profits. Savvy underwriting, which is accurately appraising risk, leads to collecting more in upfront premiums than paying out in claims later. Poor underwriting leads to collecting less in premiums than having to pay out to policyholders filing claims later. The insurance business formula is:
net insurance premiums collected + investment income - insurance claims paid + expenses = net profit.
And if a policyholder files a claim, the insurance company can adjust it or raise future premiums to ensure the 'house always wins.' Plus they can lobby governments or lenders to require people and businesses buy their product. Often insurance companies will exclude specific causes of property damage like earthquakes in California or rioting/civil unrest in certain high crime zip codes like Ferguson, MO as a reason to not pay out claims. Yet another advantage P&C insurance companies enjoy is deferred payment of taxes on underwriting profits because they legally have not made an underwriting profit until the last of any potential claims on their pool of upfront premiums collected has expired. It is a replicable business model that can enter burgeoning property & casualty insurance markets.
AXS and WRB are also in the reinsurance business which is selling insurance to other insurance companies where an arrangement detailing the conditions the reinsurer would pay a share of the claims incurred by the insurance ceding company. Advantages of reinsurance is the (re)insurance company does not have to pay for advertising and can piggyback on the ceding insurance company's underwriting research and labor.
World renowned investor Warren Buffett made the bulk of his fortune in the insurance business. In fact, two of five of Warren Buffett's Berkshire Hathaway's best investments are insurance companies. In 1967, Warren Buffett led Berkshire Hathaway bought National Indemnity insurance for $8.6 million. Also in 1967, William R. Berkley founded W.R. Berkley P&C Insurance company starting with $2,500 and today he is a billionaire. It's indeed a rewarding business.

W.R. Berkley is a father & son managed property & casualty insurance company with 48 operating units underwriting a comprehensive suite of property and casualty risks, from executive officer's liability, oil rigs, football teams, aircraft, cargo vessels, buildings, cyber security as well as reinsurance. 72% of business is domestic commercial insurance, 14% is international commercial insurance and 14% is global re-insurance. International insurance is the fastest growing part of their business. WRB's competitive advantage in addition to their highly skilled underwriting is decentralized operations, allowing each unit with local specialized knowledge to find and respond quickly to changing market conditions and local customer insurance needs. This decentralized model of developing new business provides more fiduciary accountability, incentives to local management and improves talent retention. Of the company's 49 units, 42 were developed internally and seven were acquired. Ultimately, what makes W.R. Berkley exceptional is their disciplined, savvy underwriting proven by consistently paying out less in claims than the industry average because they more expertly evaluate risk.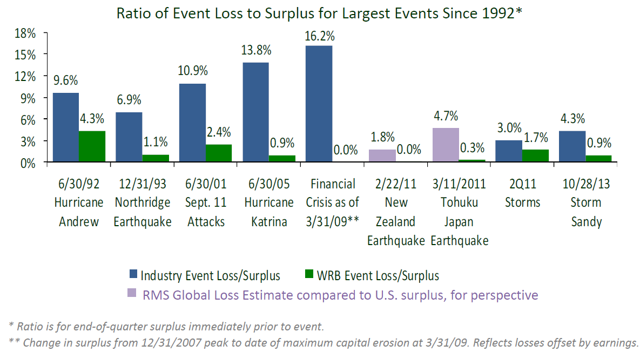 The largest major direct holders of W.R. Berkley stock are the founder CEO William R. Berkley, and the COO, his son, William R. Berkley Jr. The top 100 senior executives have meaningful WRB stock ownership positions and their stock awards cannot be sold until after they leave the company. The company has a long-term incentive compensation plan (LTIP) that provides for incentive compensation to key executives based on the growth in the company's book value per share over a five-year period. W.R. Berkley aligns management's interests with shareholders' interests very, very well.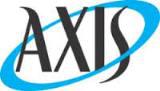 AXIS Capital Holdings, founded in 2002, headquartered in tax & legal advantageous Bermuda, is a global insurer and reinsurer, that provides a broad range of specialty (re)insurance, through operating offices in Bermuda, the United States, Toronto, Paris, Madrid, Zurich, Australia, Singapore and Brazil. The product lines in the insurance division are property, marine, terrorism, aviation, credit, crop, political risk, professional lines, liability and accident. The highly profitable reinsurance division provides additional insurance to insurance companies. AXIS is getting creative by developing new insurance/reinsurance policy solutions for cyber security, renewable energy, and 'Political Risk' coverage providing protection against foreign government actions known as CEND: Confiscation, Expropriation, Nationalization and Deprivation Insurance. Approximately 53% of their revenue is outside the United States.
Disciplined underwriting has led AXIS to impressive profit margins. CEO Albert Benchimol stated "We think of ourselves as an underwriting company focused on delivering shareholder value." AXIS has an A+ credit rating from the big 3 credit rating agencies and fosters a 'risk aware' culture while avoiding commodity businesses where they cannot differentiate themselves. "Underwriting excellence really is in our DNA." ~ AXIS Capital Holdings CEO Albert Benchimol evidenced by average industry experience of their underwriters is 26 years.

AXIS's commitment to underwriting talent and experience has paid off with profit margins that outperform the industry.
WRB and AXS are masters at disciplined underwriting and steadily growing mid-cap businesses in the property & casualty insurance industry, which is now early in a favorable era of inflation. Inflation is beneficial to property & casualty insurance companies because dollars collected today are invested at current purchasing power then all future claims are paid out later with cheaper dollars. Furthermore, the dollar amount of property insured in a policy will go up resulting in higher premiums collected. AXIS Capital Holdings and W.R. Berkley are a good value today sporting a P/E of 8.2 & 10.6, P/S 1.16 & 0.9, and P/Book 0.94 & 1.33 respectively.

WRB and AXS are two exciting, money making opportunities in a boring yet lucrative industry worth owning for the long term.