Not willing to go down even with a KO punch from the bears, the bulls kept swinging this past week and managed to tack on yet-another gain (though with the help of some economic news). Can stocks actually make more of this impossible progress? Maybe, and some key data later this week may be the deciding factor.
Either way though, one sector is finally coming back into its own and looks trade-worthy regardless of any near-term gyrations.
Economic Calendar
There was plenty of economic news last week, with the bulk of it coming on the employment front ... and most of it good.
First and foremost, net new jobs were positive whether you're looking at the Challenger jobs cuts figure (-29%), the ADP Employment Change number (+297K), or the government's nonfarm private payrolls change (+113K). And accordingly, the unemployment rate fell from 9.8% to 9.4%, even if it was a slightly misleading [exaggerated] dip.
Claims-wise, initial claims pushed back up a week ago, from 391K to 409K and back above the key 400K mark. Ongoing claims from two weeks ago fell from 4.15 million to 4.103 million. Bear in mind, however, that this figure doesn't include the more than four million people currently on emergency benefits, and another five million unemployed people getting nothing at all.
Still, the payroll-addition trend is a positive one and paints a bullish longer-term picture.

S&P 500 vs Nonfarm Payroll Change & Unemployment Rate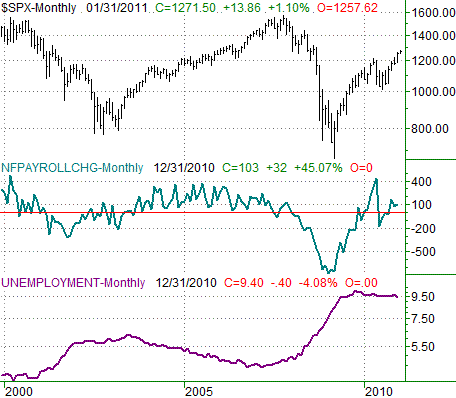 (Click to enlarge)
The rest of the picture is laid out on the table here.
(Click to enlarge)
As for the coming week, there's a lot on the plate, but not much of it is heavy-hitting.
On Thursday we'll get the usual unemployment claims numbers but the real fireworks will come from Thursday's producer price inflation number; it's followed by Friday's consumer price inflation announcement. Both are expected to be much higher but bear in mind the pros were looking for big advances here last month as well and we didn't really get them.
Friday, however, will be a wild one for reasons beyond the inflation update. We'll also hear December's retail sales report, which should be up 0.7% including car sales or up 0.6% without autos.
The other "biggies" for Friday are capacity utilization and industrial production. The former is expected to have grown from 75.2% to 75.5%, while the latter is expected to have improved by 0.4% again. Given the high correlation these two data sets have with the long-term trend, the multi-month uptrend from both continue to bode well for buy-and-holders.

S&P 500 Index

Thanks to a decent intra-day rebound on Friday, the S&P 500 managed to end last week higher by 13.86 points, or up 1.1%. It was the fifth winning week in the last six and a decent kickoff for the New Year. Yet, the red flags continue to wave.
As we mentioned a week ago, the market has been pressing into its upper Bollinger band for quite some time. Pressing its luck for a little too long though, we can see how last week the SPX started to peel away from that upper boundary line. That weakness hasn't up-ended the rally just yet, but all big trends start as small one.
The other red flag is volume ... there's a lot of it on the selling days and it was rising as the week wore on. Clearly someone was selling into the recent strength but is there more selling pressure looming?
The odd part here is the VIX – it's neither wildly bullish in accordance with the market's momentum, nor is it wildly bearish that would indicate traders are nervous about being this overbought. There should be a little more tension one way or another. Because there isn't, it's difficult to say the market's at a bearish pivot point just yet even though it should be.
For now, the best way to play is simply to wait on the sidelines. If the bears are serious, they'll be able to knock the S&P 500 down under its 20-day moving average line at 1255. Given how rare such a dip has been since early September (though the November instance somehow didn't seem to rattle investors) paired with how overbought the market is on an intermediate-term basis (we're up 20% since late August), that should open the floodgates of a pullback.
As for a landing spot, we still contend the 1164 area, where the lower Bollinger band now lies, is a good tentative target. However, the 100-day or 200-day moving average lines near it may also be likely rebound points. We'll pinpoint the bottom when/if the need arises.
In the meantime though – and as we've lamented before – the first two weeks of the year tend to be bullish ones while in the midst of bull markets. More often than not strong rallies in early January lead to strong pullbacks in late January… hence the feeling that this is a matter of "when" more than "if."
Do we need a full two weeks or so in January of 2011 to reach the peak and point of exhaustion? As it stands right now, yeah, we've not yet seen a blowoff-like top and may need one more good acceleration to get it. This means we have to assume the uptrend is still intact despite the red flags. The only thing that could change that assumption is the dip under the 20-day line.
Play it tight and conservatively here until we get some clarity.
SPX and VIX Chart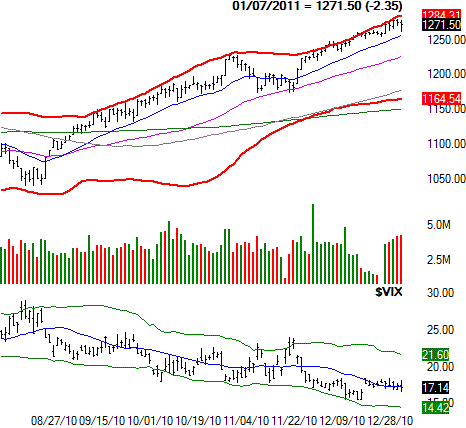 (Click to enlarge)
Sector Performance
It was an interesting shake-up (or is it shake-down) on the sector front last week … the leaders reflect a generally bullish attitude about the economy, with technology, financials, transportation and industries – the big winners of an economic rebound – all beating the market. Though their leadership won't stave off a short-term correction like the one we posed above, this points towards a sustained bull market.
At the other end of the spectrum is an unfamiliar category – gold. Not only did it fall, but it fell hard. Given how huge and unfounded the last leg of the miracle runup has been, this may well be the beginning of an overdue correction for gold as well its gold miners.
Of all the sectors worth discussion though, it's the runner-up for the week that deserves the most attention – healthcare. It's interesting simply because it's such a stark turnaround, though a well-deserved one. The sector is actually, on a P/E basis, one of the cheapest groups right now and even more so on an earnings-growth basis.
Here's the report card for the last week, but take a look under it for a look at the healthcare index and its earnings trend ... complete with forecast.
(Click to enlarge)
And here's the S&P 500 Healthcare Index, versus its trailing and forecasted EPS, and a corresponding P/E ratio. Like we said, earnings here are growing as consistently as ever, yet the stocks are as cheap as they've been in years.
S&P 500 Healthcare Sector, Earnings, P/E Ratio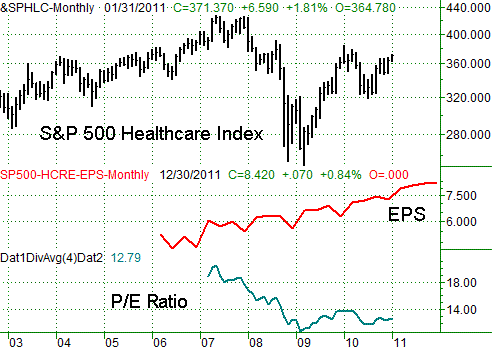 (Click to enlarge)

Disclosure: I have no positions in any stocks mentioned, and no plans to initiate any positions within the next 72 hours.