Junk bonds, also known as high yield bonds, have been very popular over the past few years. This year alone by the end of May there had been a total inflow of over 5 billion dollars into high yield bonds. One reason for this influx is that rates on treasury bonds are low and investors are looking into higher yielding investments. Another reason is that corporate defaults are still low which make them less risky. This makes ETFs like iBoxx $ High Yield Corporate Bond ETF (NYSEARCA:HYG) and SPDR Barclays Capital High Yield Bond ETF (NYSEARCA:JNK) very attractive. These are the two largest and oldest high yield corporate bond ETFs. If one was to invest in one of these, which one should that person choose?
HYG is the largest high yield corporate bond ETF. It manages over $12 billion of assets in 955 U.S. holdings. It has 7% in government bonds and the rest is in corporate bonds. The fund focuses on the oil/gas, consumer services, and the telecom sectors. Its yield is about 5.52% and the average coupon on its holdings is 6.75%. Its duration is 3.92 years. Looking at its price on the Yahoo Finance graph below it has returned a negative -7%. However, it has returned over 50% since the financial crisis. Comparing it against its benchmark the funds website has HYG returning 6.9% while the benchmark has returned 7.3%. It is only doing .4% worse which isn't too bad. If you add back the expense ratio it would be beating the benchmark. The annualized yield after dividends is about 4.9%. It is beating the S&P which has an annual return of 4.27% during that same time period.
JNK is the second largest high yielding corporate bond ETF. It manages $9 billion in assets in 721 U.S. holdings. It holds almost 10% in government bonds. The rest are in below investment grade corporate bonds. 90% of these bonds are in the industrial sector. Its yield is about 5.85% while its average weighted coupon is 6.94%. Its average duration is 4.10 years. The price on the Yahoo graph below shows a similar movement to HYG. It has a negative -13.5% return. The annualized rate of return after dividends is 4.53%. It is also beating the S&P. Comparing it to its benchmark it is doing 2.55% worse, 7.01% to 9.6%.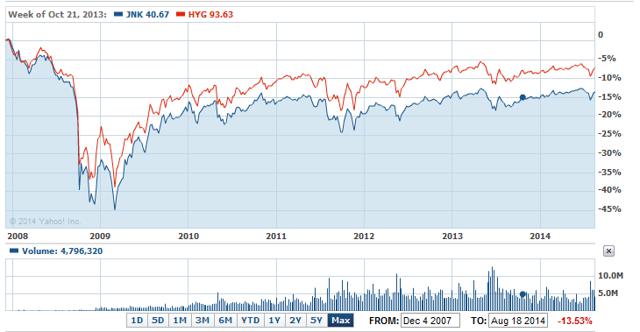 If an investor is comparing the funds' statistics it looks like a draw. HYG and JNK have close to the same dividend yield, expense ratio, annualized yield, duration, and about the same weighted average coupon. They both have a large number of holdings and out of the top 10 holdings, 7 are the same. It looks like you would do fine investing in either one. However, looking back at the graph we see that HYG appears to be always above JNK by a few points.
| | | |
| --- | --- | --- |
| | HYG | JNK |
| Holdings | 955 | 721 |
| Yield | 5.52% | 5.85% |
| Annualized return | 4.9% | 4.53% |
| Coupon yield | 6.75% | 6.94% |
| Duration | 3.92 | 4.1% |
| Expense ratio | 1% | .99% |
I think there is one difference that has HYG always returning more than JNK. It's because of the quality of holdings. Below are two tables taken from Morningstar that show the credit quality for these two funds. The top table is HYG and the bottom is JNK. HYG has more higher quality bonds. About 17% are of higher quality. Higher quality means less credit risk. Lower credit risk means a higher price and thus HYG should be at a premium to JNK.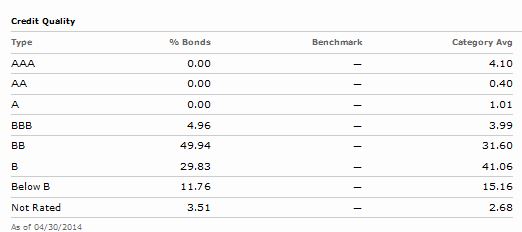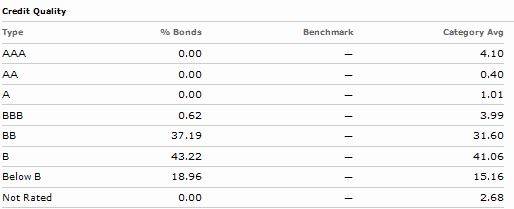 I invested in HYG over 3 years ago and the annualized return is 8%. It has a high dividend which is the appeal. Some investors may say that there has been too much of an inflow over the recent years and once treasury rates increase these funds won't be attractive anymore. This may be true. HGY is getting close to its 52 week high. If it does drop then it's an opportunity to buy more as this is a buy and hold strategy for me. I am just in it for the steady stream of income.
Disclosure: The author has no positions in any stocks mentioned, and no plans to initiate any positions within the next 72 hours.
The author wrote this article themselves, and it expresses their own opinions. The author is not receiving compensation for it (other than from Seeking Alpha). The author has no business relationship with any company whose stock is mentioned in this article.