Wednesday morning Alibaba (NYSE:BABA) filed an updated S-1 form ahead of its long awaited IPO, revealing burgeoning financial metrics. Back in May we wrote a comprehensive preview in anticipation of Alibaba's IPO before it was postponed until sometime after Labor Day. Here's how the latest information changes the game.
Alibaba is now reportedly preparing to go public sometime in late September. Since their last filing in May, one thing has remained completely unchanged about the Chinese e-commerce machine. Alibaba is a very large company, and it's growing very, very quickly. Investors and analysts alike also find Alibaba's outlook bright because of the juicy and largely untapped opportunity for international expansion.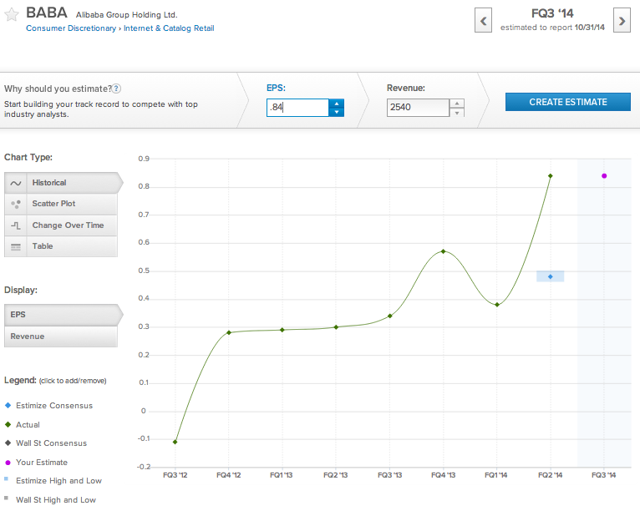 A few analysts on Estimize were brave enough to submit earnings estimates this quarter, despite Alibaba remaining a privately held company. According to the latest update from Alibaba's S-1, the company blew the Estimize consensus out of the water. Alibaba reported earnings of 84 cents per share while contributing analysts on crowdsourced earnings platform Estimize.com had only predicted 48 cents.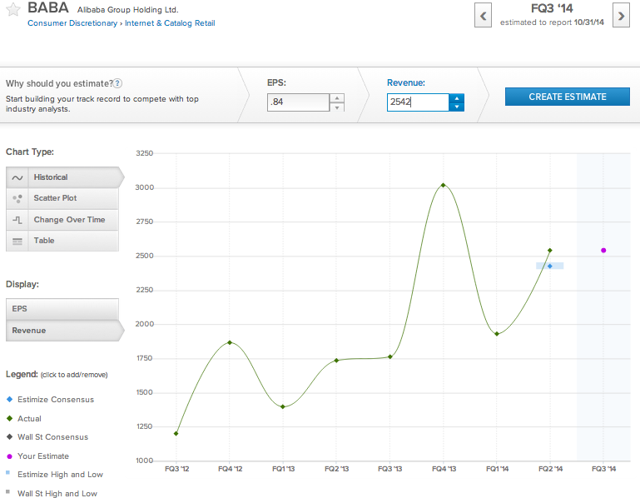 Sales at Alibaba also surged, increasing from $1.735 billion in the same quarter of last year to $2.542 billion. However, the rate of sales growth did regress slightly. Last year in its second fiscal quarter Alibaba increased its revenues by 54%. This period sales increased by a still formidable 47%.
Profit growth outpaced sales growth considerably, but it shouldn't bother investors given the opportunity ahead for international expansion. The growth was huge, better than expected, and Alibaba still has plenty of room to increase its revenues in China as the emerging middle class becomes more connected to the internet suburban and rural areas. More importantly, there's a colossal market outside of China that Alibaba has its eye on.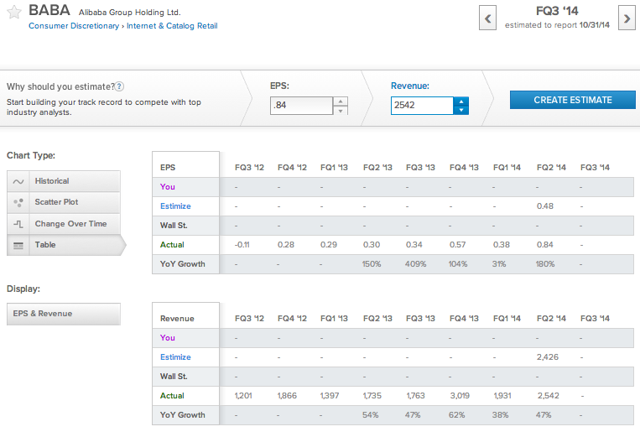 Finally here are a few thoughts on the big picture. First of all, China is a hot place for investment opportunities at the moment. JD.com (NASDAQ:JD) and BitAuto (NYSE:BITA) are two of the most talked about stocks on the market because they are both springing forward.
Every day a different pundit makes the claim that US stocks are overvalued. That may or may not be true based on whichever financial metrics you choose to look at. What is clear is that there are some strong investment opportunities in China right now. That's a good sign for Alibaba.
Another piece of the big picture is that Alibaba has less regulatory risk than a US equivalent would. Alibaba is an online retail empire, it combines a traditional business to consumer sales platform like Amazon.com (NASDAQ:AMZN) with a consumer to consumer business similar to eBay (NASDAQ:EBAY). It operates on a humongous scale as a virtual monopoly with the exception of one notable competitor, JD.com.
Speaking of Amazon, just this week a deal was announced by Amazon to acquire online video game streaming platform Twitch. The move came after months of speculation that Google was about to buy Twitch for north of $1 billion. Google allegedly backed out of the deal due to antitrust concerns born out of combining Twitch with the streaming services of Youtube.
In China Alibaba controls roughly 80% of the e-commerce market. There is no way in hell that would fly in the United States with our antitrust laws. But China is a different land with a different culture and a different legal system. And that's part of what gives Alibaba huge upside.
In China there's nothing inherently wrong with one company controlling an entire industry; they still need to play ball with the government. In the single party system the government can come down much harder on a corporation deemed of misconduct or being detrimental to the wellbeing of the people. Simply put, with less bureaucracy and legal impunity the Chinese government has the power to ensure that corporate leadership follows their rule. Alibaba will not be penalized for dominating e-commerce in the world's most populous country as long as they continue to keep the state happy.
As Alibaba's first quarter as a public company approaches, we encourage all to share their predictions on the Estimize platform about just how gigantic earnings and sales will be.
Disclosure: None