Is there such a thing as a "forever stock"? While I'm generally disinclined to look at any equity as something that should be held until I'm six feet under, there are certainly companies that elicit a perpetual buy and hold mentality.
In the REIT realm, Realty Income (NYSE:O), an owner of generally triple net, stand alone, commercial properties, tends to elicit such a mentality from its shareholders. Due to cash flows that are thought of as conservative and management that is deemed shareholder friendly, O has developed a strong following amongst the retail investor crowd.
If we look at a decade-long chart for Realty Income, we notice a generally upwards moving chart, with major downward and upside volatile blips occurring during the financial crisis and last year, respectively. While at first glance O might appear to be a low-risk, non-volatile investment, its performance over the past decade might indicate otherwise. More recently, O seems to have developed an in-line relationship to bonds.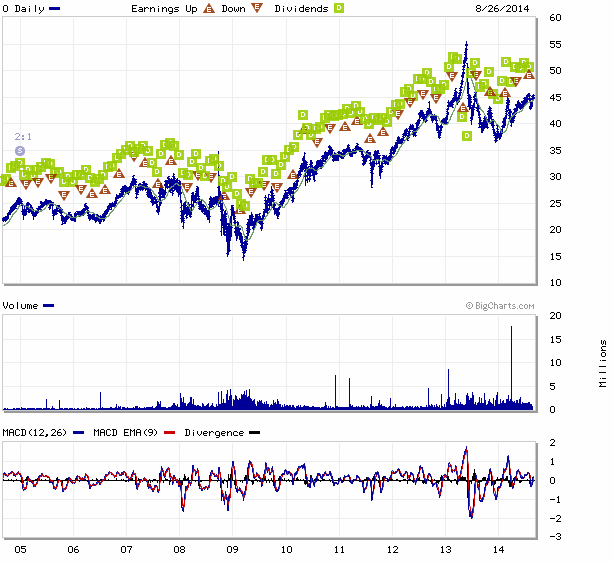 Indeed, as I've written about many times over the past year, Realty Income has become a quasi bond market proxy, with its price asymmetric to 10-Year Treasury yield action. Notice the inverse peaks and valleys of O's stock price (red line) over the past year relative to the 10-Year's yield (blue line).

Should You Buy Realty Income Today?
Some might argue, as author Eli Inkrot inferred in a recent article, that quality blue-chip income stocks like Realty Income should always be considered and probably be owned as alternatives to unproductive cash. On the one hand he's right, as you can buy O today at a 4.9% yield point, which blows away the APY of any "premium" cash account in today's ZIRP world. But, on the other hand, as the old aphorism goes, "a dollar in the hand is worth two in the bush." Of course if we assume that cash earns you one percent in today's market, Mr. Inkrot is probably of the view that "a dollar in the hand isn't worth five in the bush."
However, in my view this is much too simplistic of a view given the realities of today's investing world. Some dividend investors may have a more laid-back attitude towards price and may, in fact, view price declines as opportunities to buy quality stocks at higher yields. But if you have no cash - as Mr. Inkrot infers you shouldn't - you essentially abandon the ability to buy stocks at lower prices. You can't have it both ways.
While 5% may seem attractive given the realities of cash yields, I would argue that "a dollar in the hand may be worth who knows how many dollars in the bush" if you are not careful in today's income investing world.
The Notion Of Opportunity Cost
On May 21, 2013, shares of Realty Income traded at a high of $55.25, a roughly 4% yield point. On December 5, 2013, shares exchanged hands at $36.58, a roughly 6% yield point. In a span of 6 months, this little old, conservatively managed REIT dropped 34%, with its yield spiking 50 percent. Today at $45, shares trade almost smack dab in the middle of that range, at a yield of 5 percent.
If you bought 100 shares in May for $5525, you'd have annual income of roughly $221. If you bought 100 shares in December for $3658, your income would be roughly $221. Which would you have rather done?
Now I'll have some income investors tell me that even if they bought in May they've lost nothing because their income is the same as the investor that bought in December, and I get that. But the fact of the matter is that $1867 was sacrificed - the opportunity cost for investing at the 4% yield point instead of the 6% yield point. That extra $1867 amounts to another $112 of income at a 6% yield point. Again, which price would you have rather bought at?
Entry Point Is Crucial, Even For Income Investors
Some tend to argue that over the long-haul near-term decisions, especially bad ones, tend to fade away over time. And that's probably true. However, if you consistently pick poor entry points, sacrificing capital and yield, when you could have picked better ones, mistakes may be costing you much more than you may realize, even if the income that you purchased remains intact and/or grows. Thus, a much more critical look at equity-income outside of the yield point is necessary.
So, Should You Really Buy Realty Income
Insofar as Realty Income is concerned, as I opined last year, the 40-44 price point seems like "fair value" to me based on FFO expectations of around $2.55 this year, representing a 15.5-17 multiple. When the stock dropped below $40 last year, I became bullish for the first time, but at these levels I no longer consider O cheap. Looking at the company superficially, based on recent conference calls, it appears to be buying property in the upper-6 to 7% cap rate range and has probably now exhausted the operational benefits of its purchase of ARCT. Based on current valuation, payout, mid-single-digit growth rate, and other factors, I'd probably wait for a pullback toward $40 to get excited once again. I would encourage investors to think about the potential opportunity cost of buying O and other "not-so-cheap REITs" at these levels.
Of course one of the intangible factors relating to Realty Income is the stock's bond link. With bonds having rallied this year, the stock has rallied in tandem. A purchase at this level, in my view, would represent a projection that rates will not climb in a robust manner. Even a move back towards 3% on the 10 year, (currently 2.35%) could mean a swift move back towards $40 for O. But, alas, most have been surprised at the rally in bonds this year. Investors should carefully weigh the stock's movement against what is occurring in the bond market and act accordingly.
Summary
Though it may be easy for investors to go rushing into conservative stocks with robust pay outs compared to cash yields, dividend "excitement" should not be an excuse for abandonment of solid investment principles. Also, disciplined investing with variable exposure to cash should not be confused with market timing. If an investor were patient with Realty Income last year, they were presented with a solid buying opportunity. If they were overeager, they got burned. While buying Realty Income at $44.50 may not represent over-eagerness, I'm not sure it represents a good risk-adjusted purchase. Patience is an investment virtue.
Disclosure: The author has no positions in any stocks mentioned, and no plans to initiate any positions within the next 72 hours. The author wrote this article themselves, and it expresses their own opinions. The author is not receiving compensation for it (other than from Seeking Alpha). The author has no business relationship with any company whose stock is mentioned in this article.
Disclaimer: The above should not be considered or construed as individualized or specific investment advice. Do your own research and consult a professional, if necessary, before making investment decisions