Background:
Since Reed Hastings, co-founder and CEO of Netflix (NASDAQ:NFLX), dreamed up the idea of an online video rental service after being charged $40 in late fees for Apollo 13, Netflix has revolutionized the movie rental industry making dinosaurs (pillars of the industry) like Blockbuster go extinct.
Netflix has built its business model on a flat monthly fee without due dates, late fees, shipping and handling fees, or per title rental fees. The online video giant has continued to evolve - it once mailed about 190,000 discs per day and was seen as the fastest-growing client of the US Postal service. Now, Netflix's online streaming service has become so successful that it is one of the biggest sources of Internet traffic.
CEO Reed Hastings is not content with simply providing a groundbreaking video streaming service. In a letter to shareholders, Hastings and CFO David Wells stated their ambition of overtaking HBO in original content.
Hasting and Wells referenced a report by Morgan Stanley that 17% of consumers surveyed felt Netflix was the service that offered the best original programming, "second only to HBO... We are approaching 50 million global members, but that is far short of HBO's 130 million. We are eager to close the gap."
Netflix's shift from DVDs to online streaming has continued to show great results for shareholders. In 2014, first-quarter earnings reported $1.1 billion in revenue, up 36% from the same quarter last year. Reported net income was $53 million, up from $3 million a year ago, beating analysts' estimates by $2 million. Lastly, earnings per share were 86 cents, 4 cents ahead of the Street estimate.
Second-quarter earnings more than doubled as the online streaming giant added 1.7 million subscribers; however, it warned that "international expansion" may hurt third-quarter profits.
Although Netflix has cautioned shareholders about a dip in third-quarter profits, as a result of expansion, the underlying issue that may significantly limit Netflix's growth and its profit is the issue of net neutrality and the merger of Comcast (NASDAQ:CMCSA) (CMCSK) and Time Warner Cable (TWC).
, Schwab)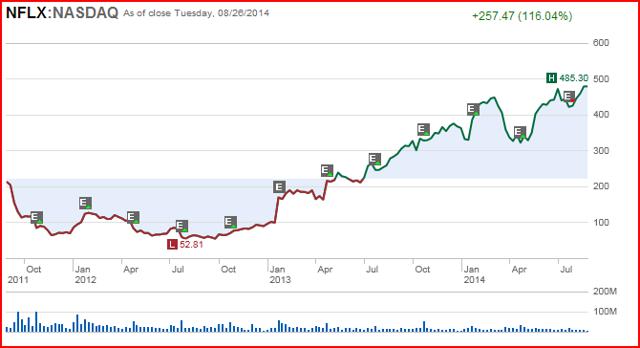 Net Neutrality Fight
Netflix's reliance on cable companies has come at a price. Companies like Comcast and Time Warner Cable have no incentive to improve the streaming capabilities of their broadband networks because of cost and their own competition with Netflix over programming. As a result, Netflix has revealed it has no choice but to pay the top internet providers for smooth customer access to its movie services.
In February, Comcast and Netflix reached a historic deal that will see Netflix pay Comcast for faster and more reliable access to Comcast's subscribers. The deal is one of the first of its kind. Content providers have not had to pay for access to subscribers in the past, but the growing leverage of ISPs has forced Netflix to pay the ransom.
Netflix has reported that in recent months, delivery speeds to Comcast subscribers had declined more than 25%, resulting in interruptions and delays.
Future Costs for Netflix
The prospective merger of Time Warner and Comcast will mean that the cable provider will have even greater leverage over online streaming companies like Netflix.
Last month, Netflix started to more vocally oppose actions of cable networks and the FCC's new net neutrality proposal. The FCC's net neutrality proposal stated that cable networks could offer "fast lanes" to companies that could afford them, and charge them additional costs. Netflix has argued that "Allowing internet fast lanes would let service providers choose which websites, companies, and apps succeed online, rather than allowing consumers to choose as they do now."
According to Netflix, instances like Comcast intentionally slowing down peer-to-peer communications would be commonplace. The additional costs of a "fast lane" also would lead to greater congestion, according to Netflix, and will not fix the underlying issue of cable providers trying to limit the openness of the internet.
Merger of Comcast and Time Warner
On Monday, CEO Reed Hastings wrote a letter to shareholders, sharing his company's stance on the merger. Hastings said:
"The Internet faces a long-term threat from the largest ISPs driving up profits for themselves and costs for everyone else as detailed in our recent blog post.

If the Comcast and Time Warner Cable merger is approved, the combined company's footprint will pass over 60 percent of U.S. broadband households, after the proposed divestiture, with most of those homes having Comcast as the only option for truly high-speed broadband (>10Mbps). As DSL fades in favor of cable Internet, Comcast could control high-speed broadband to the majority of American homes. Comcast is already dominant enough to be able to capture unprecedented fees from transit providers and services such as Netflix. The combined company would possess even more anti-competitive leverage to charge arbitrary interconnection tolls for access to their customers. For this reason, Netflix opposes this merger."
It is very possible that we are witnessing the beginning of the battle for online media. Netflix and ISPs are direct competitors, despite Netflix's need of the providers to stream their content. With the younger generation abandoning paying for cable television, cable companies like Comcast will naturally try to make it as difficult as possible for Netflix.
This week, Netflix filed a petition to the FCC, demanding it deny the proposed merger between Comcast and Time Warner. Netflix argues in the document that the merger would result in "serious public interest harm" and no discernible public benefit - two red flags for regulatory bodies. Netflix also cited examples of instances where online streaming businesses were harmed by Comcast or Time Warner Cable.
In one example, Netflix cited Comcast's use of network congestion as an excuse to "shift Netflix traffic to paid interconnections," or so-called fast lanes. Another example cited the use of data caps as a tactic to deter consumers from third-party streaming companies like Netflix or Hulu.
Conclusion:
Netflix is an extremely successful company that will continue to perform and grow even with the merger of Comcast and Time Warner. However, the growing monopolistic tendencies of cable companies and the U.S government's refusal to stand for net neutrality will force Netflix to continue to scramble and cut into its profit margins to ensure proper streaming of its services. Overall, it is us, the consumers, who will always bear the cost and suffer because of the failure of government and the growth of monopolistic practices.
Disclosure: The author has no positions in any stocks mentioned, and no plans to initiate any positions within the next 72 hours.
The author wrote this article themselves, and it expresses their own opinions. The author is not receiving compensation for it (other than from Seeking Alpha). The author has no business relationship with any company whose stock is mentioned in this article.