As far as mega cap companies go, Visa (NYSE:V) and MasterCard (NYSE:MA) are in rarefied air in terms of their balance sheets. Currently, Visa has more than $4 billion in cash and no debt. MasterCard has $5.7 billion in cash and $1.49 billion of debt. After taking a look at the list of most valuable companies by market cap, the only other companies with nearly debt free balance sheets are tech giants Google and Facebook. While Apple, Exxon, Chevron, and Microsoft also have strong balance sheets, these companies have accumulated some debt in recent years to help fund stock buybacks.
Business Model Stability
Visa and MasterCard are in a low risk business as both companies earn profits on transaction fees and do not take interest rate risk. This is not the case for peers such as American Express (NYSE:AXP) and Capital One (NYSE:COF). While Visa and MasterCard profits will increase or fall based on the strength of the economy and consumer spending, both companies are quite profitable. Visa has operating profit margins of 62% and MasterCard has operating profit margins of 55%. The nature of the transaction based business model means that even in a severe recession Visa and MasterCard will still be profitable and will not face losses due to weakening credit conditions. In my opinion, Visa and MasterCard can almost be looked at as the utilities of the financial services sector. While energy usage could fall somewhat during a recession, utilities earnings typically fall only slightly. The same idea applies to Visa and MasterCard as a drop in consumer spending would be a negative but not enough to cause major problems for Visa and MasterCard. As shown by the chart below, even during the 2008 recession both Visa and MasterCard were able to increase revenues and profits.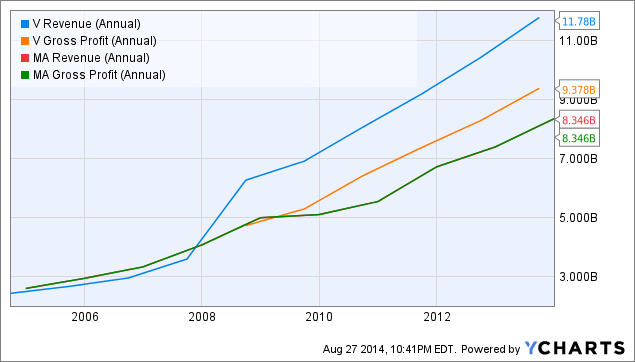 V Revenue (Annual) data by YCharts
Shareholders Are Missing Out On Benefits Of Leverage
As everyone knows, under the wrong circumstances, too much debt can be fatal for a company. However, there are also strong arguments to be made in favor of higher debt levels and increased leverage. One potential benefit from debt financing as compared to equity financing is that interest expense on debt is tax deductible. Furthermore, another advantage of debt financing is that, based on interest rates, it can be cheaper than equity. Given the current low interest rate environment, it is likely a good time for companies to use the debt markets to finance themselves as much as possible. Presently, Visa and MasterCard shareholders are missing out on the opportunity to take advantage of historically low interest rates.
My Proposed Plan
Companies engaged in relatively stable businesses such as cable operators, electric utility operators, and telecom providers tend to operate with a significant amount of leverage. For example, AT&T carries debt of $84 billion against an equity market cap of $180 billion. Consolidated Edison carried debt of $12.6 billion against an equity market cap of $16.7 billion. If Visa were to carry the same proportional amount of debt, relative to equity, on its balance sheet as AT&T then Visa would need to issue more than $63 billion of debt. Due to the fact that Visa trades at a significantly higher enterprise value to EBITDA, 16.49 vs. 5.41, Visa cannot carry the same amount of debt as AT&T. However, Visa could carry about a third as much debt as AT&T. This would mean that Visa could potentially carry $21 billion worth of debt. Based on the same logic, MasterCard could carry about $13.6 billion worth of debt. While Visa and MasterCard are unlikely to raise as much debt as they possibility can, I believe it is not unreasonable for both companies to issue debt amounting to 10% of each company's respective equity value with the proceeds being used to buy back stock. For Visa, this would mean issuing $13.6 billion worth of debt and for MasterCard $8.8 billion worth of debt.
Conclusion
Some might argue that a buyback does not make sense given the fact that both Visa and MasterCard trade at about 20 times forward earnings, well above the S&P 500 average. However, due to the fact that Visa and MasterCard operate businesses with strong earnings visibility and reduced risk relative to most companies I do not believe these valuations are excessive. For this reason, I believe buying back shares at current valuations is a good move. Visa and MasterCard are good companies and I am positive on both stocks for the long term but over the short term I do not see a major catalyst to send shares higher unless they follow my prescribed plan or a similar plan.
Disclosure: The author has no positions in any stocks mentioned, and no plans to initiate any positions within the next 72 hours.
The author wrote this article themselves, and it expresses their own opinions. The author is not receiving compensation for it (other than from Seeking Alpha). The author has no business relationship with any company whose stock is mentioned in this article.