Over the past few years Devon Energy Corp (NYSE:DVN) has molded itself into a premier oil play. In its latest earnings release, company wide oil output grew by 34% as US oil production grew 79% year-over-year. Higher oil production increased its operating cash flow by 47% to $2 billion.
A lot of attention has been directed towards Devon's Eagle Ford and Permian Basin operations. While both offer plenty of upside which I will get to in a different article, Devon's Anadarko Basin and Canadian operations are undergoing major changes that will handsomely reward investors. As Devon ramps up its Canadian operations it could be getting ready to push its yield higher as three identical Jackfish projects reach peak capacity.
Steam propelled free cash flow
Up in Canada Devon is using SAGD, steam assisted gravity drainage, to extract crude from the ground. This type of heavy oil is priced at the Western Canadian Select benchmark, which is why Devon was happy to tell investors that its realized price increased by 22% to $65.88 a barrel, versus $90+ for its other operations.
This doesn't mean that its Jackfish projects aren't profitable. Devon is guiding to make $600 in free cash flow from its three Jackfish projects in 2015, a huge gain versus just a few million dollars this year. By 2016, Devon could be making over $1 billion a year in free cash flow as the third Jackfish installation ramps up. The third Jackfish project should produce its first barrel of oil this quarter as Devon began steam injection early July.
If Devon is able to meet its expectations, management could substantially boost its payout. Currently Devon is paying out an annualized 96 cents a share per year. Factoring in the $1 billion in additional free cash flow, and Devon could increase that by $2.44 ($1 billion divided by 409.1 million shares outstanding). Devon's new yield would be 4.6%, on par with oil majors and other high yielding companies.
I doubt that Devon's management would pay out all of its new FCF right away, but Devon has set itself up for massive dividend increases in the future. After its divestiture program, which raised $5.1 billion, Devon was able to cut down its debt load. This reduces the need to use its FCF growth to pay down debt, increasing the likelihood of payout increases.
More pipelines, please
Future upside could come from the Jackfish projects exceeding "name-plate facility capacity", as the Jackfish 1 pumped out 36,000 gross bopd versus the guided capacity rate of 35,000 gross bopd. While it will take a couple years for the other two projects to reach peak capacity, they could outperform by small margins and generate slightly larger streams of free cash flow.
Another major catalyst for Devon's Jackfish operations could come from higher WCS prices as more takeaway capacity is built out. Devon has completed the expansion of its Access Pipeline, and will probably drop down its 50% interest in the pipeline to its midstream spinoff EnLink Midstream (NYSE:ENLC) (NYSE:ENLK). Devon has a 70% stake in the general partner and owns 52% of the master limited partnership.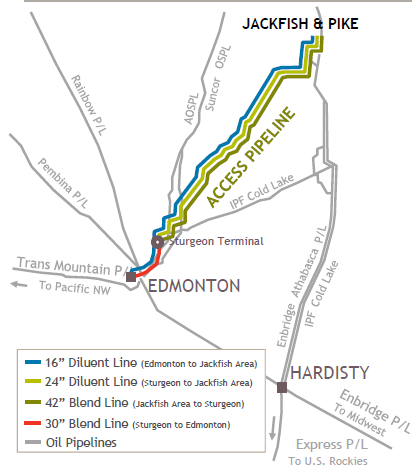 Source: Devon Energy Presentation
Downside risk also stems from pricing. Western Canadian Select trades at a significant discount to West Texas Intermediate, and if there is no liberalization of US oil exports, no Keystone XL pipeline, and if the major projects expected to alleviate the oil sands glut stall, then Devon could realize much lower prices. On the plus side, Devon made its free cash flow guidance after forecasting $90 WTI and that its bitumen (heavy oil) realizations would be 65% of WTI, leaving plenty of room for upside.
The start up of Devon's Jackfish 3 project is part of the reason why management sees at least 20% company wide oil production growth next year. Another positive factor for Devon is its new strategy for the Anadarko Basin.
Over 50%
Liquids production makes up just 45% of the 93,000 BOE/d Devon produces in the Anadarko Basin, leaving room for improvement. To make liquids a larger portion of its output, Devon is focusing on the Cana-Woodford trend, which it acquired an additional 50,000 net acres in last May. Another part of Devon's plan is to usea new well completion technique, both of which have proven to be very effective.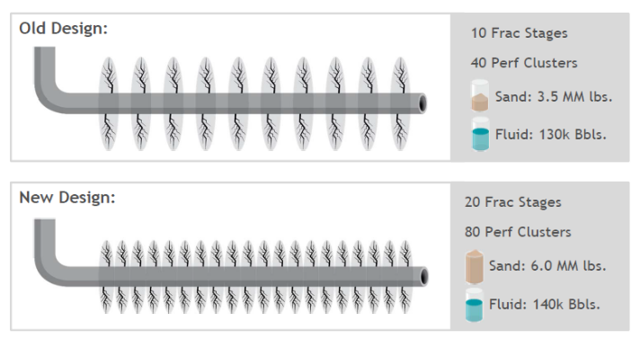 Source: Devon Energy Presentation
Last quarter, Devon brought 20 wells online in the Cana-Woodford using the new design. On average, liquids made up 55% of those 20 wells production. If this keeps up, Devon will be able to move the production mix of its Anadarko Basin operations towards higher margin liquids.
Its new focus has done more than just increase the liquids composition, it also has worked wonders on overall well performance. As well costs remained stable at $8 million, production levels and estimated ultimate recovery rates (EUR) jumped up.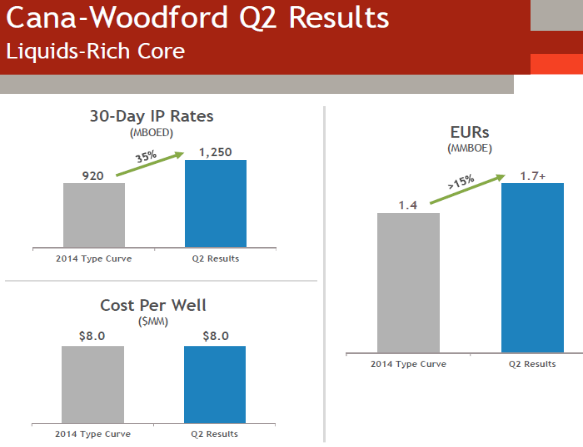 Source: Devon Energy Presentation
Compared to the expected type curve for 2014, 30-day IP rates increased by 35%, playing a major role in the 15% increase in EURs. New wells that have a larger liquids composition and extract more hydrocarbons from the ground, all for the same amount of money, will make Devon's Anadarko Basin assets far more lucrative.
Final thoughts
There is a very good chance that Devon will initiate several major dividend hikes over the next few years as its Canadian assets begin pouring out free cash flow. It will take longer for its Anadarko Basin operations to be a contributor to its dividend, but its new strategy means Devon doesn't have to solely rely on higher natural gas prices to be able to generate FCF from the area.
Devon has set itself up for market beating returns by revamping its portfolio and investors should take notice of the recent pullback in its stock price. Those looking for a strong oil play with income upside should take a good look at Devon Energy.
Disclosure: The author has no positions in any stocks mentioned, and no plans to initiate any positions within the next 72 hours.
The author wrote this article themselves, and it expresses their own opinions. The author is not receiving compensation for it (other than from Seeking Alpha). The author has no business relationship with any company whose stock is mentioned in this article.