Procter & Gamble's (NYSE:PG) share price has recently recovered from its 6-month low. Although the price almost converged to its all-time high at $86, I believe the stock remains a solid buy for long-term income investors as current valuation is still below intrinsic level. In this article, I will elaborate on some forward-looking cash flow and dividend analyses to support my buy thesis.
I first performed a free cash flow projection for current and next 2 fiscal years. My analysis is based on current consensus revenue estimates, which predict the top line will increase by 3.8% CAGR from $84.6B in fiscal 2015 to $91.2B in fiscal 2017. PG's operating cash flow margin has been trending fairly steadily since fiscal 2011. To be conservative, I assumed a cash margin of 16.5% for fiscal 2015, which is below its 3-year historical average of 17.0%. I also assumed a 50 bps cash margin expansion through fiscal 2017, which is backed by current consensus expectation of a 150 bps expansion in EBITDA margin over the same period. In terms of capital expenditure, I assumed the figure to gradually rise to $4.2B by fiscal 2017 as the company has not announced any significant spending plan. Based on these assumptions, free cash flow was projected to increase by 6.5% CAGR from $10.0B in fiscal 2015 to $11.3B in fiscal 2017, which is driven by the healthy sales growth, the modest margin expansion, and the relatively slower capital spending growth (see chart below).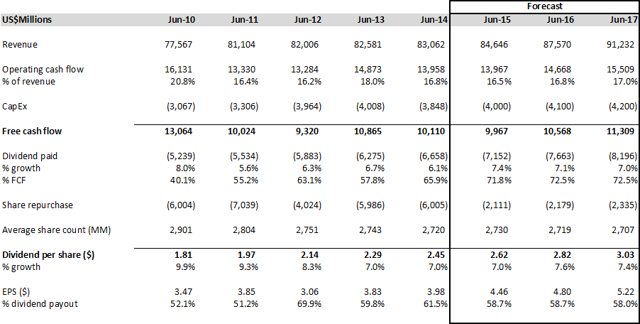 PG raised quarterly dividend by 7% to $0.64 per share in Q2 2014 and paid the same amount in Q3. For this analysis, I assumed the quarterly dividend to grow at 7.5% annually through fiscal 2017. As such, the dividends are expected to be $2.62, $2.82, and $3.03 in the current and next 2 fiscal years, respectively (see the first chart). Under the context of my earlier free cash flow projections, the total cash spending and its implied payout level associated with my dividend growth scenario will be estimated and analyzed.
Based on my average share count estimates (discussed later), I calculated total dividend payment to be in a range from $7.2B to $8.2B over the forecast period. As my projected free cash flows exceed this dividend commitment, I assumed that 75% of any cash surplus after paying out the dividends will be spent on share buybacks. This is consistent with PG's historical record of returning a significant amount of capital to shareholders. Assuming an average buyback price of $85 in fiscal 2015 and an 8% annual step-up, the average share count will drop to approximately 2,700M by fiscal 2017 (see the first chart).
One way to gauge the reasonability of my 7.5% dividend per share growth scenario is to look the at implied earnings payout trend. Based on current consensus EPS estimates, my dividend forecast implies that the earnings payout ratio will stay flat at around 58% over the forecast period, which is below its actual level in recent years. Further, consensus view calls for a long-term earnings growth potential of 8.4% for PG. As such, it is likely that the payout ratio will decline beyond fiscal 2017 as my dividend growth estimate is well below the long-term EPS growth.
Alternatively, the reasonability check can be corroborated by looking at the implied trend of free cash flow payout. As shown in my model, the free cash flow payout ratio is also expected to stay somewhat flat at around 72%, indicating that the dividend growth is within a sustainable level as the required dividend spending will not increasingly erode cash flows available for other corporate purposes.
Based on the Gordon Growth Dividend Discount Model and an 8% cost of equity (CAPM model suggests a 5.3% cost of equity by using 3% risk-free rate, 6% equity risk premium, and PG's 5-year beta of 0.38), PG's current share price implies a perpetual dividend growth rate between 4.5% and 5.0%, which is well below my expected potential (see chart below).

I then used a 2-stage dividend discount model to illustrate the valuation upside from PG's dividend growth potential. The first stage incorporates my expectation that the company can comfortably sustain an annual dividend growth of 7.5% through fiscal 2017, and the second stage represents a perpetual growth state with the 4.75% terminal growth rate implied by the share price. Based on the 8% cost of equity, I arrived at a share price of $89, which is 7% above the current price (see chart below).

In summary, despite trading near its all-time high, PG still offers attractive value from a dividend investing perspective. Given my estimated value gap of 7% and the stock's 3.1% dividend yield, the solid potential investment return should justify a buy rating.
All charts are created by the author, and historical data used in the article and the charts is sourced from S&P Capital IQ, unless otherwise specified.
Disclosure: The author is long PG.
The author wrote this article themselves, and it expresses their own opinions. The author is not receiving compensation for it (other than from Seeking Alpha). The author has no business relationship with any company whose stock is mentioned in this article.