Union Pacific (NYSE:UNP) just announced that it was increasing its dividend to $0.5 a share from $0.455 a share on a split adjusted basis. This represents an almost 27% total year over year increase from the dividend in Q3 last year. Over the past 5 years, UNP has raised its dividend at a compounded annual growth rate of 33%. That kind of dividend growth warrants attention from dividend growth investors.
Before diving in and hitting the buy button, an investor must ensure that this dividend growth is both healthy and sustainable. This article will cover a few measures to aid in measuring the quality and health of a company's dividend:
Historical dividend growth rates
Net income coverage
Free cash flow coverage
Revenue growth
Historical Dividend Growth Rates
While the past is not indicative of the future, strong historical growth rates show the willingness of the company to raise its dividend in the future.
| | |
| --- | --- |
| Period | Growth |
| 1-Year | 27% |
| 3-Year | 30.5% |
| 5-Year | 27% |
UNP's dividend growth rate has remained healthy over the past few years as the chart above shows. Additionally, the dividend has showed no signs of deceleration over the past 5 years. This indicates that there is momentum behind the dividend payout.
Net Income Coverage
While historical growth has remained robust, a key question is if it can continue into the future. The first litmus test is whether the company's earnings can cover the dividends. This can be done in the form of the dividend payout ratio.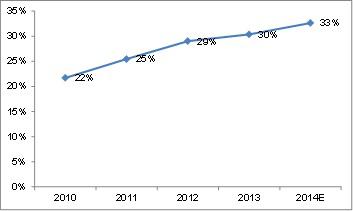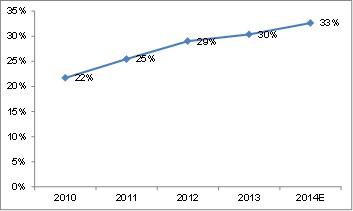 The takeaway from the chart above shows that UNP has raised its dividend at a faster rate than its earnings. While not sustainable in perpetuity, a payout ratio of only 33% indicates that UNP has wiggle room to raise its dividends for the foreseeable future.
FCFE less Net Issued Debt
While EPS is a great proxy to check against, a company's dividends are ultimately paid out from its free cash flow. A company that grows its FCFE net of issued debt has the capacity to grow its dividend payments.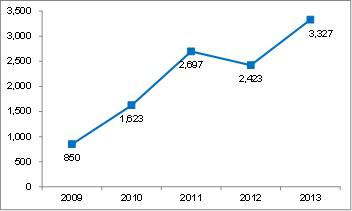 UNP has increased its FCFE over the years, and the portion of FCFE paid out in dividends has historically remained at 30%-50% over the past 5 years. This is an indication that UNP has room to continue to raise dividends for the foreseeable future.
Revenue Growth
A company can grow earnings and free cash flow for a period of time by reducing costs. However, cost reductions can only be sustained for so long. Ultimately, to continue growing a dividend at a healthy pace in a sustainable fashion, a company must have healthy topline growth.
UNP is projected to grow revenue 8%-9% in 2014, and has historically grown revenue at a rate of 14% over the past 5 years. This growth indicates that UNP has the ability to sustain dividend increases in at least the high single digits for the foreseeable future.
Conclusion
UNP represents an attractive opportunity for dividend growth investors. While the yield is nothing to scream about at about 2%, a healthy and sustainable growth rate make it likely this stock will reward investors with higher payouts that chug chug chug along for the foreseeable future.
Disclosure: The author is long UNP.
The author wrote this article themselves, and it expresses their own opinions. The author is not receiving compensation for it (other than from Seeking Alpha). The author has no business relationship with any company whose stock is mentioned in this article.