The "Dogs of the Dow" strategy zeroes in on the 10 Stocks in the Dow Jones Industrial Average (ETF: DIA) with the highest dividend yield. This stock-picking strategy depends for its success on the fact that out of a select list of 30 large-cap blue chip stocks, a portfolio of the 10 highest yielding components is likely to outperform the Index over the ensuing 12 months.
Research from 1973 to 1991, when Michael O'Higgins first published the "Dogs of the Dow" strategy, showed that it significantly outperformed the DIA. Since 1996, the strategy has had mixed results, but performed quite well in 2010, with the 10 stocks showing a gain of 15.5% vs. a gain of 11% for the DIA. With dividends factored in, the overall return was 21% vs. 14% for the DIA.
Since we expect large-cap stocks to do quite well in 2011, a theme we have explored in previous Seeking Alpha posts, we decided to look at this year's 10 "Dogs of the Dow" candidates. Five of those stocks currently have a Bullish rating. Since we like large-cap stocks in 2011 -- and these stocks have an average dividend yield of 4.3% -- we think that as a group they represent an attractive portfolio for the first six months of 2011. Please note that two of these stocks AT&T (T) and Verizon (VZ) are in the Telecommunications Group and will likely be vying for iPhone customers.

Our rating is based on a 20-factor model incorporating Financial Metrics, Earnings Performance, Price/Volume activity and Expert Opinions to determine a stock's potential over the next three-to-six months.

Here are the five stocks from the "Dogs of the Dow" with a Bullish rating:
| | |
| --- | --- |
| Company (Ticker) | Dividend Yield % |
| AT&T Inc | 6.1% |
| Chevron Corporation (CVX) | 3.2% |
| Intel Corporation (INTC) | 3.5% |
| McDonald's Corporation (MCD) | 3.3% |
| Verizon Communications Inc | 5.4% |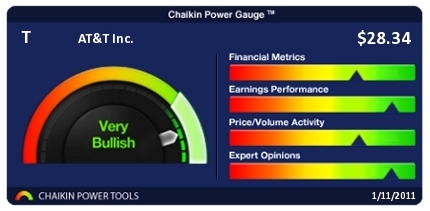 AT&T Inc: 28.34

Strong and consistent earnings growth and a low P/E ratio on projected 2011 earnings contribute to a bullish Earnings Performance metric. Analysts are increasingly bullish and have recently raised their 2011 earnings estimates.

High profit margins and a very strong ROE reflect positive Financial Metrics. Positive Money Flow activity and a strong price trend vs. the broader market contribute to bullish Price/Volume activity. As the exclusive relationship with Apple (AAPL) for the iPhone nears its end, AT&T has prepared itself for a tough iPhone battle with Verizon by adding Google's (GOOG) Android OS-based smart phones to its portfolio.

This insulation, plus the 4G wave that is catching on, put AT&T in a good place for growth in 2011. In the broadband space, AT&T continues to enhance its speed and has recently emerged as a leader in the mobile enterprise services category. Considering that AT&T was the worst-performing Dow stock in 2010, we believe it is in a good position for a rebound and will outperform in 2011.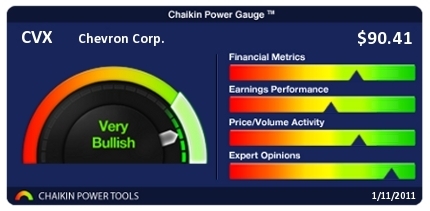 Chevron Corporation: 90.41

Chevron shares have rallied more than 30% in the last six months while continuing to make higher 52-week highs. Consistent earnings with high profit margins and a very high ROE have solidified the company's balance sheet, which already boasts lots of cash.

A very low PEG ratio of 0.53 and a low Price/Sales ratio of 0.98 suggest the stock is currently undervalued despite the growth it has experienced in recent months. Analysts have become increasingly bullish on the company's future earnings prospects and have raised their estimates for next year, contributing to a bullish Expert Opinions metric.

Very positive Money Flow activity and a strong price trend vs. the broader market contribute to bullish Price/Volume activity and bolster the Power Gauge rating. We believe Chevron will benefit from the higher gas prices that are expected to continue in these, the coldest months of the year, and will post a solid first quarter in 2011.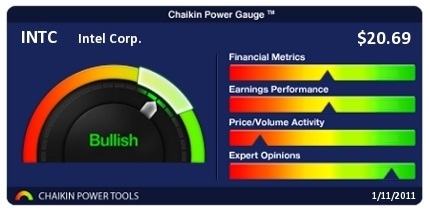 Intel Corporation: 20.69

Intel's cash-rich balance sheet, enviable profit margins and very high return on equity reflects an efficient management team working hard to continue rewarding its shareholders. A low PEG ratio of 0.88 and Insider Buying suggest the stock is undervalued.

At last week's Consumer Electronics Show, Intel featured its "Sandy Bridge" microprocessors, leading to very bullish analyst opinions and upward revisions to 2011 earnings estimates. The company has successfully kept Advanced Micro Devices (AMD) at bay during the last decade, and we believe that recent developments will further bolster Intel ahead of its nearest competition.

Shares have recently pulled back from six-month highs and are still 15% below its 52-week high. Intel reports this week, and analysts expect the company to post an 8% revenue gain and over 30% earnings gain for 2010.

We believe that the focus will be on the 2011 forecast, and any sign of continued growth driven by success in the tablet market and ramp up of Sandy Bridge will help move INTC to new 52-week highs.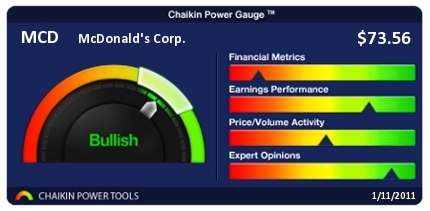 McDonald's Corporation: 73.56

McDonald's has sold off 9% from its December highs following a phenomenal 2010 with a 23% gain in price. This selloff was primarily driven by two concerns: Maturity in the global markets that may limit growth and higher commodity prices that may eat into profit margins.

We believe these concerns are overblown. With high profit margins and ROE, the company continues to experience stellar organic growth and bolster its already strong cash flow. The company has plans to continue growth in Asia, where there is still lot of potential and where MCD has steadily expanded for the past several years. Commodity prices are already high and probably set to level off. If the company was able to successfully manage them until now, going forward it should not raise too much concern.

During the last decade, the company has shown willingness to change and innovate when faced with adversity. Consistent earnings growth contributes to a very bullish Earnings Performance Metric. Analysts continue to be bullish regarding the company's 2011 performance and have raised their estimates. McDonald's has a history of increasing annual dividend payouts, thus building and keeping investor trust.

Management at the company is patient, confident and resilient, and we believe that the selloff provides a low entry point to buy into a solid, stable, yet growing company which has expanded, innovated but never swayed away from its core business.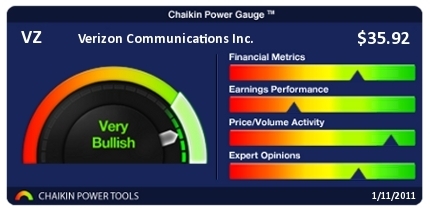 Verizon Communications Inc.: 35.92

Set to carry iPhones on America's most reliable network in 2011 with plans to make the announcement as early as this Tuesday, Verizon may have positioned itself as the stock to own for the year. The company has high retention rates and a loyal customer base, with unavailability of the iPhone attributing to most of its churn.

However, with the iPhone now coming to Verizon as early as this month, we believe the company has prepared itself for significant subscriber growth this year. Verizon has also become the first to unveil 4G wireless tablets with ultra-fast data access, thus increasing pressure on its competition to play catch-up. With high profit margins, strong cash flows and a positive Business Value (the most heavily weighted factor in our 20-factor Power Gauge rating; it measures free cash flow per share on a relative basis vs. 3000 stocks. It is similar to EV/FCF), VZ appeals as a large cap growth investment.

Positive Money Flow activity and a strong price trend vs. the broader market contribute to bullish Price/Volume activity. Insiders are buying steadily and analysts are increasingly bullish on the company's 2011 performance. Positive price strength vs. its industry and vs. the broader market bolsters a bullish Power Gauge rating. VZ has been making higher 52-week highs in recent months, and with all recent news in its favor, we believe this trend will continue in the upward direction in 2011.

Disclosure: I have no positions in any stocks mentioned, and no plans to initiate any positions within the next 72 hours.