A number of downgrades on August 21 in the OffShore Drilling and Services sector preceded a tough week and some awful losses for a few of the bigger names. The headwinds facing this sector, not least and immediate of which the 2014 hurricane season, have been largely well-known for some time, and one must begin to wonder just how much punishment can shares continue taking.
Diamond Offshore Drilling Inc. (NYSE:DO) was downgraded August 21 by analysts at Deutsche Bank from a "hold" rating to a "sell" rating. Looking at DO with my metric screen the first things to jump out at me are the PEG of 3.07, the Mean Analysts Recommended score of 3.5, and a target price of $43.92, meaning that analysts are not expecting much upside for DO in the near term. One positive, though slim, DO does pay a 1.14% dividend. One good thing for the contrarian long-term investor could be shares are just about 4% above the 52 week low, possibly indicating a floor is near. The chart does not support this idea however as DO has broken through support dramatically in August and based on yesterday's fleet status update there may not be an upward catalyst in the near-term. DO closed down an additional 2.04% on August 28, in line with the sector which has been exceedingly weak as of late, further pressured by Seadrill Ltd's (NYSE:SDRL) cautious outlook in their earnings release on August 27.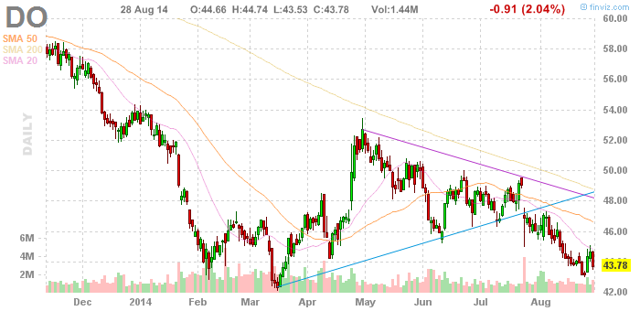 (Chart available via Finviz.com)
Raymond James analysts also called out Hercules Offshore (NASDAQ:HERO) August 21 after their fleet status update included the early cancellation of the Renaissance contract for Hercules 205, which had been operating on a dayrate of $101,000-$103,000 and was supposed to continue at least until October 2, 2014. The additional unit in competition for contracts could have a negative effect on the dayrate market for the sector. Predictably HERO had a terrible trading session on the 21st, losing 3.33% and closing down at $3.19. Despite recovering a bit of that loss over the last week, HERO lost another 2.63% today, closing at 3.33 and remains 58% off of the 52-week high. Metric-wise there is not a lot to work with here, although the Mean Analysts Recommended score is an almost admirable 2.6. One good thing for HERO was not being named one of the 3 drillers in the most trouble by Zacks Equity Research in a note back on August 21.
The biggest loser of the sector on August 21 was Vantage Drilling Company (NYSEMKT:VTG), which was downgraded by analysts at Pareto from a "buy" rating to a "hold" rating. They now have a $1.90 price target on the stock, which is $0.30 below the consensus of $2.20. VTG lost 3.70% on August 21, closing at $1.82. The Mean Analysts Recommended score is 2.50, which would be passable if other positives were in place. Instead VTG has horrible Debt/Equity and Long-Term Debt/Equity numbers of 5.21 and 5.11 respectively. Even if VTF could return to the 52 week high of 2.02, this only would represent about a 7% increase and the shares currently trade at a bit of a Price/Book premium of 1.06. VTG was one of the three noted in the Zacks note as being "in the most trouble." The August 28 close of 1.79 leaves VTG almost virtually exactly where it was a week ago despite wild fluctuations over the last week.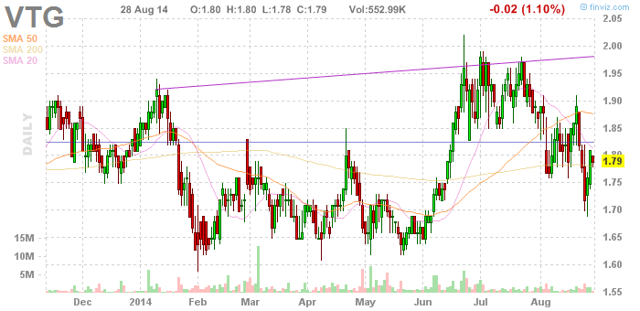 Two downgrades in the Offshore services on August 21, one for Tidewater Inc. (NYSE:TDW) and the other Hornbeck Offshore Services (NYSE:HOS) by Capital One Financial, contributed to down days for each stock as well. However, it is here that I see a good bit of potential for near-term investment. Both in fact have had a positive six sessions from August 21 through August 28.
Looking at HOS, which was down 1.29% on the August 21 session, has a PEG of 0.77 (very bullish) and a Mean Analysts Recommended score of 2.30, which indicates there is some confidence out there. While the short float is 14.54%, the consensus target price is $51.45, a 15% increase from the August 28 close of $43.42, which is almost 28% below the 52 week high of $59.93. HOS was up 0.56% in August 28 trading, proving again that it may not trade entirely in line with the sector, which will be a benefit if the rough seas continue.
TDW, also up 0.22% on August 28, presents an even stronger Bull case on metric analysis. The PEG is almost half of HOS at 0.46 (!!), and unlike HOS, it sports a dividend yield of 1.98% (low, but the best out of today's screen) and a Mean Analysts Recommended score of 2.30 (another day's best). The consensus target price is $55.33, a 9% increase from the August 28 close of $50.45, which is 19% below the 52 week high of $62.32. Possibly, the strongest metric that just literally jumps off the page for TDW is the Price/Book of 0.92, a 8% discount. A double sub-1 PEG and P/B is a very Bullish signal that I used recently on a sub-1 PEG and P/B screen. Out of all of these stocks I analyzed recently, TDW not only has the best metrics, but has a very compelling Bull case I will be watching carefully over the next few weeks.
Disclosure: The author has no positions in any stocks mentioned, and no plans to initiate any positions within the next 72 hours.
The author wrote this article themselves, and it expresses their own opinions. The author is not receiving compensation for it (other than from Seeking Alpha). The author has no business relationship with any company whose stock is mentioned in this article.