Adidas (OTCQX:ADDYY) and Nike (NYSE:NKE) are the global rulers of athletic footwear, apparel, equipment, accessories and services.
People should realize that they are now the chief shoemakers to the world as most people nowadays opt for the comfort and utility of sports shoes in their everyday activities.
63.5% of Nike's 2013 total revenues of $25.3 billion came from footwear and 47.4% of Adidas' $19.1 billion net sales in the same year came from that source. Adidas had reported (2013 Annual Report, p. 97) it produced 257 million pairs of footwear (that's all kinds) in 2013, and Nike sells 120 million pairs of shoes per year; though it doesn't provide information on its physical production in its annual report.
To be sure, these two are extremely predatory companies. In Pakistan, children were sewing Nike soccer balls for the princely sum of $0.60 a day. So we shouldn't wonder why manufacturing has died in the West.
What they are is a conduit of stuff produced with extremely cheap labor in Vietnam and China into more affluent parts of the world, where it can be sold for more. A pair of Nike shoes costs around $100 in the USA compared to $20 in China. Their brands are, I believe, unassailable, and this business model is not going anywhere soon.
Nike a more successful grower than Adidas
In 2013, and it has continued into 2014, Nike has been growing much faster than Adidas.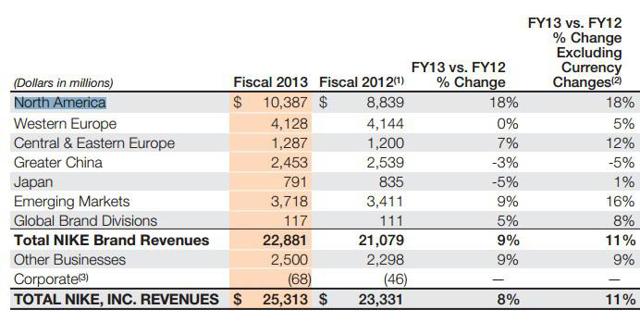 Source: Nike Annual Report 2013, p. 67

Source: Adidas Annual Report 2013, p. 126
I think that we can ascribe this poorer performance of Adidas to the fact that 'Western Europe', Adidas' home market with 26% of revenues, is not even its home market (that would be Germany), and Europe has been in a funk since 2007. Nike, on the other hand, derives 45% of its revenues from North America, a market far more dynamic than Europe.
2013 data

growth figures include Nike 2014 data

Nike

Adidas

P/E

26.47

18.87

Current yield

1.21%

2.54%

Gross margin

44.77%

48.79%

Operating margin

13.24%

7.18%

Net profit margin

9.69%

4.60%

Total revenues (USD millions)

25,313

19,129

Total revenues growth (4 years)

9.96%

8.69%

EPS (US dollars)

3

4.09

EPS growth (4 years)

11.37%

34.33%

DPS

0.96

1.98

DPS growth (4 years)

15%

43.88%
The above table shows clearly that Adidas has a lot of room for improving its margins.
Excessive expenses in the marketing field are also a dangerous area as they offer certain 'opportunities' for management - namely, to siphon off shareholders' money. US companies are run as they should be, with the interests of shareholders paramount. I hope Germany might move in this direction in the near future as I suspect Adidas can have no valid reason to have margins so much lower than Nike.
Adidas has spent far more lavishly on the recent World Cup in Brazil, though Mario Gotze's game-winning goal happened to be volleyed off of a Nike swoosh.
Double your yield with Adidas
Give me a business that sources sports footwear and apparel from the regions where workers have few rights and paltry compensation, then allow me to sell it under entrenched brands the world over. I'll take it any day.
Adidas, though a weaker corporation than Nike in many aspects, is too similar to this high flier (indeed, it is Nike's twin) to disregard it now that the stock has lost a quarter of its value in 5 months, while the rest of the market is soaring. Plus, Adidas pays dividend only once a year, so you can even save on those custody and dividend transfer costs.
Since these companies have essentially the same economics, I believe this is a good time to start investing in Adidas. As far as the future is concerned, history is the best indicator for the future, and past performance tells us that Adidas is able to grow as fast as Nike.
The recent weak results can be ascribed to liberal spending in the year of the World Cup, as well as tensions with Russia, which, with $1.32 billion sales, is a significant market for Adidas. Going forward, there is reason to hope that significant growth will return fast:
In the first half of 2014, currency-neutral adidas Group sales grew in all regions except North America. Revenues in Western Europe increased 6 percent on a currency-neutral basis, driven by sales increases in Germany, Spain, France, Poland and the UK. In European Emerging Markets, Group sales were up 21percent on a currency-neutral basis, with double-digit sales increases in all of the region's major markets. Currency-neutral sales for the Adidas Group in North America decreased 10 percent, mainly due to double-digit sales declines in the USA.

Sales in Greater China increased 8 percent on a currency-neutral basis. Currency-neutral revenues in Other Asian Markets remained stable, as sales increases in South Korea and India were offset by declines in Japan. In Latin America, sales grew 25 percent on a currency-neutral basis, with double-digit increases in most markets, in particular Argentina, Brazil, Mexico and Colombia.
Source: Q2 Adidas Quarterly Report, p. 17.
My point is: buy excellent companies when they are in distress, not when they are riding high. The recent fall in Adidas price, and the accompanying buying opportunity, is so far my greatest find of this year - a very difficult year for value investors.
Disclosure: The author has no positions in any stocks mentioned, and no plans to initiate any positions within the next 72 hours.
The author wrote this article themselves, and it expresses their own opinions. The author is not receiving compensation for it (other than from Seeking Alpha). The author has no business relationship with any company whose stock is mentioned in this article.
Editor's Note: This article discusses one or more securities that do not trade on a major U.S. exchange. Please be aware of the risks associated with these stocks.