I'm still re-evaluating all my current positions to see if any of them are attractive enough from a total return and valuation standpoint to continue adding shares, or if they've realized enough capital appreciation to warrant reducing my position. Having recently taken a look at my core holdings in Part 1, I turn my attention now to my "growth/peripheral" holdings - that is, those securities that generally don't offer a dividend (or their dividend yields are generally less than core holdings), and are more reliant upon capital appreciation to achieve total return.
Moreover, these tend to be more highly volatile issues, typically with a higher beta, tend to be more leveraged to cyclical factors like commodities prices or are simply tech-centric, and tend to be "growth-ier", momentum-based stocks. Though I've labeled these companies as peripheral holdings, that's not to say that I don't view them as long-term holdings, or that I don't think they can become "core" holdings in time. I just tend to keep them on a bit of a tighter leash.
Candidates for new money, these holdings should have the following characteristics:
An expectation for at least very high single digit (> 9%) to mid double-digit total returns over the next decade; and
Trade for at most 0.80 times a conservative fair value estimate based upon historical earnings trends, near-term earnings outlook, and historical valuation trends (in other words, must have a 20% margin of safety).
Here are the holdings in my portfolio with these characteristics:
What follows is another quantitative analysis of each company, as it applies to expectations of total return and estimates of fair value. Again, due to the scope of this article, I won't be doing a deep qualitative analysis into each company, except as it applies to earnings visibility and a rough estimate of fair value. As before, fair value estimates represent a statistically weighted average of discounted cash flows, historical valuations, and consensus analyst estimates. Except where noted, DCF values were derived from a Monte Carlo discounted cash flow simulator using trends in 10-year financial data derived from Morningstar. Historical valuations are derived from a exponential moving average of P/E, P/B, and P/S applied to analyst forward estimates, statistically weighted by standard deviations. Analyst estimates are derived from Finviz and Yahoo!Finance.
1) eBay: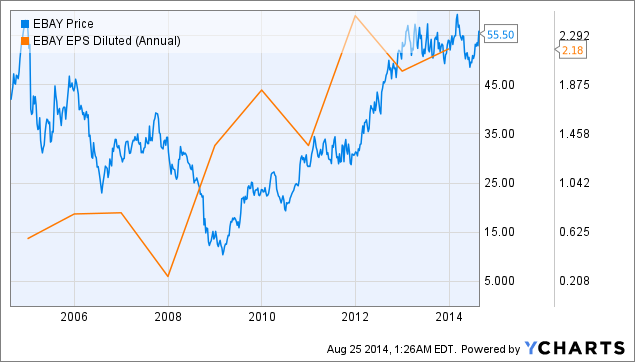 Quantitative Analysis:
Forward Free Cash Flow Yield
8%
Free Cash Flow Growth
6%
FCF Total Return
14%
Average ROIC/WACC
1.1
Morningstar Moat
Wide
Fair Value Estimates*
M*: $63
Historical: $70
Consensus: $60
Estimated Fair Value
$64.00
Margin of Safety
12.6%
My discounted cash flow model for eBay is unreliable, so I rely upon Morningstar's estimate. Interestingly, historical valuations suggest a price significantly higher than what the market is currently pricing for the stock. The company's stock has been in a well-defined trading range for the better part of a year, as the company bounds back and forth between bad news events (the data breach back in the spring) and good news events (the potential spinoff of Paypal). I think long term the company will benefit from its role as an online commerce facilitator, and certainly, the increasing numbers of Marketplace and Paypal users bodes well for the company's future prospects.
However, less happily, average selling prices have been declining, and with GMV still trailing its competitors, the company has got some work to do (which likely explains why fair value estimates trail its historical valuations). And of course, its legacy auction services are in secular decline. Given all this, I'm not fully convinced that the spinoff of Paypal will unlock as much value as others seem to think it will, seeing as how it's probably the company's strongest segment. Still, unlike online peer Amazon, eBay is consistently profitable, generating generous amounts of cash. Given how shares have rebounded following the recent Paypal announcement, I'm not sure that there's a sufficient margin of safety here for new money, but I'm willing to hold.
2) Core Labs: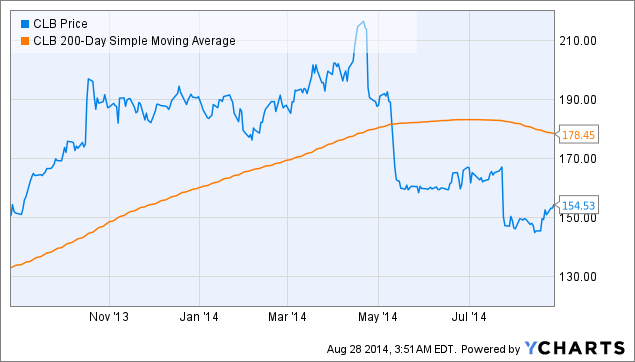 Quantitative Analysis:
Forward Free Cash Flow Yield

5.3%
Calculated FCF Growth
5.6%
FCF Total Return
10.9%
Expected Earnings Growth
7.05%
Dividend Yield
1.29%
Anticipated EPS Total Return
8.34%
Average ROIC/WACC
3.5
Morningstar Moat
Wide
Fair Value Estimates
DCF: $168
Historical: $143
Consensus: $177
Estimated Fair Value
$162.00
Margin of Safety
4.6%
Core Labs' stock was hit hard earlier this year, with shares falling some 25-30% from its 52-week highs after the company guided lower on the back of continued softness in the oil E&P market. That said, my thesis for Core Labs bears a lot of resemblance to my thesis for Geospace Technologies, which is that this temporary softness is going to abate in time, and that the demand for Core's services is only going to increase as finding and preserving oil reservoirs becomes harder and harder to do. Though my DCF calculation is well below analyst consensus estimates, it's also well above historical valuations, so the model does incorporate an assumption of Core being able to leverage this demand into significant operating margin expansion.
Unlike GEOS, though, CLB has had more consistent (read: less lumpy) earnings and revenue growth over the years, with nearly unparalleled returns on invested capital, which makes envisioning a moderate expansion of operating margins easier to envision for this high-quality, wide-moat firm. Also unlike GEOS, shares don't really trade for a significant margin of safety, so I won't be adding money here, though I think it's a reasonable long-term hold. (On that note, as I've said elsewhere, I'd want a larger margin of safety before adding to GEOS, as well.)
3) MasterCard: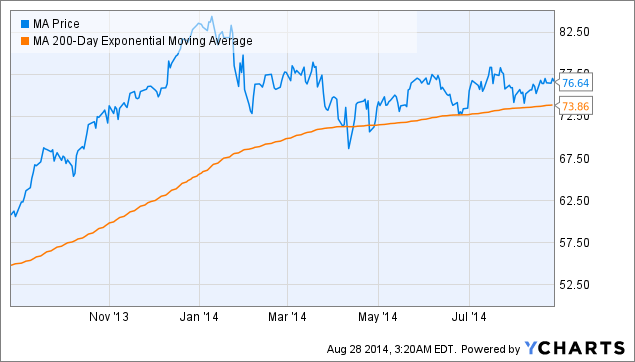 Quantitative Analysis:
Forward Free Cash Flow Yield
6.9%
Calculated FCF Growth
8.0%
FCF Total Return
14.9%
Expected Earnings Growth
8.01%
Dividend Yield
0.58%
Anticipated EPS Total Return
8.59%
Average ROIC/WACC
3.1
Morningstar Moat
Wide
Fair Value Estimates
DCF: $77
Historical: $70
Consensus: $89
Estimated Fair Value
$81.00
Margin of Safety
5.3%
I fully admit that the thought "I don't even bother with cash anymore" was the bulk of my investment thesis when I bought MasterCard about a year ago, prior to the split. Since that time, shares have largely treaded water as market momentum has shifted away from growth-ier plays to safer havens. Longer term, though, my thesis, simple as it is, remains intact; MA continues to post double digit revenue growth, and with share buy-backs juicing earnings, double digit total returns seem reasonable over the long-term. This is another holding with excellent long-term prospects and secular tailwinds, but probably fully valued at the moment. I intend to hold.
4) Oracle: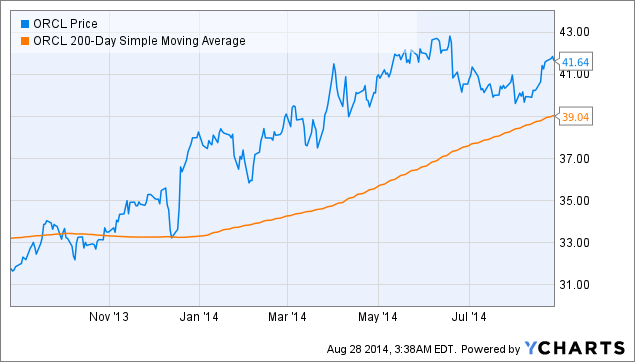 Quantitative Analysis:
Forward Free Cash Flow Yield
8.2%
Free Cash Flow Growth
5.30%
Free Cash Flow Total Return
13.5%
Expected Earnings Growth
5.30%
Dividend Yield
1.15%
Average ROIC/WACC
1.7
Morningstar Moat
Wide
Fair Value Estimates
DCF: $43
Historical: $52
Consensus: $45
Estimated Fair Value
$45.00
Margin of Safety
7.47%
I guess some readers may find it surprising that I include Oracle in this list, as it's considered by some to be "Old Tech," much in the same way IBM is. Like IBM, assumptions about future growth prospects are a bit more pessimistic than historical valuations would have one believe, and unlike the other companies on this list, Oracle faces stiff secular headwinds as companies transition to the cloud and SAAS offerings. That said, though, people don't seem to be leaving Oracle in droves just yet, thanks largely to switching costs associated with moving on from its database and middleware products once they are implemented.
Folding in those negative assumptions about the future gives a cloudy estimate of fair value, though I think the generous amounts of cash Oracle generates offer excellent prospects for total return. I regret not buying more Oracle shares earlier last year when I had the chance to get them in the low to mid-30s, as I now seem them as fairly valued. I intend to hold.
5) Priceline Group: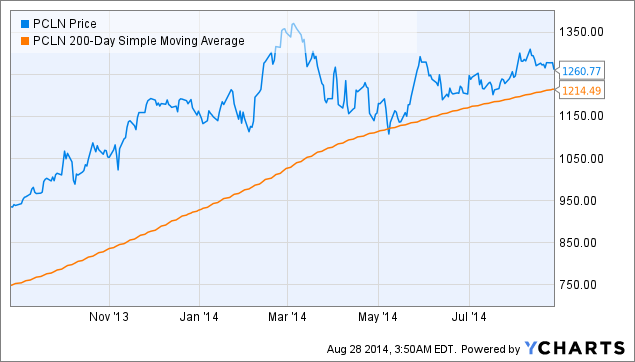 Forward Free Cash Flow Yield
5.9%
Free Cash Flow Growth
15%
Expected Earnings Growth
15.00%
Dividend Yield
-
Anticipated Total Return
20.00%
Average ROIC/WACC
3.2
Morningstar Moat
Narrow
Fair Value Estimates
DCF: $1449
Historical: $1451
Consensus: $1489
Estimated Fair Value
$1,469.00
Margin of Safety
14.17%
Priceline's increasing reliance upon an agency model, which is utilized by Booking.com and generates no cost of revenue (!) is driving progressively widening margins. A review of the company's 10-Ks is actually fairly interesting in this regard; one need only look at the introduction of agency revenues into the company's financial reporting to see how drastically earnings growth has accelerated over the past few years. Moreover, the company continues to grow at a phenomenal rate, adding more and more hotels and other accommodations to its sites, which ought to make the sites more useful to (and thereby draw in) more potential travelers, which, ought to drive more hotels to utilize Priceline's services - and so forth. There's probably a limit to this, but I'm not sure where it is. The fact that the company is now growing into China bodes well for its future prospects, and I'm confident in high double digit total returns for the next few years. Despite shares not trading at beyond my desired 20% margin of safety, I find them quite attractive and it wouldn't take much to make me pull the trigger on them right now.
That, and for some reason I love the Booking.com commercials, for some odd reason. Not sure why.
6) Petsmart: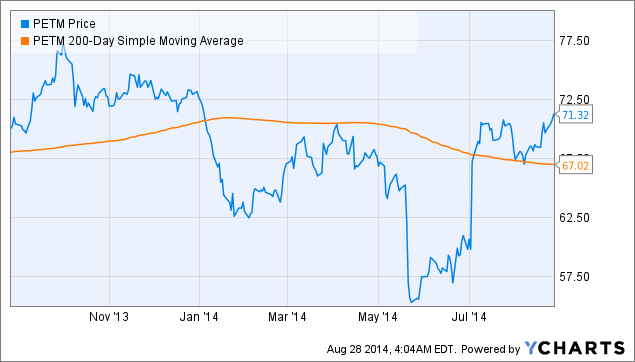 Quantitative Analysis:
Forward Free Cash Flow Yield
5.3
Free Cash Flow Growth
3.53%
Expected Earnings Growth
3.52%
Dividend Yield
1.09
Anticipated Total Return
8.8%
Average ROIC/WACC
3.2
Morningstar Moat
Narrow
Fair Value Estimates
DCF: $73
Historical: $72
Consensus: $64
Estimated Fair Value
$70
Margin of Safety
-1.9%
I purchased PetSmart earlier a few weeks ago when the stock was trading in high 50s (I think I had just picked up TJX as well - it was like a shopping spree for retail companies). Since that time, shares have rocketed back up to the low $70s based on speculation of a private-equity takeover. Naturally, this price movement doesn't take into account the firms' fundamentals, which, though weakened of late, still are enviable. PetSmart continues to generate ROICs that outrun its cost of capital, and I think the threat from online retailers in the pet supplies space is perhaps a bit overblown. (Case in point: we'll see how much the Pet360.com acquisition actually helps PETM in the coming quarters. I'm guessing some, but not in a transformative amount.) However, shares are fully valued, and given the lower total return that I'm seeing with the stock, I'm not interested in adding more to my stake at this point. I'm willing to hold, but if price action takes shares above $76, I'll probably be wiling to move on, even if that means losing out on a private equity premium.
7) TJX Companies: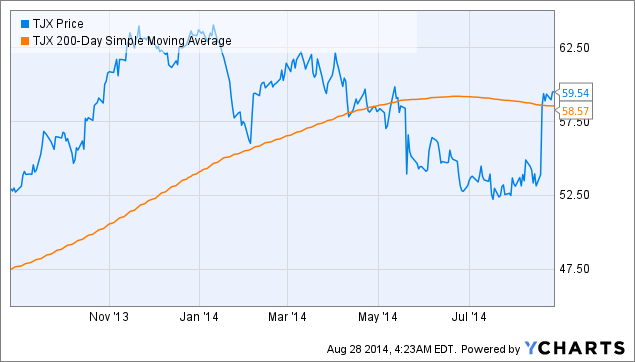 Quantitative Analysis:
Forward Free Cash Flow Yield
5.4%
Calculated FCF Growth
4.6%
FCF Total Return
10.0%
Expected Earnings Growth
4.53%
Dividend Yield
1.18%
Anticipated EPS Total Return
5.71%
Average ROIC/WACC
2.4
Morningstar Moat
Narrow
Fair Value Estimates
DCF: $67
Historical: $55
Consensus: $64
Estimated Fair Value
$64.00
Margin of Safety
7.00%
As I've written elsewhere, I think TJX shares still have some ways to go before they're fully valued, though they're definitely less attractive now than they were a few weeks ago when shares were languishing in the low $50s. Nevertheless, I think the company's still has a great runway for growth. Management continues to execute on growth targets for store expansion; inventory turns (critical to the company's hyper-efficient business model) are continuing to increase into the 13x range; and most recently, same store comps showed robust growth, making up for the winter season. Unlike other retailers, TJX's business model is inherently about the in-store experience (the "treasure hunt"), and it benefits from the scale of its network of purchasers who keep abreast of local trends and keep the shelves stocked with in-demand fashions. I still believe that management can derive additional growth in Europe and North America to drive not just linear revenue growth, but leverage its outstanding inventory management system and low overhead costs to accelerate earnings growth as well. Though shares are getting closer to more fully valued, I'll be happy to add to my stake on further weakness.
Conclusion:
As with Part 1 of my personal portfolio analysis, this wasn't an in-depth look at each of these companies, but rather just a journal of how I'm thinking about treating each of these holdings in the short- and long-term. As with most of the market, my holdings are increasingly looking fairly valued, and I generally prefer a larger margin of safety before adding additional capital. I view these as high quality companies that I'm willing to hold for the long term, though at this point, I think PetSmart shares are getting a bit richly valued for my taste. Priceline Group looks to be the best deal in the bunch with outstanding prospects for total return, and it wouldn't take much weakness for me to add to my stake. Nevertheless, the picture with my portfolio largely mirrors that of the market at large: fully valued, not much in the way of bargains, and a few holdings which are getting a bit too rich. As before, I'm open to your ideas and suggestions. Best of luck to all investors.
Disclosure: The author is long EBAY, CLB, MA, ORCL, TJX, PETM, PCLN.
The author wrote this article themselves, and it expresses their own opinions. The author is not receiving compensation for it (other than from Seeking Alpha). The author has no business relationship with any company whose stock is mentioned in this article.
Additional disclosure: General Disclaimer: This article provides opinions and information, but does not contain recommendations or personal investment advice to any specific person for any particular purpose. The author is not a professional financial adviser. Do your own research or obtain suitable personal advice. You are responsible for your own investment decisions.