The eurozone is on the verge of entering a deflationary period as we can see on the inflation chart below from Tradingeconomics. The inflation rate for the eurozone came in at just 0.3% for August 2014.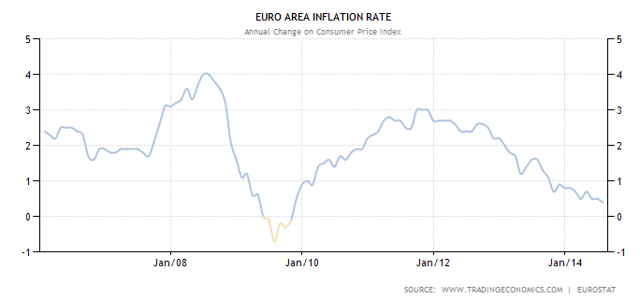 The chart below from the ECB shows long-term interest rates with maturity of 10 years. As you can see, bond yields are plunging, indicating subdued growth expectations.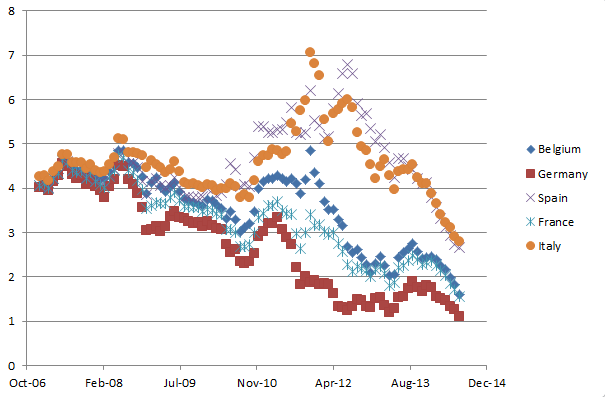 'la Caixa" research recently put up a chart that shows that excess liquidity in the eurozone is drying up. We are now going under the 150 billion euro threshold level of excess liquidity, which is very important. This threshold indicates that market interest rates are reconnecting to the refinancing rate. This also means that cutting deposit rates has little effect anymore. As you know already, the ECB cut deposit rates into negative territory on 11 June 2014 to boost the economy. These moves will have little effect as liquidity is drying up.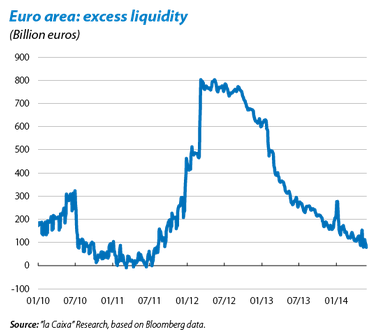 We already know that the ECB is initiating TLTRO (Targeted loans). The ECB is offering banks a first tranche of the TLTROs on 18-Sep-2014, with a second shot in December. It expects total take-up of 450-850 billion euros.
So chances are very real that the ECB will start printing money in Q4 of 2014. The following chart from FRED shows that the ECB has been in a deleveraging mode on its balance sheet, while Japan and the U.S. were actively buying assets. Now that the U.S. is tapering, it is very likely that the ECB will pick up the slack.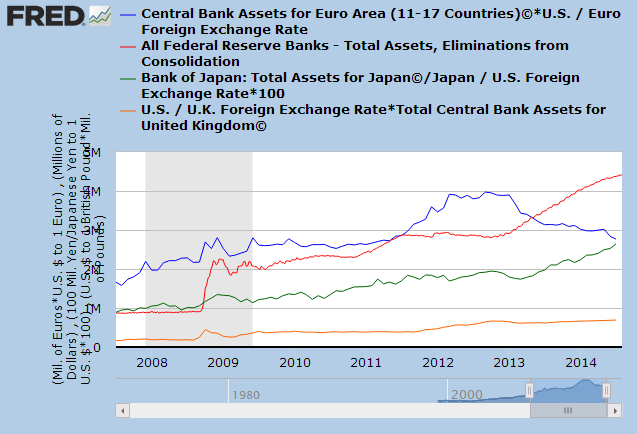 This also means two things. When the QE starts it will put pressure on the euro and eurozone bonds. Bond yields will start to rise as we learn from the evidence of the U.S. asset purchases. We can see this in the following correlation between U.S. bond yields and Federal Reserve asset purchases. The same will happen for the eurozone.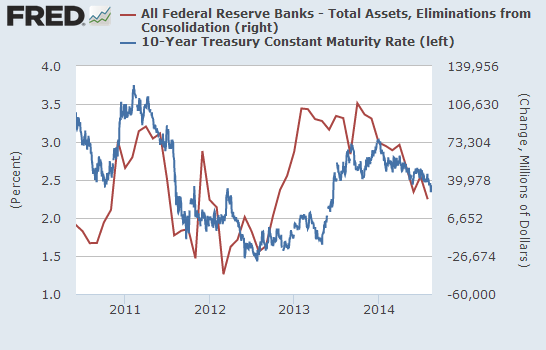 On the EUR/USD exchange rate front we already see that the euro is rolling over.

Conclusion: QE from the ECB is very real and investors can benefit from this by selling the euro (NYSEARCA:FXE) now and selling eurozone bonds. They can buy U.S. bonds (NYSEARCA:TLT) and the U.S. dollar (NYSEARCA:UUP).
Disclosure: The author has no positions in any stocks mentioned, and no plans to initiate any positions within the next 72 hours.
The author wrote this article themselves, and it expresses their own opinions. The author is not receiving compensation for it (other than from Seeking Alpha). The author has no business relationship with any company whose stock is mentioned in this article.