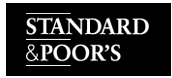 Planned changes to the U.S defense budget and certain weapons systems announced earlier this week by Secretary of Defense Robert Gates will likely only have a limited effect on the credit quality of most rated military contractors, says Standard & Poor's Ratings Services in Spending Changes Announced By The Pentagon Will Have A Mixed Impact For Defense Contractors.
The programs to be cancelled include the surface launched advanced medium range air-to-air missile (SLAMRAAM; prime contractor Raytheon Co. (NYSE:RTN)), the non-line-of-sight missile system (NLOS; Lockheed Martin Corp. (NYSE:LMT)), and the expeditionary fighting vehicle (EFV; General Dynamics Corp. (NYSE:GD)).
None of these programs are material contributors to revenues or earnings for the respective contractors, but the EFV, which is currently in development, could have been a large program for General Dynamics if produced in planned numbers.
"Overall, the changes announced by Sec. Gates are in-line with our expectations for slowing defense budget growth and the cancellation or restructuring of programs that are over budget, behind schedule, or no longer needed," said Standard & Poor's credit analyst Christopher DeNicolo. "The longer-term impact of some of the proposals, including a modest reduction in the size of the Army and Marine Corp in 2015, is difficult to gauge at this time. Large defense contractors generally have solid balance sheets and cash generation, as well as strong program diversity, limiting the impact of program changes, although revenue and earnings growth will be modest"
"Smaller, less-diversified contractors are more at risk, but could also benefit from some of the new priorities. Also, if defense contractors respond to reduced earnings prospects by ramping up materially share repurchase programs to maintain earnings-per-share growth, credit quality could be harmed."