More Disclosure: I wrote this at a Tim Hortons. (Or at King Hortons, Burger Tim? There's no new corporate name at the moment)
On the surface, this looks like a funny marriage, one of those marriages where everyone is asking "how are these two together"? An iconic U.S. burger chain is in talks of swallowing the unofficial Canadian national symbol. In the media the topic is spun as a tax controversy. What seems to be at work here is the reverse snowbird effect: A Miami-based company moving north of the border to apparently save on taxes. But then I had some time to digest the news. If you look beyond the headlines, it appears Tim Hortons (THI) and Burger King (BKW) could use each other's expertise. Tim Hortons could benefit from Burger King's worldwide expertise in 100 countries, especially in the U.S., an area where Tim Hortons has been struggling expanding and Burger King could use a successful business, growth, and a good cup of coffee.
I'm amazed at how little information is provided in articles regarding the transaction. It's overwhelming that with the tsunami of news regarding the deal, little is attributed to the elements that really matter such as free cash flow, operating metrics, and valuation among other things. The more I read the more my head is filled with useless information and noise (Protest this, boycott that, and petition this). Not surprisingly, the mainstream media is focused on the emotional aspect of the transaction. I understand when it comes down to coffee, burgers, and doughnut, consumers can get really emotional, as this article, "Hands off my Tim Hortons!" demonstrates. The media also likes throwing big numbers around to impress without explaining anything ($12 billion…that's like so big…wooaaah). What the media should be busy explaining is "what's $12 billion in relation to its valuation"? Good luck getting an answer. I can't blame them for that either. Start educating your viewers and the advertisers are gone (and somebody's job). Emotions and drama bring in ratings and clicks, not balance sheet analysis.
Since I am not here to entertain and Burger King has reassured that they won't touch the coffee, what really matters is what does this mean for the shareholder? The focus of this article is to educate the reader and to make sense of the transaction. Because of time and information constraint, this is not a valuation report but instead information to help you orient yourself. The public has seized on the tax inversion aspect of the transaction to the exclusion of all other reasons for the acquisition, which seems bigger in this case. Burger King executives insist they are not trying to escape U.S. taxes, that it simply wants Tim Hortons. I will try to sort it all out and stick to what's pertinent.
The following links are where you can start informing yourself. It's where the story broke out and the official information from both parties.
The Tim Hortons-Burger King Story is Interesting
There's nothing material here except an interesting story.
Despite the sense of patriotism many Canadians may feel while drinking Tim Hortons coffee, the company has been owned by a large U.S. burger chain before. In 1995 Tim Hortons was acquired by Wendy's for $400 million. Tim Hortons became officially "American" with its American overlord and American headquarters. But instead of a national revolt, the growth of the chain is expanded and joint stores popped up across Canada.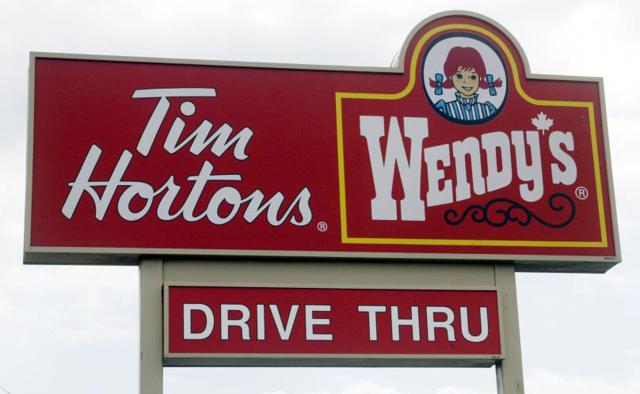 Photo Credit: Mike Cassese/Newscom/RTR
In 2006, Wendy's is pressured from activist Pershing Square Capital Management, run by Bill Ackman, and Trian Fund Management, to spin off Tim Hortons as a stand-alone company. Wendy's complies and under strong demand the IPO of price was raised from $21 to $27. However, such a popular name attracted a lot of hot money which fueled the stock to close up about 22.5 percent on its first day of trading.
In 2009, Tim Hortons, as a stand-alone company, renounced its American citizenship and once again became Canadian when it moved its headquartering to Oakville Canada because of lower corporate tax.
Summer 2014, Burger King is in talk of acquiring Tim Hortons to also take advantage of lower corporate tax and other reasons. Another familiar name is back in the mix: Bill Ackman, who is a minority shareholder of Burger King. According to The Wall-Street Journal, Ackman controls about 11 percent of Burger King through Pershing Square. 3G Capital is the majority owner of Burger King. Ironically Bill Ackman is once again a minority shareholder of a burger chain that will own Tim Hortons. Below are some lines from a letter Mr. Ackman wrote to the CEO and Chairman of Wendy's in 2005, where he was very persuasive to get Wendy's to spin off Tim Hortons.
Given Tim Hortons' substantial free cash flow growth and its expected contribution of more than half of the Company's total 2005E operating income, we believe that the most effective and immediate way to create shareholder value would be to separate Tim Hortons from the Company as a standalone publicly traded enterprise. Such a transaction would have several long-term strategic benefits. Spinning off Tim Hortons would likely boost managerial productivity for both entities by improving resource allocation and overall corporate focus. The public listing of Tim Hortons would allow each of Wendy's and Tim Hortons' management teams to be compensated based on the performance of the business it runs…" -
And it gets better:
Clearly, our voice is not alone. We believe that many Wendy's shareholders and members of the Wall Street research analyst community have frequently questioned the benefits of having Tim Hortons under the same corporate structure as Wendy's given the minimal synergies that exist between the two companies. Indeed, the majority opinion on the Street is that Wendy's could create significant value for its shareholders by pursuing a spin-off. " - Letter from William Ackman to the CEO and Chairman of Wendy's on July 11, 2005. Source: SEC
One can't help asking "Why can't Wendy's, but Burger King can, own Tim Hortons?" My guess is management quality.
Overblown Reactions
To get Canada to calm down, Tim Hortons took a full page ad in the national paper to reassure Canadians.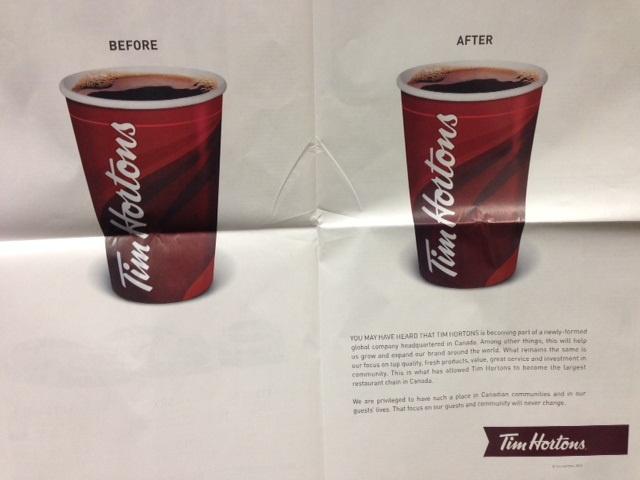 Source: Tim Hortons ad in Globe & Mail on Wednesday, August 27, 2014.
Consumers and investors from both sides of the border are fuming and seem confused. Americans are enraged because Burger King is leaving the U.S. (again and again) to dodge taxes, and Canadians are angry because they think Tim Hortons is becoming American (again). Politicians are getting their sound bites in and there's talk of boycott and such on both sides of the border.
In light of the details of the transaction, speculation and everybody with an opinion decided to fill the void. The reactions reported are exaggerated and they will eventually die down. Despite everything that's being said, people will still buy Tim Horton's coffee in Canadian decorated cups and life will go on as usual. In the U.S., if Americans want to play the patriotic card because Burger King is a "tax dodging company," maybe they should also look at the company that makes their iPhone to see how much taxes they pay. Dear consumers, Tim Hortons will keep its Canadian heritage and Burger King will not have a maple syrup tap at the soda fountain stand.
In Canada, we have bigger problems, like bringing the Stanley Cup back to Canada.
Is the New Burger King-Tim Hortons Really Canadian?
It's a good question. It seems that a lot of people are confused on the citizenship of Tim Hortons under a Burger King deal. On paper, Burger King would become Canadian, therefore Tim Hortons remains Canadian. But here's where it gets confusing. The new entity, domiciled in Canada, will be majority owned (51%) by 3G Capital, a Brazilian global investment firm owned mostly by Brazilian billionaire Jorge Paulo Lemann who lives in Switzerland. To add to the confusion, 3G Capital is a Cayman Islands private equity fund that operates from New York.
To my understanding, Tim Hortons' principal home is Canada but it's owned by foreigners. I guess that would make Tim Hortons a legal immigrant in Canada.
To My Americans Friends: What's Tim Hortons
Unless you are from the Buffalo, you might be wondering what or who is Tim Horton. Regarding the who part, Tim Horton was an NHL player. He cofounded Tim Hortons with his partner Ron Joyce. Concerning the what, it's a Quick Service Restaurant (NYSE:QSR) that's very famous in Canada. QSR is the industry term for fast food restaurants. Canadians think Tim Hortons is a very special place and are proud of the place, and over time they have developed a very deep connection with the establishment. In Canada, Tim Hortons is a cultural mega icon. It's up there with hockey and maple syrup. Marc Caira, CEO of Tim Hortons, illustrates that special relationship with the best line during the conference call: "The Timbits have become as much as symbol of Canada as the Beaver or the Mountie."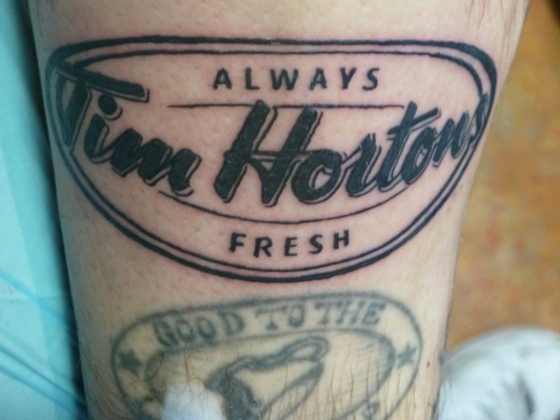 Source: Everycup.ca
Why is it so special? It might be shocking to a new comer that the place that's so ordinary has a cult like following. I'm a frequent consumer and after all Tim Hortons is just your average cup of coffee and the food is ordinary. Even with superior coffee and bigger donuts somewhere else, Tim Hortons is too engraved in our DNA to look anywhere else, which explains its 77% control of the Canadian brewed coffee market. So how do you explain to an American, or an outside investor, why Canadians are so patriotically loyal to Tim Hortons?
The best way to answer that question to an American is with a question: Why are the Dallas Cowboys "America's Team"? Why is America so fascinated with a team that hasn't seen success in twenty years? There are 31 other teams that you could cheer for. Nobody can tell me why, it just is.
This is not a scientific response made in a controlled environment. It's certainly not the best analogy since Tim Hortons is very successful and the Cowboys are not. The point I'm trying to make is it's extremely difficult to convert somebody. Once you captured the heart and mind of a person, which Tim Hortons did, it's an intangible that you can't measure. To stretch my point, if I start a new better religion tomorrow, it won't convert people.
However the American customer does not care about the Canadian emotional aura surrounding Tim Hortons. In the U.S. Tim Hortons is just another regular coffee chain trying to gain market share. The question Tim Hortons needs to answer is why the American should go to Tim Hortons instead of Dunkin Donuts? It will take more than a love story. Since loyalty isn't the American customer's strong suit, Tim Hortons needs to offer the best deal, the highest value, and an excellent pleasant experience to grab their attention.
What We Know
Basically, we know that both brands will remain independent and we can expect Tim Hortons to take an international boost. If a merger is completed, it would become the world's third largest QSR chain with 18,000 locations in 100 countries and $22 billion in sales.
The terms of the transactions proposed are as follows:
Burger King would pay CAN$65.50 in cash for every Tim Hortons share already out there. In addition to that cash, every Tim Hortons shareholder would get 0.8025 shares in the new company
Shareholders also would have the right to choose an all-cash or all-stock option.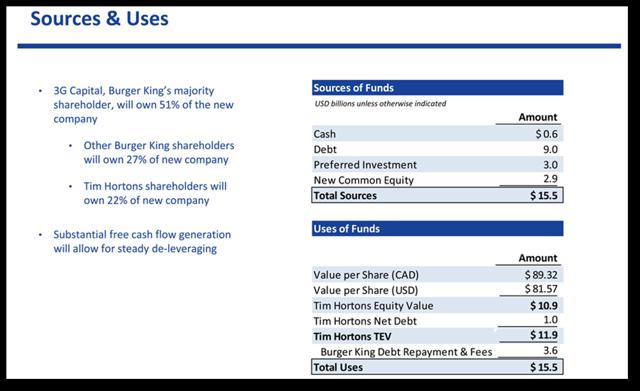 Source: Slide 27, Tim Hortons & Burger King's Presentation
As the graph above indicates, 3G Capital will retain all of its investment in Burger King by converting its roughly 70% equity stake in Burger King into equity of the new company. 3G will be the majority shareholder of the new company with 51% of the shares. This gives them the control to implement the master plan they have for Tim Hortons. 3G is raising $14.9 billion in form of common equity, debt, and preferred shares at 9 percent (thanks to Mr. Buffett). 9 percent in this low interest world is very attractive.
Burger King announced they have obtained commitments for $12.5 billion of financing to fund the cash portion of its merger with Tim Hortons, including a $9.5 billion debt financing package led by JP Morgan and Wells Fargo. On the call Burger King said the debt would price at Libor plus 300 basis points, with the bonds a bit behind that.
On the conference call, executives said that the new company will have a leverage ratio (Debt to EBITDA) of roughly 5x, more or less in line with its franchise-restaurant peers. But it will be 7 times levered through the preferred stock, which only sort of counts as leverage.
That's a lot of debt but Tim Hortons is a very stable franchising business which enjoys predictable cash flow streams.
We also know that Burger King has the intention of keeping both brands as separate standalone companies. Just like Cadillac and Chevrolet are independent brands operating under GM. Tim and BK are expected to benefit from each other's practice. This is based on the following statements:
From the press release: "Tim Hortons and Burger King to Operate as Independent Brands While Benefiting From the New Company's Global Scale and Reach, and Shared Best Practice"
From Tim Hortons CEO Marc Caira: "You're not going to see any interaction between the restaurants"
On selling Tim Hortons coffee at Burger King, Daniel Schwartz, CEO of Burger King said: "Absolutely not."
Conspiracies Theories
An interesting conspiracy floating around is the possibility of seeing Canada's Prime Minister Stephen Harper getting personally involved to squash the deal to gain popularity among voters before next year's elections. Mr. Harper is due for reelection in 2015 and could use a bump in the polls. Under the Investment Canada Act, the deal needs to pass the "net benefit to Canada" test to satisfy Federal regulators. This includes such things as its potential effect on employment, exports and productivity. This is a very low probability event in my opinion that Prime Minister Harper would personally get involved. A done deal could actually encourage more companies to move to Canada. It's also under Harper's government that corporate taxes dropped to the current level and as a result has attracted companies.
Another talking point: Did Burger King just issue a direct challenge to the White House? Greg Valliere of Potomac Research says that Burger King's actions are a direct statement to the White House and the Treasury. There has been talk of legislation to limit tax inversions but good luck getting anything done with the current Congress. The U.S. needs a tax overhaul, not another piece of legislation bandage.
Both of these are conspiracies with no legs and are just an interesting talking point.
Canadian Taxes
Even though Burger King's executive insists it's not a tax play, the tax controversy is dominating the conversation. Let's examine more closely what it's about.
Under the current leadership, Canada has been lowering their corporate tax rate. Canada's corporate tax rate of 26.1% is not exactly considered "low" but it's just in line with the average rate of the OECD at 25%. At 39.1%, it's the U.S. that is now suffering the consequences from not updating their corporate tax code. American politicians should stop playing the anti-U.S. card on their multi-nationals and actually fix the problem but good luck getting anything done with the current Congress. Even Warren Buffett, the moral compass of corporate America is behind the deal.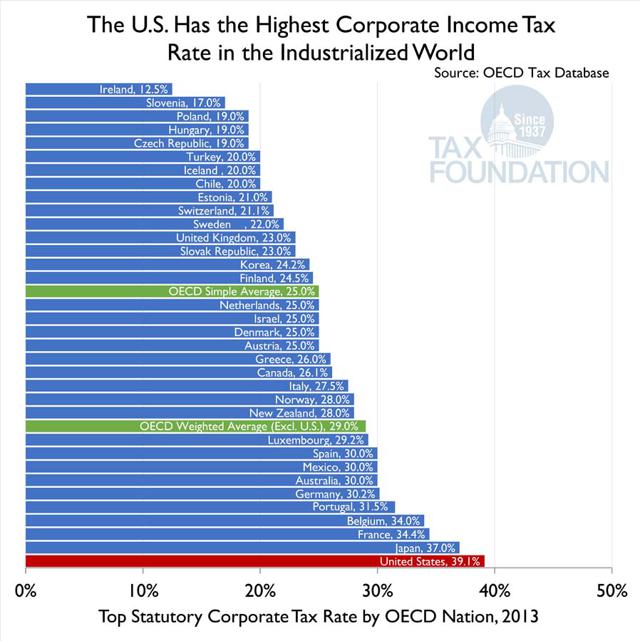 Source: Tax Foundation and OECD Tax Database
Canada's federal corporate tax rate is 15%. Since the corporate headquarter will be based in Ontario, the province will add another 11.5% for a total of 26.5%. This isn't much lower than BK's effective tax rate last year which is closer to 27%. I am not a tax expert, but BK would still be on the hook for U.S. taxes for sales made in America. I am not sure how much tax savings would be generated but a look at Valeant Pharmaceuticals could give you clues. The WSJ article points out that Valeant pulled the same move in 2010 when it domiciled to Canada. Valeant now has a tax rate less than 5%.
Most Canadian multi-nationals don't pay 26.1% as this article in Canadian Business points out, "Why are some Canadian companies paying almost no tax?" Below are bits and pieces of the article.
The government has been creating tax loopholes for business while clamping down on regular taxpayers… For instance, we found that Canadian Pacific Railway paid an average effective cash tax rate of just 1.8% over the past decade. Manitoba Telecom paid 4.1%. Gildan Activewear paid 5.5%. And First Capital Realty has gone for years without paying any cash taxes at all."
If 3G reads the article above, I am pretty confident that the new corporate entity will pay way below the 26.1%.
If it's Not Taxes, What is it then?
Burger King and Tim Hortons claims that the transaction is about growth, growth, and more growth.
Alex Behring, executive chairman of Burger King and managing partner at 3G Capital:
I would also like to take a minute to address the story line that has emerged in the media, this is not a tax driven deal, this transaction is fundamentally about growth and the focus is on creating value to accelerated international expansion for both brands."
More from Mr. Behring:
One of the key value drivers of this transaction is the potential to significantly accelerate Tim Hortons' international growth potential, like we did with Burger King, by leveraging our master franchise joint venture model, our network of global partners and the vast experience of our global management and global development team members, we see no reason why we can't bring the double-double to the rest of the world. The real driver here is the growth, and the ability to take such a strong and beloved brand internationally."
Burger King CEO Daniel Schartz lays it all out on the conference call:
Burger King has and will continue to pay taxes in the United States, Tim Hortons has and will continue to pay taxes in Canada and when you look at why we get so excited about this transaction, it's about the growth that's to come for Tim Hortons internationally and in Burger King we've been so successful bringing the brand around the world accelerating the pace of growth and as I said this morning on one of our earlier calls, our phones are already ringing off the hook to take this great brand Tim Hortons around the world and that's what's going to make this a powerful transaction in the global powerhouse in the quick service restaurant industry."
Before the merger announcement, Tim Hortons announced plans to open another 500 outlets over the next five years in Canada, as well as 300 in the U.S. and 220 in the Middle East. That slow growth plan will be scrap under a Burger King/3G ownership. I'm basing that assumption on the fact 3G's previous work at BK. 3G took Burger King's unit opening rate from 150 new units a year to 700 last year. If 3G wants to monetize this deal, they will have to open a lot of new stores. Tim Hortons looks a little like what Burger King did when 3G acquired it; barely any international presence, and in Tim Hortons' case only 1% of its units is located outside Canada and the U.S.
Management and the 3G Diet
In 2004, 3G was founded in New York to buy U.S. companies with the cash they'd earned from takeovers and turnarounds in Brazil. They are notorious cost cutters. Bloomberg reports that at Anheuser-Busch, employees no longer have access to free beer. At Heinz they also closed 5 plants. At Burger King, it's forbidden to make color copies without permission. Even the creepy bearded mascot, the King, saw the chopping board.
3G Capital should copyright the motto "3G Diet", because it's a real program that yields real results. They are the P90x of improving margins. One of 3G Capital's partners, Carlos Alberto Sicupira has a favorite phrase: "Costs are like fingernails: You have to cut them constantly."
The body of work on 3G Capital is extensive. I won't rewrite everything that has been said but I will point out three interesting read that will give you a good feel on the group.
Financials
It's no secret that Tim Hortons operating metrics lag industry peers. Bloomberg News reports that Tim Hortons' profit margin was 25 percent last year, compared with 50 percent at Dunkin' Brands, a comparable business. The problems also attracted two activist hedge funds to take position in the company last. Tim Hortons has listened and some changes were implemented such as taking on more leverage.
Below are some brief financial stats on both companies.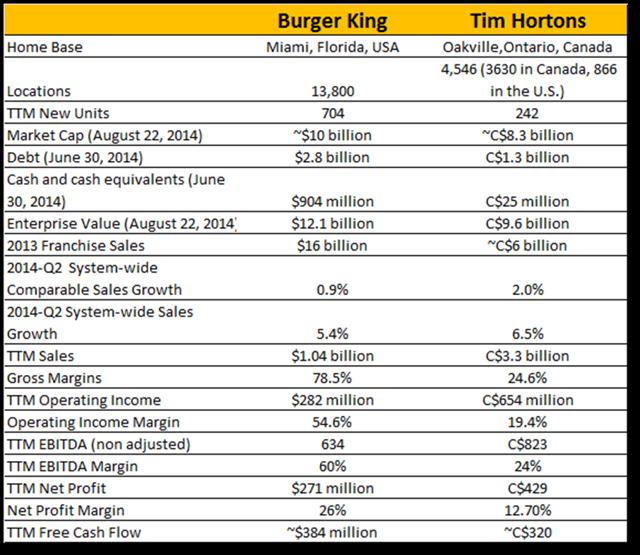 How come the smaller Tim Hortons produce so much more money than Burger King? Tim Hortons benefits from distribution sales. These are sales of products, supplies, and restaurant equipment shipped directly from the company's warehouses. Burger King mostly relies on franchise royalties and fees and real estate. The tables above also points out the BK's margin are much larger than Tim Hortons.

Source: Ycharts
The table above demonstrates what 3G has been able to accomplish in terms of increasing gross margin. Just in the last quarter, Q2, gross margin stood at 80%, compared with 26% for Tim Hortons. I don't expect Tim's margin to get to 80%, since the business model is slightly different, but there's room for plenty of improvement.
On cost cutting, we saw what 3G did with BK by doubling its gross margins since 2010. Just on SG&A, Burger King spends $16k per restaurant compared to $36k for Tim Hortons. The 3G diet will be prescribed.
In the first year of acquisition reported numbers will be all over there place. In the figures there will be a bunch of one-time expenses to cut cost and you need to dig in the footnotes to have a better understanding. Look for a heading called "Restructuring and Productivity Initiatives", this is where a lot of the dirty work is explained. And expect a boilerplate phrase like the following one:
The Company invested in restructuring and productivity initiatives as part of its ongoing cost reduction efforts with the goal of driving efficiencies and creating fiscal resources that will be reinvested into the Company's business as well as to accelerate overall productivity on a global scale."
Don't expect a high reported profit for the first year since it will need to be adjusted for severance and employee benefits, implementation costs, professional fees, contracts and lease terminations, asset write down and such. As a result, gross margin will increase, SG&A will decrease, and operating income will be larger.


By looking at the numbers above, it's easy to see why Burger King would be interested in Tim Hortons.
The combined free cash flow during the last twelve month is $704 million. However, with the new capital structure in place there will be more interest to pay. Before calculating what the new free cash flow will be, we need to take into consideration cost savings, synergies if any available, and growth. Although he didn't offer details, Schwartz says the combined company plans to pay a dividend, just as both the individual companies currently do. I wouldn't get too excited; any free cash flow will likely go deleveraging the company in the first couple years. Assuming the current rate of free cash flow, that's about $700 million a year that would go towards the debt.
As I mentioned above, when 3G bought Burger King in 2010, only 150 new locations opened a year. Last year, BK opened approximately 700 new locations with the majority overseas.
"The capital investment to grow the brand around the world comes from our franchisees," Mr. Schwartz said. "That's why we like our business model. It's a very free cash flow generative model." I like that business model very much.
Then what happens once the new company has their business plan in motion, debt is lower, and its gushing free cash flow? I can picture the new BK-Tim Hortons being a platform for more acquisition for more deals.
Risks and Concerns
Although limited, the list below is some of the main risks concerning the transaction.
American and Canadian politicians might interfere with the transaction and make the deal fall through. There's already lot of heat in the U.S. with the tax inversion deals and Canadian politicians might see an opportunity to score some popularity points by taking a stand against the merger.
There's always a chance that shareholders reject the merger or ask for a higher bid, but chances are slim, considering the high premium that Burger king is paying.
The road map to success in this merger is pointing to international expansion. I'm not too sure how Tim Hortons' culture translates outside of Canada but it's not working in the U.S.
If the transaction is successful, there might be potential backlash. As I have stated above, I think the reactions are overblown and will be short-lived. If Burger King keeps the Tim Hortons model as is, and that means not to mix the brands, Canadians will still go to Tim Hortons. But even if there's no change, there's also the psychological effect. I bet you that under a BK ownership, Tim's consumers will start saying that the quality went down when in reality nothing has changed. This phenomenon happens all the time. It happened with McDonald's last spring when they were experimenting with a new French fries recipe at a few specific locations for testing. Well interestingly, consumers that ate the good old traditional fry recipe in non-select locations started complaining that the fries didn't taste the same, when in fact nothing had changed. My point is, if the consumer's perception is affected too much, it might have a long-term negative effect on the chain.
In North America, Burger King is in a serious decline. I'm not sure what 3G can do to convince Americans to go to Tim Hortons.
Both companies operate in an ultra-competitive, challenging, and volatile market.
Advice and Conclusion
Ultimately, we need more details, but to answer my question, what does this mean for the shareholders? The decision to sell the shares or to have shares of the new company is not an easy decision. On one hand, you can cash out on the gains from the last couple days. On the other hand, although the shares will be expensive at first, if things goes according to 3G's plan, with some patience your future potential gains will likely be bigger over time. If it was a different party buying Tim Hortons with the same offer, the chances are good that I would have taken the money since it fell in my valuation range. Now with 3G as a partner, the future cash flow and risk profile has changed. One simply needs to look at what 3G did with a subpar brand like Burger King. Imagine what they can do with a high quality business like Tim Hortons. After a couple years of deleveraging, the new Burger King-Tim Hortons will be a free cash flow generation machine, and that's probably the most important metric to observe.
Now that we know that Tim Hortons is open minded to being bought out, is there anybody else that could make a move on Tim Hortons? Can we see a bidding war?
I don't anticipate that someone is going to come in higher. The primary reason is the price. The price is expensive on a trailing basis. The terms of the deal looks expensive. But again, the original Burger King, Heinz, and Anheuser-Busch deal all looked very expensive too at the time. The reason 3G is paying a lot of money for Tim Hortons is because they know what they can accomplish in terms of cost savings, synergies and in potential international growth. The deal is set up where 3G will be very motivated to cut costs, realize synergies, etc., because if they don't, they don't make much.
3G will be able to improve Tim Hortons' operating metrics and margins just like they did everywhere else they stepped foot in. They will review every expense line and laser zap the fat out of it. For anybody that has read a little bit about the 3G guys, they will make sure they get their monies worth and more. I can't picture anyone willing to outbid that price and still manage to extract the value in a more efficient matter than 3G. Also, if anybody knows a bargain, it's Warren Buffett, and you don't get a better seal of approval than having him getting personally involved. Investing in this deal is a bet on 3G Capital and based on their track record, they will make Tim Hortons a more efficient company and a global player.
Disclosure: The author is long THI.
The author wrote this article themselves, and it expresses their own opinions. The author is not receiving compensation for it (other than from Seeking Alpha). The author has no business relationship with any company whose stock is mentioned in this article.
Additional disclosure: As with all of my articles, the opinions are my own. You should do your homework and make your own best judgments about the company. (I know that this resembles the boilerplate disclosure that you see in every email that you get from your broker but I really mean this and I am not saying it to avoid getting sued.)