In the past week, the FBI notified the GAO that after reviewing the protests filed by RELM Wireless Corp. (NYSEMKT:RWC) and others, it decided to "cancel the solicitation and reassess its requirements, as well as the acquisition strategy for meeting them." (Source) It remains to be seen how the FBI will move forward with this potential $500 million, five-year contract, but it's a fair assumption to think competitors to Motorola Solutions, Inc. (NYSE:MSI) will win some portion of the business.
As I referenced in an earlier article on this situation, a RWC representative stated that it could "supply radios with the same functions specified by the FBI for about $1,700, compared with Motorola's average price of $4,200." With today's difficult federal and state budget situations, it will be harder for potential MSI customers to justify this premium pricing. With its dominant market position in North American land mobile radios and public safety communications infrastructure, MSI has leveraged the strength of its customer relationships over the years, successfully adding new features and technology to its expanding radio product line. For many years MSI customers have followed the adage, "You can't go wrong buying from Motorola...", and the company has retained its dominant market share with a feature-rich, but relatively expensive product line. However, with today's digital technology, radio manufacturers are able to produce equipment that is interoperable with other brands of radios and infrastructure equipment. MSI works very hard to retain exclusive relationships, but competitors such as RWC and Harris Corporation (NYSE:HRS) continue to demonstrate the interoperability capabilities of infrastructure equipment and subscriber radios. Longer term, it seems inevitable that this market will become more open, allowing customers to have more choice in the selection of equipment. If the FBI elects to have several equipment manufacturers involved with its very sizeable contract, I would expect more large federal and state agency buyers to follow a similar path.
There has been some speculation about what the FBI contract situation means for RWC and how much potential business the company could win. Investors should be reminded that the FBI solicitation is for both infrastructure equipment and mobile radios. Realistically, RWC is competing just for the mobile radio business, which probably represents about one-half of the total contract. On the initial terms, the FBI could spend an estimated $50-$250 million on radios over the five-year term. It's speculation on my part, but I would expect MSI to still win the majority of the FBI contract for radios and infrastructure equipment. I would be happy if RWC won $5-10 million of the radio business on an annual basis. Given the operating leverage that exists in the RWC business model, $5-10 million in new business could translate to as much as $0.13-0.26 in annual EPS contribution. Importantly, a material win with the FBI would further validate RWC's technology and capabilities. Given that MSI had over $6 billion in Government sales in 2013, which does include both infrastructure equipment and radios, it's fun to imagine what the RWC business model would look like if the company picked up 1% of MSI's market share in each of the next few years.
It's premature to predict any financial outcomes from the FBI solicitation, but I believe the FBI's decision to reassess its solicitation could end up representing an inflection point with regards to MSI's dominant market share. Aside from the FBI contract discussions, September is expected to be a busy month for RWC, given that the federal fiscal calendar ends September 30th. As the fiscal year winds down, certain federal agencies may decide to release funds for the purchase of additional radio equipment. RWC typically issues a press release for contract wins in excess of $1 million, the last of which was issued in early May. I would be disappointed if we don't see additional contract win press releases from RWC between now and the end of September.
I continue to view $6 as a reasonable price target for RWC, but there certainly could be significant upside to the valuation if the company is able to further gain recognition as a viable competitor to MSI. With a market capitalization of only $65 million, a debt-free balance sheet, and a business model with strong incremental operating leverage, RWC remains well positioned to outperform if the company can continue to win new business. As a reminder, Privet Fund Management LLC now owns just under 17% of RWC's stock, acquired since March, 2013 at an average price of $2.82. The firm also has representation on the Board of Directors now.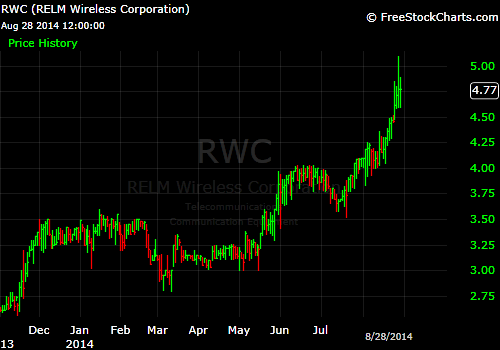 Disclosure: The author is long RWC. I also own some January, 2015 puts on MSI.
The author wrote this article themselves, and it expresses their own opinions. The author is not receiving compensation for it (other than from Seeking Alpha). The author has no business relationship with any company whose stock is mentioned in this article.
Editor's Note: This article covers one or more stocks trading at less than $1 per share and/or with less than a $100 million market cap. Please be aware of the risks associated with these stocks.