With the remarks from President Obama yesterday, along with the intelligence community now suggesting that ISIS could move on to terrorist acts it seems that the West is shifting their focus away from Ukraine and back towards the Middle East. The greater of these two hot spots is indeed the Middle East and to keep the region from spiraling out of control the West does need to take control of the situation.
We do not condone essentially telling Russia to do what they please with Ukraine, which is what the President did yesterday, but think that many have underestimated the capabilities of ISIS. What the market has missed about this situation is that ISIS has been fighting a war against established states (two different ones mind you) on multiple fronts. There are many decent sized armies which are well equipped which could not pull this off, yet ISIS is currently fighting successfully against Syria as well as the various factions of Iraq (mainly the Kurds though).
With the UK now raising their terror level and speaking of ISIS moving to expand their territory, it appears that NATO will focus on deploying resources to the Mediterranean and Turkey in an effort to quickly end the rapidly expanding influence of ISIS.
Chart of the Day:
The gasoline market has been quite weak as of late, and although we were correct to be bearish and skeptical of this market, our thinking that prices would strongly rebound ahead of the holiday weekend and all the demand that ensues appears to be wishful thinking. Yes, prices have rebounded by $0.10/gallon but we thought a 5-10% move was possible and that has not been the case.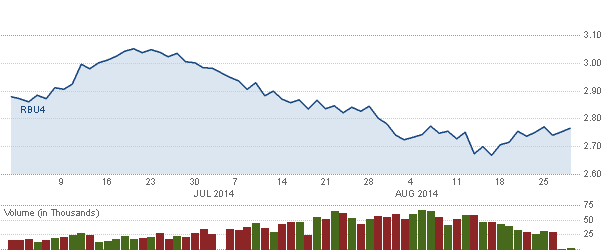 Source: CNBC
Commodity prices are as follows (at time of submission):
Gold: $1,287.20/ounce, down by $3.20/ounce
Silver: $19.57/ounce, down by $0.039/ounce
Oil: $95.26/barrel, up by $0.71/barrel
RBOB Gas: $2.7676/gallon, up by $0.0149/gallon
Natural Gas: $4.04/MMbtu, down by $0.004/MMbtu
Copper: $3.143/pound, up by $0.0165/pound
Platinum: $1,424.50/ounce, down by $0.70/ounce
Arctic Drilling Coming To US?
With Royal Dutch Shell (NYSE:RDS.A) (NYSE:RDS.B) submitting new plans to US regulators regarding their Arctic leases, it appears that investors could see exploration in one of the last energy frontiers in the US taking place in the next 12-18 months. Nothing is certain at this moment but with plans submitted to the US Interior Department regarding drilling plans and emergency environmental clean-up plans the wheels are in motion for Shell to be ready to roll with a drilling program next year.
If Shell is allowed to proceed with exploration efforts, we could see other names who have previously abandoned plans in the Arctic return; namely ConocoPhillips (NYSE:COP). Others who have gained experience drilling in similar environments, such as Russia's Arctic or the North Sea, could also have interest in the area if Shell creates a template for safe drilling. We would not be surprised to see Exxon Mobil (NYSE:XOM) and BP (NYSE:BP) show interest in offshore drilling in the US Arctic, as Exxon Mobil gains experience in Russia and BP has publicly stated that one of their focal points will be on deepwater and offshore drilling.
No Shorts For Permian Players
We have received quite a few queries regarding the recent performance by E&Ps with operations in the Permian. In many cases, the focus has been on Rosetta Resources (NASDAQ:ROSE), a company which we have zeroed in on numerous times to buy the dips and sell the rips. Buying in the low to mid $40s and selling around $50/share has resulted in a successful trading program. While we have been frustrated that this high quality name has not corrected along with the rest of the E&P names, we are not foolish enough to think for a moment that the strength here should be shorted.
Yes, there has been a retracement in Rosetta shares but not to the level one would have expected with all of the hot air which came out of the high-flying E&P names. This is a quality name and is still attractive for long-term investors.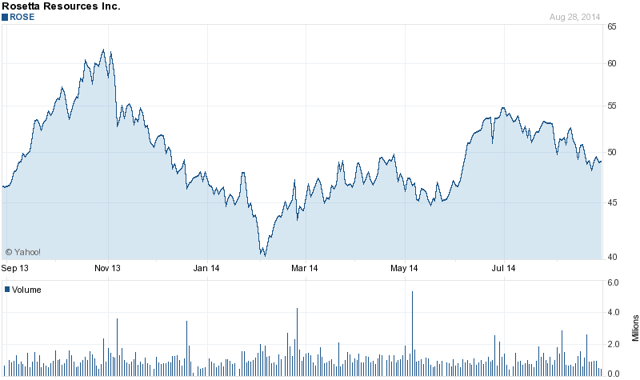 Source: Yahoo Finance
In fact, we would not be short any of the Permian plays at this time as there is considerable upside in these names as production increases and midstream assets are put in place which will help with transportation issues and depressed prices. In the energy market strength should be bought, not sold.
Disclosure: The author has no positions in any stocks mentioned, and no plans to initiate any positions within the next 72 hours.
The author wrote this article themselves, and it expresses their own opinions. The author is not receiving compensation for it (other than from Seeking Alpha). The author has no business relationship with any company whose stock is mentioned in this article.