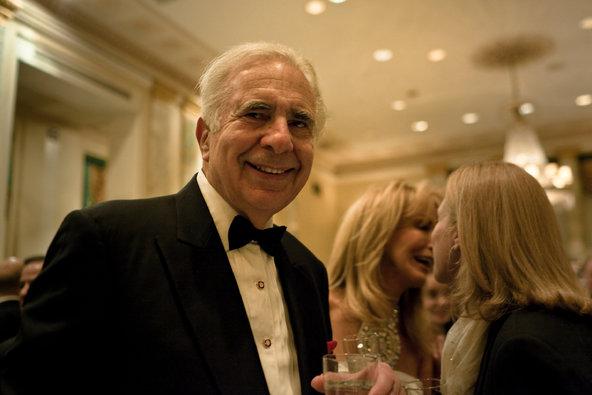 Picture: Carl Icahn. Source: tex.org
Herbalife, Inc (NYSE:HLF) has been the subject of dueling masters of the universe - legendary investor Carl Icahn on the long side and hedge fund manager Bill Ackman on the short side. Ackman has questioned whether the company is a Pyramid-scheme - growing revenue based on recruitment of new sales people who also buy large amounts of the company's nutritional products. Icahn made a reported $234 million on his stake in July. However, longs were bloodied when Herbalife delivered disappointing Q2 earnings results. The stock sold off 11% after-hours, closing at $60 per share. Since, the stock has closed below $50 per share on six separate trading days. It closed at $49.49 on August 26th and shot up $51.09 the following day, providing longs a ray of hope. The recent run-up was credited to the following tweet from Icahn:
Busy working on a BIG deal with another investment banker.
Herbalife investors interpreted the Tweet to mean Icahn was working on finding a buyer for Herbalife. Icahn needs to pump the brakes - Herbalife is worth $34 - $43 per share.
Valuation Methodology
The following lays out my valuation methodology for the company:
Step 1: Determine Run-Rate Earnings
Herbalife's run-rate earnings are represented by its EBITDA and net income through last 12 months ended June 30, 2014 ("LTM0614"). Below are the company's historical operating results: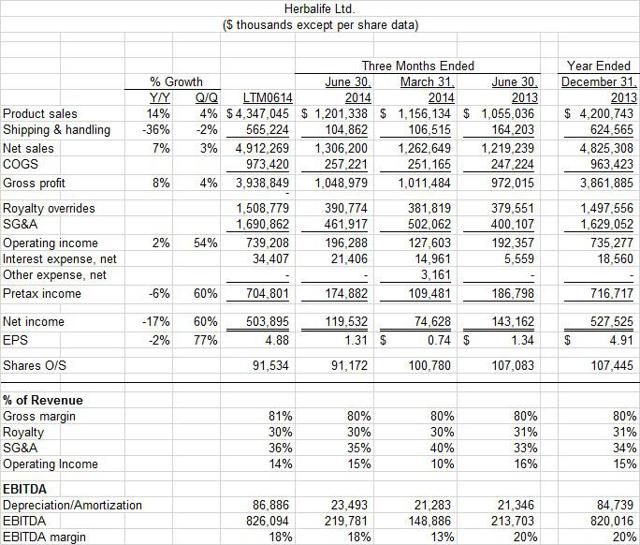 The company's EBITDA and net income for LTM0614 were $826 million and $504 million respectively. Since the company's $21 million in net interest expense may cloud its earnings, I think EBITDA is a better metric for valuing the company.
Step 2: Determine Valuation Multiple
For a company with Herbalife's profile - flat to slowing growth, one would expect an EBITDA multiple of 6x - 8x. Given that Herbalife's business model has been under attack and the risk that regulators could call into question its existence as a pyramid scheme, the company deserves a lower multiple. Lastly, bondholders are signaling pain ahead by selling Herbalife's convertible bonds down to 78 cents on the dollar. That said, I attributed a 5x - 6x EBITDA multiple for the company. Herbalife's LTM0614 EBITDA of $826 million at 5x - 6x yields an enterprise value of $4.1 - $5.0 billion.
Step 3: Subtract Net Debt
The company has long-term debt of $1.7 billion. Subtracting cash of $773 million yields net debt of $973 million. Enterprise value less net debt yields an equity value of $3.2 - $4.0 billion. Assuming 91.8 million shares outstanding, the equity value equates to $34 - $43 per share. The following chart illustrates the details of the valuation: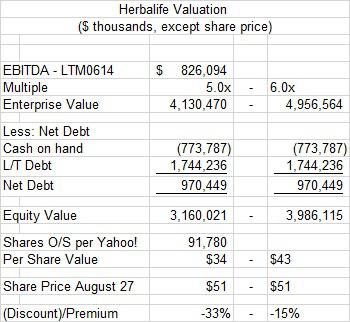 Conclusion
At 5x - 6x EBITDA, Herbalife is worth $34 - $43 per share, a 33% - 15% discount to its current price. Herbalife is a sell.
Disclosure: The author has no positions in any stocks mentioned, and no plans to initiate any positions within the next 72 hours.
The author wrote this article themselves, and it expresses their own opinions. The author is not receiving compensation for it (other than from Seeking Alpha). The author has no business relationship with any company whose stock is mentioned in this article.